We Tried Meghan Markle's Perfume & Lived Our English Cottagecore Dreams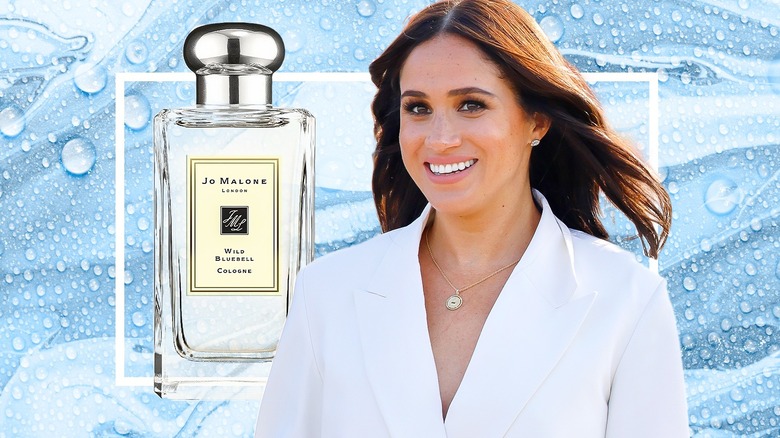 Static Media / Shutterstock / Getty
Meghan Markle has always had taste in fashion and beauty products — even long before her royal days — and this is evidenced by her perfume of choice, which is none other than Jo Malone Wild Bluebell. (If you thought this perfumer sounded familiar, you're right: Kate Middleton's signature scent is also by Jo Malone.) Wild Bluebell, which was released in 2011 and retails for $165, is a floral perfume that contains notes like bellflower, clove, and musk. Although Markle prefers the slightly edgier Bvlgari Blv II for evening use, she's keen on wearing Wild Bluebell as her daily driver and has been for some time, as she wrote about the floral fragrance on her pre-royal — and now-defunct — lifestyle blog, The Tig (via Meghan's Mirror).
What makes this all the more interesting is that the United Kingdom — where the United States-born actor would later become the Duchess of Sussex — contains about half of the globe's bluebells, according to The Wildlife Trusts. Manifesting at its finest? We think so. Like any Markle fan worth their salt, we couldn't wait to try her favorite fragrance, so we took Jo Malone's Wild Bluebell for a spin and found ourselves smitten with it. Let's break down Wild Bluebell in detail to help you decide whether you should add it to your perfume cabinet, too.
First Impressions of Wild Bluebell by Jo Malone
If you're lucky enough to live near these cheery little flowers, you're probably familiar with the English bluebell's light, spring-green aroma. After lightly spritzing our wrists with Jo Malone Wild Bluebell, a rush of pure, sparkling florals surrounded us. The fragrance's top notes include bellflower and dewdrop, and its wet scent hangs in the air for just a few moments before making way for the cologne's heart notes.
Once its top notes fully fade, Wild Bluebell takes on a somewhat soapy essence mixed with the warmth of a solar fragrance (a scent, often floral, that provides summery warmth to the skin). We later learned that its soapiness might have come from persimmon, while leftover clove from its top notes provided some spiciness. Others had mixed opinions when asked to identify Wild Bluebell's scent, with some suggesting wildflowers and others listing luxury soaps.
One of the most essential features of a perfume is its longevity and projection. Like other Jo Malone fragrances, Wild Bluebell is beautifully blended but projects softly. Its weak point is especially noticeable as the notes dry down, though it's known we acclimate to scents over time. The perfume mostly smells the same — a pleasant, youthful floral — several hours later, and the musk base note rounds it out with a warm, sophisticated edge.
Final thoughts on Meghan Markle's favorite fragrance
We wouldn't say that Wild Bluebell is for everyone, but we enjoyed it nonetheless. It's a classically feminine fragrance thanks to an explosion of sweet floral notes, but it also sports a mature, sophisticated side. Meghan Markle's signature scent isn't incredibly loud, so it may not satisfy those looking for super-strong scents. But despite its mild aroma, it does have some degree of staying power.
If you enjoy Jo Malone's Wild Bluebell just as much as the Duchess of Sussex, you may want to explore the rest of the Wild Bluebell catalog. In fact, Jo Malone carries an assortment of products to wear alongside Meghan Markle's favorite perfume, such as Wild Bluebell Hair Mist. Of course, you can also opt for a Wild Bluebell Candle — the perfect background lighting for browsing archived Tig posts.
Ultimately, even if you don't consider yourself part of the floral fragrance crowd, Wild Bluebell may change your ways. It isn't quite as lush as the white florals of yesteryear, like Jessica McClintock's eponymous 1988 fragrance. However, Jo Malone's take on wild bluebells definitely feels inspired by the powerfully feminine perfumes that dominated the 1980s beauty scene. Considering Meghan Markle is an '80s baby, it makes sense that she'd adore a scent similar to the era's archetypal fragrances.