Get Your Perfect ID Photo With TikTok's 'Passport Girl Makeup'
ID photos are like humble pie: In the right — or rather, wrong — conditions, they can make just about anyone look bad. Whether fear of a saggy neck, undereye bags, or an asymmetrical face, we understand the anxiety of walking to the booth to take your photos. But while we've learned to embrace that we may never get a pretty ID photo, TikTok hasn't. In fact, there's a way to skip the bad face day and achieve great ID photos, and it all begins with Georgia Barratt's TikTok-famous passport girl makeup.
Created by beauty TikToker @Georgia.Barratt, passport girl makeup is a variation of the soft glam, no-makeup makeup look that intends to elevate your natural features without having you look overly done or like you're wearing a full face of makeup. When Barratt shared her ID photos from the passport booth, the video went viral, with thousands of TikTokers asking for a tutorial on how they could achieve such flawless, IG-worthy results. Barratt answered by releasing a tutorial that has garnered over 13 million views and several recreations. And now you, too, can have perfect ID photos with Barratt's help, the right makeup, and a lot of blending.
Great brows, great base, great ID
If you needed a reminder, you're not ugly -– ID photos just require a little more finesse than usual. With passport girl makeup, the goal is to create an effortlessly snatched look that still looks great even in the harsh, bleak lighting of your nearest photo booth. And to achieve this, your brows and base need to be top tier.
For your brows, aim for a feathered, natural look. Like in Georgia Barratt's tutorial, brush up your brows for a fluffy look with a brow or styling gel, and clean up the underside with a concealer about two to three shades lighter than your regular foundation shade. Doing this creates defined yet natural-looking brows that instantly lift your face. When your brows are up and set, it's time for your base.
It's pretty easy to get carried away, but remember that the goal is soft glam. And with soft glam, it is essential to use products that allow your skin to shine through. To do this, moisturize your skin and apply a hydrating primer to set the scene for your makeup. Then, apply and blend your foundation or tinted moisturizer in light layers on your skin. Barratt used the NARS Natural Radiant Longwear Foundation, but you can use any lightweight, glowy makeup you know and love.
Conceal and contour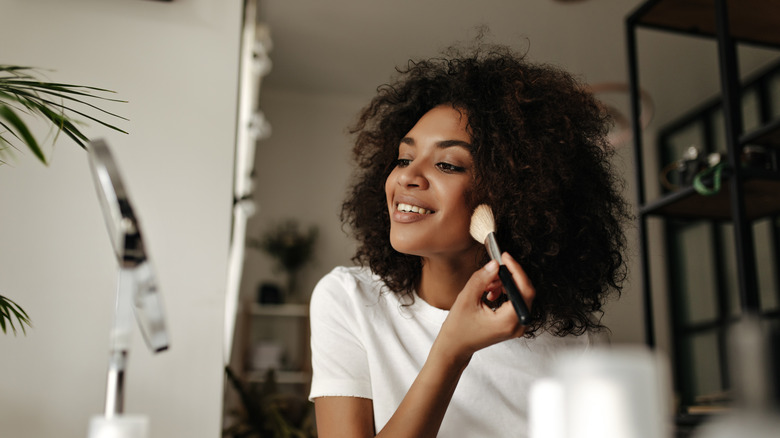 Look Studio/Shutterstock
Now that you have your even base, you need to add color and angles back to your face. As Georgia Barratt advises, highlight your undereye area and eyelid with a concealer about two shades lighter than your regular foundation shade. Then, add some dimension to your face with contour. Passport girl makeup is heavy on the snatched look, so contouring needs to be your best friend. On your temples, directly on top of your cheekbones, and around the ball of your chin, apply some contour and blend to define your face and give the illusion of a sharper jaw.
For a brighter undereye area, apply an even lighter shade of concealer on the inner corners, between your brows, and right on top of your chin. It also helps to use more right below your contoured cheekbones to make them pop, and apply a few dots of blush on your cheeks to add radiance. Once you're done blending, set the concealed areas with setting powder and the rest of your face with translucent powder.
Siren eyes and a nude lip make the shot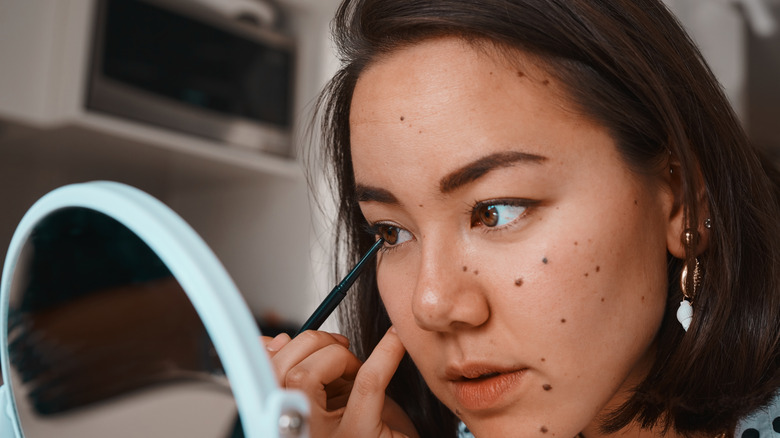 Hiraman/Getty Images
A big part of achieving passport girl makeup is to create an airy, effortless vibe around your look — a classic I-woke-up-like-this moment. And unsurprisingly, the siren eye is perfect for the vibe here. Before creating the feline winged look, try Georgia Barratt's technique and set the scene by applying more of that contour on the outer corners of your eyes to lift them even more. Then, create a small wing on the outer corners and an even smaller one on your inner corners to elongate your eyes further.
With an eyelash curler, gently press down on your lashes and apply mascara after, making sure to use more on the lashes at the outer corners for a more pronounced siren eye effect. You could also try false lashes, concentrating longer wisps at the outside.
Lastly, overline your lips with a neutral lip liner and finish with a nude gloss for a rich pout. Now it's time for the booth.
But is passport girl makeup a good idea?
TikTok is our go-to when we need creative ideas that solve our daily problems, and yes, that includes getting feed-worthy ID photos at the DMV. However, there are valid concerns about passport girl makeup, especially regarding the convenience and safety of the trend.
In the comments section of Georgia Barratt's tutorial, several TikTokers expressed their worries on how wearing a full face of makeup in an ID photo — soft glam or not — could pose a problem. As one user wrote, "So cute — but if I did this and then rocked up to the airport with a bare face I'd be tackled by security for impersonation." Another person commented, "Surely it's not a good idea to make yourself look completely different." Others expressed concerns about feeling pressured to always look like their glammed-up ID photos, even at an airport where they would prefer to be comfy and bare-faced. And a few more shared doubts about how unrealistic passport girl makeup is, especially in states and countries where smiling or wearing makeup isn't allowed for official documentation.
All in all, it is crucial to prioritize safety when taking passport photos. If you're entirely unrecognizable by the time you're done with Barratt's tutorial, you should probably aim for even softer glam — or whatever look you're most comfortable with.