Our 11 Favorite Ulta Gift Sets For The Beauty Fanatic In Your Life
We may receive a commission on purchases made from links.
Red alert: The holiday season is upon us, which means it's time to start drawing up your gifting list. Whether you're shopping for one special person or nabbing presents for the whole crew, Ulta Beauty is your destination for all, well, beauty gifts.
Advertisement
From makeup and skincare to perfume and hair products, Ulta's wide range includes something for everyone. The beauty retailer also has a nice loyalty program, so if you're strategic about it, you can really get the most out of your Ulta reward points. Plus, in the unlikely event that your beauty gifts turn into beauty missteps, Ulta's return policy is fairly forgiving.
But with so many gift sets to sift through, where should you begin your Ulta haul? We've got your back. If you're about to embark on a present-buying spree for the beauty fans in your circle, check out our favorite Ulta gift sets for every style and need.
How we selected products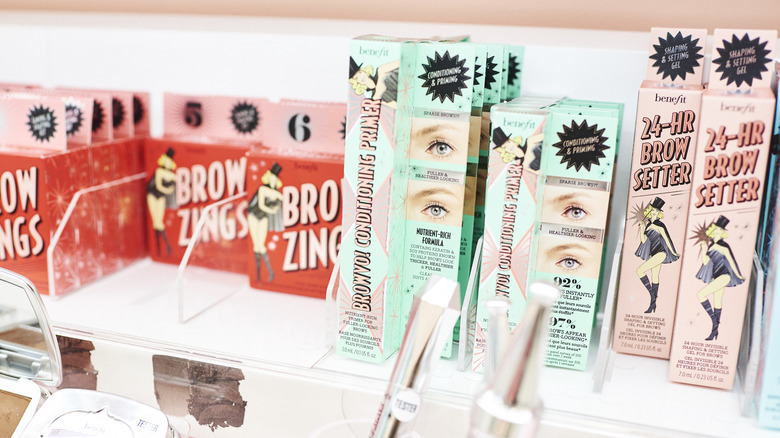 Bloomberg/Getty Images
Shopping for a beauty lover is at once very easy and very difficult. On the upside, there are so many incredible products to choose from, so no matter how big your giftee's collection is already, you're sure to find something they still want or need. But the endlessness of the beauty market can also make it hard to find the must-have, high-quality products from which your beauty fan will get true ongoing use and joy.
Advertisement
To help you find presents for each person on your list, we first broke our search down into various gifting categories that will satisfy any kind of beauty enthusiast. Then, we consulted ratings, user reviews, product descriptions, and ingredient lists to identify our essential gifts of the season. Whoever you're shopping for and whatever your budget, this list has it all. With these gold-standard recommendations, we're sure you can surprise and delight every beauty fanatic in your life.
Best overall: Coffee & Cream Gift Set by Tree Hut
With so many amazing gift sets available at Ulta, this pick is going to be controversial — but hear us out. Here's what we adore about Tree Hut's Coffee & Cream Gift Set: First of all, this set makes for a versatile, crowd-pleasing present. Beauty products can be very subjective, but who doesn't love a good sugar scrub and body butter combo? Second, the coffee theme carries through with cute, gift-worthy packaging and mouth-watering scents of rich espresso and sweet cream.
Advertisement
Perhaps most compelling, this duo has a perfect 5-star rating and 100% of reviewers recommend it. This Ulta exclusive is even reasonably priced, making it a reliable, go-to option whenever you need a quick gift for a friend, family member, or coworker.
Purchase the Tree Hut Coffee & Cream Gift Set at Ulta for $19.99.
Best fragrance gift set: Donna Born in Roma Eau de Parfum Gift Set by Valentino
When it comes to beauty gifts, fragrance sets are among the most popular. As such, there are a lot of crave-able scent sets to choose from. But almost 6,000 Ulta reviewers seem to agree that Valentino's perfectly pink Donna Born in Roma Eau de Parfum is a winner, crowning the set with an average rating of 4.8 stars. The fragrance itself is subtly sweet and woody, with floral notes from jasmine, a deep, sugary touch of vanilla bourbon, and a light breeziness from Italian bergamot. This luxury gift includes both a full-size and a travel-size bottle of the perfume, so your gift recipient can easily make this their signature scent, even when on the go.
Advertisement
Purchase the Valentino Donna Born in Roma Eau de Parfum Gift Set at Ulta for $175.
Best gift set for luscious lips: Warm & Spicy Hangover Pillow Balm Lip Balm Trio by Too Faced
We love a gift set that's both cute and practical. Enter this lip balm trio from Too Faced, which imparts deep hydration while keeping your pout looking glossy and plump. This gift set comes with three lush shades: Original, Spiced Cider, and Holiday Wine. So, whether you're feeling a nude look, a subtle sparkle, or a gentle hint of burgundy, this kit has you covered. "My lips aren't thirsty anymore," wrote one pleased reviewer. "It feels good on the lips, has a slight mint sensation in the beginning, and my lips just feel very hydrated and juicy."
Advertisement
Purchase the Too Faced Warm & Spicy Hangover Pillow Balm Lip Balm Trio at Ulta for $34.
Best eyeshadow gift set: All Stars Amazonian Clay Collector's Set by Tarte
Most eyeshadow gift sets come in huge palettes that are attractive but unwieldy. Tarte cleverly sidesteps this issue by presenting a set of individually adorable and travel-friendly palettes curated for cohesive makeup looks. Enjoy three tempting eyeshadow palettes featuring shades of beautiful berry, glittering gold, and earthy brown. Bonus: There's also a face palette with blush, bronzer, and highlighter. 
Advertisement
To that end, one happy reviewer wrote, "I am blown away by how pigmented the colors are! The color combos in each pallet are so complementary and blend perfectly. I love the smaller size for travel too! For all that you get with this set, this is an excellent value!"
Purchase the Tarte All Stars Amazonian Clay Collector's Set at Ulta for $54.
Best mascara gift set: Naughty List Lashes Mascara Value Set by Benefit Cosmetics
Is there a lash lover on your gifting list? This set from Benefit Cosmetics has a mascara for every lash goal. The kit includes four different mascara formulations: one for volume, one for length, one for curl, and one for a super fanned-out lash look. Additionally, this gift set really delivers value for money. As one enthusiastic reviewer pointed out, the Naughty List set provides three full-size products plus one travel-size — all for less than the usual retail price of two Benefit mascaras. So, if you've been wanting to try Benefit's mascara range, this kit would also make a great gift for yourself!
Advertisement
Purchase the Benefit Cosmetics Naughty List Lashes Mascara Value Set at Ulta for $48.
Best nail polish gift set: Terribly Nice Holiday Nail Lacquer Mini Pack by OPI
When evaluating nail art gift sets, we considered everything from classic, holiday-colored samplers to extensive gel polish kits. But in the end, we just couldn't say no to this gorgeous, 10-piece pack from OPI. For one thing, OPI polishes command a cult-like following for their quality. And while this set's stunning range of colors includes some festive favorites like red and gold, it isn't limited to the holiday season. The inclusion of pearlescent pinks, deep teals, and cosmic blues means that your giftee can get use out of this gift set all year long.
Advertisement
Purchase the OPI Terribly Nice Holiday Nail Lacquer Mini Pack at Ulta for $39.99.
Best skincare gift set: 3X The Power Advanced Night Repair Skincare Set by Estée Lauder
Any skincare gift will of course depend on the recipient's skin type, needs, and personal preferences. But for a universally acclaimed and skin-friendly gift set that almost anyone can love, it has to be this nighttime skincare kit from Estée Lauder. With a staggering 20,000 reviews and a strong rating of 4.5 stars, this kit clearly appeals to a wide audience. 
Advertisement
So, what does it include? True to its name, 3X The Power delivers three bottles of Estée Lauder's Advanced Night Repair Serum: one full-size and two travel-size. The serum is targeted at intense skin renewal, repair, and protection, making it both a satisfying and helpful gift.
Purchase the Estée Lauder 3X The Power Advanced Night Repair Skincare Set at Ulta for $114.
Best hair care gift set: Strong Days Ahead Hair Kit by Olaplex
A trio of haircare products may not seem like the most festive present, but who wouldn't love the gift of healthier tresses? If anyone on your list struggles with dryness, breakage, or frizz, this set from Olaplex is a gift that keeps on giving. The Strong Days Ahead Hair Kit includes three iconic products: the No.3 Hair Perfector, the No.4 Bond Maintenance Shampoo, and the No.5 Bond Maintenance Conditioner.
Advertisement
As one thrilled reviewer wrote, "I noticed a significant improvement in the overall health and appearance of my hair. The most visible benefit was the reduction in split ends and frizz. My hair felt noticeably smoother, shinier, and more manageable. It had a renewed vibrancy that I hadn't seen in a long time. ... I highly recommend it to anyone looking to rejuvenate and strengthen their hair."
Purchase the Olaplex Strong Days Ahead Hair Kit at Ulta for $55.
Best hairstyling gift set: Half Shot Blow-Dryer Brush Set by Drybar
For a styling kit that has it all, you can't go wrong with this gift set from Drybar. Not only does it come with a coveted, limited-edition blow-dryer brush but it also provides a range of best-selling hairstyling products to ensure the perfect blowout. Easily create sleek waves with the full lineup of detangler, finishing spray, frizz control mist, and dry shampoo. This set even includes two clips to keep your hair wrangled during styling. With so many handy extras, it's no wonder that this gift set boasts an enviable 4.8-star rating.
Advertisement
Purchase the Drybar Half Shot Blow-Dryer Brush Set at Ulta for $155.
Best hair removal gift set: Smooth Legend Shave Set by Truly
Want a gift that screams self-care spa day? For many of us, nothing feels better than the smooth slide of hairless, moisturized skin, which is why we love the Smooth Legend Shave Set from Truly. It has everything you need for a luxuriously close shave: not only a razor but also a fruity and delicious trio of shave scrub, shave butter, and post-shave oil. Of course, if your giftee prefers to rock a natural look, a hair removal gift set may not be the most thoughtful present. But for anyone who enjoys the glide of smooth, freshly-shaven skin, this kit is sure to be a winner.
Advertisement
Purchase the Truly Smooth Legend Shave Set at Ulta for $90.
Best gift set of makeup tools: Your Superheroes Full-Size Travel Makeup Brush Set by IT Brushes For Ulta
When trawling through brush sets, we were looking for a kit that hit all the right notes — namely, the right balance of quality, versatility, affordability, and convenience. Ultimately, we had to look past cheaper brush sets for the comprehensive value of this selection from IT Brushes For Ulta. Where some brush kits give you several similar tools, Your Superheroes includes six distinct brushes suitable for putting together full-face looks. Cover all the bases with brushes for powder, foundation, crease, concealer, and eyeshadow, plus a dual-headed brush for eyeliner and brows. This useful set also comes with a cute and travel-ready silver case.
Advertisement
Purchase the IT Brushes For Ulta Your Superheroes Full-Size Travel Makeup Brush Set at Ulta for $51.