The Lady Jacket Is Trending For Fall 2023, And It's Giving Royal Luxury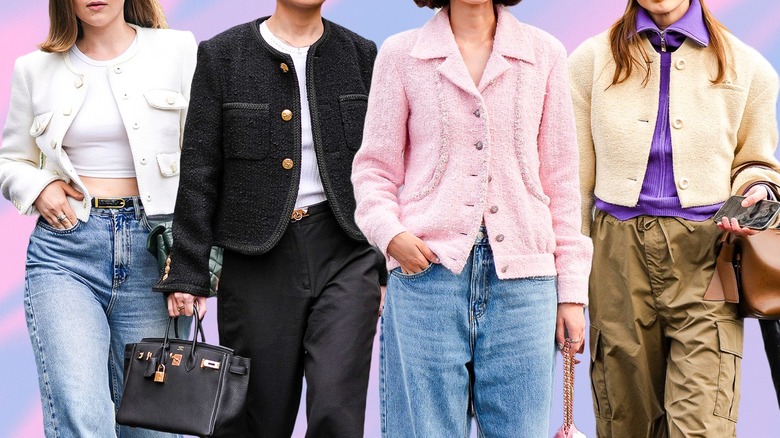 Static Media / Shutterstock / Getty
The fall season can bring in plenty of oversized outerwear pieces to keep you warm. However, there's nothing quite as chic as the lady jacket. The lady jacket is just a cropped jacket with all the style and elegance of a blazer or jacket but a shorter hem. The cropped hem can go up to your waist or higher, making it easy to create a street-style-inspired look. Playing with different lengths can help elongate your body and make you appear taller. Besides the taller effect, lady jackets are modern and chic but still give an elegant royal luxury aura to them.
While plenty of examples showcase the popularity of these jackets, there's no more famous lady jacket than the one worn by Former First Lady Jackie Kennedy on the day President John F. Kennedy was assassinated in Texas. The blood-stained Chanel suit later became an essential part of history that marks the tragedy of the event. While setting aside this tragic reference, Kennedy's chic pink tweed jacket became a major style inspiration in the following years. With many looking to replicate this look, we've got to see the lady jacket displayed in various ways, no matter the style.
Chanel-inspired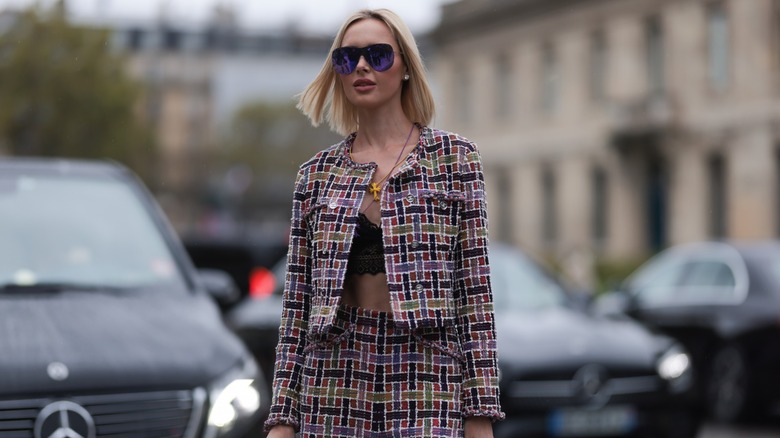 Jeremy Moeller/Getty Images
While you can find the lady jacket in various prints, colors, materials, and brands, no brand knows the design better than Chanel. The brand's iconic tweed jackets sky-rocketed the design and remain a classic piece for the fashion house today. However, you don't need to buy a Chanel lady jacket to get the same style; simply opt for a cropped jacket in a tweed material to get the same elegant texturized look. Ensure it has glamorous buttons and front pockets for a modern approach to the design.
Cut-off blazers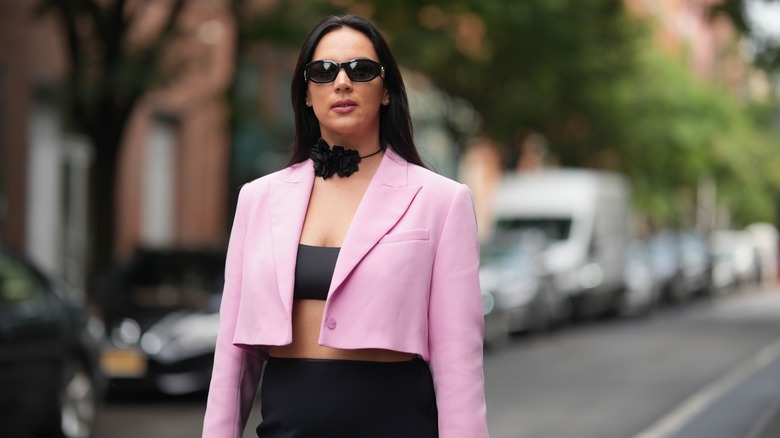 Edward Berthelot/Getty Images
While Chanel's lady jacket looks and feels like a dressy royal piece, other variations can better suit a modern look. For example, going for a cropped blazer jacket that gives the appearance of a shortened blazer still gives you the preppiness of a lady jacket with all the sophistication of a blazer. Pair this cropped jacket with a pair of high-waisted jeans or trousers for more of that taller effect.
Classic black jackets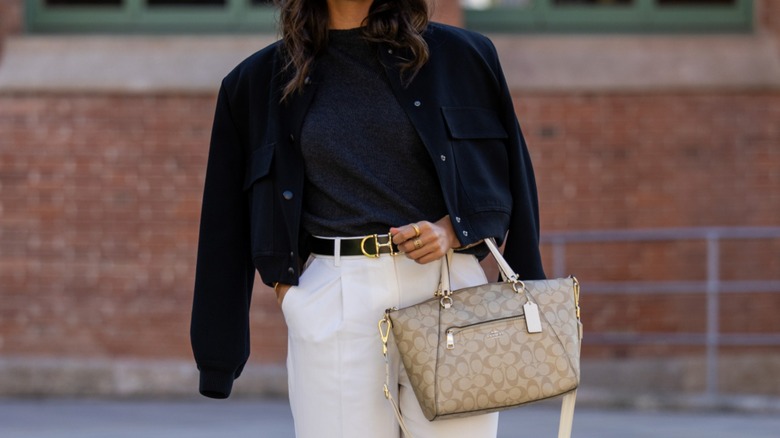 Christian Vierig/Getty Images
While there are many ways to make a statement via color or prints, the lady jacket is a sophisticated piece that can shine even with an understated color. A black lady jacket is a subtle piece that isn't fall's boldest item but will elevate your seasonal looks. Since it's a neutral hue, a black lady jacket can pair perfectly with almost any ensemble underneath. If you're looking for the most versatile option of this trend, you can't go wrong with a black-colored item.
Funky materials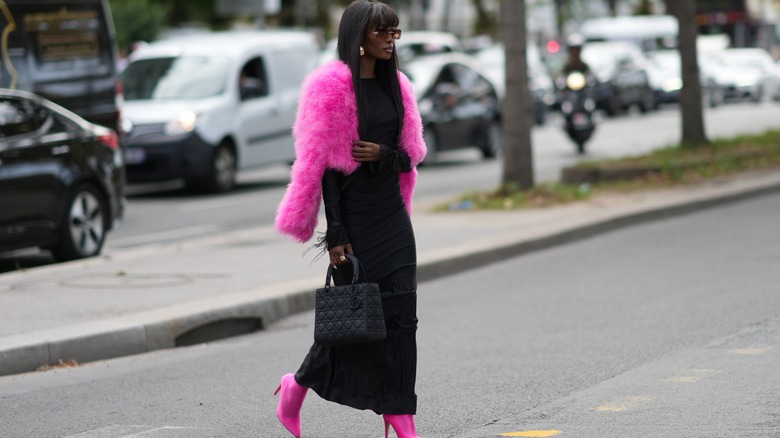 Edward Berthelot/Getty Images
Besides tweed, other materials can turn your lady jacket from a timeless, vintage piece into a modern, maximalist item. Turn your lady jacket into a statement object by opting for standout materials like sequins, feathers, or shearling. All of these fabrics can still give you the elegance of the jacket but in a design that suits even the boldest fashion user.
Leather lady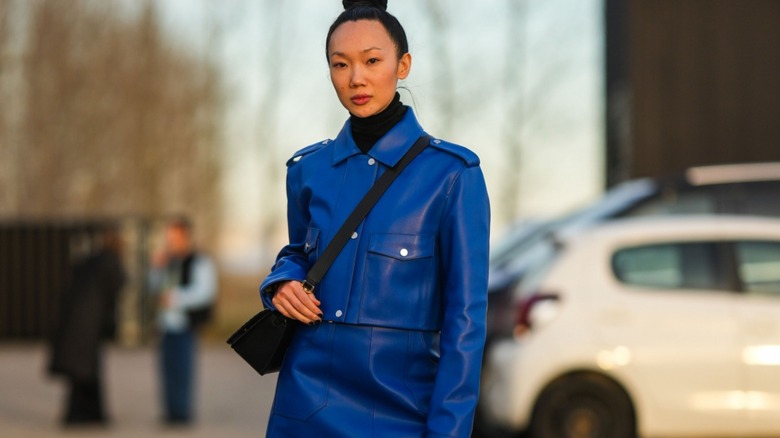 Edward Berthelot/Getty Images
Since it's the fall season, you can't miss the opportunity to use your leather pieces. After all, leather is one of those materials that can turn this retro piece into a modern item. It's sleek and edgy, giving your fall looks a hint of a masculine style element. Mixing the leather materials with the feminine silhouette of the lady jacket is the perfect piece to take your fall outerwear to the next level this season.
The statement moment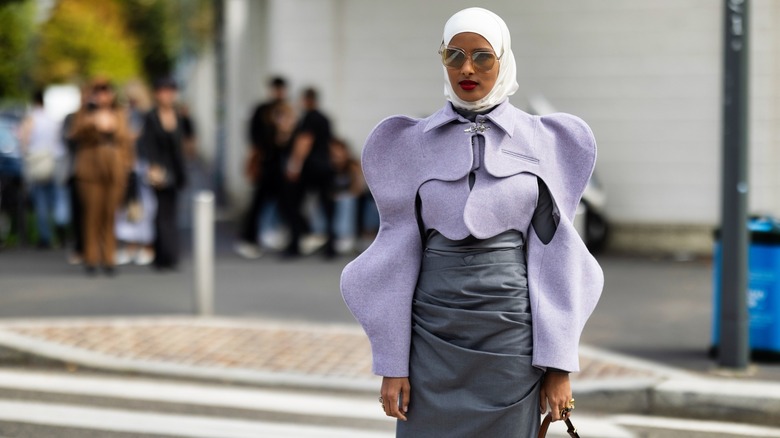 Valentina Frugiuele/Getty Images
The fall season is about creating a personalized wardrobe that accurately represents you. While the timeless, iconic lady jacket design from Chanel is a perfectly recognizable style, there are ways to turn the lady jacket into a creative piece. Opt for avant-garde details that turn this vintage design into something straight off the runway. Whether it's exaggerated sleeves or bold accents, adding these modern details to your lady jacket gives your piece plenty of personality.