Wader Boots Are Trending For The Fall - But In A Fashion-Forward Way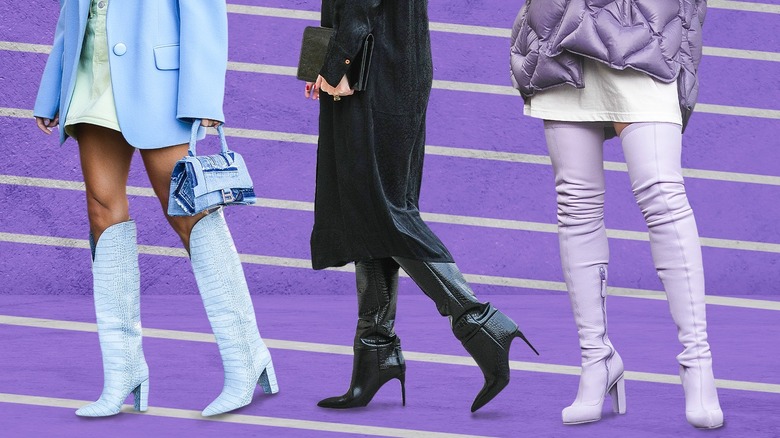 Static Media / Shutterstock / Getty
Although oversized outfits are already dominating our fall wardrobe, there is one final voluminous touch that has become a trend: wader boots. While wader boots are not new to the fashion scene, they are making a comeback with their oversized silhouette. These boots are loose and baggy, and this autumn, the over-the-knee style is particularly popular. Brands like Mark Fast have used over-the-knee wader boots to add a bold and edgy element to typical fall footwear. With a wide variety of styles, designs, colors, and prints, there is no doubt that these boots will complement your cold-weather pieces.
While wearing oversized over-the-knee boots may seem overwhelming, especially for shorter individuals, there are ways to incorporate this trend into any wardrobe. Since the slouchy and baggy silhouette of the wader boot adds volume, it is best to pair them with a shorter hemline to avoid a bulky and messy look. However, there are instances where these boots can also work with longer hemlines. With the right outfit, over-the-knee wader boots can be the perfect final touch for a stylish fall closet.
Over-the-top and over-the-knee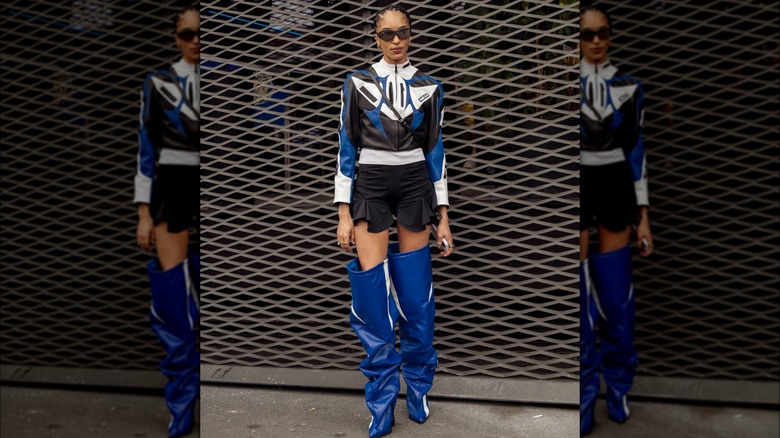 Raimonda Kulikauskiene/Getty Images
While the classic wader style comes in any length, the over-the-knee height is perfect for the fall season as it covers more of the leg and lets you pull off a mini hemline without getting cold. For Fall/Winter 2023, Isabel Marant showcased this trend by sending models out on the runway with over-the-knee wader boots that were a perfect pairing for their stylish designs. For added visual interest, select waders in a bold color that coordinates with the rest of your outfit.
Sleek leather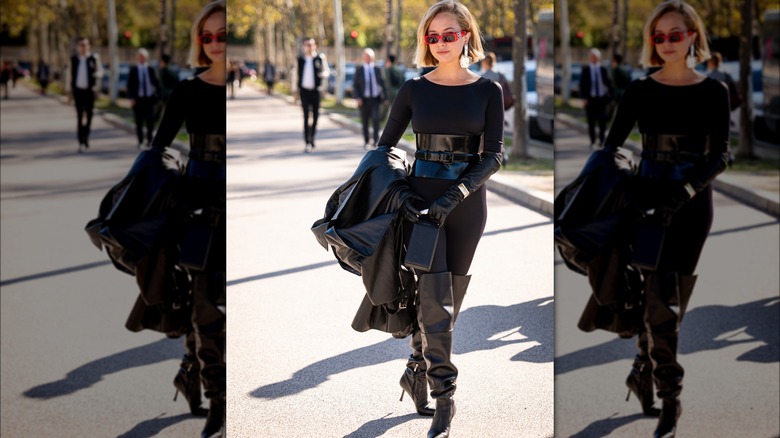 Claudio Lavenia/Getty Images
You can use many materials to pull off this look. However, leather will allow you to achieve a more modern style with ease. A fall classic, leather deserves a special spot in your wardrobe, especially when it comes to your shoes. With this traditional material, you can be confident that your boots will remain in style year after year. Though already a practical option, selecting leather in a timeless hue like brown or black will ensure that your boots go with all your outfits.
Fit for a maxi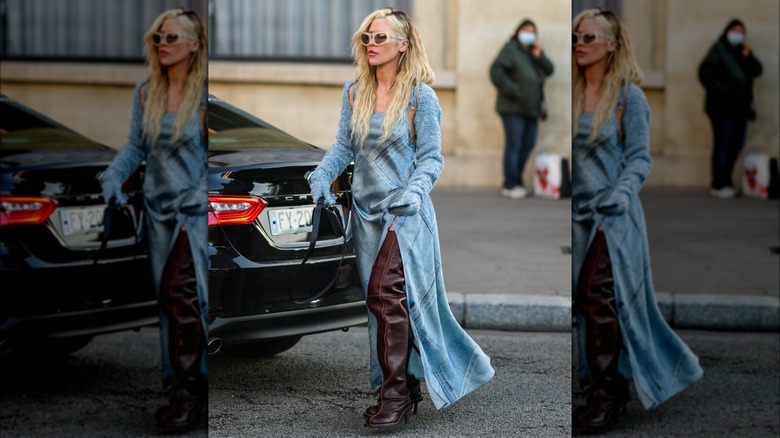 Edward Berthelot/Getty Images
While shorter hemlines create a more dynamic 'fit, you can rock your wader boots with a maxi length. To avoid a bulky look, select a skirt or dress with a slit down the side or middle. A clear distinction between your boots and dress will help you appear stylish and not messy. Take it from model Emily Ratajkowski, who opted for a similar setup when catching Loewe's Spring 2024 show.
Wear with anything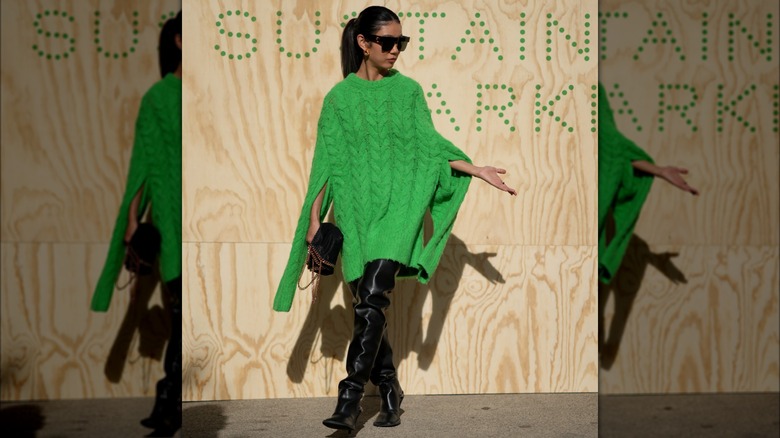 Edward Berthelot/Getty Images
Although the wader boot might seem overwhelming with its larger-than-life silhouette, it's a versatile style that can work well with most of your fall outfits. Whether you're opting for a short sweater dress or a pair of shorts like Kim Kardashian, there are plenty of ways to use this footwear. If you're looking to go with a casual approach, you'll want to add a third layer, like a coat or jacket, to provide warmth and give you a cohesive piece that pulls everything together.
Edgy, elegant looks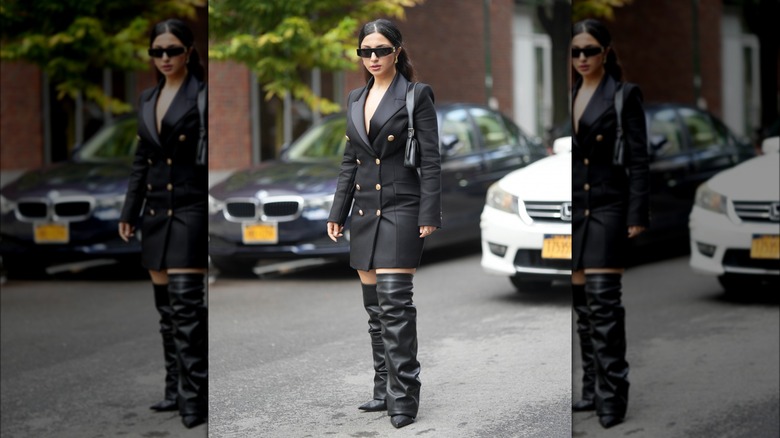 Edward Berthelot/Getty Images
There's something about the wader boot that gives a texturized and masculine vibe to your look. This is the perfect shoe to amp up your polished, sophisticated fall ensembles for a more dynamic wardrobe. Instead of opting for head-to-toe elegance, add a bit of edge and grunge with the baggy over-the-knee style. Strike the right balance by dressing up your wader boots with unexpected pieces you'd never think would play well together, like soft slip dresses or sophisticated blazer dresses.
Matching color palettes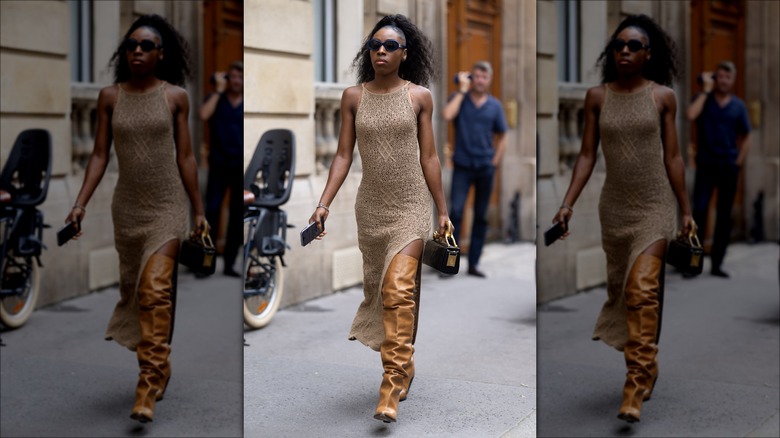 Valentina Frugiuele/Getty Images
No matter the trend, styling your wader boots can get tricky, especially if you don't know what to wear with them. Take the stress out of it by opting for a matching color palette that'll automatically flow together. Whether it's a single-toned outfit or variations of one color, this matching color palette will help make getting dressed in the fall much more manageable. Even if they're completely different styles, monochromatic styling will allow everything to mesh.