'Fallayage' Is The New Balayage: The Trend Bringing Autumnal Warmth To Your Hair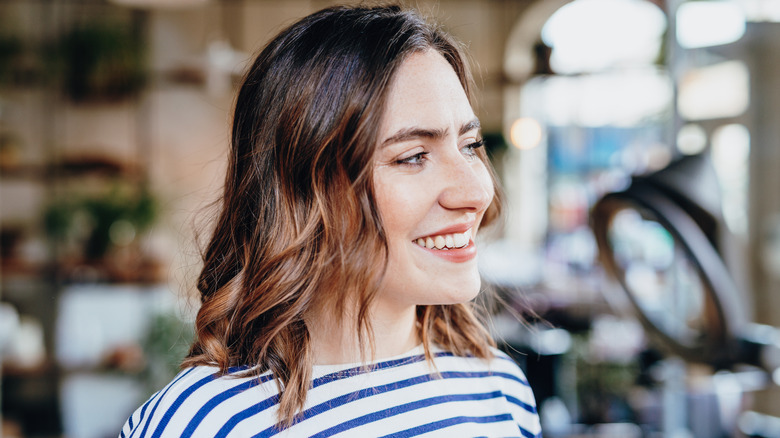 Drazen_/Getty Images
You've heard of the blended, hand-painted highlight technique known as balayage that results in a soft, gradual gradient from darker at the roots to lighter at the ends; it was one of 2023's most popular hair color trends. When it comes to autumn, balayage has a new family member in town: the fallayage. A fallayage — as you may have assumed — is a hair coloring technique that works the same way as a balayage. The difference is in the colors used. While a traditional balayage features shades that fall anywhere between medium brown and platinum blond, a fallayage incorporates warm autumnal tones.
If you're ready to embrace a spicy fall color like copper, cinnamon, or warm golden caramel and prefer a more artful application than a full all-over color, a fallayage might be for you. We've assembled a curated collection of gorgeous fallayage looks to inspire you to make a change for the warm and cozy this fall. Grab your favorite example and head to your stylist to find out how to tweak the look to make it work for you.
Cranberry punch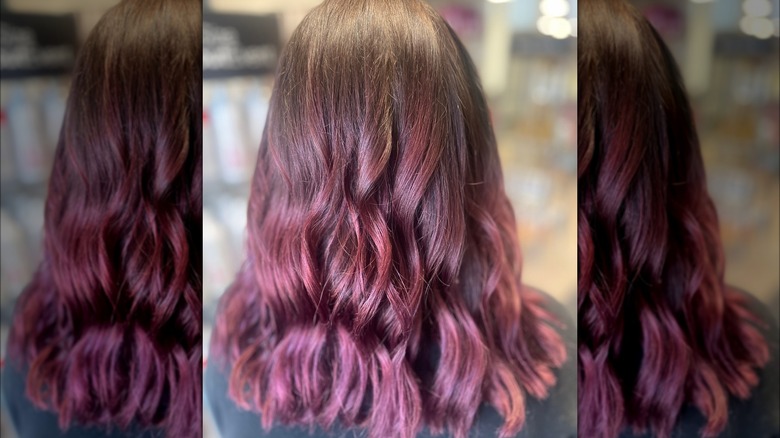 Jdu2/Shutterstock
If the cranberry sauce is always your favorite part of Thanksgiving dinner, ask yourself if it's the beautiful, vibrant color of the fall berry that draws you in. If so, consider replicating the hue in the form of a sassy cranberry fallayage. Its bright, joyful color will help carry you through the cold, dreary days that tend to follow. 
Dark and moody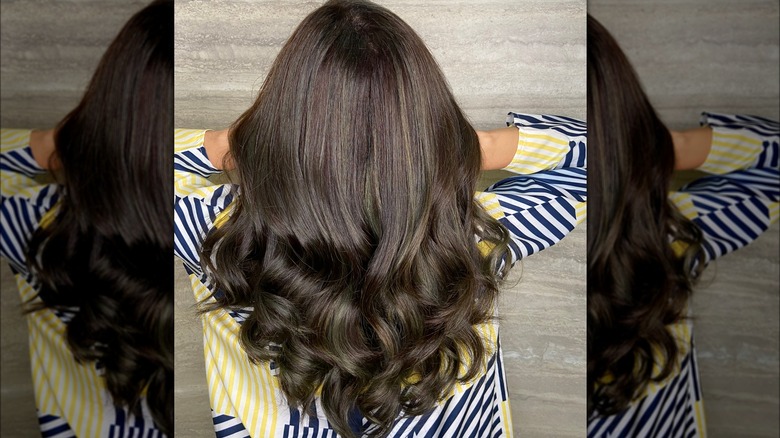 Rizki D Andriani/Shutterstock
Not every balayage and fallayage has to include hues that are light or bright. If you're into the idea of embracing the spooky season all fall long, go for a fallayage that features dark brown or black roots and gently fades into warm chocolatey brown and caramel highlights.
Golden copper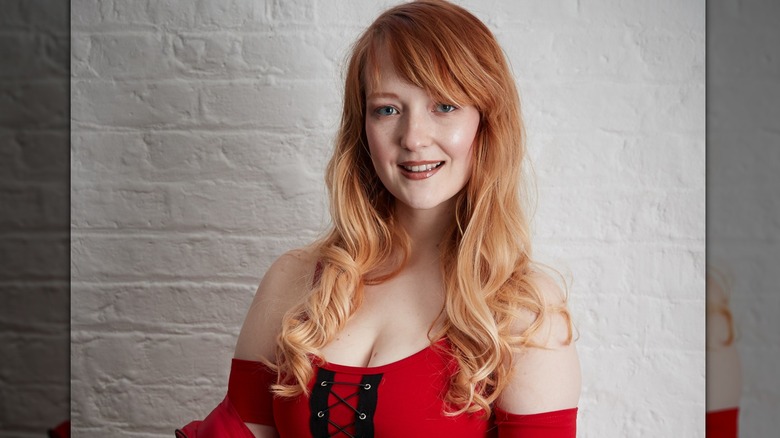 John Phillips/bfc
Most autumn leaves fall within the range of deep red to pale yellow. You can mimic this miracle of nature on your head with a fallayage that ranges from a medium copper root to light golden blond ends, proving that not all fallayages are required to be dark. 
Caramel hot chocolate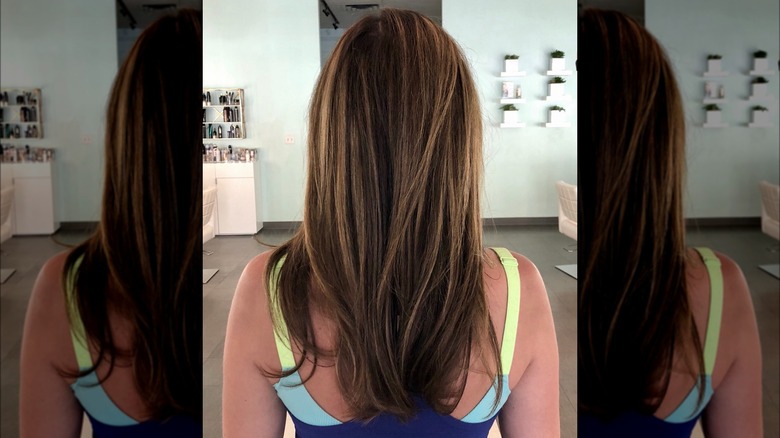 Sara Danielle/Shutterstock
Hot chocolate is a delicious drink during any season, but there's something special about adding sweet, sticky, warm caramel to it during the fall. You can recreate this timeless treat as a fallayage featuring a dark chocolate brown base and shimmering warm caramel ends and highlights. 
Burnt sienna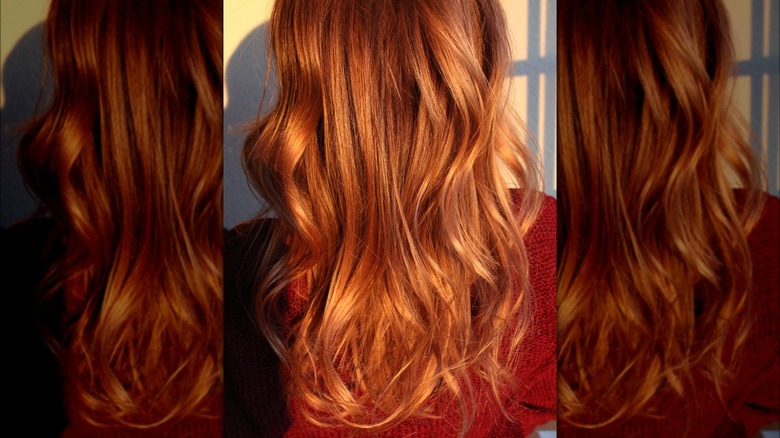 Samoli/Shutterstock
If you're looking to embody the color of fall leaves a bit more boldly than a coppery blond fallayage, try one that incorporates a wider range of the autumnal colors you're looking for. From deep, dark burnt sienna to shades of golden ginger, your hair will reflect all the beauty of a maple tree in October. 
Rich butterscotch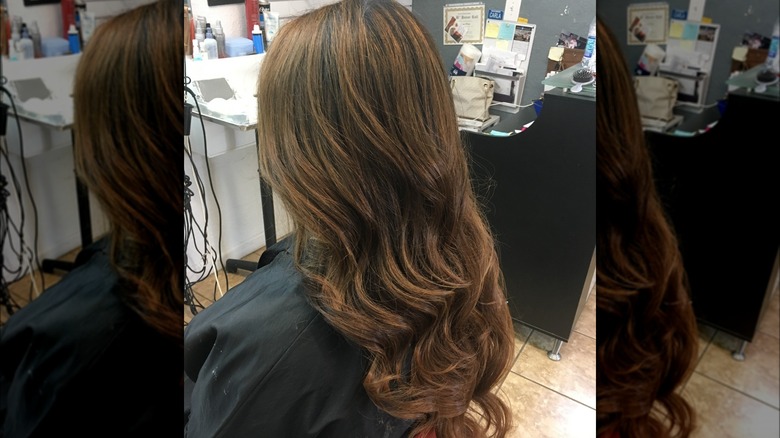 Selena Shots/Shutterstock
Can't decide between reds and golds for your fallayage? Aim for in-between with a rich shade of butterscotch. While caramel is made from white sugar, butterscotch is created from dark brown sugar, causing it to take on a darker, warmer, richer tone — and so will your hair. 
Rose gold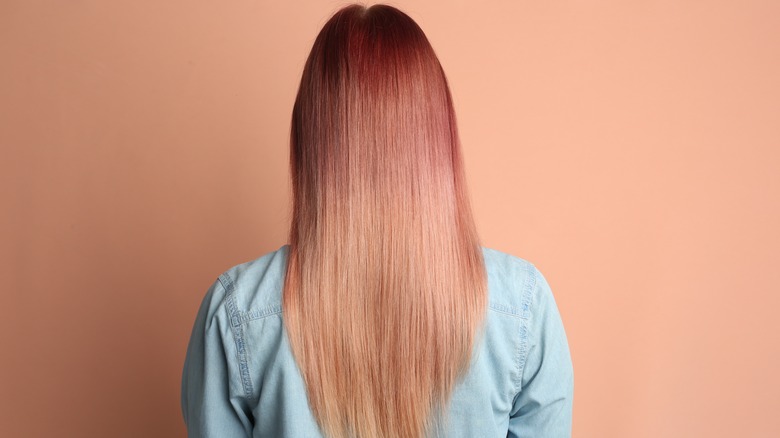 New Africa/Shutterstock
What do you get when you mix together the reds, oranges, and yellows that color the fall landscape? Rose gold! A rose gold fallayage cascades from a dark, warm red at the roots to a barely rose-kissed golden blond at the ends. The result is so warm and rich, it's impossible to associate with anything other than autumn.