The Tuxedo Top Is The Trendiest Statement Piece For Fall 2023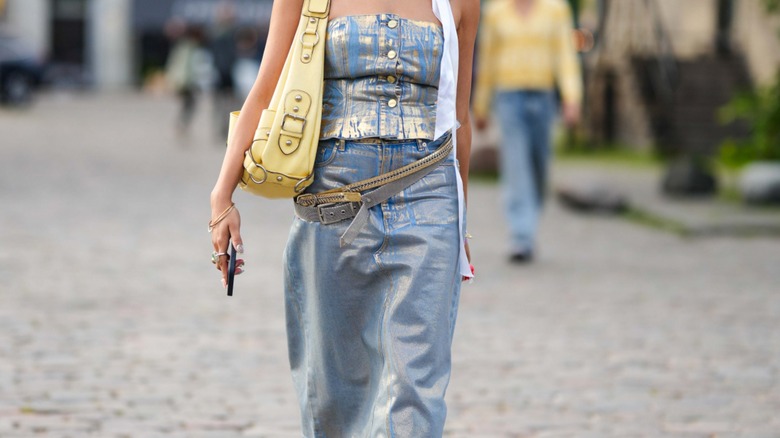 Edward Berthelot/Getty Images
Recently, it seems as if every menswear piece has become the latest fashion trend. From oversized blazers to trousers, there are plenty of items that we've borrowed from the menswear trends. The newest trend from the men's side is a remixed piece that'll make for the perfect touch to all your fall ensembles. The tuxedo top, or buttoned top, or vest, is the latest wardrobe addition to completely change how we layer our looks.
Whether you wear it by itself or layered over something else, the tuxedo top is a versatile garment that recently saw the spotlight during Viviene Westwood's Autumn-Winter 2023/2024 show. While the tuxedo top isn't new, the many variations we have nowadays make it seem like a fresh, cool trend. Between strapless pieces and thin-strapped tops, there are plenty of ways to add this to your wardrobe. Go for a classic minimalist vibe or a maximalist preppy aesthetic like Vivienne Westwood; there are no wrong ways of wearing the tuxedo top, so have fun with it.
Strapless tuxedo
While there are plenty of strapped vest options to complete your look, there's nothing quite apt for street style like a strapless top. The strapless tuxedo top, which also feeds into the quiet luxury trend, is the newest street-style piece to make everyday wear slightly more formal and put-together. 
Officewear chic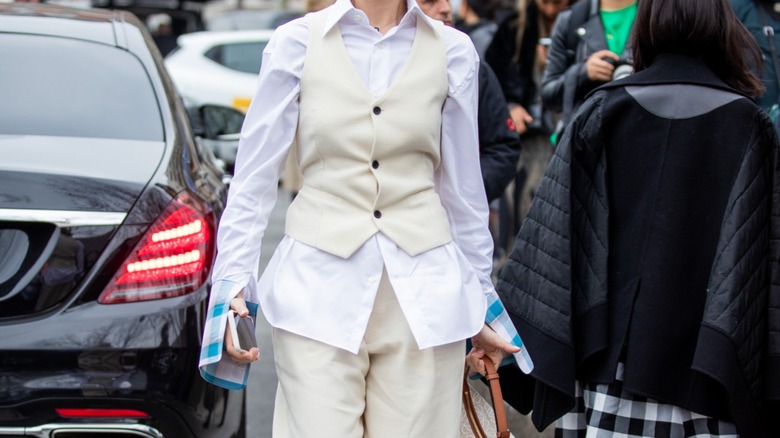 Christian Vierig/Getty Images
The tuxedo top in vest form is the perfect item to add to your look if you want something professional and sophisticated. This menswear piece has traditionally been typical in the workplace since it brings a certain level of elegance to the look. Copy this vibe and add it over another officewear staple, the button-down top. A crisp button-down with your favorite tuxedo top will create the ultimate formal look.
Crispy whites
While there are plenty of hues for your tuxedo top, a white color allows you to go for a dreamy, softer look. Naturally, white is light and airy and is a perfect break from the season's darker shades. Go for a white tuxedo top, like style influencer Agnieszka Grobelna, who opted for an all-white tuxedo top outfit in an Instagram post. Even in a monochromatic ensemble, the white tuxedo top looks elegant and sophisticated.
Classic black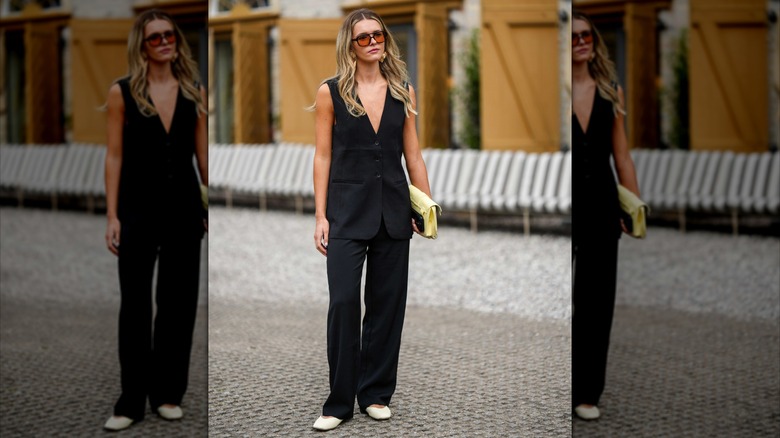 Edward Berthelot/Getty Images
Another timeless color for your tuxedo top is black. A black tuxedo top is likely the most common version of this piece and with good reason. Besides its neutral hue, the black tuxedo top looks the most formal and has more of a dressed-up feel to it. Similar to a black tuxedo jacket, the black-colored version of this trend adds plenty of style and ease to your looks. Even over a graphic tee or basic white T-shirt, a black tuxedo top will elevate your fall look.
Make it pop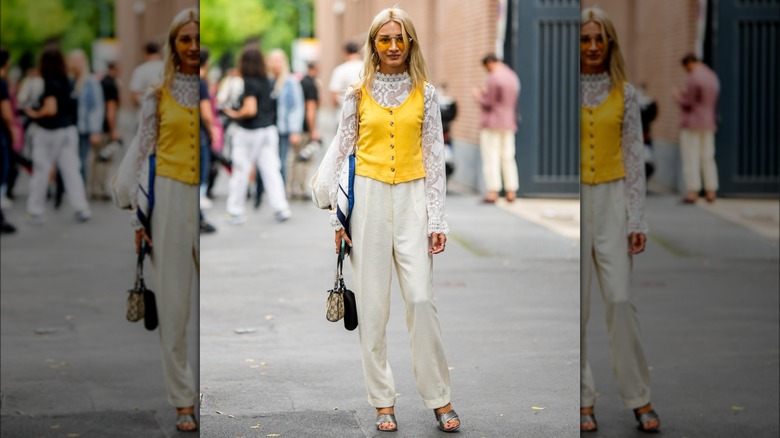 Edward Berthelot/Getty Images
Although the tuxedo top is classic, there's no reason why you can't upgrade it for the modern era. Giving your top a splash of color will help make your fall look fun and allow you to stand out more. One way to use a bold-colored tuxedo top is over a muted or neutral ensemble to help add a punch of color to your wardrobe. You can also opt for wearing a head-to-toe vivid monochromatic outfit, like Bella Thorne, who wore a fiery red tuxedo top with matching pants while in Italy (via Footwear News).
Tuxedo top and jacket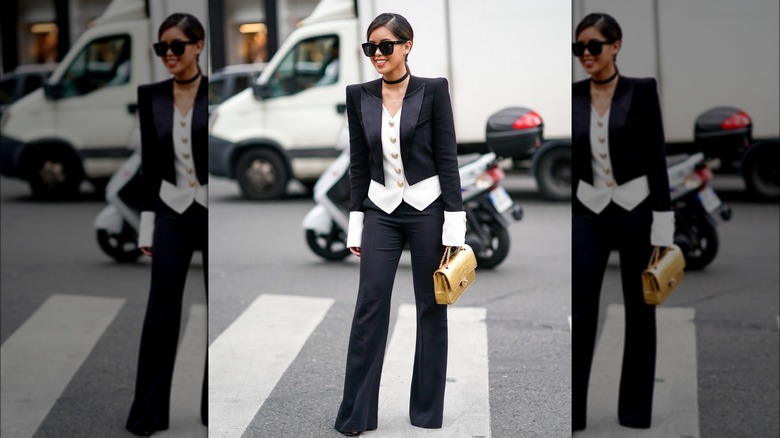 Edward Berthelot/Getty Images
Like the tuxedo top, other aspects of a tuxedo suit can become part of your fall ensembles. A tuxedo jacket, along with a top, is perfect for adding a formal touch to your look. Whether you're attending a dressier event or simply looking to add a different dynamic to your 'fit, the tuxedo jacket, along with a tuxedo top, can be a staple uniform for the season. Wear them with jeans for a casual approach, or complete the look with trousers. Either way, there are no rules for borrowing from menswear.