The Worst Celebrity Halloween Costumes Of 2023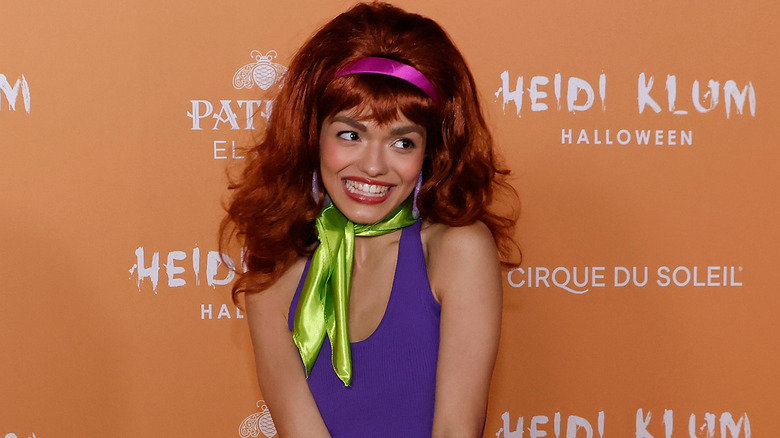 Taylor Hill/Getty Images
For many, Halloween is the most wonderful time of the year (sorry, Christmas!). No matter your age, there's something cathartic about dressing as someone else for a day — or a week, depending on how seriously you take spooky season. Of course, there are plenty of famous folk who fall in the latter camp, like Heidi Klum, often dubbed "The Queen of Halloween." The model hosts an annual bash in honor of All Hallow's Eve, and the celebrity Halloween costumes are often nothing short of legendary. This year, Klum donned a glittery peacock display to dazzle fans, while husband Tom Kaulitz tagged along as a hyperrealistic and slightly terrifying egg.
That said, not every celebrity costume is a smash hit. We hold stars to a higher standard — after all, they have a team of stylists at their disposal while the rest of us make do with little more than sheer ingenuity and a cluttered bathroom sink. From Adele's inexplicably brown-haired Morticia — everyone knows her hair is black, right? — to Margot Robbie's controversial "V for Vendetta" look, there was no shortage of duds to pore over this Halloween weekend. In fact, some were so unforgivably bad that we're not certain we'd classify them as costumes. So, if you're feeling the post-Halloween blues settling in already, let's lift those spirits a bit with some A-list spooky season looks that didn't quite earn As themselves.
Padma Lakshmi
"Top Chef" star Padma Lakshmi is always gorgeous, but her Halloween getup — worn to Heidi Klum's seasonal bash, of course — missed the mark this year. Taking inspiration from a classic European fairy tale, Lakshmi dubbed her costume design "Little Red Riding Wolf" in an Instagram post. While we applaud her creative vision, the execution wasn't quite there. Nearly every aspect of the look let us down, from the halfhearted creature makeup to the American Apparel-esque disco bodysuit that formed the base of her wolf suit. Ultimately, we expected more from a star of Lakshmi's caliber.
Kendall Jenner
Stars: They're just like us! It seems that late-night Instagram photoshoots with last-minute costume concepts aren't just for us ordinary folk anymore. With her lackluster Marilyn Monroe tribute for the 'Gram, complete with blurry snaps, Kendall Jenner has once again landed on our worst-dressed list. Celebrities dressing as famous figures was a huge trend for Halloween 2023, but Jenner should have left Monroe to Kim Kardashian if she wasn't going to go all out. If you plan to pay homage to one of the most iconic stars of all time, there needs to be something about your costume that sets you apart from other copycats.
Kim Kardashian
We've all been there: We tell ourselves we have more than enough time to get ready but fail to plan a decent costume. Aside from promoting little sister Kylie Jenner's recent Bratz collab, we can't think of any other reason to explain why Kim Kardashian chose to dress as the Y2K-era toy — that's not Barbie — for Halloween. Honestly, not much about this Bratz Doll look differs from Kardashian's day-to-day styling choices, from the contoured beat to her flowing locks. Her makeup application was slightly exaggerated, but we really wish that she'd taken this costume to the next level.
Justin Bieber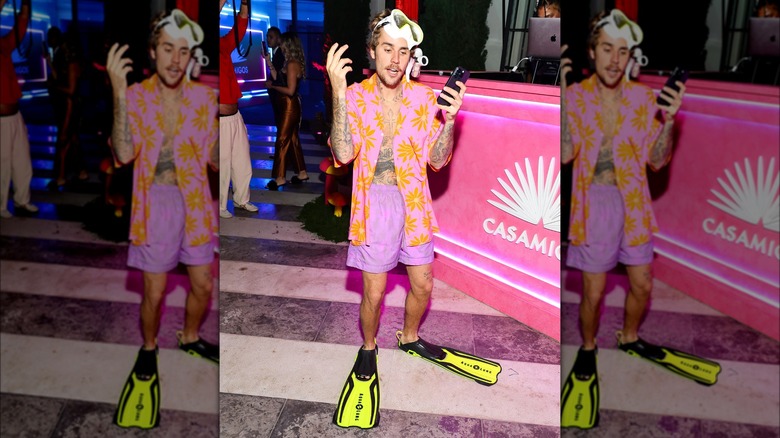 Matt Winkelmeyer/Getty Images
It's only right to give Justin Bieber props for sporting several costumes this spooky season, including a precious "Flintstones" 'fit with his wife, Hailey Bieber. However, we're not sure what the deal was with Bieber's snorkeling situation at the annual Casamigos Halloween Party. Was he running late from a day at the beach? Or perhaps planning on taking a dip in the water after the evening's events died down? Either way, dressing as a snorkeler in Southern California is a yawn-worthy costume choice when you have a world of options at your fingertips. Better luck next time, Biebs.
Halsey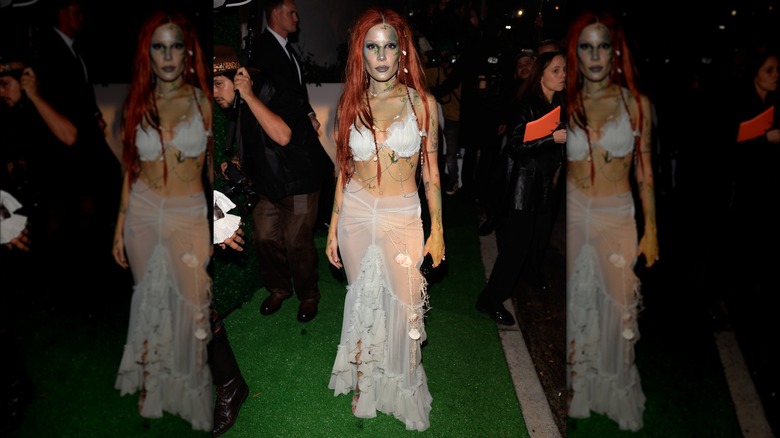 Rachpoot/bauer-griffin
Halsey's style is phenomenal, which is why it pains us to include her in our roundup. The "Be Kind" singer wore a sea siren-inspired getup at a recent Halloween gathering, while beau Avan Jogia walked beside her as a pirate. While we appreciate that Halsey put in more effort than her fellow celebs this year, we weren't taken with the overall aesthetic. The idea —ethereal, watery makeup, gauzy garb, and seashell-studded hair — sounds fantastic. Nevertheless, it doesn't have the same effect in photos, and the spotless white ensemble seems inauthentic for a mythical being that lives in murky water.
Rachel Zegler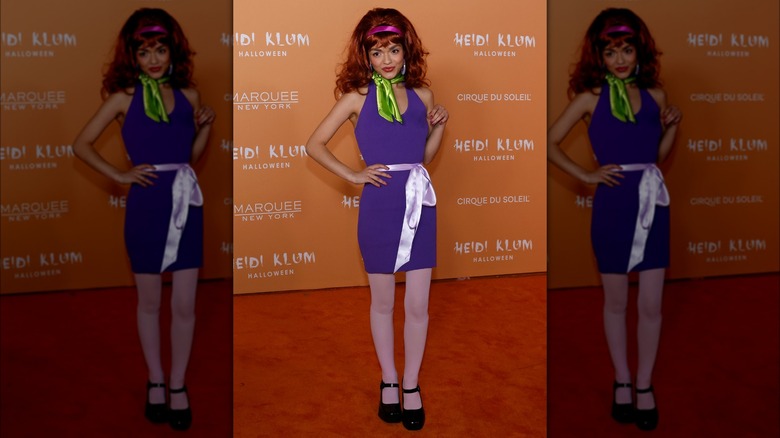 Taylor Hill/Getty Images
If we learned anything from Halloween 2023, it's that we can't be ashamed of our own Halloween costume misses. Cringing at your nonexistent wig-styling skills from Halloween 2015? Or how about your smeared clown makeup from just last night? Never mind all that — just look at "Snow White" actor Rachel Zegler, who wore this Daphne design seemingly fresh out of a Party City bag. From the blinding shine of the synthetic wig to the matchy satin belt tied around her waist like a Christmas gift, we're utterly perplexed by the styling of this beloved "Scooby Doo" character.
Sabrina Carpenter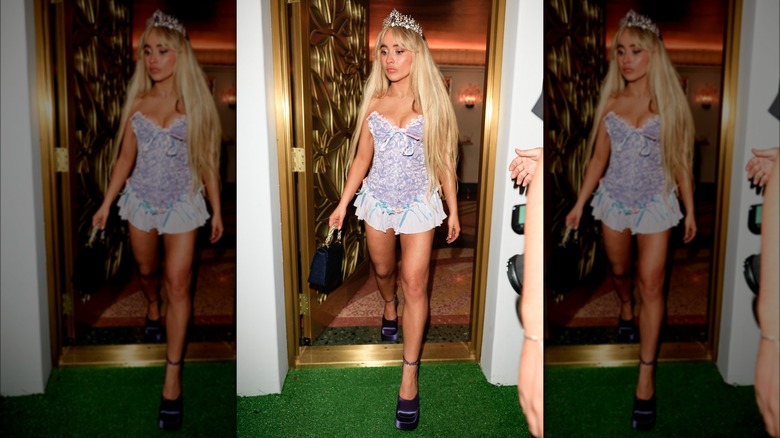 Rachpoot/bauer-griffin
We're going to be completely transparent here: We have no idea what singer Sabrina Carpenter was wearing to Kendall Jenner's bash at the storied Chateau Marmont this Halloween weekend. Carpenter's attire consisted of a lacy lilac bustier, micro-mini ruffle, and a tiara, and we can only assume she was a princess. However, our millennial brains automatically conjure images of the beloved Rampage lingerie designs of our youth. While there's nothing wrong with Y2K-era undergarments, we'd have trouble calling this a costume if it weren't for the tiara.
Rupi Kaur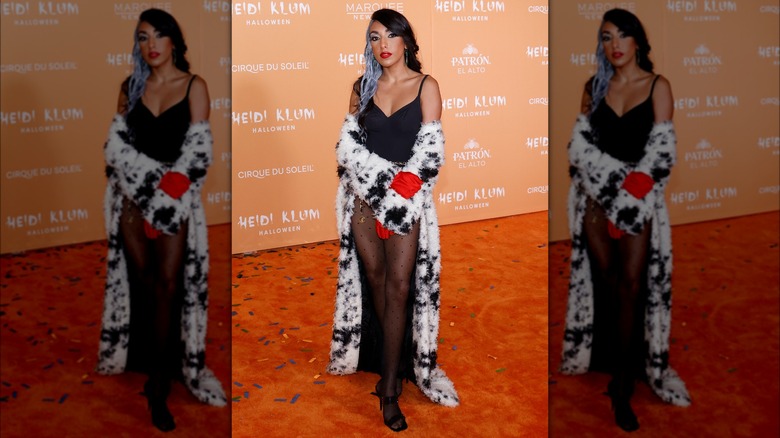 Taylor Hill/Getty Images
There's nothing wrong with wearing an overdone costume — as long as you do it right. Poet Rupi Kaur dressed as "101 Dalmations" antagonist Cruella de Vil, an age-old option that's almost up there with witches and scarecrows at this point. From Cardi B to Lauren Conrad, countless celebs have dressed as Cruella, but that's why Kaur should have stepped up her game. Instead of the glamorous Disney villain we love, Kaur's take on Cruella felt uninspired. Take away the red gloves, and you'd be hard-pressed to tell her apart from an ordinary partygoer riding a late train home.
Lucy Dacus
Chances are you've heard of Ariana Grande and Ethan Slater's budding romance, but even if you hadn't, you probably saw your share of Halloween costumes inspired by the "Honeymoon Avenue" singer and her "Spongebob: The Musical" partner this Halloween. Still, we're not sure why Boygenius' Lucy Dacus dressed as Pete Davidson only five years after Grande told him, "Thank U, Next." The costume wasn't poorly executed — in fact, it was actually quite impressive. Still, given the laws of fashion life cycles, it felt a touch untimely, especially against the sea of Spongieanas walking around this spooky season.