Margot Robbie's Favorite Perfume Is A Light Floral Scent Fit For A Barbie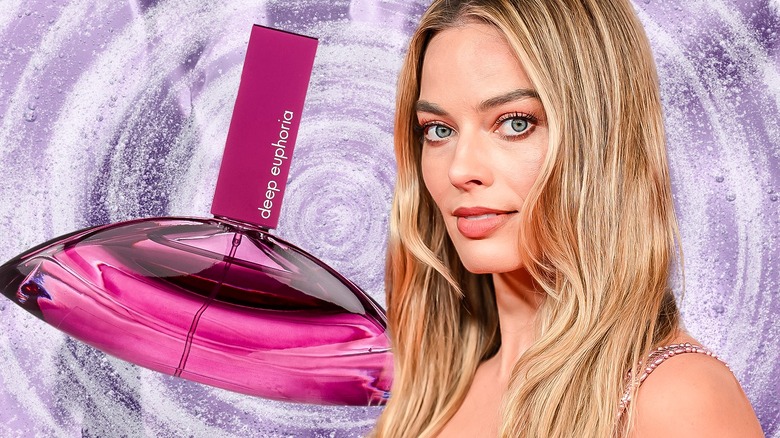 Static Media / Shutterstock / Getty
Trying to live like a Barbie girl in a Barbie world? While seasonal pink trends like dusty blush make Barbie style accessible all year long, there's another easy way to embody your Barbiecore goals: with a floral fragrance beloved by Margot Robbie herself. Robbie played Barbie in the iconic 2023 film, not to mention wowed red carpets all over the globe in stunning, Barbie-inspired fashions. As such, she's become inextricably tied to the Barbie brand and lifestyle. However, there's more to the story than how Robbie looks — to get the full picture, we're asking: how does she smell?
Speaking with Marie Claire, the actress reveals that — when not wearing simple essential oils — her go-to perfume is Deep Euphoria by Calvin Klein. As Robbie describes the fragrance, "It's a floral scent, quite a sweet musky rose, but it's feminine and isn't too strong so I can wear it every day." It's worth noting, though, that Robbie is a known proponent of Calvin Klein, and was named the face of the Deep Euphoria fragrance collection when it launched in 2016, per Fashion Network. In fact, the ad Robbie filmed for the scent can still be found on YouTube.
Maybe Robbie has a vested interest in extolling her love for Deep Euphoria, but that doesn't mean Barbie lovers can't embrace this floral fragrance in pursuit of their own Barbiecore dreams. If you want to personify Robbie's take on the Barbie phenomenon, here's what to know about Deep Euphoria from Calvin Klein.
What does Deep Euphoria smell like?
Deep Euphoria takes its place in the Euphoria line with a floral, rose-forward approach. Balancing the fresh and the musky, Deep Euphoria features top notes of white pepper, mandarin leaf, and the aquatic vibe of cascalone. At its heart comes the intensely flowery fragrance, with black rose, peony, geranium, and Arabian jasmine. These light and floral scents are then rooted with the rich, grounding scents of patchouli and musk. The result is a complex and enchantingly feminine perfume that is very distinct from the original Euphoria formulation.
With its mysterious comingling of dark base notes, floral midtones, and watery top notes, many reviewers have earmarked Deep Euphoria as a quintessential nighttime fragrance. Its strength and complexity have also made Deep Euphoria a slightly divisive scent, as it seems to work brilliantly with some users' skin chemistry, and less so with others.
One reviewer at Macy's writes, "Love this perfume. Earthy rose with a tinge with sweetness and just a little spiciness drying down to a musky, woody base that lingers for hours. A must-have if you're into earthy rose scents." Meanwhile, a reviewer on Influenster writes, "I enjoyed this scent a lot...until I put it on myself. I suppose it just didn't mix well with my pH or natural scents. However, it's strong and doesn't fade right away like other perfumes. Pleasant scent otherwise."
Deep Euphoria dupes
For some reason, Deep Euphoria can be difficult to track down — at the time of this writing, even the Calvin Klein US site doesn't have the scent available. There has been no official word that the scent has been discontinued, but many retailers are completely out of stock. However, all is not lost. If you want to smell like Barbie without the extra legwork, other perfumes hit similar scent notes.
One reviewer at Fragrantica suggests that Flowerbomb by Viktor & Rolf might share Deep Euphoria's vibe, and the two scents share some common ingredients. Much like Deep Euphoria, Flowerbomb includes jasmine, rosebuds, and peony. However, Flowerbomb lacks some of the richer base notes found in Calvin Klein's perfume — this may be an alternative that's better suited for daytime wear.
For a fragrance that can transition from day to night, Black Opium by Yves Saint Laurent has also been suggested as a replacement for Deep Euphoria. Touting a complex fragrance featuring coffee, white flowers, and vanilla, it seems to have a similar balance of rich and floral scents. One reviewer at Basenotes compares the two fragrances very closely, with a clear preference for YSL's offering. "Deep Euphoria is pleasant but unremarkable...[like] Black Opium with a little soap and no vanilla." Black Opium isn't just appropriate for both day and night wear — it's also an ideal year-round fragrance that can equally serve up its heady florals in spring and its sweet warmth as a sweater weather fragrance.