Dusty Blush Is The Perfect Transition For Your Barbiecore Pink Wardrobe In Fall 2023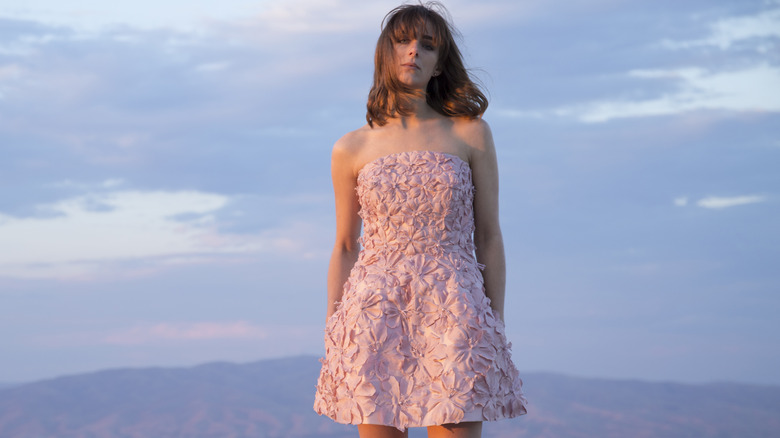 Ascentxmedia/Getty Images
In the wake of the global Barbie phenomenon, pink became a prominent color trend this summer. From the quiet luxury of baby pink to strawberry-inspired makeup looks, pink lovers had a bevy of girly fads to play with. Though the seasons may be shifting, you don't have to give up these hues in cooler weather. Beauty trends like dusty rose nails for autumn have already shown that muted pinks are a perfect alternative to bright, summery shades. In the same way, you can quickly transition your wardrobe into fall 2023 with a tone of pink called dusty blush.
Nestled sweetly adjacent to hues like rose and mauve, dusty blush is an understated pink that provides a softer, moodier alternative to more vivid Barbiecore shades. Where bright pinks offer a vibrancy well-suited to summer, dusty blush carries an air of sophistication that makes it perfect for elegant fall and winter looks. Better yet, this color is supremely versatile. Whether your area is well into autumn's chill weather or the leaves are just beginning to turn, there are plenty of ways to style dusty blush for your transitional fall wardrobe.
Chic jackets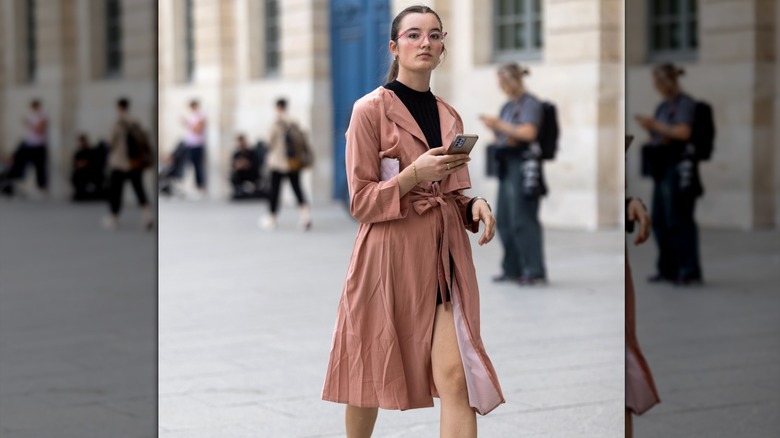 Valentina Frugiuele/Getty Images
To easily incorporate dusty blush into your autumn rotation, you can't go wrong with a sharp jacket. For instance, the classic trenchcoat is a fall staple, and blush trenches look gorgeous worn over anything from business separates to a chic cocktail dress. Choose a lightweight jacket for early fall, layering it over heavier pieces as the temperature drops. Opt for a heavy, waterproof trench for chilly, rainy climates. Depending on your local weather, the timelessness of a dusty blush trench can see you all the way through the winter and into the cool days of early spring.
Fall-friendly dresses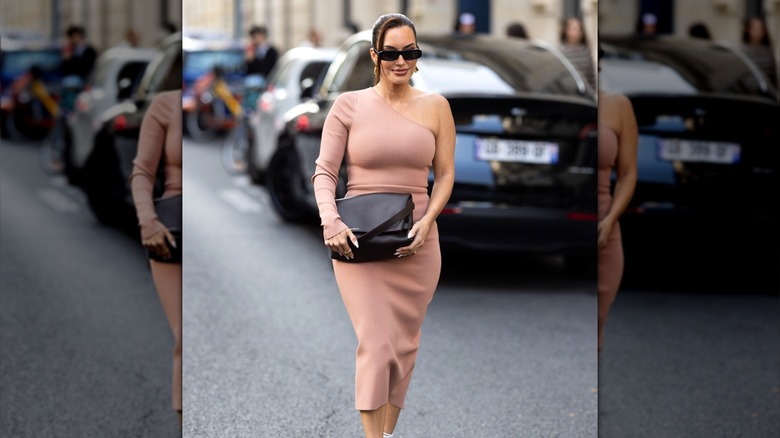 Valentina Frugiuele/Getty Images
The easy femininity of pink makes most pink shades a perfect match for flirty frocks, and dusty blush is no exception. Leverage this hue to add a few season-appropriate dresses to your autumn wardrobe. In a nod to the cooling weather, we especially love looks with midi-length skirts and long sleeves. Dress your dusty blush dresses up with a pair of nude heels or keep it casual with classic white sneakers. To elevate the look further, consider dress styles that feature eye-catching details like an asymmetrical silhouette or thoughtfully placed cutouts. 
Elegant blouses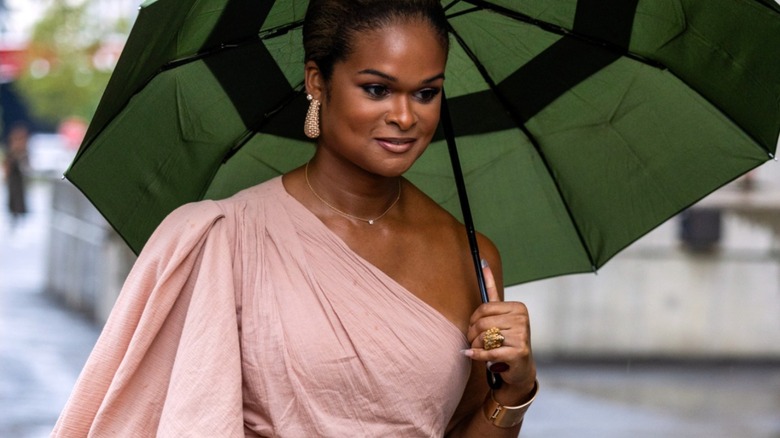 Christian Vierig/Getty Images
A nice blouse is such a clutch wardrobe piece. The right styling and accessories can turn it from a boss-babe office garment to the centerpiece of your next night-on-the-town outfit. That's why you definitely want a dusty blush blouse in your fall lineup, so you're ready to serve those elevated Barbie vibes for any occasion. Grab slacks, a pencil skirt, or a cute A-line skirt to style your blush top for work, pair it with jeans to look flawless as you run errands, or add a miniskirt and killer pumps to transform a blush blouse into instant eveningwear.
Statement coats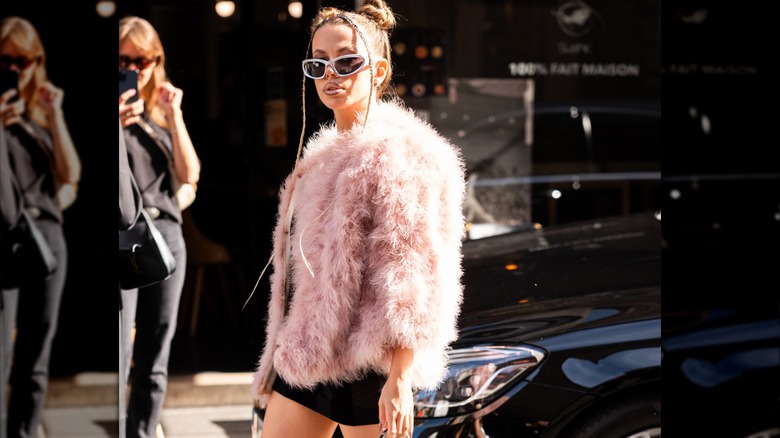 Claudio Lavenia/Getty Images
Want to embrace that Barbiecore flair even through the colder months? Embody peak Barbie fabulousness with a furry coat in dusty blush. The coat's luxurious weight is not only a fashion statement — it'll keep you warm all autumn long. For a sleek finish, balance its bulk with form-fitting underlayers, especially when choosing bottoms. Ideal pairings include items like bodycon minidresses and fitted trousers. For an even bolder impact, lean into the oversized silhouette by wearing your blush coat with pieces like baggy denim jeans.
Gauzy garments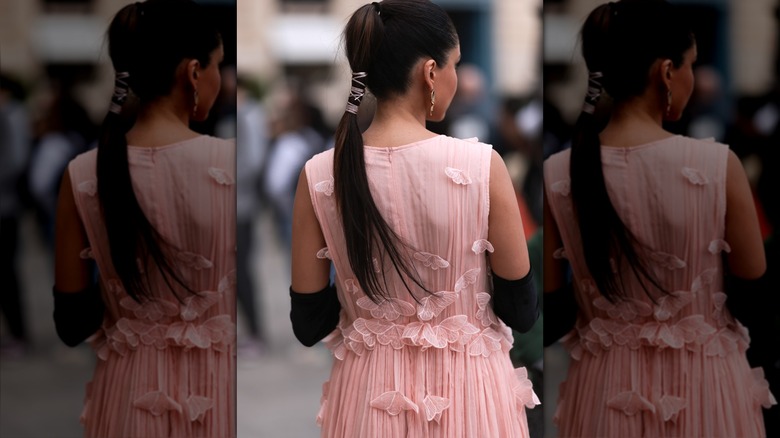 Jeremy Moeller/Getty Images
Gauzy materials have been all over runway shows this season. Get a headstart on this up-and-coming fashion trend by weaving it into your fall 2023 wardrobe with dusty blush tops, skirts, and dresses in airy materials like chiffon or organza. These breezy garments may seem like an odd fit for autumn, but ultimately, it's all about the styling. Top a lightweight dress with a longline cardigan. Let the collar and hem of a blush chiffon blouse peep out beneath a neutral sweater. Or make a gauzy blush maxi skirt fall-ready with warm tights in black or burgundy. 
Party pieces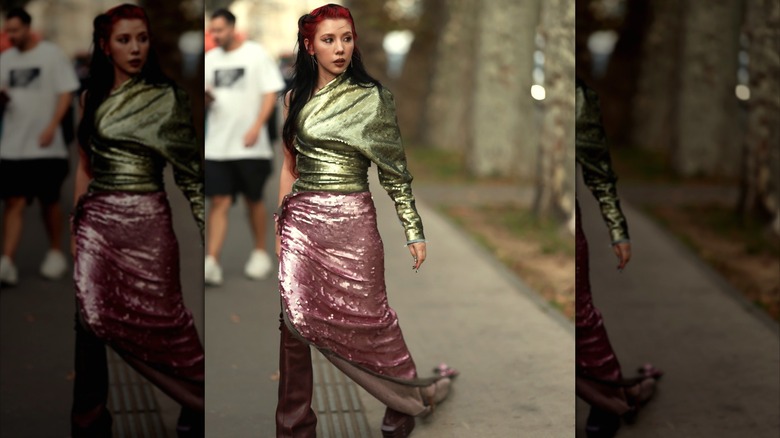 Jeremy Moeller/Getty Images
This summer saw many of us partying it up Barbie-style. Bring this larger-than-life energy into autumn with dusty blush party pieces. For instance, this sultry pink takes on a new life when paired with a light-catching finish. The glamor of sequins or metallics, complemented by the understated elegance of muted pink, creates a deliciously luxurious effect. The next time you have an excuse to play dress-up — whether you're attending a fun event or going the extra mile for date night — don't be afraid to include a few flashy blush pieces in the finished look.