How To Perfect The French-Girl Makeup Look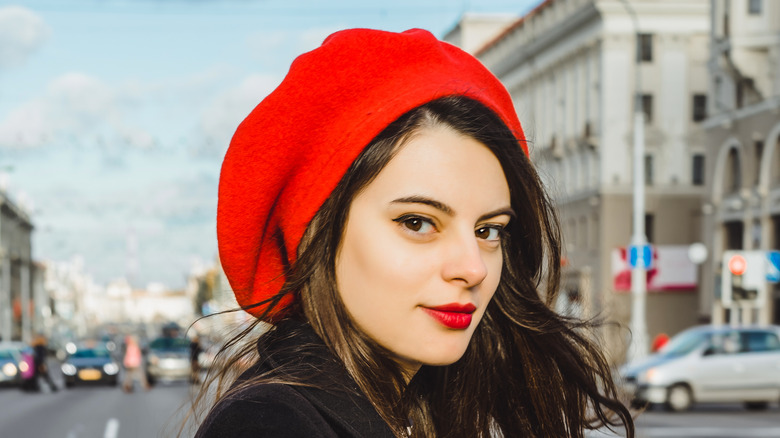 KIRAYONAK YULIYA/Shutterstock
People from all over the world are fascinated by the French style — Parisians manage to look effortless yet chic at the same time with their tousled hair and just enough makeup to enhance their features. Forget the heavy, full face of makeup loved by Gwen Stefani or the contoured look favored by Jennifer Lopez. When you think of cool French actors, Marion Cotillard and Sophie Marceau may come to mind. Even on the red carpet, they rock a makeup look with fresh, glowing skin and not an overload of products.
If you like an easy-breezy look and don't want to look overly made-up, you can mimic the French-girl makeup style, which doesn't require an arsenal of products. It's also a quick technique that should take no longer than 10 minutes, which is a win in our book. If you've been wondering how to look like you just stepped out of a chic pied-à-terre in Paris, we've unpacked the secrets of the understated beauty of French girls.
What is the French-girl makeup look?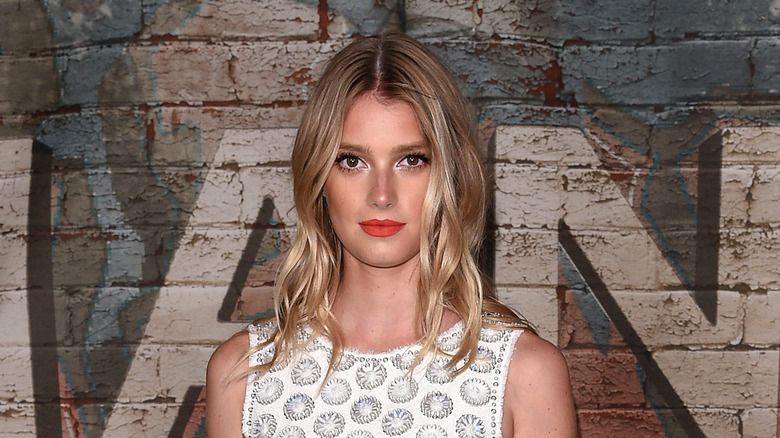 Andrew H. Walker/Getty Images
Before you get started on your way to looking like a Parisian belle, you may be wondering what exactly French-girl makeup entails. If you want to look très chic like the women of France, put away your full-coverage foundation and false lashes. There are no heavily drawn brows, either. The French-girl makeup is all about enhancing your natural beauty — not changing your features with heavy contouring. Of course, you'll want to cover up imperfections such as pimples or redness, but makeup is minimal and barely there.
French-girl makeup is also devoid of anything shimmery or glittery. They prefer a more elegant look, with natural-looking flushed cheeks and a whisper of eyeshadow. Less is more when it comes to this style. You'll also want to choose one facial feature to highlight, whether it's a classic red lip or just-woke-up smudged eyeliner — never both at the same time.
French-girl makeup vs. American-girl makeup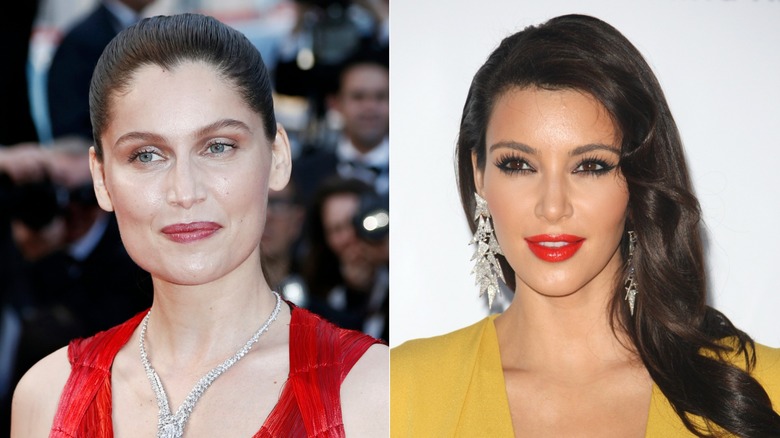 Andrea Raffin & Featureflash Photo Agency & Andrea Raffin/Shutterstock
We all know that Americans love a good, snatched look that comes from heavy contouring using concealer, bronzer, highlighter, and setting powder. However, French women rarely contour their face and if they do so, it's only to define their cheekbones with a powder bronzer, which they blend in so that there are no harsh lines. Instead of relying on a full-coverage foundation like many Americans, they make sure their skin is well taken care of so they only need minimal makeup.
Americans love playing around with different eye makeup, from Barbiecore pink shadows to graphic eyeliners, but you'll rarely see anything that elaborate on French girls. They prefer nude lids or a toned-down smokey eye. Eyebrows are also a huge difference across the pond. Americans like a strong, defined brow, while French women simply fill in where needed and give their brows a little brush to keep them in place. While red lipstick is popular in both countries, the French way is just to smudge it on for a natural, just-bitten look.
What products you'll need for the French-girl makeup look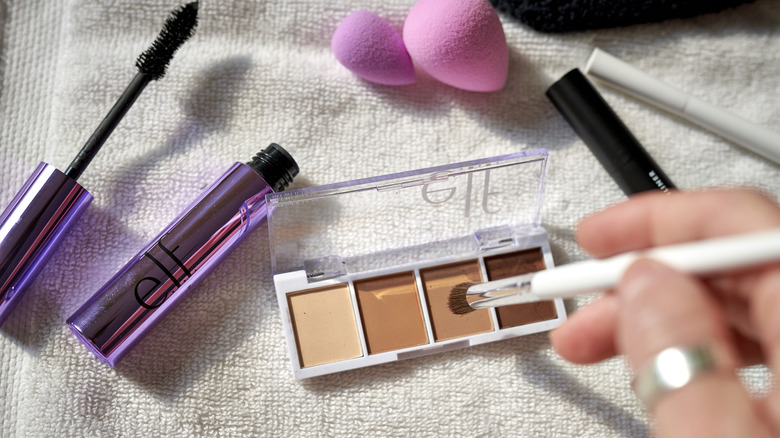 Bloomberg/Getty Images
The best thing about a French girl's beauty routine is that you don't need a ton of products. All you need are these basic skincare products and some natural makeup. Try a hydrating cleanser, micellar water, and toner to keep your face clean and remove any makeup. Follow it up with moisturizer to keep your skin hydrated throughout the day.
When applying makeup, go for concealer, CC cream, or a tinted moisturizer to help you cover any imperfections. Then, use a lightweight foundation for a flawless look that won't weigh down your skin. With mascara, a lash comb, a brow pencil, or tinted brow gel, you can create perfect brows to shape your face. A bit of blush can give you some color and mute any black eyeliner pencil — you don't want to overdo the dramatics. Dark brown eyeshadow can help you keep a natural look, and a bit of red lipstick will help you really make your appearance pop.
Start with a healthy skincare routine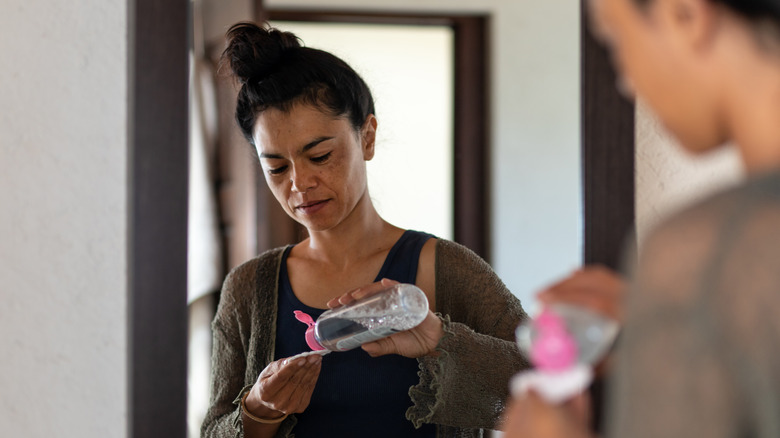 Marsbars/Getty Images
Because femmes françaises don't like heavy foundation, you'll need to make your skin look as perfect as possible. Makeup artist Patrick de Fontbrune stated to Byrdie, "French women understand a glowing healthy skin is essential to their beauty regimen." He explained that they grew up learning the importance of face masks from a young age, as well as cleaning their skin before they go to sleep.
Getting regular facials from a professional is a must as well. "As a preventative measure, French women begin getting facials at a younger age than Americans," French esthetician Regine Berthelot Rivoal told Byrdie. The one thing they always have in their beauty arsenal is micellar water, which is a gentle way to cleanse your skin and remove makeup without using any harsh soaps or chemicals. Treating your skin well starts with keeping it fresh and clean every day.
Prep your skin before your French-girl makeup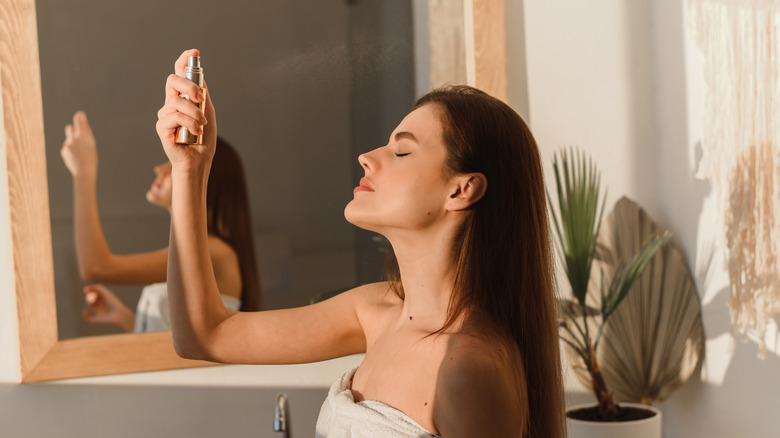 Anastasiia Korotkova/Getty Images
Prepping the skin before makeup is a practice French women never skip. "They'll use a fine water mist all over the face followed by a rich serum and a thin moisturizer to seal moisture into the skin. In cold weather, they use a thicker moisturizer," Patrick de Fontbrune shared with Byrdie.
To get flawless French skin, skip harsh exfoliants and acids. According to skincare specialist Dr. Debeshi, the French like gentler formulas that focus on hydrating the skin, per Health Shots. Use micellar water to clean your skin and remove any makeup residue. Afterward, use a calming hydrating toner free of any alcohol. Look for ingredients like aloe and rose water, which have a soothing effect on the skin. You can apply a serum that contains vitamin C if needed and then apply a lightweight daytime moisturizer, followed by sunscreen, dermatologist Dr. Prerna Sikka told Health Shots.
Apply foundation with your fingers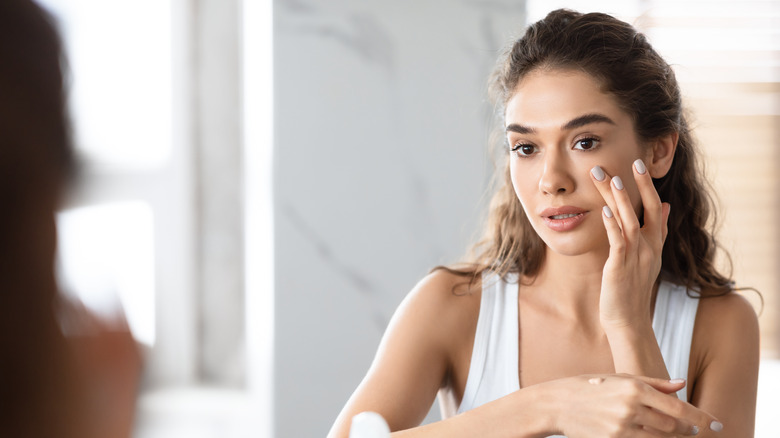 Prostock-studio/Getty Images
With flawless skin, you won't need much coverage, and French women don't like a heavy base anyway. Choose a tinted moisturizer or a foundation light enough that it feels like skincare. Apply only to areas that need a bit of evening out. "You don't need to apply your foundation all over your face because there's beautiful texture in your skin — it's a good thing not to cover it," Estée Lauder's global beauty director, Violette, shared with British Vogue.
A tip for a flawless application is to use your fingers instead of a sponge or brush, which makeup guru Pat McGrath uses as a foundation hack. It not only allows you to control where the makeup is applied but it also gives you the added benefit of massaging the foundation into your skin. Violette explained that the warmth of your digits will "blend foundation in perfectly." She also advised skipping foundation on the nose. "When you don't do foundation on your nose, it gives the illusion that you're not wearing any makeup," she stated. Your foundation formula and application should be so light that you won't be able to tell which areas of your face have makeup.
Apply powder on shiny spots only
French women like to look glowing and luminous, but not oily. To keep the skin from looking too matte, don't apply powder to your whole face. Choose areas that get oily, such as your T-zone and let the rest of your face glow. YouTube content creator "The Very French Girl" likes to dab on very fine pressed powder underneath her eyes to set her CC cream, as well as the high points of her face. "Basically, where I don't want to be shiny," she explained.
For the final step, instead of a shimmery highlighter, Violette told British Vogue that she likes to use a serum and apply it to the areas she wants to spotlight. "I take a few drops and pat onto the nose, cheekbones, and Cupid's bow, and that's it. Your skin, but better," the beauty expert declared.
How do to a French-girl smokey eye
French women are known for their love of red lipstick, but they also rock a perfectly messy smokey eye as well. However, they rarely sport both at the same time, so if you choose to highlight your eyes, choose a light, neutral color for your lips or just go with a lip balm. French model Cindy Bruna shared with Vogue her technique for mastering the smokey eye, Parisian style. After curling her lashes, she gave a swipe of black eyeliner on her top lash line, making sure to fill in her waterline as well. For extra blend-ability, opt for a gel pencil liner, which glides on easily.
Next, she used a stiff, slanted brush to smudge the liner. Using the same brush, she applied a dark brown shadow to the outer edges of her eyes, followed by a shimmery light gold shade on the inner corners. Finally, she used a primer on her lashes, followed by a couple of coats of mascara on her top and bottom lashes. The final look was a smudged, smokey look blended seamlessly.
How to do a French-girl red lip
If you choose to add color to your lips, a red color is a staple for French women. However, you're not going to see the super precise lines that Taylor Swift is known to have. According to makeup artist Ali Andreea, French women like a blurred effect, which is achieved by concentrating red lipstick on the inner parts of the lips and diffusing it toward the edges, per Parisian Vibe. "And you can do that by applying it with your fingers or with a brush," she stated.
French model Marine Lenel likes to blend three different shades of red, which may sound like a lot but looks super natural when applied with her fingers. She didn't worry about a perfect application and smudged the edges over her lipline. While you don't have to use multiple lipsticks, you can choose your favorite red and use your pinky finger to dab the color on, as if you're applying lipgloss or lip balm. The final effect should be a beautiful red stain that looks like you were born with a vibrant pout.
Add a bit of natural color to your cheeks
Now that you have most of your makeup applied, it's time to add a hint of color to your cheeks. Beauty vlogger Angela van Rose of the YouTube channel "French For A Day" likes to apply blush after she does her eyes and lips so that she can tailor the color to the rest of the makeup. Forget using bright pinks, which is considered "childish." Instead, go for "more elegant, more timeless" colors such as beige or peach. "They're generally going to think about their own skin tone and what is going to compliment their skin tone beautifully, but it's never going to be too obvious, it's never going to be too much on the face," she stated.
Using a large fluffy brush, van Rose applied a neutral bronze shade onto the apples of her cheeks. She explained, "French women sometimes use bronzer but they never contour their face. They never really want to change the shape of their face or the shape of their nose. The French-girl makeup look is all about enhancing your natural features. "Why not celebrate your own beauty and the face that you were given," the beauty maven pointed out. A final dusting of bronzer to blend seamlessly into her blush and voilà, effortless French-style makeup complete.