What To Know Before You Buy Products From A TikTok Shop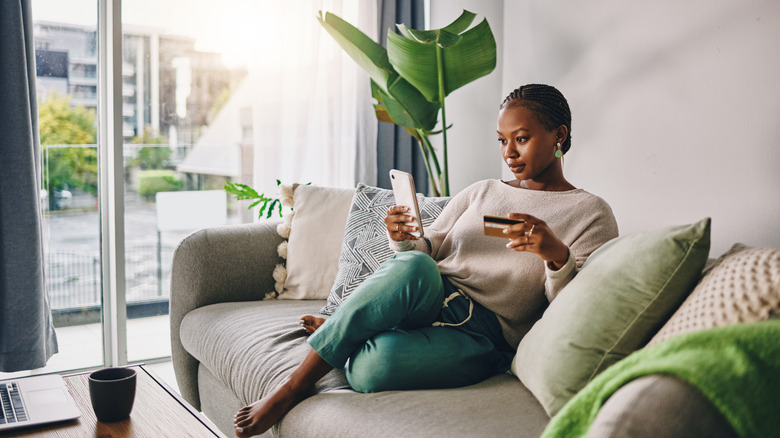 Delmaine Donson/Getty Images
If you do any amount of regular scrolling on TikTok — the social media app steadily taking over the world — you've surely come across videos featuring the option to buy a product without needing to leave the app. This feature, known as TikTok Shop, was launched in 2023 and has been steadily gearing up to compete with other shopping platforms. Creators can use the feature to sell products directly from their reviews or unboxing videos, which makes not purchasing them challenging for many viewers.
Advertisement
If you've been a loyal viewer for years, you might be struggling to decide whether or not to make TikTok purchases from your favorite creators on the app. Is it safe? Are there any protections in place for buyers? Are the deals worth it, even when they seem too good to be true? Luckily, we've figured out what you need to know before shopping on TikTok, so you don't have to, like how some purchases may not be covered by TikTok when a third-party website directs you outside the app. 
What is a TikTok Shop?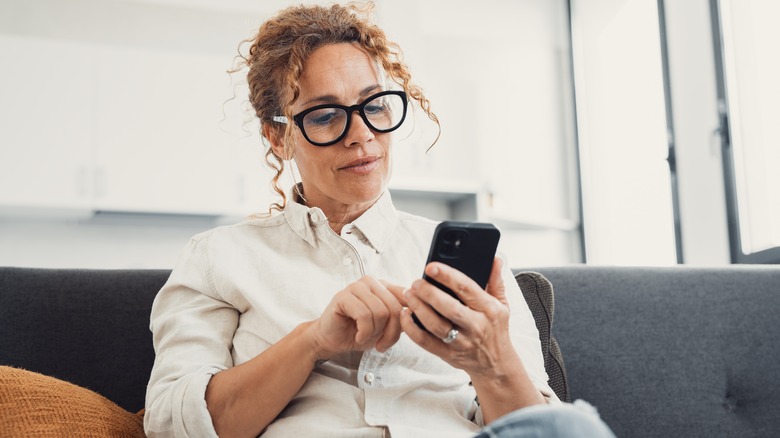 Perfect Wave/Shutterstock
When a TikTok creator is approved to join the TikTok Shop program, they are given access to affiliate opportunities with brands that have agreed to be involved in the program. In order to qualify for the affiliate program, a creator must be 18 or older, be able to verify their identity and have at least 5,000 followers. Once approved and choosing which brands and products to sell, a creator can begin to offer products for sale in both live and in-feed videos as well as on their profile.
Advertisement
When scrolling through your feed, you'll be able to spot these videos by the buttons displayed in the bottom left corner of the screen. Above the creator's username, you'll see an orange shopping cart icon, followed by the name of the product being sold. Below the video's description, you'll see a blue button labeled "shop now." Both of these buttons will take you directly to the product's Shop page, where you can purchase it. 
How to shop on the TikTok app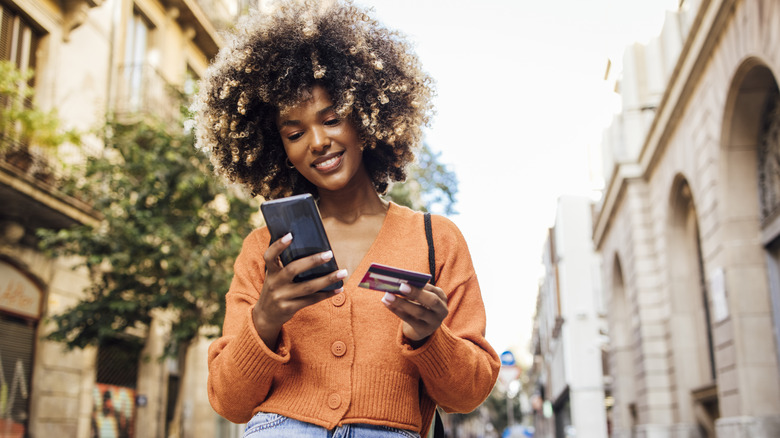 Rgstudio/Getty Images
If a video pops up in your TikTok feed that features a Shop button, you can buy the product featured in the video with just a couple of taps. However, you don't have to wait for a creator you're following to post about a product to get an opportunity to buy it. You can also use the "Shop" button, located on the left side of the app's menu at the bottom of your screen (near your inbox).
Advertisement
Once you enter the TikTok Shop tab, you'll be greeted with a new customer coupon (currently 30%) to be applied to your first purchase. There are also coupon bundles available, which encourage you to purchase multiple products in order to unlock more coupons. You can search for a specific product, browse by category, take a look at the app's daily deals, or view products recommended specifically for you by TikTok's mysterious algorithm. Once you purchase and receive an item, you'll have a 30-day window during which you may initiate a return and refund. 
What to look out for when shopping on TikTok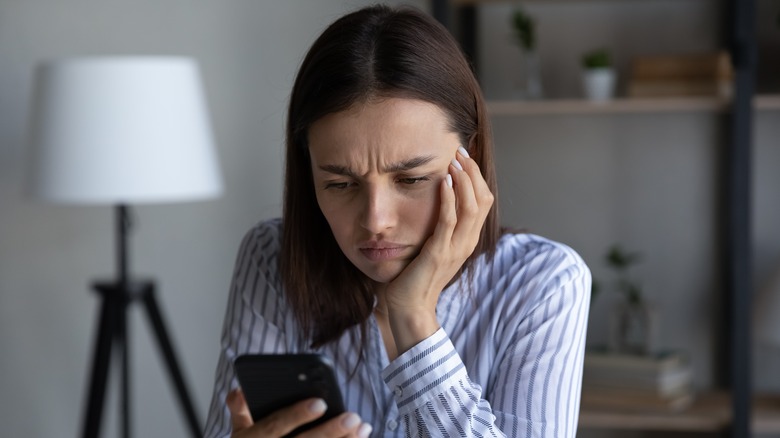 fizkes/Shutterstock
TikTok Shop uses reputable third-party platforms like PayPal and Stripe to process payments. This means that your payment information should be as safe on TikTok as it is anywhere else you shop online. The platform, however, is not immune to the same types of scams that plague the rest of the internet. Since TikTok also allows sponsored videos that are not part of TikTok Shop, it is possible for confusion and dishonesty to ensue.
Advertisement
If you click on a button in a sponsored video and are taken to a website outside of the TikTok app, you are no longer shopping in the TikTok Shop. Purchases made from a third-party website or app are not protected by TikTok, meaning that you are on your own if the product is faulty, fraudulent, or never arrives. Also, be extra careful when purchasing electronic products from TikTok. Online marketplaces — including TikTok Shop — are not required to test electronic products for safety before selling them.
How to spot counterfeit items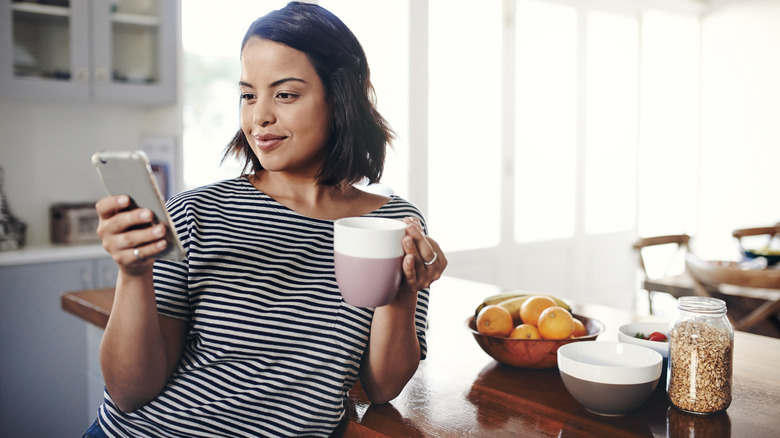 Mapodile/Getty Images
When it comes to online shopping — especially within the realm of fashion and beauty products, counterfeit products are a major problem. According to Smart Protection, 70% of beauty and personal care brands are plagued by the third-party sale of knock-offs claiming to be authentic products. While counterfeit products are officially banned from being sold on TikTok Shop, not everyone follows the rules, and getting posts removed is a process. That said, always check the reviews before placing your order.
Advertisement
If you decide to shop on TikTok, keep an eye out for the most reliable sign that a product isn't authentic — price. Whether you're looking for a designer handbag or a Korean skincare product, make sure you have an idea of the item's price on other platforms. If its price is massively cheaper on TikTok than anywhere else, there's a good chance it isn't authentic. In that case, you'd be better off saving your money until you can afford the real deal. 
Are TikTok Shop promotions worth it?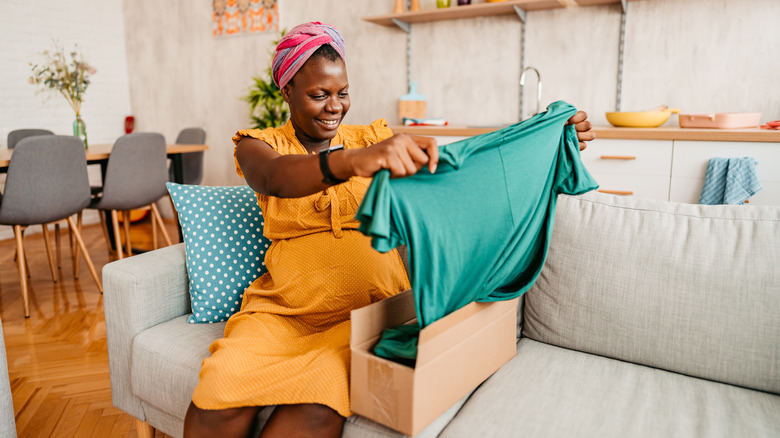 Urbazon/Getty Images
Some products on TikTok Shop cost next to nothing, especially when combined with promo codes, coupons, and sales. Since the shop feature is actually a marketplace full of thousands of sellers, there is no one standard for quality. While some sellers might be recognizable as mainstream brands, others are simply sole proprietors selling goods you might find on Etsy. Others are third-world sellers offering goods similar to the products you'd find on Shein or Temu.
Advertisement
If you're willing to put a decent chunk of time into researching the product and the seller before you make a purchase on TikTok Shop, you can definitely find yourself a good deal. However, if you're in search of a particular type of product and a specific level of quality, it may not be worth the risk. Sometimes, paying a bit more is worth the peace of mind that comes with knowing what you can expect from a trusted brand or store.