Taylor Swift's Biggest Makeup Mistakes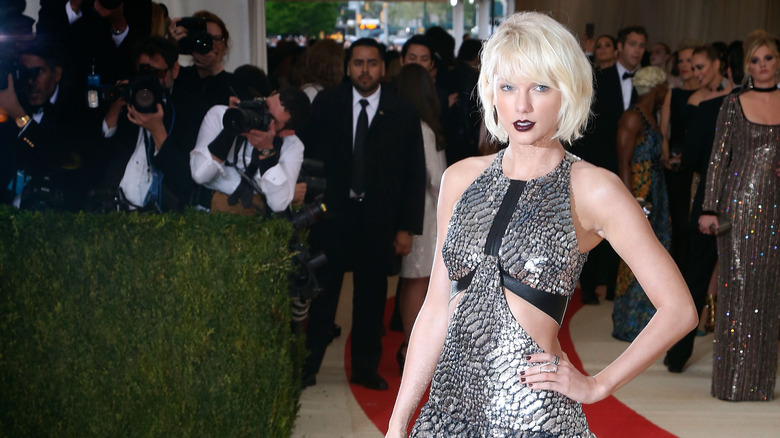 Taylor Hill/Getty Images
Besides being a global superstar, Taylor Swift is well-known as a fashion and beauty icon. As is typical with Swift, every one of her looks seems to be methodically planned and almost strategically done to coincide with whatever era she's in. Who could, after all, forget her mid-2020 "Folklore" era symbolized by a cardigan? These days, Swift rarely makes a wrong move with her makeup or fashion. However, this comes down to years of trial and error in establishing her iconic beauty looks. Of course, Taylor Swift is known for her sharp cat-eye liner and red lipstick, but there has been the odd rare instance in which even these staples have failed her.
The mistakes that Swift has made mostly come from her early days when she was just a new country star on the rise. Over the years, Swift's noticeable makeup evolution has eliminated many of these beginner mistakes and resulted in cutting-edge looks that caused quite a stir. There's no forgetting some of her iconic beauty moments, like her dark, edgy look at the 2016 Met Gala. And while that specific moment was brought to us thanks to the event's theme (Manus x Machina: Fashion in an Age of Technology), there are some other instances of Swift's questionable beauty choices that seem more difficult to justify, surely even by die-hard Swifties.
Makeup mistake (Taylor's Version)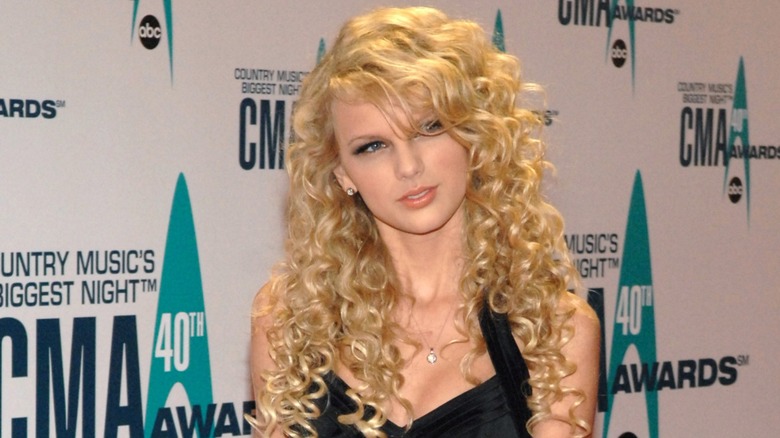 Rick Diamond/Getty Images
While it's hard to remember Taylor Swift as a novice country artist, it was an era that brought about some beginner beauty looks from the songstress. One of the earliest mistakes came during the red carpet for the 2006 CMA Awards. While her long black dress didn't aid in the overall look, it was her confusing makeup that seemed the most out of place. With dark smokey eyeshadow that matched her black gown, the vibe seemed to be gearing towards an edgier look. While this was classic for the early 2000s, it was her lipstick that unfortunately didn't get the memo.
Along with her moodier vibe, Swift opted for a light pink-orange lipstick that seemed to be more fitting for the "Lover" era than with an edgy ensemble. Although this is a painful example of learning by doing, it's prime evidence of the importance of a cohesive makeup look. Had Swift opted for a stronger lip with a more defined, moody eyeshadow, this would've cemented her as a beauty icon from the beginning.
Washed out under the lights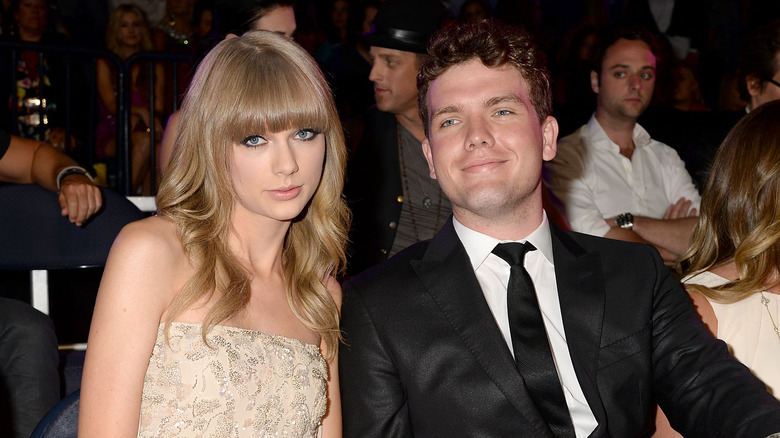 Jeff Kravitz/Getty Images
Though Taylor Swift is known for her red lip, she can also pull off a neutral lip when the situation calls for it. Unfortunately, a nude lip usually has to be balanced with enough bronzer on the face, or else there's the risk of looking washed out. This is especially true when you have studio or camera lights in your face. While we love the pale pink lip that Swift wore to the CMT Awards in 2013, and we love the bold eyeliner, this look is lacking without the bronzy and glowy finish that typically accompanies Swift's makeup today. 
Maybe in real life Swift looked adequately bronzed, but in the photos, she seems washed out, even with the alluring black eyeliner. Except for the eyes and the lips, it seems as if there was little to no effort in this look overall. A hint of contouring or a swipe of trendy cream blush or bronzer would have saved Swift here.
Caught red (lipstick) handed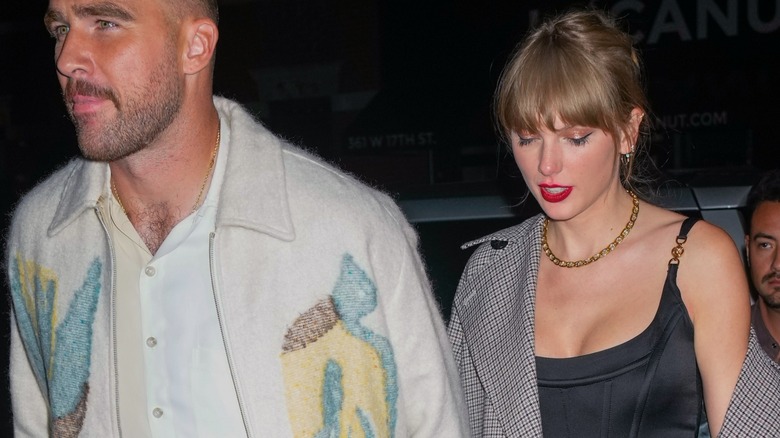 Mega/Getty Images
Although Taylor Swift's previous relationship was kept under the radar for years, her newest flame has received much more time in the spotlight. After revealing her newfound relationship with NFL football player Travis Kelce, it seems Swift has been spotted almost everywhere with him. In an October 2023 outing, after their surprise cameos on "Saturday Night Live," Swift and Kelce enjoyed each other's company at the SNL afterparty. And while both delivered on the fashion front, it was Swift's makeup look (or lack thereof) that had everyone talking.
After escorting her out of her vehicle, Travis Kelce was spotted with a significant amount of red lipstick on his lips, while Swift had some smudgy red lipstick on hers. While this is typical for anyone wearing lipstick, it does serve as a lesson about the importance of a good matching lip liner. Although red lip liner might've not done much to prevent the smear, it could've helped at least make it less apparent. But it's not lost on us that this makeup mistake might've been more on Kelce's part than Taylor Swift's.