The Best Reason To Ensure Your Red Lipstick Has A Matching Lip Liner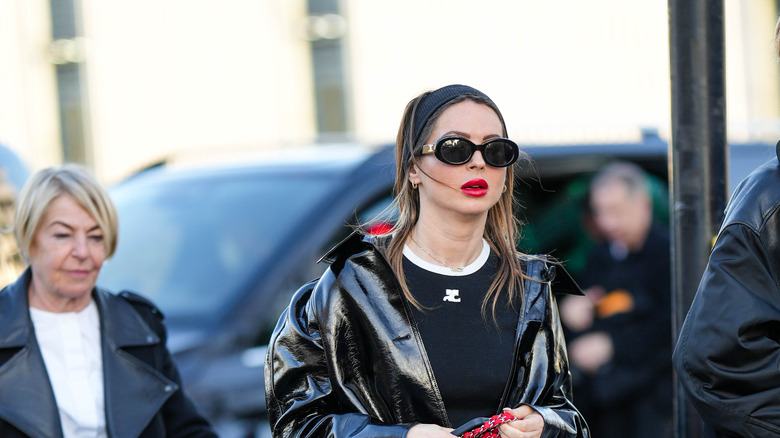 Edward Berthelot/Getty Images
Red lipstick is the perfect compliment to any outfit or look. Being one of the most classic and timeless beauty look you can create, red lipstick will never go out of style. Besides being an instant classic, red lipstick creates a statement look in moments. And — as a bonus — red lipstick will help make your teeth seem whiter and brighter, giving you a pearly appearance. 
There are plenty of reasons why you would choose to go with red lipstick, but you can only get the best look if you apply it properly. Getting the correct application of any lipstick can present a struggle. However, when it comes to a bold shade like red, there's a greater risk of mistakes.
Regardless of color, a lip liner is the best way to get a precise application of lipstick. When you're picking out your lip liner, it's essential to consider the color you get it in. Many companies nowadays will opt for selling lip liners in the same shades as their lipsticks to better be able to pair your lipsticks and lip liners. However, recent trends have called for lip liners in a darker shade than your lipstick for a '90s makeup look. While this look is chic, there are some instances when you'll still want a matching pair. 
When it comes to red lipstick, you should always have a red lip liner on hand. Lipstick paired with a matching lip liner is the ultimate recipe for a perfect red lip.
Match your red lipstick with a red lip liner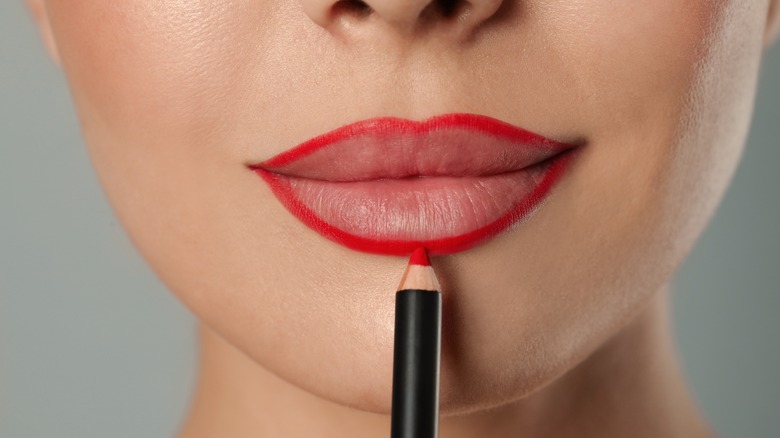 New Africa/Shutterstock
Red lip liner is not only a great way of ensuring your lipstick lasts all day, but it will also help you get a precise application. Lining your lips before a red lipstick will give you the best outline of where to apply your lipstick. Because red lipstick is easy to notice if it's not applied correctly, you want to ensure you stay within the lip shape you want. Starting with a lip liner will dictate your lip shape, almost like a coloring book where you want to stay inside the lines.
Although most brands will sell matching lip liner and lipstick combinations, that doesn't mean there won't be instances where you can't find the right pair. L'Oréal Paris recommends opting for a lip liner in the same color that is one to two shades darker. This slight difference in hue will help you create a more statement look without straying from the purpose of matching lipstick and lip liners. If you are straying for lipsticks and lip liners from different brands, you want to ensure you stay in the same color family and with the same finish. Staying consistent with the finish and color family will help you get the same hue, no matter if you are mixing brands.
How to correctly apply red lipstick and lip liner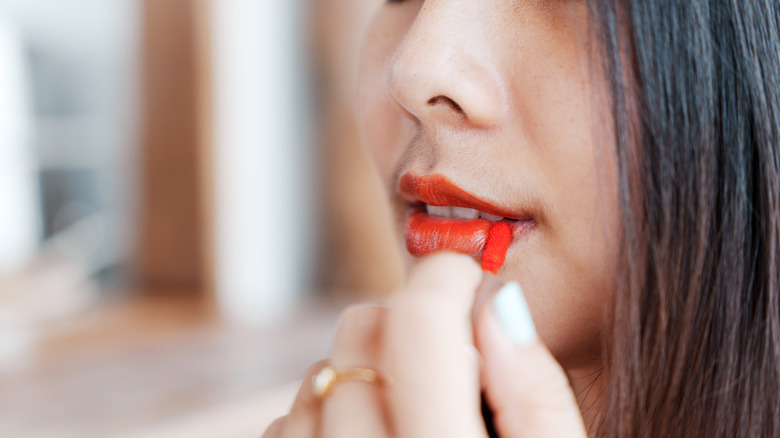 Mumemories/Getty Images
As classic as it is, red lipstick has its challenges when it comes to application and lasting the entire day. Because it's bold lip color, you want to do everything you can to ensure it stays on perfectly without smudging. While a matching red lip liner will help, you want to start your prep before you reach for the liner. With any bold color, you want to start with scrubbing and moisturizing your lips. Exfoliated lips create the perfect even base for your red color to stay on the whole day. Having dry, cracked lips will only cause your lipstick to clump together and flake over time. Before applying your lipstick, ensure any lip balm or mask you've applied has dried to avoid any smears or runny application.
Once you've applied your lipstick and lip liner, you want to ensure to go over and correct any potential mistakes or smudges. With a matching lip liner, you can easily fix any mistake by going over it with the liner and redrawing your lip shape accordingly. Before finishing your look, blot any excess product to ensure it doesn't smear or stain your teeth. As long as you've prepped and lined your lips, you can ensure that your red lips will last you a much longer time.