BravoCon 2023: The 6 Worst Bravoleb Looks That Really Should Stay In Vegas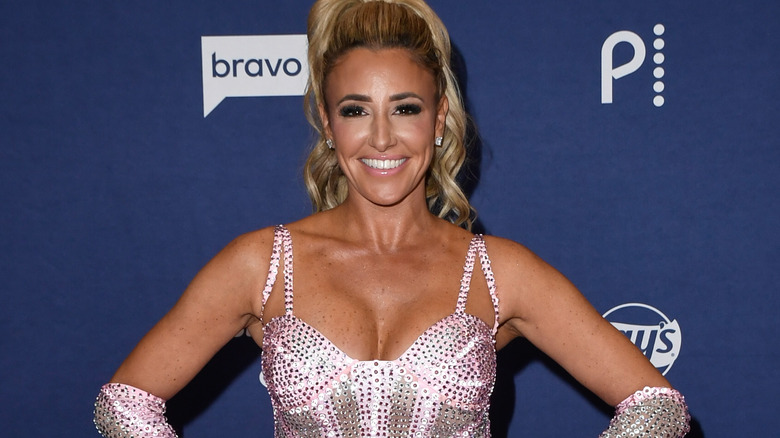 Mindy Small/Getty Images
It was like Christmas for reality fans everywhere over the weekend as their favorite Bravo stars made appearances at the much-anticipated Las Vegas event, BravoCon, on November 3 through 5. The star-studded affair featured cast panels and celebrity photo ops –- as well as series renewal announcements for the upcoming year. Eager fans were able to catch sightings from the casts of Bravo favorites like "Southern Charm" and "The Real Housewives" franchises. While there's no shortage of enthralling entertainment and drama when it comes to the popular series the Bravo channel is greatly beloved for, the bold fashion scene at BravoCon was equally captivating.
Advertisement
The glamor of the event truly dazzled, and some of the sleek looks were top-notch. However, others left us scratching our heads. It comes as no surprise that the reality stars, often known for their distinctive –- and at times, puzzling –- wardrobe choices, would give us a lot to ponder. From bedazzled denim-on-denim to cotton candy pink catsuits, here are some of the looks of BravoCon 2023 that, well, missed the mark. 
Heather Gay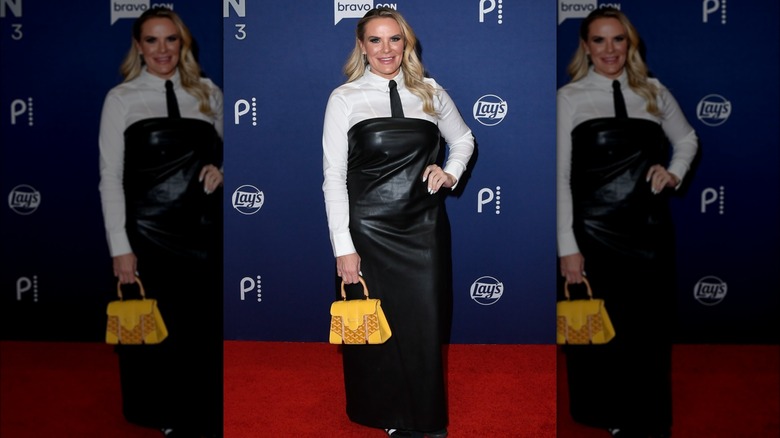 Mindy Small/Getty Images
Heather Gay, "The Real Housewives of Salt Lake City" star, opted to pair a white button-down shirt and skinny black tie with the unusual choice of a floor-length, black, leather tube dress. While the dress on its own would have been a flattering piece, the mash-up makes for a confused ensemble that ultimately falls short. Simply put, this is not one of the best ways to wear a trendy latex look. Gay also went with black and white sneakers for the red carpet, only adding to the jumble.
Advertisement
Danielle Cabral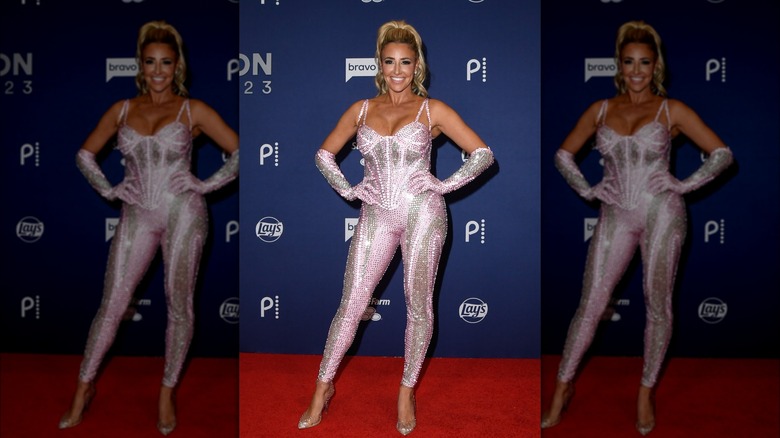 Mindy Small/Getty Images
Danielle Cabral's baby pink was definitely one of the showstoppers of the event. After all, her sequined bodysuit was hard to miss. And while we admire a bold move like this one, "The Real Housewives of New Jersey" star may have stepped out a bit too far with the bedazzled one-piece. The figure-hugging suit is actually a beautiful hue of pink and perhaps could've worked sans the gloves and with a flared leg rather than a skinny one, but overall, we were a bit overwhelmed by the sparkle and pizzazz.
Advertisement
Melissa Gorga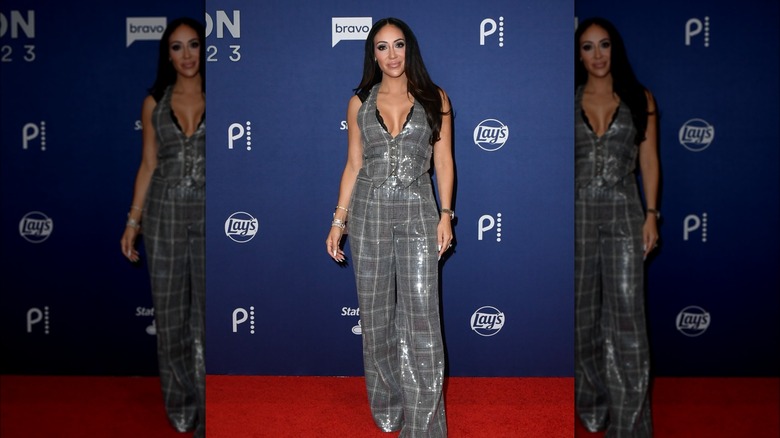 Mindy Small/Getty Images
Melissa Gorga, "The Real Housewives of New Jersey" star, went with a shimmering, plaid trouser and vest set in gray, which didn't quite wow she likely would've hoped. However, there is potential with a look like this –- had the trousers been a slightly more tailored fit, for example –- but all in all, the intersection of sparkle and plaid was a lot to move past.
Advertisement
Whitney Rose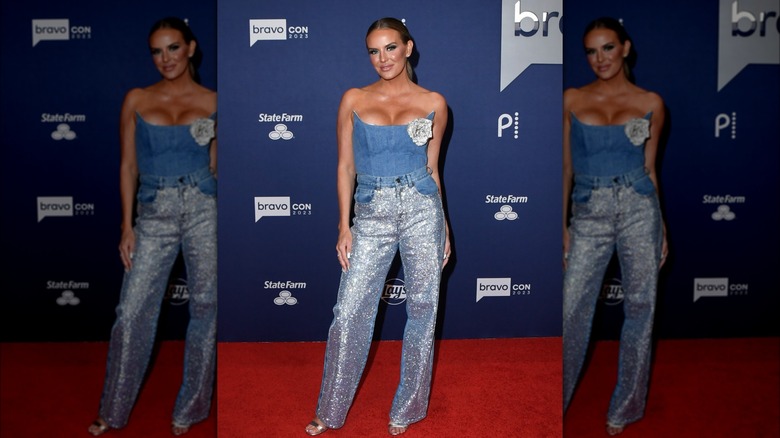 Mindy Small/Getty Images
Whitney Rose gave us major Y2K nostalgia with this look, but unfortunately, not in a good way. We thought the shimmering rose embellishment was beyond charming for Rose, and her hair and makeup were on point. However, the double denim trend is very hit or miss, and, well, this certainly didn't hit the target for us. While the Bravo star may have gone a tad overboard with the glitz and glam when it comes to the jeans, the tube top was a cute choice.
Advertisement
Malia White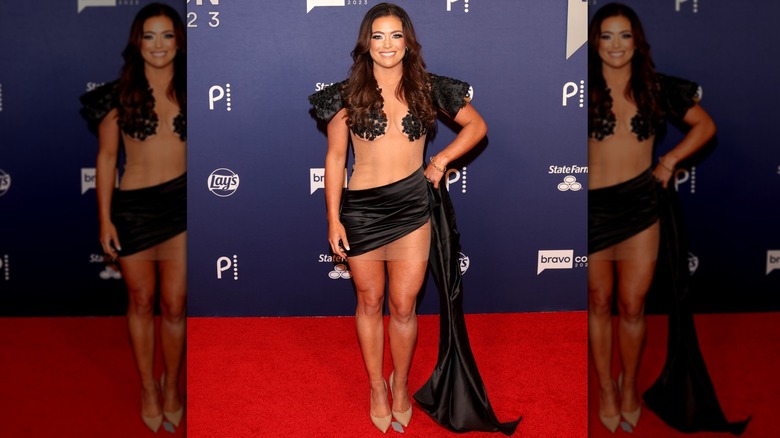 Gabe Ginsberg/Getty Images
While we're not quite sure what to call this piece –- a dress? A wrap? We do know that it feels awkward and incomplete. Malia White stunned with her lovely curled locks and glamorous makeup, but when it comes to wardrobe, this feels more like a malfunction than a win. Fellow Instagram users agreed with one commenting on her post, "Oh no honey, what were you thinking!?" The piece is more akin to a wrap-around sheet than a dress, but hey, we do give the "Below Deck" star points for creativity. 
Advertisement
Rhylee Gerber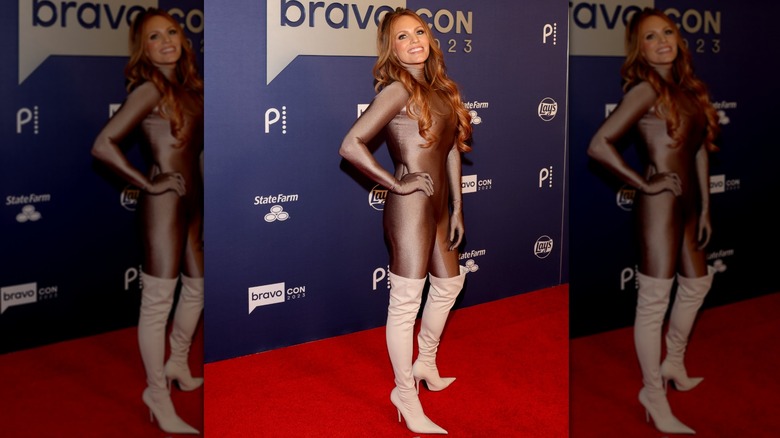 Gabe Ginsberg/Getty Images
The star of Bravo's "Below Deck" opted for a figure-hugging bronze bodysuit –- fingertips included. Rhylee Gerber kept it simple, only adding nude knee-high boots to the look and an elegant, half-up hairstyle. However, we can't help but wonder where the cape is when it comes to this superhero-esque look. While we actually love the soft tones Gerber went with here, the overall vibe is, unfortunately, a miss.
Advertisement