Fuzzy Fabrics Are All Over Fall 2023 Runways - How To Style The Texture Trend
Jeremy Moeller/Getty Images
Transitioning your aesthetic for cold weather? Fuzzy fabrics are cozy, playful, and full of personality, making them must-have statement pieces for your fall wardrobe. Better yet, fuzzy garments achieve that rare balance between practical and fashion-forward, letting you play with texture and volume while keeping warm in the autumn chill.
So, it's no surprise that fall/winter collections for 2023 are bursting with textured, faux-fur looks, even from the most haute couture fashion houses. On Instagram, Givenchy showed off pieces like a fuzzy, cropped hooded bomber jacket and a faux-fur-lined waistcoat. Meanwhile, Ferragamo posted glimpses of deep, sumptuously furry coats in vivid red and leopard print.
Are these pieces bold and exciting? Naturally. Are they also imminently wearable? Surprisingly, yes. These plush, huggable fabrics have more applications than you might think. From coats and sweaters to handbags and party dresses, there are endless ways to style fuzzy clothes to add a rich, textured twist to your closet this fall.
Fuzzy sweaters and cardigans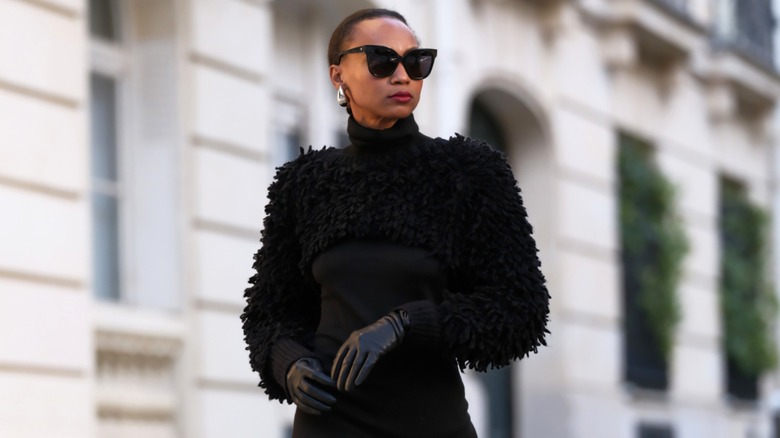 Edward Berthelot/Getty Images
First things first: Nothing goes hand-in-hand with the coziness of furry fabrics more than sweaters and cardigans. After all, there's a reason we refer to fall as "sweater weather." But if you're having visions of outdated mohair styles, take heart because there are other thoroughly sharp and modern ways to rock the fuzzy sweater look. For example, don a fluffy bolero to subtly instill warmth and texture into a monochrome ensemble, or create layers in your outfit by adding a fuzzy long-line cardigan in autumnal shades like mustard or rust.
Fuzzy coats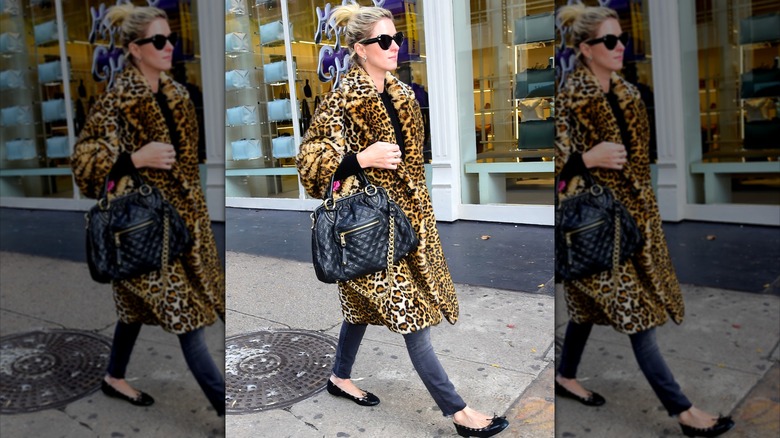 Raymond Hall/Getty Images
Let's talk about the utter luxury of a fuzzy overcoat. Evoking the opulent vibes of fur coats in eras past, fuzzy, faux-fur finishes are ideal for the jackets and trenches worn by today's chic fashionista. Lavish prints like leopard spots or tiger stripes add to the extravagance, but if animal prints aren't at home in your aesthetic, there are also plenty of everyday style options in the fuzzy coat arena. For instance, you can style Mango's viral shearling coat all season long for a textured outerwear look that never comes across as try-hard.
Fuzzy lining and trim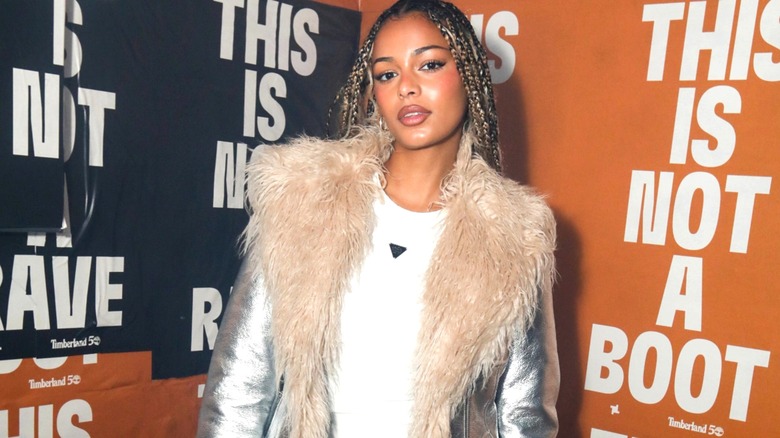 Dave Benett/Getty Images
To add a touch of texture without going full plushie, consider garments with fuzzy lining or trim. The peep of faux fur around collars, wrists, and hemlines adds wintry glamor without going overboard. Plus, the outward finishes of fur-lined pieces offer a great opportunity for contrast. Achieve a timeless look with the matte leather and shearling combo of a classic bomber jacket, or try something riskier like the pairing of long fur trim against a metallic base material.
Fuzzy gowns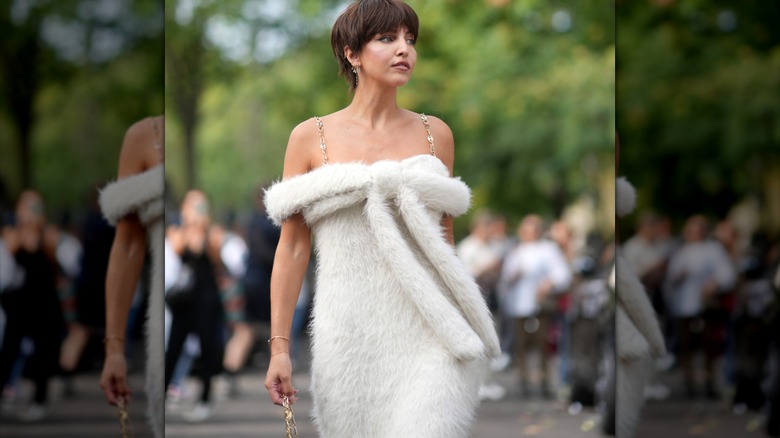 Edward Berthelot/Getty Images
Fuzzy fabrics shine in layering pieces like coats and cardigans, but they also have so much more to offer. This autumn, stand out from the crowd by showing off surprising pieces like a furry gown. Roll up to your next formal event like a cold-weather queen in a long dress of faux fur, balancing the bulky material with a form-fitting silhouette. Remember, the fuzzy fabric is already a statement. So, for the most elegant results, opt for a neutral color palette, accent it with understated accessories, and offset the look with a tasteful amount of skin. 
Fuzzy party dresses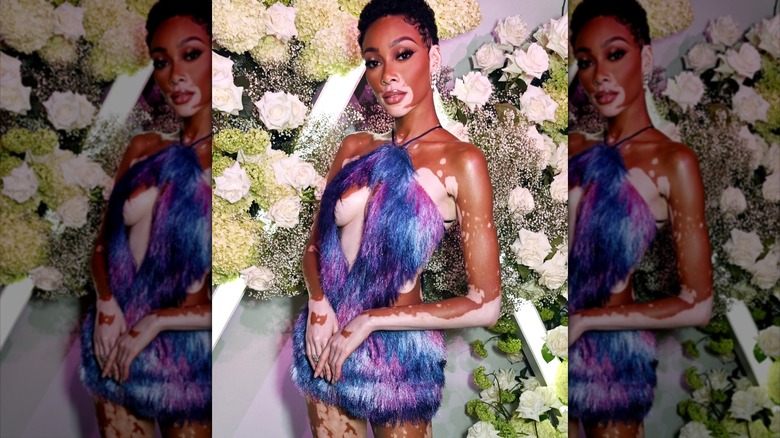 Dave Benett/Getty Images
You don't want to overwhelm a formal look, but for shorter party dresses, you can get away with a bolder take on the fuzzy fabric trend. Show more skin with micro-mini hems and playful cutouts to balance the deep pile of your fuzzy garment, and then pump up the volume even more by selecting furry dresses in saturated hues. But how far is too far? We recommend pairing an eye-catching fuzzy party dress with simple black or nude heels, a basic clutch, and minimal jewelry to avoid making the look gaudy.
Fuzzy hats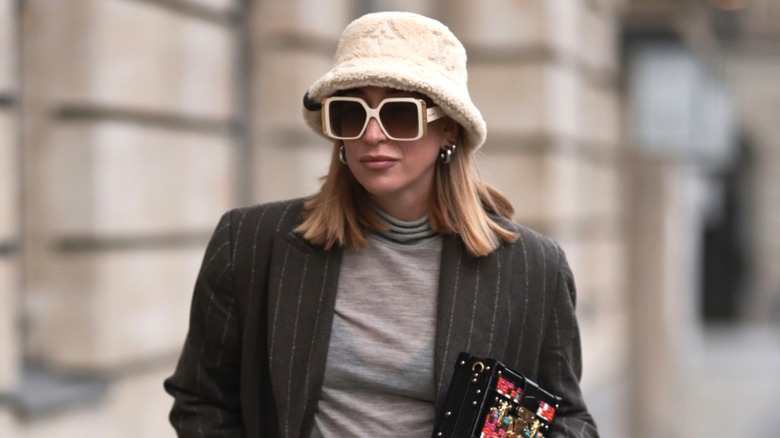 Jeremy Moeller/Getty Images
Want to pull off a fuzzy hat without resembling Jamiroquai? The key is restraint. Whether you're throwing on a furry bucket hat or a woolly baseball cap, let the texture be the focal point. Keep the silhouette smaller and tighter, as the fuzzy finish will already add bulk. Meanwhile, neutral colors will keep the hat modern and mature rather than kitschy and childish. Consider shades of black, gray, cream, or brown to pull off a classy but intriguing look.
Fuzzy heels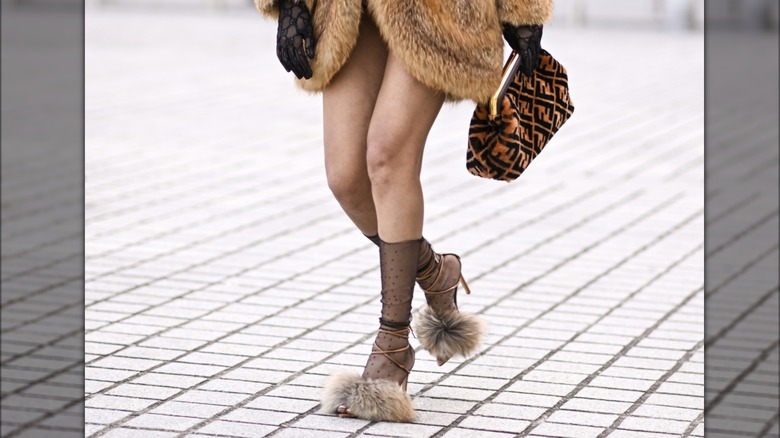 Daniel Zuchnik/Getty Images
Fuzzy heels are a delightfully retro way to embrace the textured trend. And while you might first envision super-bright and colorful furred heels that would be at home in "Barbie" or "Legally Blonde," you can hone in on a more autumnal vibe by wearing fuzzy heels in natural, earthy hues. Weather permitting, you can wear these over a bare leg, but don't be afraid to also wear them over sheer socks or a pair of toasty-warm tights. And on extra chilly days, simply swap out your fuzzy heels for an equally stylish pair of faux-fur-lined heeled booties.
Fuzzy purses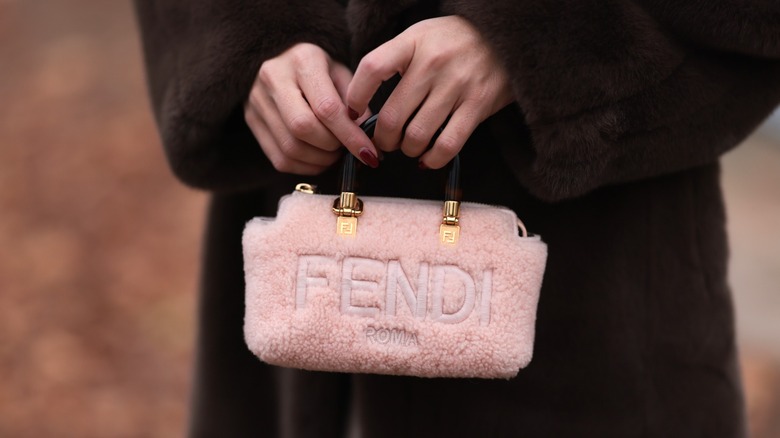 Jeremy Moeller/Getty Images
While they've already been getting some play with the '90s and Y2K resurgence of the past few years, it looks like fuzzy bags aren't going away anytime soon. The fuzzy fabric trend provides a perfect excuse to keep parading your favorite fluffy purse — or to buy a new one. But as with many other textured looks, we suggest taking a "less is more" approach to the classic fuzzy bag. Try out small styles like clutches; tasteful hues like camel, charcoal, or baby pink; and bags with elegantly understated hardware in black or gold.