The 10 Worst-Dressed Celebs At The 2023 CMA Awards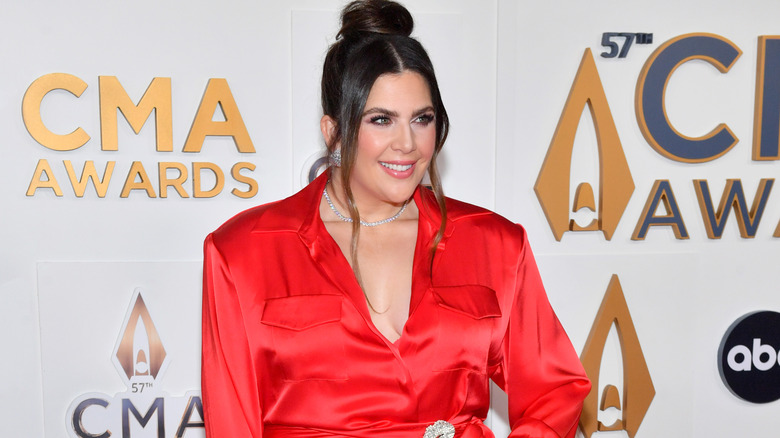 Jason Davis/Getty Images
Whether you're a little bit country or a little bit rock and roll, there's one awards ceremony you won't want to miss tonight. The 57th Annual Country Music Association Awards are in full swing at the Bridgestone Arena in Nashville, Tennessee, this evening, and it's one of the industry's most exciting affairs to date. Hosts Luke Bryan and Peyton Manning have returned to co-host the event for the second consecutive year, and there are plenty of exciting new developments in store. With a guest list featuring artists from newcomer Jelly Roll to legendary talent Tracy Chapman, there's something for just about every music fan to enjoy.
But before we savor the revival of Chapman's "Fast Car" or the much-anticipated Jimmy Buffett tribute at tonight's CMAs, let's dig into the other main event: the red carpet. There's never a dull moment once the stars begin to arrive, but there are definitely some hit-or-misses. Ready to see who missed the mark this time around? Let's dive into the best of the worst-dressed celebs at the 2023 CMA Awards.
Kylie Morgan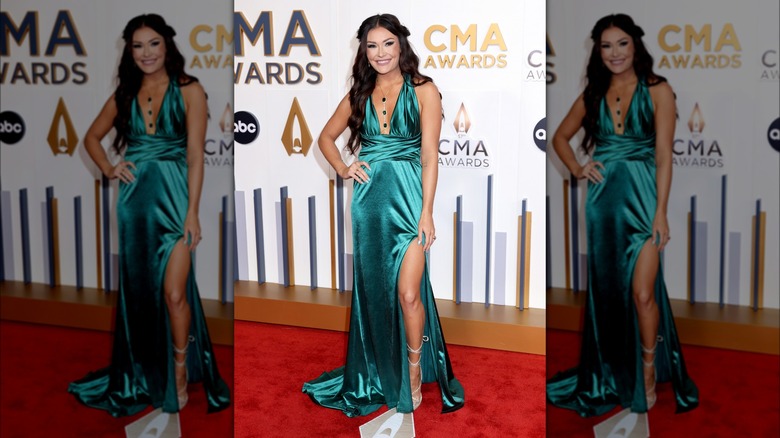 Leah Puttkammer/Getty Images
While it's true that Y2K-inspired fashion is going strong, we have to admit that we aren't big on Kylie Morgan's shimmering look at tonight's CMA Awards. From the tasteful half-up, half-down hairstyle to the low-cut teal gown that gives us flashbacks to prom season, Morgan's look didn't quite mesh well and was a miss in our eyes. It's certainly pretty, but it lacks that certain wow factor that we associate with the red carpet.
Ingrid Andress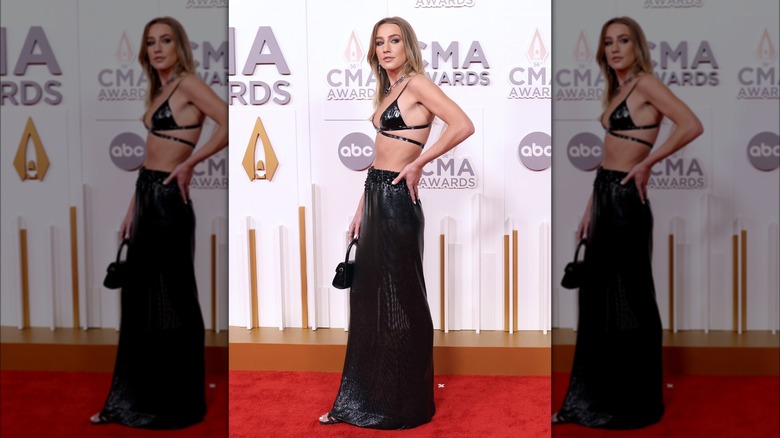 Taylor Hill/Getty Images
First things first: There's nothing wrong with showing skin on a red carpet — just look at iconic looks from Angelina Jolie, Rose McGowan, or Lil' Kim. That said, we simply weren't smitten with singer-songwriter Ingrid Andress's barely-there ensemble at the 57th CMA Awards. Though we loved her beachy hair — which served serious Jennifer Aniston vibes — we were underwhelmed by the overall look. From the flimsiness of the gunmetal skirt to the minimalist, matchy accessories, it all felt a bit too casual for an event like the CMAs.
Tiffany Kerns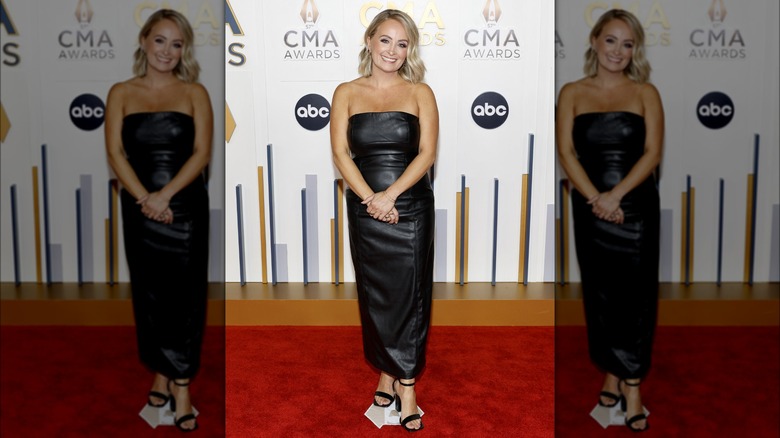 Jason Kempin/Getty Images
Get ready, red carpet watchers: We're about to witness an unsettling trend unfold as we continue our review. Now, it's worth pointing out that the little black dress or a chic onyx gown can make a powerful statement. Unfortunately, Tiffany Kerns' black leather midi-dress was the first of several underwhelming LBDs on the CMAs red carpet. There's no denying that Kerns' makeup was totally on point, but we would have liked to have seen a little more pizzazz in her styling. A scarf, an arm cuff, or even some carefully placed hairclips could have done wonders for Kerns' final look.
Lauren Watkins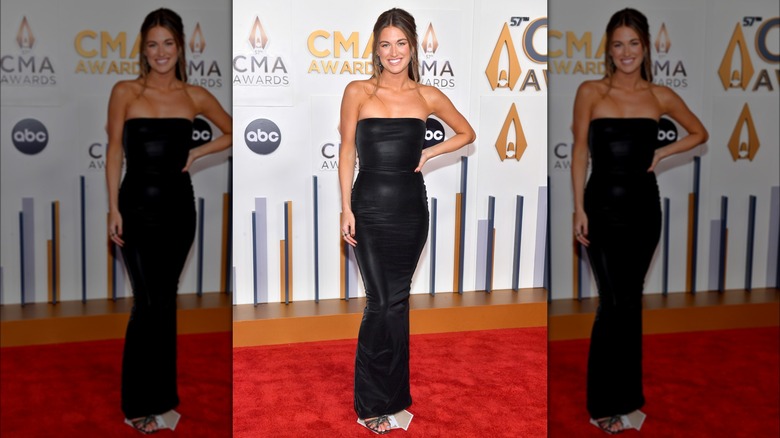 Jason Davis/Getty Images
Feeling a little déjà vu? We're not sure whether a memo went out or if the stars at tonight's CMA Awards telepathically coordinated their 'fits. Either way, singer Lauren Watkins walked the red carpet in yet another black bandeau dress, and it seemed that accessories weren't on the menu. Even though Watkins' gown fit her like a glove, we weren't terribly impressed with this awards show outfit. Between the lazy girl waves and the lack of sparkle, we wished Watkins would have added a little oomph to this monochromatic maxi.
Camille Parker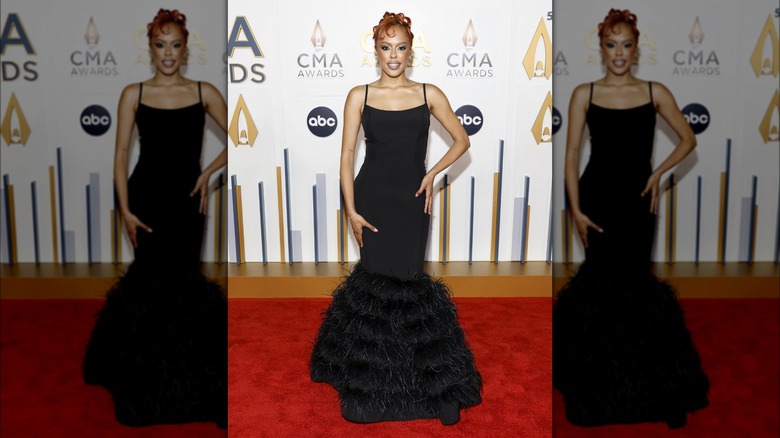 Jason Kempin/Getty Images
Perhaps we're being too harsh on Camille Parker, whose flared black gown was easily the least offensive outfit on our list. But if we're being honest, we were distracted by the off-black bodice against its inky feathered trim. It may be a minor detail, but we felt Parker could have made a far stronger impression if the shades of the dress were more aligned. Still, we've got to hand it to this country star: Aside from the two-toned garment, her shiny copper locks and stunning face were a sight to behold as she walked the red carpet.
Hillary Scott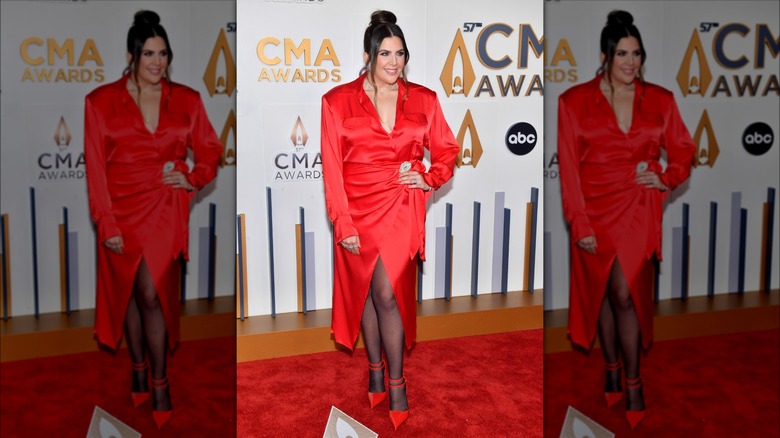 Jason Davis/Getty Images
Bright, colorful looks were a rarity at the 57th CMA Awards, but sadly for Hillary Scott — the lead singer of Lady A — this bold red ensemble didn't quite pan out. We'll give credit where it's due: We adored the contrast of her strappy, cherry-red shoes over her sheer black tights. But we can't say the same for the rest of the 'fit. We're not sure what the goal was with the draping of this design, but it fell flat on Scott's shoulders. If it weren't for its nuances, like the tapered cuffs on her wrists, we'd have trouble telling it apart from a garden-variety bed robe.
Lauren Lane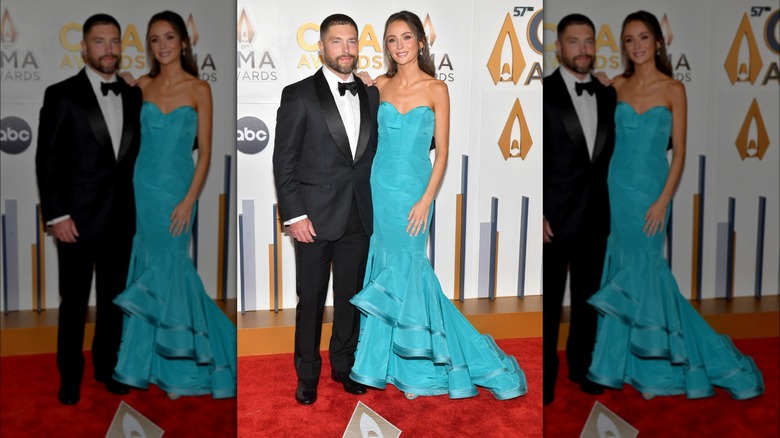 Jason Davis/Getty Images
Something must have been in the water at tonight's CMAs, considering the amount of mermaid dresses we spotted during the festivities. Television star Lauren Lane accompanied her husband, singer Chris Lane, in a teal gown with an exaggerated hem, but we weren't exactly sold on the bubbly look. Maybe it was due to the sea of similar garments that we saw throughout the night or her understated hair and accessories against the garment's dramatic silhouette. In any case, we're sorry to say that her look landed her on our worst-dressed list.
Harper Grae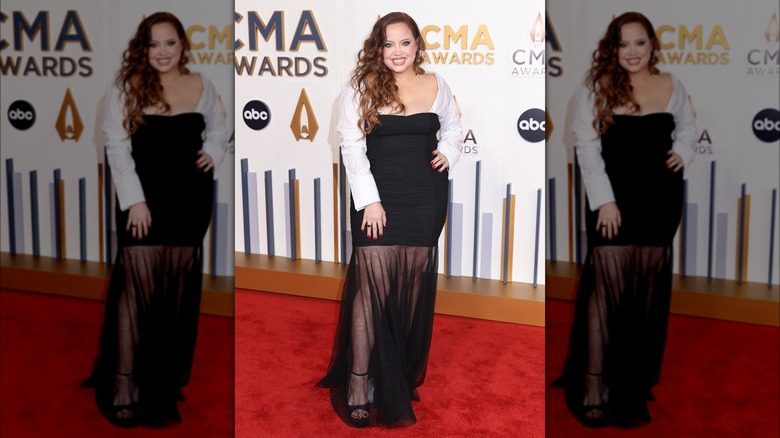 Leah Puttkammer/Getty Images
We've all been there: Overstaying your welcome at your best friend's house, you suddenly require an outfit change. Cobbling together whatever you can find between the dresser and the closet, you're left with a questionable look that you'll likely never wear again. Unfortunately, this is exactly what Harper Grae's outfit at tonight's CMAs reminded us of. Separately, we could see each component in the look working well for Grae, but when worn together, the black-and-white 'fit feels a bit thrown together.
Kaylee Bell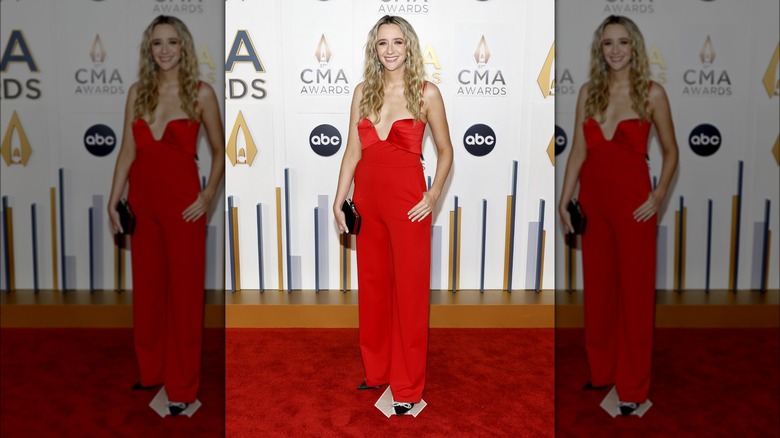 Jason Kempin/Getty Images
Let's start with what we loved about singer Kaylee Bell's look, shall we? The blond bombshell rocked those flowing waves, and we took a liking to her chic, embellished shoes. Much to our chagrin, we weren't as taken with her red jumpsuit. For a star of Bell's caliber, we'd expect more attention to detail in the tailoring department. Though we took a shine to its color, we had issues with the harsh cut of the bust line and the drooping hem of the pant legs. With a few flicks of a sewing needle, this 'fit could have easily transcended from worst to best-dressed at this year's CMAs.
Maddie Font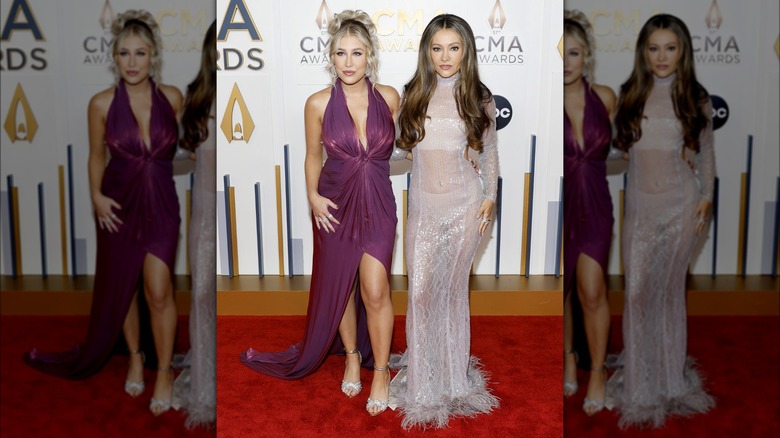 Jason Kempin/Getty Images
If you paid close attention to celebrity Halloween costumes this year, you might notice the resemblance between Maddie Font's outfit at the CMAs and Ariana Grande's homage to "Showgirls." Alongside sister Tae Kerr's glittering gray gown, the Las Vegas-inspired vibes intensified. The tousled blond hair and glitzy purple dress gave us major Nomi Malone energy, though whether that's truly a bad thing is admittedly arguable. In any event, this flashy 'fit earned Font the final spot on our CMA Awards worst-dressed list.