Our Hairstylist's Best Hacks To Help Your Hair Dry Faster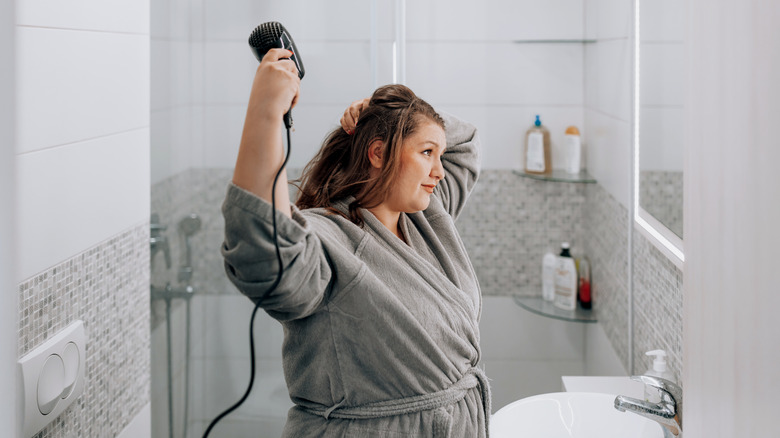 Realpeoplegroup/Getty Images
Wash day can feel super refreshing for your hair — until you're stuck with wet locks that take what feels like an eternity to dry. Whether you're going out or just going to bed, it's a good idea to let your tresses dry first since wet hair can be more susceptible to damage and other issues. As Medical News Today explains, hair can stretch and break when drenched, and the scalp is more likely to develop fungus and dandruff while moist. Moreover, wet hair can cause the head to lose heat, making you feel cold, especially during the winter.
You may be nodding in agreement, fully aware that letting your strands stay wet is a no-no. Still, you might not have the time (or the patience) to spend 45 minutes blow-drying your mane. The good news: You don't have to. Luna Viola, fashion and red carpet hair and makeup artist, exclusively spoke to Glam and shared quick tips, such as wrapping your hair the proper way to help speed up the drying process.
Wrap your hair the right way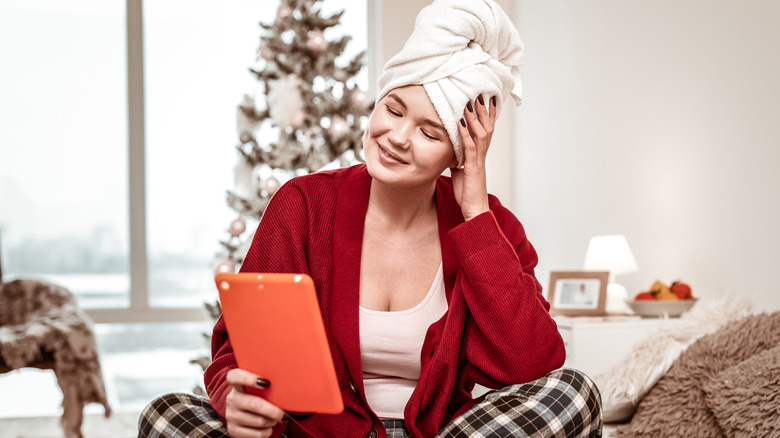 Yacobchuk/Getty Images
What you do when you first step out of the shower can make a big difference in how long your hair takes to dry, Luna Viola told us. The hair expert suggests first squeezing any excess water from your hair. Then, wrap your tresses in a clean microfiber towel turban for a hands-off drying technique. Microfiber fabric is thought to help hair dry more quickly because of its high absorbency. The material also creates less friction than your average towel, helping to protect your locks and prevent frizz.
Be gentle when wrapping your hair, making sure to avoid pulling or twisting at your delicate wet strands (remember, wet locks are especially prone to breakage). Then, Viola says, keep the wrap on your head while you get ready. "By the time you are done with your makeup, the hair will be almost dry," she adds. Finish off by blow-drying the hair for five minutes to nix any remaining dampness.
Use a T-shirt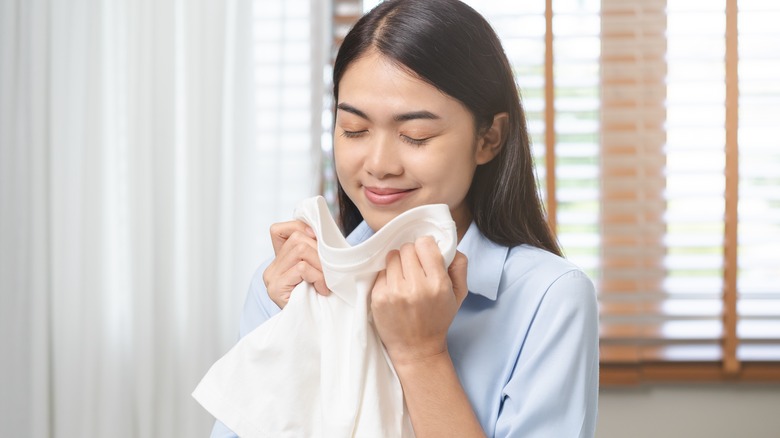 Kmpzzz/Shutterstock
Similar to a microfiber towel, a cotton T-shirt can be gentle enough for fragile, wet hair due to its smooth material. That's why Luna Viola recommends using T-shirts when you need to dry your mane fast. She suggests blotting — not rubbing — the hair with a tee to sop up water without having to rely on a rough towel. "This not only speeds up the drying but helps with the frizziness," Viola explains to Glam.
Alternatively, you can also try wrapping the hair in a T-shirt while it dries, particularly if you don't have a microfiber towel on hand. Just like in Viola's first tip, take a large T-shirt and wrap it around your head to form a turban. If you're blessed with waves and ringlets, be sure to plop your curly hair (placing the hair on top of the head before covering it rather than twisting it in the fabric) to maintain your spirals. If needed, finish with a quick blast of heat from your blow dryer after removing the T-shirt.
Diffuse hair with a pasta strainer
You may have seen the viral pasta strainer diffuser hack, and it turns out the tip isn't just TikTok-approved — Luna Viola recommends the technique, too. For the uninitiated, content creators, including @foxcraftcustom, took the internet by storm when they posted clips of themselves holding their wet hair in a mesh strainer and blow-drying through the strainer, similar to how you would use a diffuser to dry hair. Viola agrees the hack can work wonders, especially if you want a bouncy or lifted effect. "Towel dry hair well, then use a pasta strainer on low heat on your hair," she says. "This acts as a big diffuser, drying hair fast and adding curls and volume."
Note that metal pasta strainers can heat up quickly, potentially burning your wet tresses. For extra protection, consider spraying your locks with a heat protectant or, even better, using a plastic mesh strainer.
Be picky with your hair tools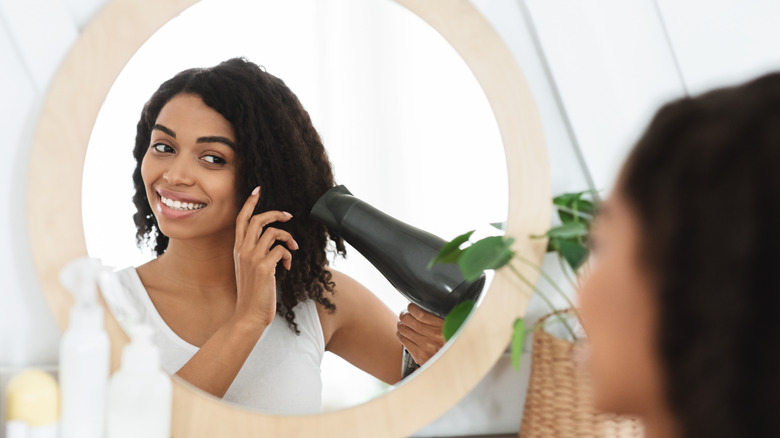 Prostock-studio/Shutterstock
If you thought drying your hair quickly all came down to your blow dryer, think again. As Luna Viola explained to Glam, your brush can help — or hinder — the drying process, depending on its material and design. The celebrity hair pro says to opt for a ceramic, vented brush made to dry wet locks quickly. The ceramic works to fight static and leave locks feeling silky and smooth, while the vents allow greater airflow from the blow dryer.
Then, Viola suggests pairing your high-quality brush with an ionic hair dryer, one of the best shortcuts if you're often in a rush. The dryer's negative ions oppose the positive ions found in water, helping to dry your strands in no time.
If you prefer to keep your hairstyling arsenal as minimalist as possible, Viola says to grab a two-in-one brush dryer that brushes and styles your mane while simultaneously emitting warm air. Her top pick: L'ange's Max Volume 2-in-1 Interchangeable Brush Dryer.
Set it and forget it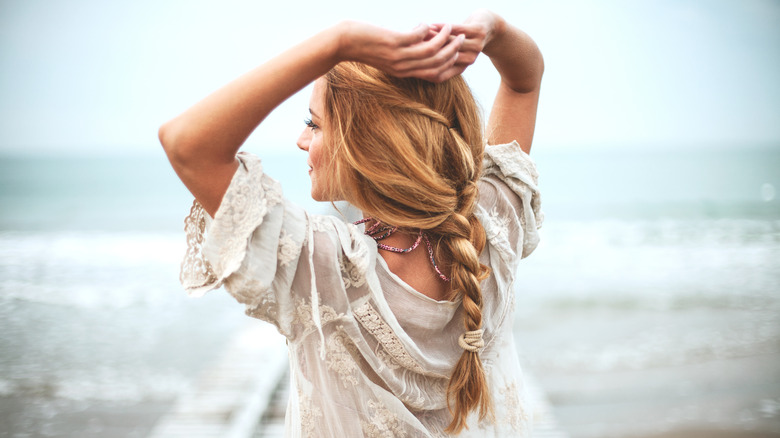 Jasmina007/Getty Images
If you're short on time and need to head to bed or out for brunch, it's okay to occasionally leave hair a little damp. However, letting your tresses air dry freely may turn them into a frizzy, puffy mess later. To keep your locks under control, Luna Viola first says to gently blot the hair with a paper towel, followed by a quick five-minute blow dry to the roots (this will help prevent scalp irritation and fungal growth).
Then, gather your wet hair on one side and create a loose braid. "Add heat to the braid for another five minutes, then get ready. Your hair will dry into beautiful, easy beach waves," Viola explains. Leave your braid in place as long as needed — or even all day — for it to fully dry. Think of this hack as a low-effort way to get two cute hairstyles in less time, all without battling your dripping wet mane.