Glasses Are The Must-Have Accessory Of Fall 2023 - Here's How To Style Them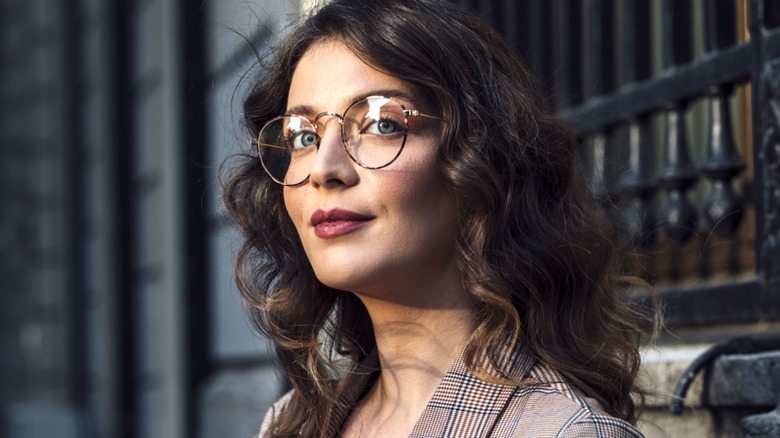 Freshsplash/Getty Images
Accessories can make or break a look. They're the tools we use to dress up or down an outfit, transforming staple wardrobe pieces to fit a dozen different aesthetics. Often, this narrative revolves around eye-catching pieces like shoes and handbags, but what could be more eye-catching than a pair of glasses? Resting right in the center of your face, glasses are immediate focal points.
Whether your style leans toward dainty, elegant wire frames or thick, graphic frames in statement-making black, a thoughtfully chosen pair of glasses can add drama and intrigue to your whole ensemble. That may be why we're even seeing them featured on high fashion runways. For instance, Miu Miu's Fall/Winter 2023 collection featured a consistent theme of oval tortoiseshell glasses, which also appear in posts on the brand's Instagram. 
But what if you don't need prescription lenses? Will wearing glasses impact your vision? You may have heard rumors that needlessly wearing spectacles can damage your eyesight. Luckily, this seems to be a hoax. "Wearing non-prescription glasses is just like looking through a window. It has no effect on your vision and can not cause short- or long-sightedness," eye clinic service manager Kadri Altküla reports on the KSA Clinic blog. In other words, you can safely don stylish lenses. And with today's eyewear selections bursting with fashionable options, you're spoiled for choice this fall. There are many ways to style the glasses look, from sleek and professional to bold and whimsical.
Thin, metallic frames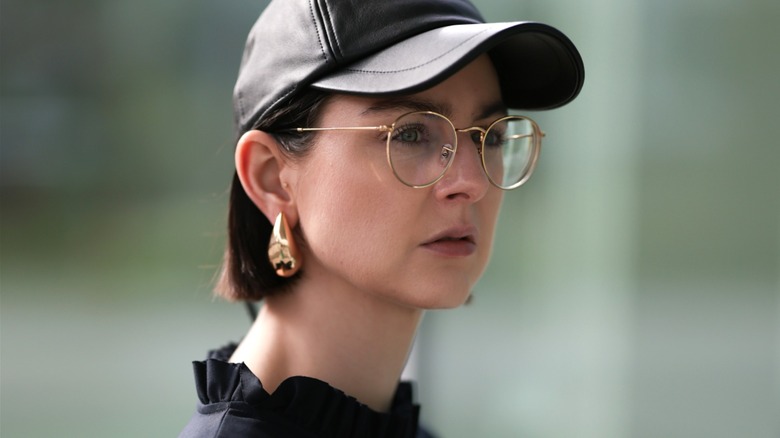 Jeremy Moeller/Getty Images
For understated elegance, you can't go wrong with a pair of wire-frame glasses. Their delicate, metallic frames carry a jewelry-like vibe and are easy to coordinate with other accessories. If you tend to wear the same metal for all your jewelry, consider choosing wire-framed glasses in a matching finish. But if you regularly switch between silver, gold, and rose gold depending on your mood and outfit, it may be worth adding more than one pair to your collection. That way, you can always keep your look cohesive.
Clear frames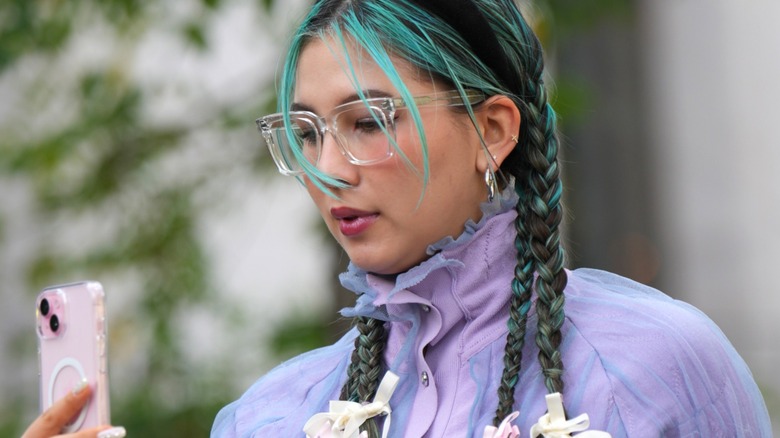 Juan Naharro Gimenez/Getty Images
Clear frames are perhaps among the most versatile glasses styles you can buy, adapting chameleon-like to any ensemble. Worn with a sharp button-up and pencil skirt, clear-framed glasses slide seamlessly into a formal corporatecore vibe, but they're equally at home in a more playful outfit, such as a sheer-lined pastel windbreaker with hair ribbons. We also love how the subtle silhouette of clear frames emphasizes any eye looks you may be wearing, so if you're a big fan of eye makeup, clear frames could be a good match for you.
Chunky frames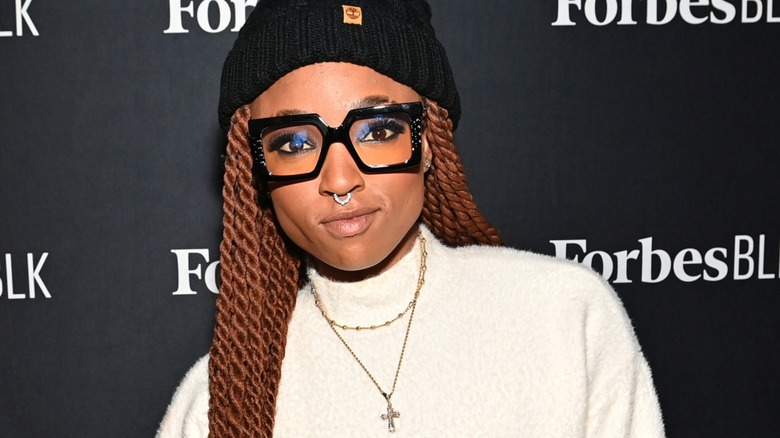 Paras Griffin/Getty Images
Interested in glasses that make a big statement? Nothing says "show-stopper" like a pair of über-chunky frames, especially in dramatic black. Whether you choose a striking square shape or something with rounded corners, thick-framed glasses ooze confidence, daring anyone to look away. We especially love this effect paired with edgy streetwear like baggy denim or powerful, tailored looks like a fierce blazer. And because black is such a dynamic, all-purpose shade, you can easily pair these frames with any other jewelry or accessories.
Aviator frames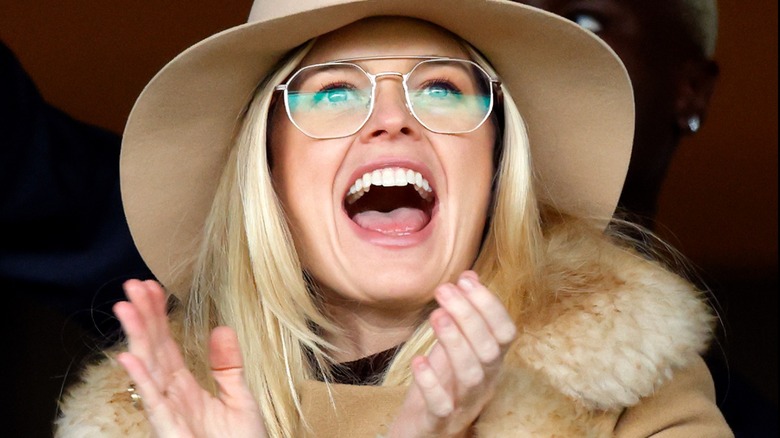 Max Mumby/indigo
Wire frames are super chic, but they can sometimes skew a little academic. If you want to achieve the same level of refinement but with a slightly bolder sensibility, why not opt for thin aviator frames? Aviator-style glasses reinforce the silhouette of wire frames with a signature double-bridge design. It may seem like a small difference, but that extra line of framing makes the whole look more memorable without becoming gaudy. It's the perfect compromise between subtlety and impact.
Architectural frames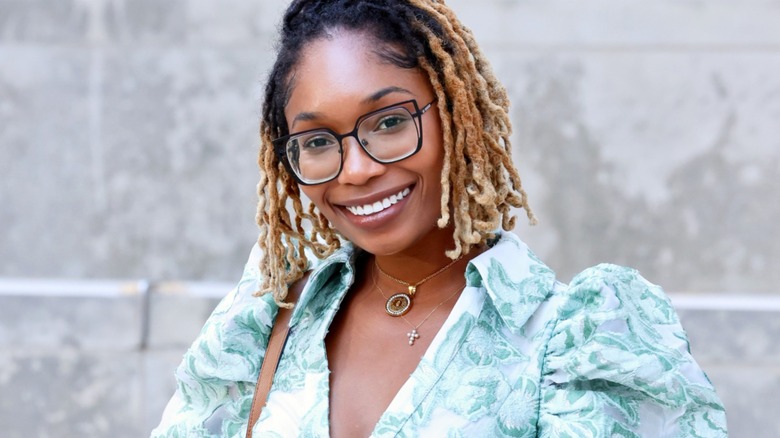 Robin L Marshall/Getty Images
Aviators aren't the only glasses that use structural frames to their advantage. To create novelty and interest, look for styles that feature unusual outlines. For example, some glasses pair frames and lenses with contrasting shapes, creating negative space between the two. The result is a contemporary, architectural feel that's instantly chic and can be worn with any number of outfits. Plus, these ultra-modern frames are more unique than your typical, go-to styles, making it unlikely that anyone else in your circle will have the same pair.
Colorful frames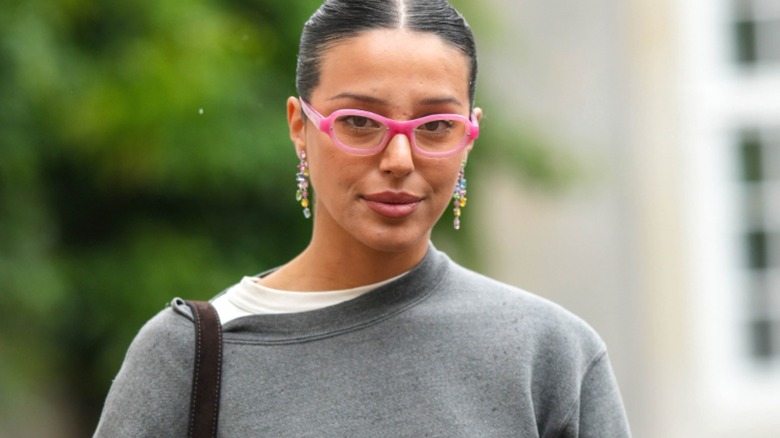 Edward Berthelot/Getty Images
Colorful frames aren't for the faint of heart, but they also can't be beat for a funky, whimsical vibe. Use them as the final flourish on any outfit that doubles as an ode to maximalist fashion, or pair them with fashion basics to add complexity to the look. Pink is a perfect choice if you're still riding the high of the Barbiecore trend, but you can also use colorful glasses to capture the trendy it-colors of the moment, like spring 2024's incoming emphasis on moody black cherry.
Cat-eye frames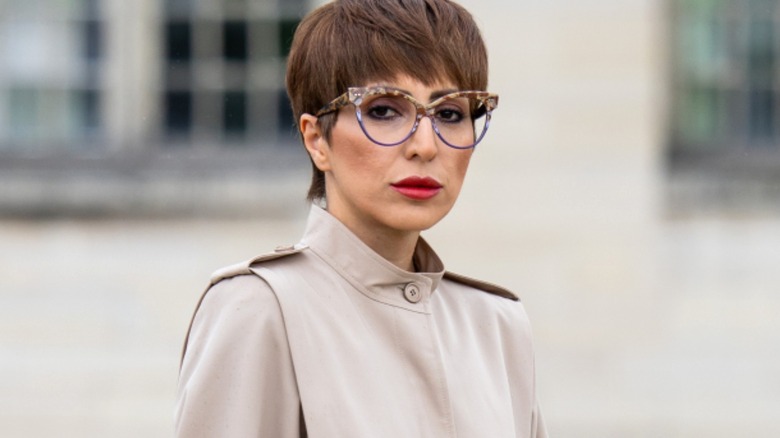 Christian Vierig/Getty Images
There's something inarguably sassy about the sloped shape of cat-eye frames. Like their namesake felines, cat-eye glasses serve endless coolness and attitude, and there's still some variety within the style. Narrow cat-eye glasses add a vintage sensibility to any outfit, while gentler, rounded cat-eyes with large lenses update the look for today. As a bonus, the inherent funkiness of cat-eye glasses also plays well with patterned frames, like a tortoiseshell finish. So, if you want glasses that show off your big personality, cat-eye frames are a solid selection.
Embellished frames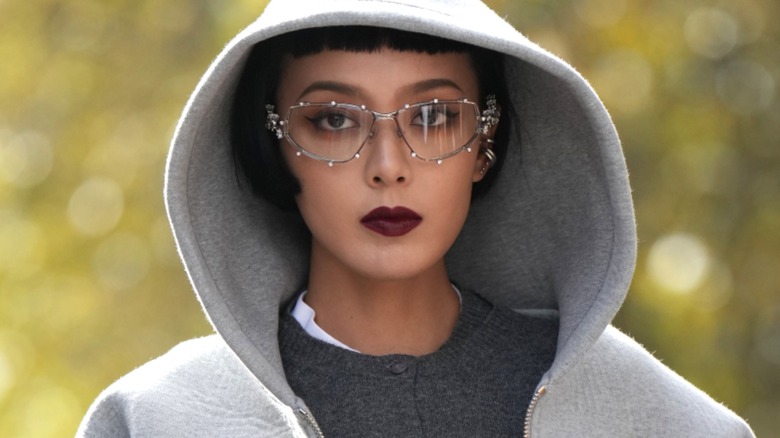 Edward Berthelot/Getty Images
Embellished everything is the anti-minimalist trend for fall 2023, and eyeglasses are no exception. You can take your glasses from stylish staples to total scene-stealers with the addition of flourishes like beading, rhinestones, pearls, and more. Depending on your preferred retailer, choose frames that are already over-the-top or get crafty and modify them yourself. Pro tip: If you don't want to embellish your frames permanently, you can also add a little extra interest and bling by accenting your glasses with a trendy and removable eyeglass chain.