How To Style A Trendy Jumpsuit This Fall And Winter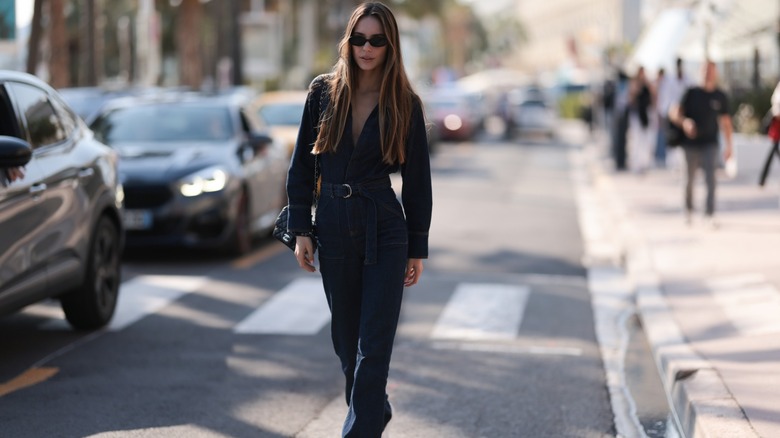 Jeremy Moeller/Getty Images
Although it might be more challenging to go to the bathroom, there's no denying that a jumpsuit will always be a chic addition to your closet. While short and cropped jumpsuits provide a stylish touch to the spring and summer seasons, all variations are welcome in the fall and winter months. No matter your style, the jumpsuit is a versatile piece that can be worn in multiple ways, making it the ultimate fashion item that can complete your seasonal wardrobe.
Advertisement
Like most clothing pieces, jumpsuits come in various colors and materials, making them easy to work into your closet. Denim jumpsuits, for example, can add a Jane Birkin-inspired touch year-round. However, to style your jumpsuits in the colder seasons, you'll need to play with various mediums and layers for a one-of-a-kind look that can keep you warm and looking stunning. In other words, that can mean going all out with a head-to-toe animal print.
Give it an animal makeover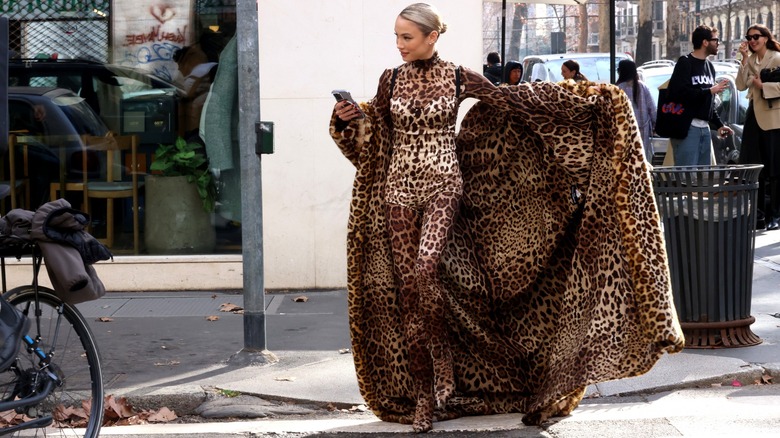 Franco Origlia/Getty Images
Animal prints will always be a fun way to spice up any wardrobe. In fact, when it comes to your jumpsuits, it's one of the best ways to create a fashion moment. It's such a classic pattern that's easy to wear. Without needing any other additional piece or accessory, animal prints can create a statement moment by themselves, making them a must-have for the fall and winter seasons.
Advertisement
Layer your jumpsuits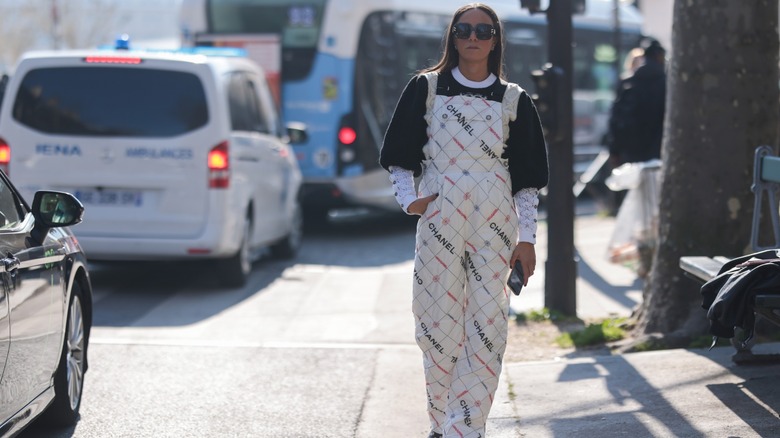 Jeremy Moeller/Getty Images
Layering is always an easy style trick that can elevate your wardrobe. And while jumpsuits serve as a single-piece outfit, it doesn't mean we can't add some extra materials. To layer your jumpsuit, opt for a sleek, form-fitting jumpsuit that'll be the perfect base for your outfit. Go with a top piece full of glitz and shimmer that can dazzle your fall and winter wardrobes. You can also sport an inverse layering formula, which calls for a basic or graphic tee underneath your jumpsuit for a more 90s-inspired look.
Advertisement
Fall back on print pieces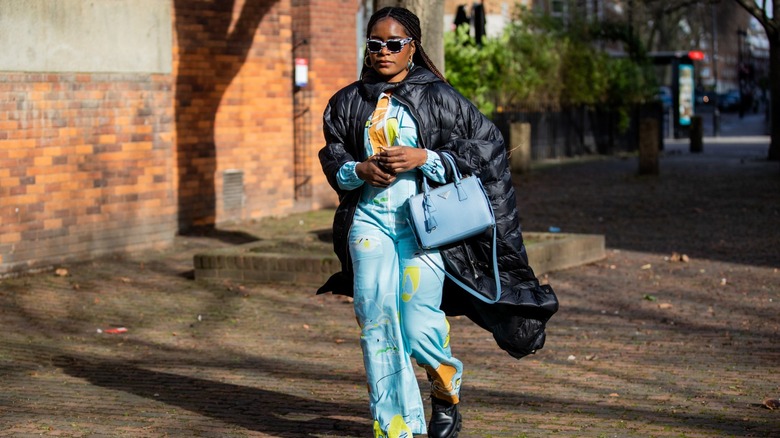 Christian Vierig/Getty Images
Although animal prints are one pattern that elevates your jumpsuits, all prints are perfect for creating an interesting visual effect. Even a simple polka dot or striped print can be enough to make a high-fashion moment in the fall and winter. Layer your printed jumpsuit with a neutral or single-toned coat for extra warmth and style points.
Advertisement
Opt for sleek colors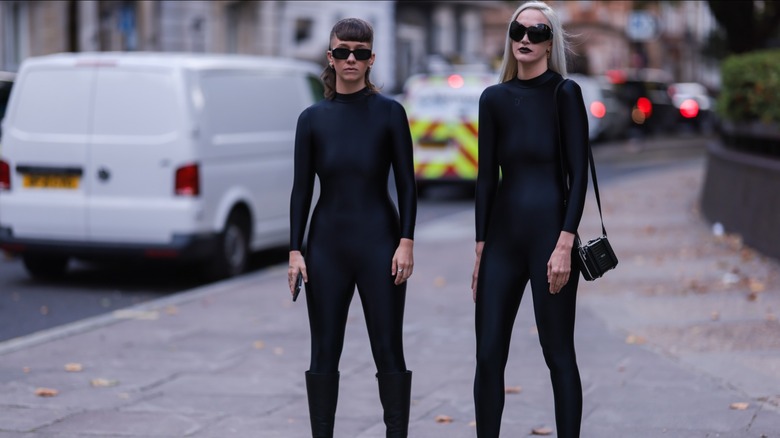 Jeremy Moeller/Getty Images
On the other hand, sleek pieces can also create a high-impact moment that is minimal in design but high in fashion. Form-fitting jumpsuits in a neutral color like black or white, for example, can be more than enough to give a modern and fashionable touch to your fall and winter wardrobes. We've previously seen this look on celebrities like Kim Kardashian, who uses minimal, figure-hugging designs for a sleek look that emphasizes the figure.
Advertisement
Reach for luxury leathers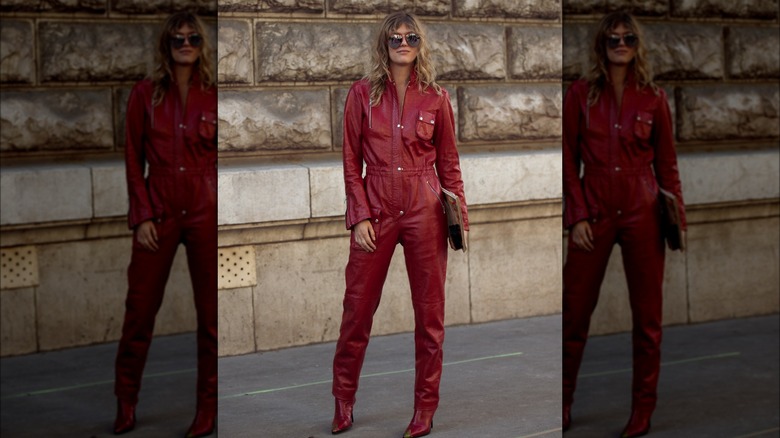 Raimonda Kulikauskiene/Getty Images
Another way to ensure your jumpsuits are ready for the colder months is by opting for a luxurious material, like leather, that will take your seasonal wardrobe to the next level. With a head-to-toe leather look, you can ensure that your ensemble is fashion-forward and modern but still has a timeless element. However, no matter what the trends state for the season, leather will always be a good material for the fall and winter.
Advertisement
Risk it with a sheer number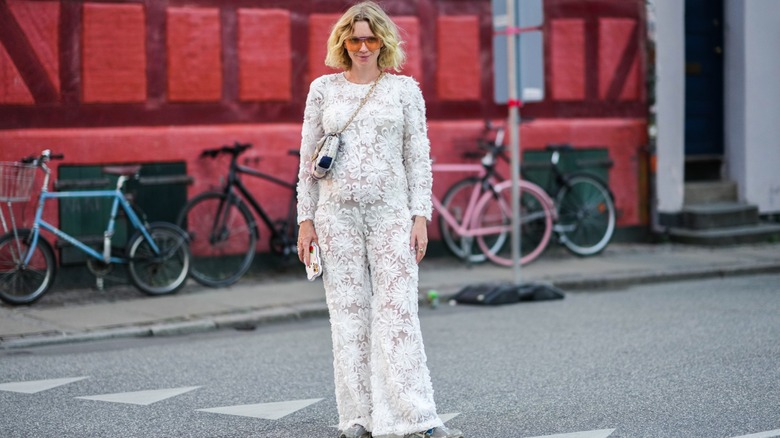 Edward Berthelot/Getty Images
While jumpsuits can be modest pieces that conceal you from top to bottom, they're also great if you want a riskier look. To showcase your favorite lingerie or undergarments, opt for a sheer or lace jumpsuit. Sheer clothing, while not the warmest, is a classic option that gives your wardrobe a more romantic, sultry touch. Regardless of how you approach your sheer jumpsuit, ensure you have a statement coat for warmth during the colder weather.
Advertisement