How To Attain Jane Birkin's Chic & Effortless Style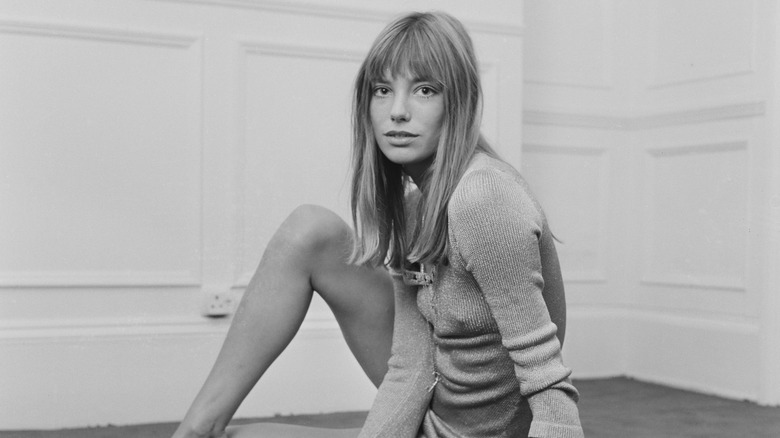 Express/Getty Images
Whether or not you're a fashion fanatic, you've probably seen the impact of Jane Birkin on the entire industry. From the iconic Hermès Birkin bag named after her to the countless Pinterest articles dedicated to her fashion sense, Jane Birkin left an untraceable mark on the fashion world. With her untimely death at the age of 76, the fashion world mourns the icon behind the French girl style. Other than Jane Birkin, only a few icons are recognized for creating a style movement. Although she's known for her fashion, Jane Birkin didn't invent any new trends but instead showed us how to style and dress with the basics already in our wardrobes.
If you've ever researched French girl style or Parisian chic, you've likely seen countless hits mentioning Jane Birkin. This is because Birkin is a prime example of creating chic and memorable looks without wearing anything wild. Although her go-to outfit formula didn't stray far from a basic white T-shirt and blue denim jeans, it was her impeccable style sense that has transcended generations. No matter what trends are spiking at the moment, Jane Birkin is an incredible role model to follow if you're looking for a timeless and effortless style that will last you for years to come.
Stick to the basics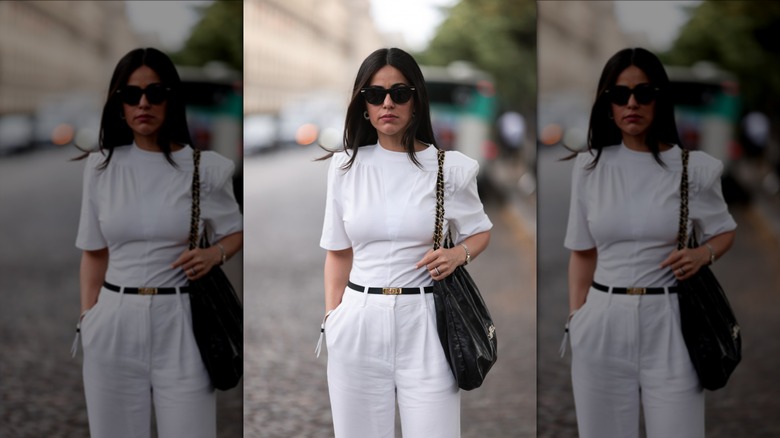 Jeremy Moeller/Getty Images
Jane Birkin was known for taking simple items to the next level. If you take anything from her style, it's that basics can and are items that everyone needs in their wardrobe. Plain white T-shirts, denim jeans, and denim jackets are some of the basics that Birkin was known for making part of her rotation. Opt for quality items that will hold the test of time and won't lose their shape or color. These pieces are worth the investment since they'll be the base of each outfit. Play up your outfit with jewelry pieces that add more personality.
Basket bags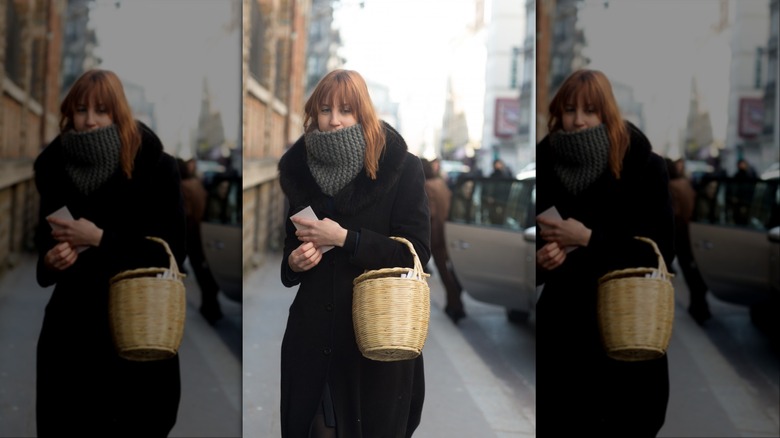 Melodie Jeng/Getty Images
Although Jane Birkin's last name is attached to the iconic Hermès Birkin bag, it's the basket bag that was repeatedly seen attached to her arm. For the British and French singer and actor, the basket bag was the perfect accessory to add a little je ne sais quoi to her outfits. Sometimes occupied with baguettes and books, the basket bag has become a quintessential item for French fashion. It's simple yet unique in the way that best encapsulates who Birkin was. The ultimate finishing touch for the chic it-girl, you can't downplay the power of the basket bag.
Simple silhouettes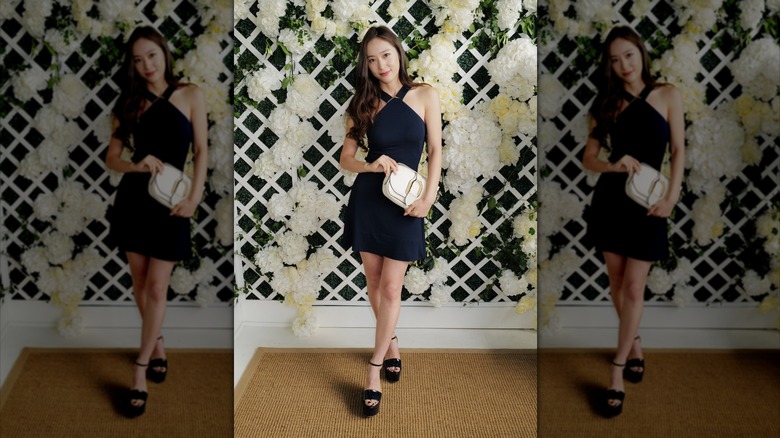 Darren Gerrish/Getty Images
No fuzz and no frills — that was the base of Jane Birkin's outfits. A simple silhouette is likely the easiest rule to follow if you're looking to embody the Birkin style. Straight cut and shift dresses are ideal pieces to add to your wardrobe that don't exaggerate your figure, along with jeans in basic styles. Simple is better when it comes to picking out silhouettes since they don't overcomplicate the wardrobe and make different pieces much easier to style together.
A good pair of jeans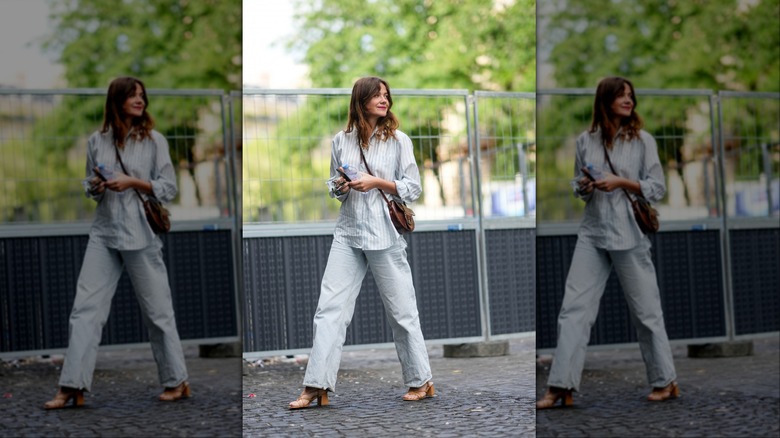 Edward Berthelot/Getty Images
If Jane Birkin rocked something with absolute confidence and class, it was a good pair of jeans. No matter how casual you may find denim jeans, the way Birkin invested in her jeans was a prime example of quality over quantity.  Denim jeans played a large role in her wardrobe, from classic mom jeans to retro flair jeans. No matter the  style, a pair of quality jeans can elevate any wardrobe and will always be on-trend.
Mini lengths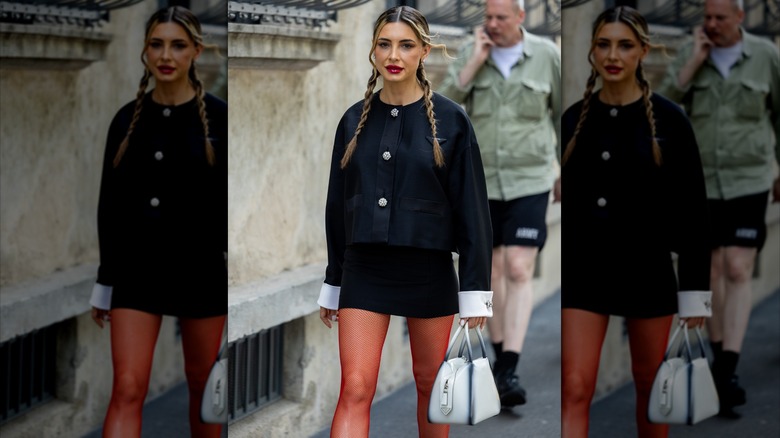 Christian Vierig/Getty Images
Despite the coldness of European weather, Jane Birkin cemented the mini-length trend. Mini dresses, shorts, and skirts are all pieces that Birkin made famous. If you're stuck on rocking a shorter length in colder weather, simply do as Birkin did and add a pair of sheer tights underneath your bottom piece for extra warmth. This retro look was prime '70s fashion. With extra layers and shorter hems, this is a combination you can't miss.
See-through dresses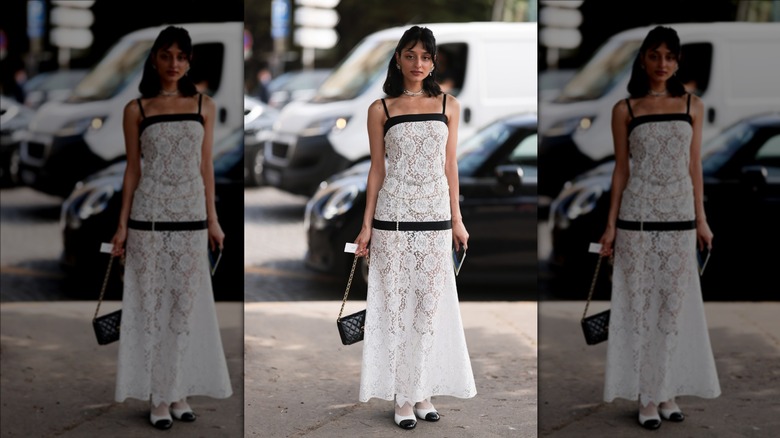 Jeremy Moeller/Getty Images
Although sheer clothing pieces are currently trending, it was a trend that Jane Birkin herself made popular in her time. From lace dresses to sheer tops, there was something about a see-through piece that was so simple it was chic. Although Birkin would wear sheer clothing without anything underneath, it's the perfect way to showcase your favorite bralettes and undergarments. Sheer tank tops are ideal for rocking this trend in the summer or spring, while lace dresses are classics for fall and winter weather.
The blazer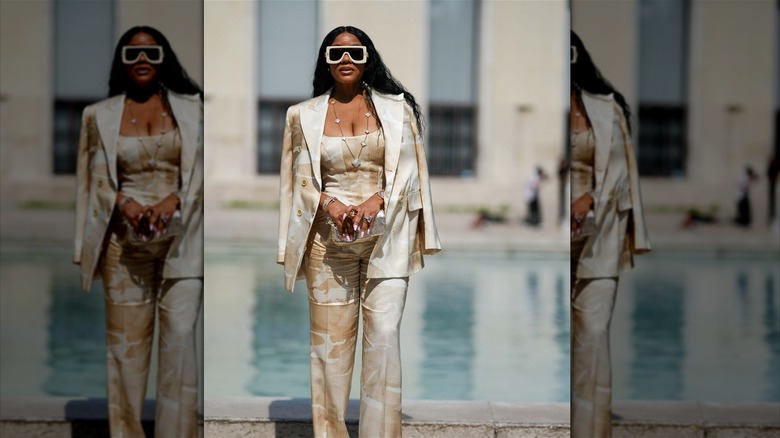 Edward Berthelot/Getty Images
Although Jane Birkin's style is frequently considered a mix of simple and bohemian, there was no replacing the blazer in her wardrobe. Since she ruled the basics in every season, a good blazer layered on top completed the look. For the fall and winter months, a blazer can help carry your basic T-shirt and jeans outfit into the colder weather. Even in her later years, Birkin rocked a blazer with simple basics underneath for a look that worked in all eras, from the '70s to the 2010s.