Kim Kardashian's Icy Retro Makeup Is A Fresh Update On The 'Cold Girl' Makeup Trend
If you were a frequenter of the beauty side of TikTok during winter 2022, you might remember the "cold girl" makeup aesthetic that perfectly captured the chilly season, even for those who live in warm climates (or refuse to brave the outdoors). This year, blush resembling windburn and frosty lids are again trending, but Kim Kardashian herself may have just thrown the winter makeup world a bit of a curveball with the latest Skims holiday ad campaign. 
The ad features the legendary Kardashian sporting icy blue frosted eyeshadow, pops of shimmery highlighter, and a combination of heavy blush and undereye concealer meant to mimic ski goggle lines — all on a wintery matte base. The look is intended to call upon vintage catalog advertisements of past decades. Its effect, however, has the potential to reach much farther, influencing 2023's winter makeup aesthetic to creep just a bit closer to over the top. 
Icy eyes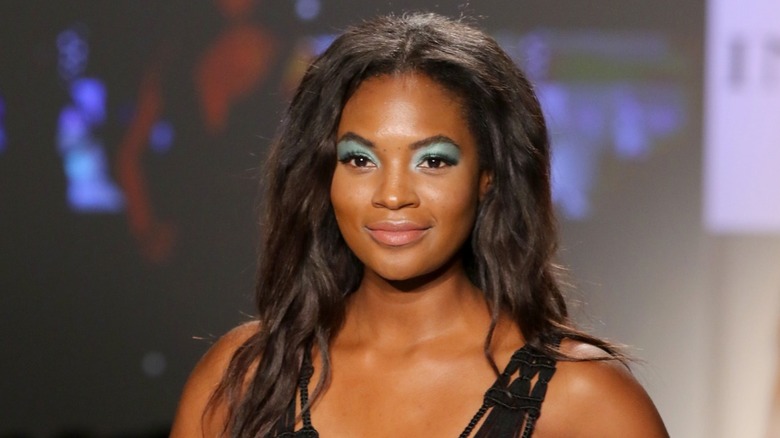 Alexander Tamargo/Getty Images
The shimmery white "cold girl" eyeshadow of 2022 has now met its match, thanks to Kim Kardashian — frosted blue. Get in touch with your inner Queen Elsa by coating your lids with the color of literal ice. You really can't get much more winter-themed than any shade of frosty blue.
Windburned blush
Windburned blush is similar to the sunburned blush technique trending during the summer of 2022. Although one intends to mimic a sunburn and the other a chilly winter windburn, both entail applying blush across the cheeks and up over the bridge of the nose in a "W" shape. 
Nude lips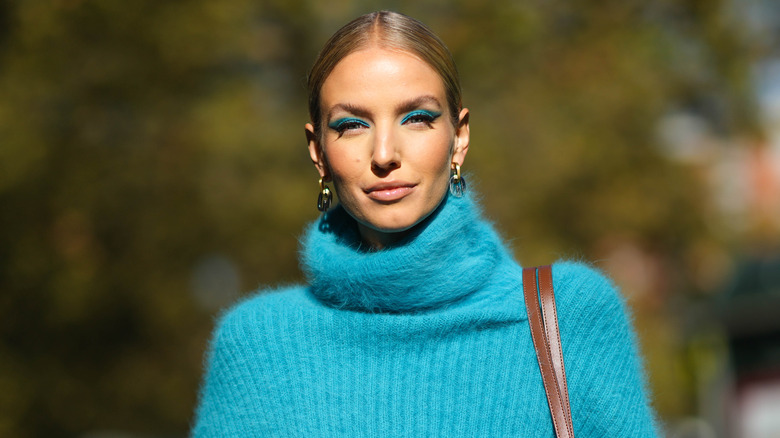 Edward Berthelot/Getty Images
Traditional "cold girl" makeup involves a cherry-stained lip that gets darker at the center, covered with a simple sticky gloss. Now, just like the new Skims ad, you can throw a nude lip into the winter mix. If you prefer the nude look, go for a shade that's a bit lighter and cooler than the one you'd wear in the summer. 
Chilly highlight
There is something about layering a chilly, cool-toned highlighter over heavy blush that just screams of being out in the cold. Once you've created the perfect windburned blush look, add a frosty highlighter to the high points of your cheeks to cash in on the snowy glow aesthetic. 
Ultra-matte base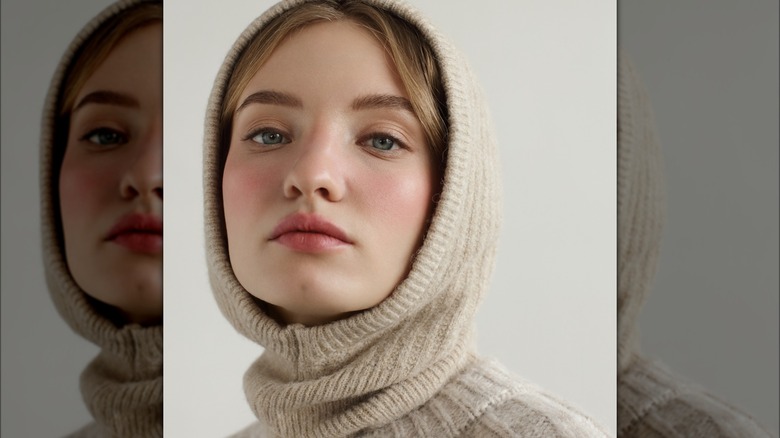 Lambada/Getty Images
Summer skin tends to take on a dewy appearance, while winter skin is known to settle into a drier, matte-like finish; it's simply the natural way of things. Play up this fact using a primer, foundation, and setting spray or powder that produces a finish as shine-free as skin that has battled the dry cold for an entire three-month season, especially across the forehead, chin, and jaw. 
Bright goggle eyes
If you'd like to nod to Kim Kardashian's ski goggle eye aesthetic, simply pack on a brightening concealer between your undereye and windburned blush. This creates the appearance of a tan line earned on a luxurious snowy ski slope, even when you're applying your makeup at home in your steamy bathroom.