We're Obsessed With Kim Kardashian's Alternate Use For Her Fake Nails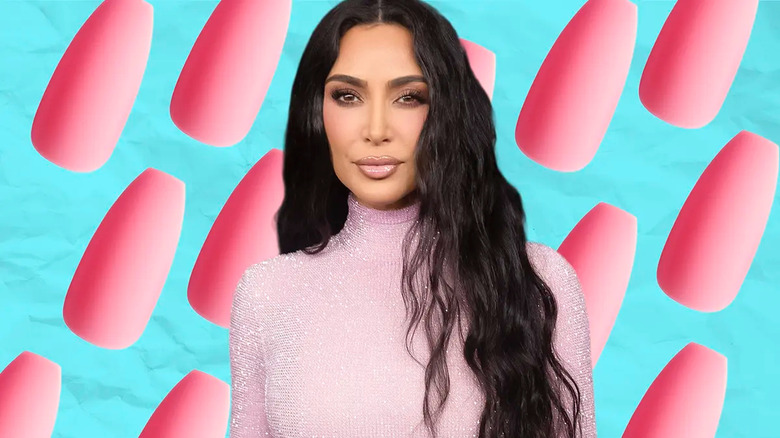 Static Media / Shutterstock / Getty
When Kim Kardashian offers a life hack, people usually pay attention. After all, the multihyphenate success story is one for the ages. She got her start as the personal assistant to fellow socialite and friend Paris Hilton back in 1998, but today helms SKIMS, a $4 billion company (not to mention many other pursuits). These days, it seems to be the rule rather than the exception to see her grace lists like Fortune's 2023 Most Powerful Women. Clearly, Kim Kardashian knows a thing or two about spotting opportunities and problems.
She is also something of a beauty expert, with her own skincare line — SKKN by Kim — to show for it. She recently told Bustle that she loves sharing the wealth when it comes to tips and tricks. "I've always been someone who's wanted to share all of my beauty tips with my sisters and my girlfriends, so my brand has become a place where I can share them with customers," she said. One of her main beauty tools is her fake nails — although her purpose for them will likely surprise you.
How Kim Kardashian uses fake nails to stop picking at her skin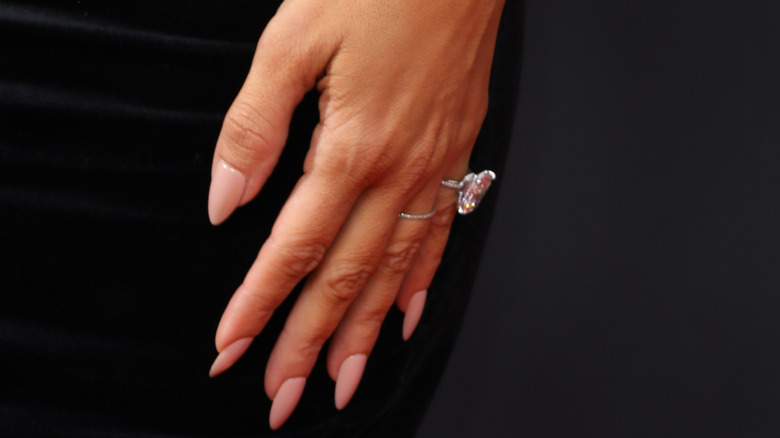 Jc Olivera/Getty Images
One of Kim Kardashian's outside-the-box suggestions about her go-to beauty tools was fake nails. "You know what else is a really good tool? When you put on long fake nails and you don't know how to function. When you do have an acne situation going on and picking will only make it worse, I'd say the best thing you can do is put on some long nails — that'll prevent you from doing anything to your skin that you should not be doing," she said to Bustle. So, the nails don't actually do anything (other than make the hands look good) and instead are more of a preventative tool in nature. The tip makes great sense, as everyone knows that long nails make everyday tasks, like using a cell phone, more challenging.
Kardashian didn't specify what type of long nails she prefers for the purpose, but it's likely that anything from salon to press-on nails will get the job done and protect that all-important skin on your face. The fact is that picking at your skin can cause some pretty serious long-term damage. Therefore, the manicure investment could actually prevent future problems.
This is what picking will do to your skin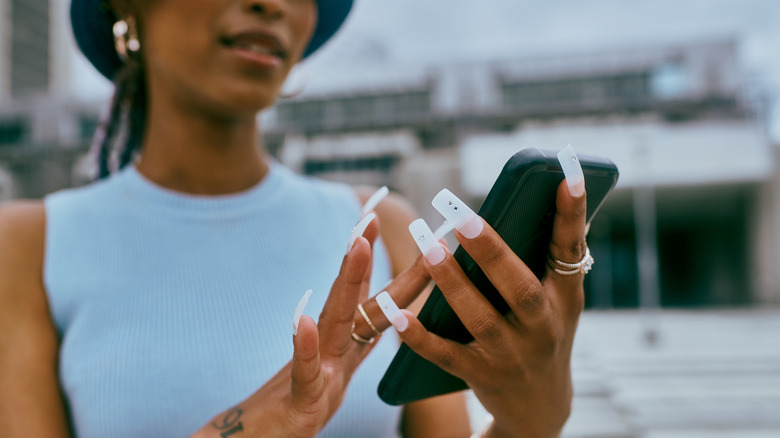 Delmaine Donson/Getty Images
Kim Kardashian's long-nail hack is designed to prevent unwanted damage to the skin. That's something that the mogul knows a lot about, having recently told the world that she deals with adult onset acne. Per an interview she did with Refinery29, she explains that in her 40s, she has experienced extreme breakouts. "It's [concealed] really well under makeup," she adds. "But I've documented it. I think if people saw it they'd be really shocked to know that I had that experience."
Even though it is often so hard to avoid picking at pimples, Kardashian is not alone in recommending restraint. In fact, the American Academy of Dermatology Association says that popping pimples and picking at acne will not only increase the likelihood of scarring but will also make the breakout last longer. Dark spots — called post-inflammatory hyperpigmentation — can also mar the skin and last well after the breakout clears. So if you value your skin, take a cue out of Kim Kardashian's playbook and have some long nails put on. Your skin will thank you, and you'll look stylish at the same time.