Ivanka Trump's Most Inappropriate Outfits We'll Never Forget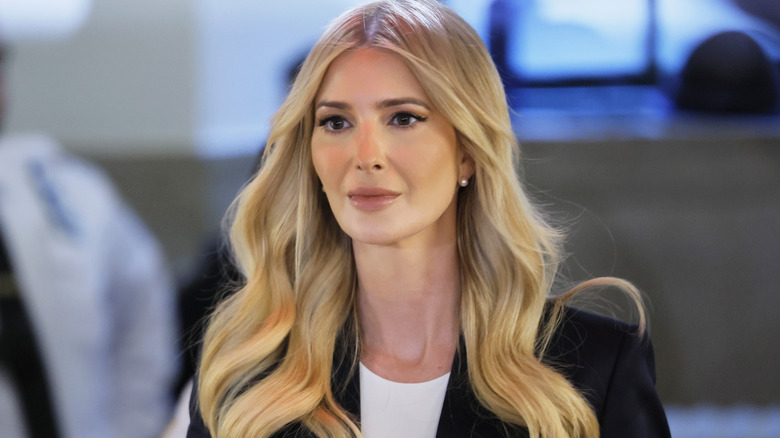 Michael M. Santiago/Getty Images
Timing is everything, even in fashion, and unfortunately, some of Ivanka Trump's outfits missed the mark. The Wharton business school graduate and advisor and daughter to former President Donald Trump has worn some rather inappropriate choices of attire for numerous events. Yet, fashion has been a part of Ivanka's life long before her political career. From appearances at fashion shows to charities, Ivanka has always been decked out in designer duds. She even launched her own fine jewelry line in 2007 and then went on to create her own clothing line in 2011 focusing on women's workwear. While the clothing line eventually shutdown in 2018 after a decline in popularity, Ivanka remained in the public eye for her style choices. 
The businesswoman often made headlines due to her daring outfits. However, she's also had her fair share of fashion fails, where her outfits were either unsuitable for the event that she's attending or showcased a lack of sensitivity. When it comes to fashion lessons, Ivanka Trump's inappropriate outfits remind us that your clothes always make a statement — sometimes, the wrong one.
Ivanka Trump's un-American dress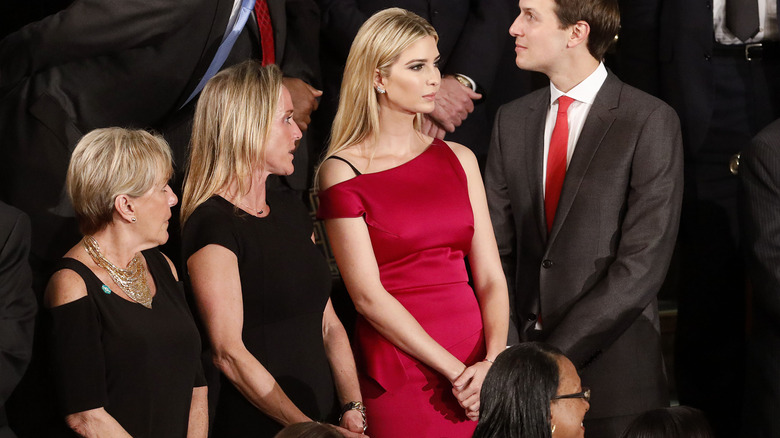 Bloomberg/Getty Images
Ivanka Trump sported a dark red show-stopping dress at her father Donald Trump's first congressional address in 2017. Unfortunately, the slogan of the speech –"To buy American, hire American" — failed to resonate with Ivanka's wardrobe. The businesswoman was caught in a $3,000 French designer dress by Roland Mouret that was not in fact made in America or even designed by an American. This fashion faux pas caught the eye of many viewers who were disappointed in the apparent double standard Ivanka's un-American dress displayed.
Metallic nightmare
Ivanka Trump's $5,000 metallic Carolina Herrera dress, worn in January 2017, made its debut shortly after Donald Trump passed a series of strict immigration policies. Timing is everything, and Ivanka's was unfortunate. Photos of detained migrant children wrapped in thermal blankets began circulating online, and people quickly began comparing Ivanka's dress to the blankets. After all, the children were being held in McAllen, Texas, detention centers by Homeland Security under the purview of her father. Unfortunately, Ivanka's dress became more of a meme than a fashion statement. 
Royally underdressed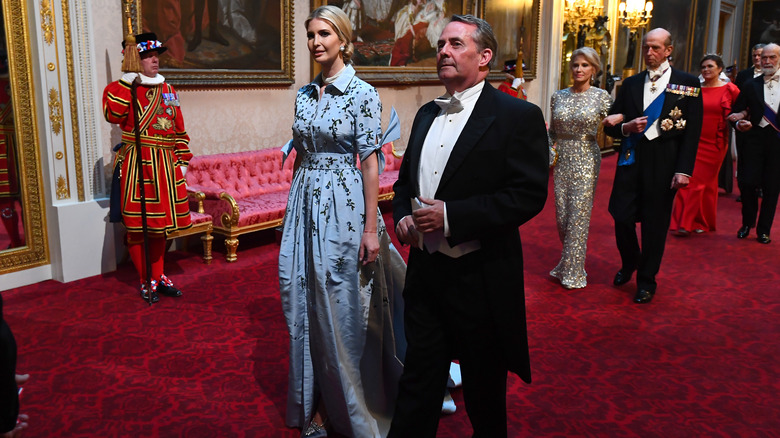 Wpa Pool/Getty Images
The Trump family made an official visit to the royal family in Great Britain back in 2019. Yet, Ivanka's outfit during the state banquet hosted by Queen Elizabeth II at Buckingham Palace was not quite as royal as the white-tie dress code requiring guests to be dressed in tuxedos and evening gowns. Instead, Ivanka Trump chose to wear a $10,990 Carolina Herrera blue gown that had a collared neck and short sleeves that looked too casual for the ultra-formal dress code.
Her bathrobe dress
While we understand wanting to be comfortable, Ivanka Trump took the comfy chic look a little too far while at the Guadalupe Center's child care facility in 2019. Her cream dress looked a lot like a bathrobe, and the odd choice of attire quickly stood out to critics. A Twitter (now known as X) user commented, "Is she having a sleepover with these kids? Can't think of another reason she would be in her bathrobe," per Express News. After all, there are better ways to nail business casual dressing than wearing your bathrobe to work. 
An unfortunate print
Ivanka Trump's dress while visiting the Taj Mahal in India at the height of the pandemic in 2020 was not a great look. The floral print on her Proenza Schouler designer dress reminded some social media users of the coronavirus. Critics argued that the red flowers resembled the color and shape of COVID cells. However, her decision to re-wear this dress, as she'd worn it once before on a trip to Argentina in 2019, was applauded. 
Channeling Serena Joy from 'The Handmaid's Tale'
If you've ever seen the Hulu series "The Handmaid's Tale," then you know the character Serena Joy Waterford, the anti-feminist first lady of the town of Gilead who always wears a high-neck and long-sleeved greenish-blue dress. Ivanka Trump sported an eerily similar look in the Oval Office in December 2020, as Donald Trump signed a new technology bill. People quickly started to draw comparisons between Ivanka's outfit and Serena's, with some social media users claiming that this may even have been an intentional choice by her stylist.
An un-tailored moment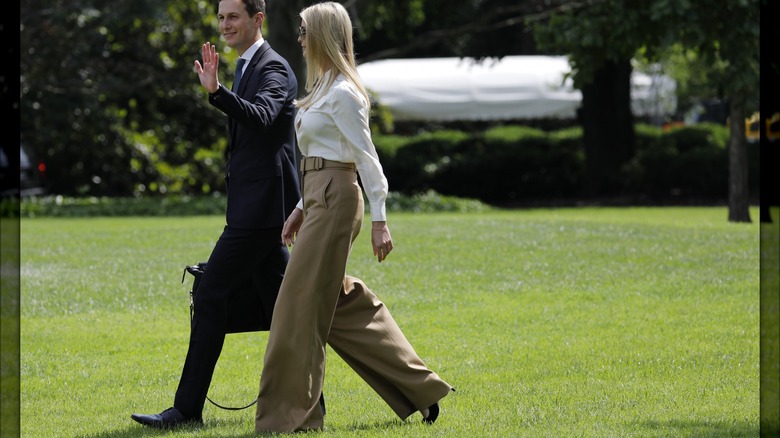 Bloomberg/Getty Images
Having pants that drag across the ground is never a good look. Unfortunately, Ivanka Trump was caught making the haul across the White House lawn in long trousers that appeared to be untailored and, as a result, dragged across the grass. The $1,490 Oscar de la Renta trousers were paired with some stilettos for the tall businesswoman, but regardless, they still seemed way too long.
A tad out of touch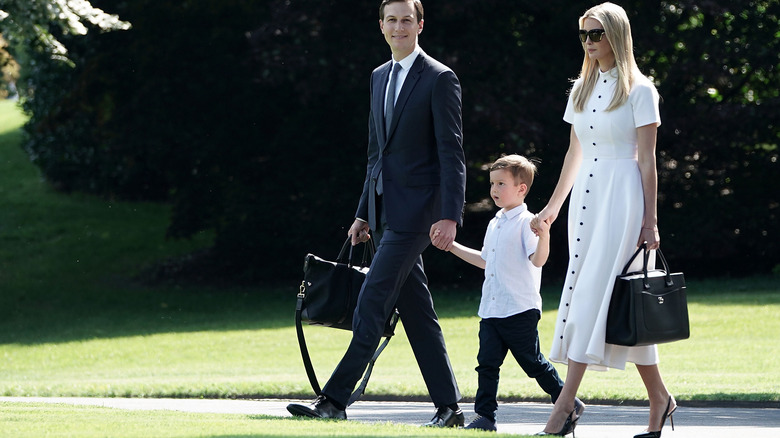 Alex Wong/Getty Images
The Chanel bag and black sling-back heels paired with her $2,110 Emilia Wickstead designer white dress were bad optics as Ivanka Trump met with American working-class parents to celebrate tax cuts made by Donald Trump. While the fitted dress was fashionable and sleek, with black buttons lining the middle of the dress, the expensive attire was far from appropriate for the occasion.
A frilly affair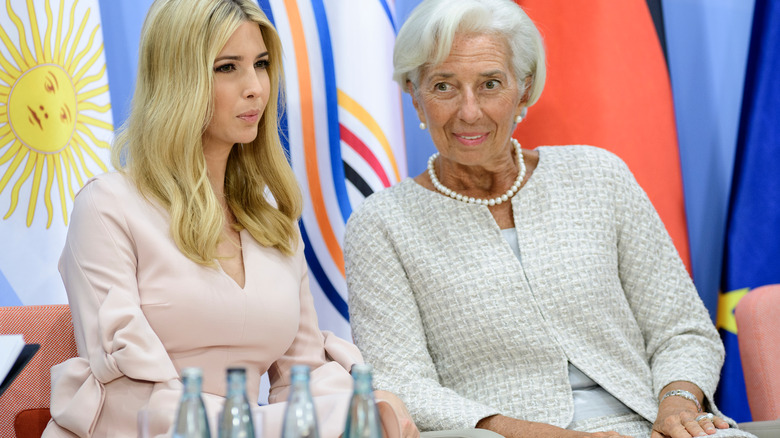 Pool/Getty Images
Ivanka Trump's frilly dress with large bows on the sleeves definitely made a statement at the G-20 summit, a global forum utilized to discuss important economic issues, where she spoke in Germany in 2017. Her bold outfit choice was the subject of debate for many critics, some of whom deemed her outfit to be rather inappropriate for such a serious event.