Red Flags For Taylor Swift And Travis Kelce's Relationship From Our Matchmaker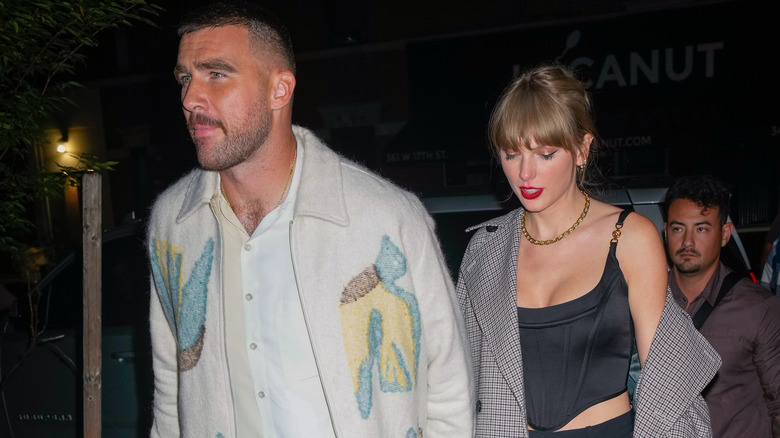 Mega/Getty Images
In fall 2023, the emergence of a celebrity power couple sent shockwaves through pop culture. Speculations of Taylor Swift, the global music sensation whose albums have been major successes for almost two decades, and Travis Kelce, the acclaimed football star who plays for the Kansas City Chiefs, being flirty with each other began on July 8, 2023, when Kelce attended Swift's Eras Tour. Since then, the rumors swiftly escalated about their whirlwind romance that has captivated fans and media alike.
As these two high-profile stars navigate the complexities of a relationship in the public eye, red flags and challenges have surfaced, casting shadows over their romantic journey. The spotlight has always been known as a double-edged sword, especially when it comes to romance. From the quick pace of family introductions to the challenges posed by relentless paparazzi, Swift and Kelce have to deal with the uniqueness of merging their worlds.
To delve deeper into the intricacies of this star-studded romance, we exclusively spoke to Susan Trombetti, a renowned matchmaker and the CEO of Exclusive Matchmaking. Trombetti, with her keen insight into the dynamics of relationships, sheds light on the red flags that could be potential pitfalls for the famous couple. The challenges they face, while not unfamiliar in the celebrity world, add plenty of layers of complexity to the future of their relationship.
The spotlight makes Taylor Swift and Travis Kelce's relationship harder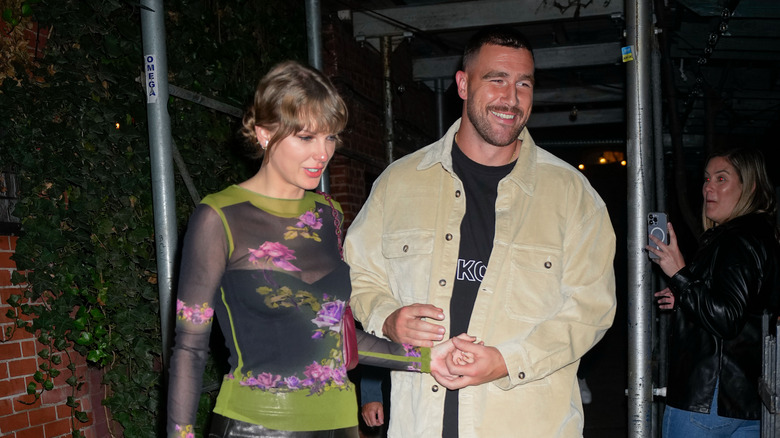 Gotham/Getty Images
Navigating a relationship under the scrutiny of the public eye is certainly very challenging, and even though both Taylor Swift and Travis Kelce have had public relationships before, that doesn't mean it becomes easier. "The spotlight of the relationship itself (although hard to keep under the radar) seems to be a bit of a red flag," Susan Trombetti tells us. "It's very difficult to develop something meaningful in a normal way with everyone watching your every move."
This is particularly relevant for Swift, who has experienced the strain of fame when it comes to past relationships. Swift's most recent romantic history includes a breakup with actor Joe Alwyn, which was reportedly influenced by the pressures of the public gaze. According to a source for People, Alwyn struggled with Swift's level of fame, and the attention from the public became a significant challenge for the couple.
The spotlight's impact on Swift's previous relationships raises questions about the potential challenges it may pose for her current relationship with Travis Kelce. Balancing the public's curiosity with the need for personal connection could be a recurring theme for the couple as they navigate their high-profile romance.
Extreme scrutiny from the public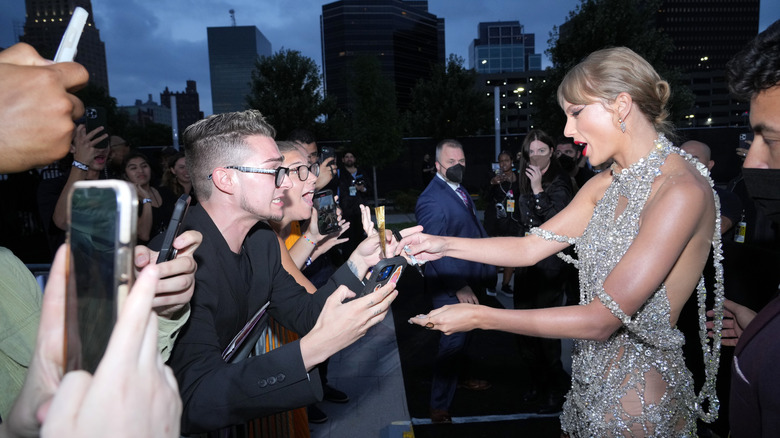 Kevin Mazur/Getty Images
The intense scrutiny from the public eye is one thing, but Taylor Swift's fanbase is certainly providing a whole new level of pressure for the couple. Swifties across the globe have gone crazy over the couple, and they are carefully watching every new step the two make, dissecting and discussing even the smallest changes they notice. In fact, as of writing, #tayvis has over 589 million views on TikTok alone.
During a press conference on November 5, 2023, ESPN's Jeff Darlington inquired about the status of Kelce's relationship with Swift and whether he's in love (via New York Post). Kelce, choosing to keep the details private, responded with, "I got to see her last week. I'm going to keep my personal relationship personal."
The public's keen interest in their relationship dynamics creates an environment where every move, or lack thereof, is subject to harsh scrutiny. The challenge of maintaining an authentic connection amid this adds an extra layer of work for the two. As Taylor Swift and Travis Kelce attempt to find the right pace of their relationship, the external pressure to conform to public expectations could become a potential red flag.
Travis Kelce's dating show comments
Travis Kelce's experience with reality dating shows offers an interesting perspective on his approach to relationships. In 2016, the NFL star starred in the E! reality show "Catching Kelce," where he sought to find his perfect match. During his hosting gig on "Saturday Night Live" in March 2023, he joked about it in his opening monologue, saying, "It was kind of like 'The Bachelor,' except instead of roses, I handed out footballs, and instead of watching, people did not." 
One interesting aspect revealed during the reality show was Kelce's preference concerning confidence in women. Per Collider, when the athlete picked Maya Benberry over Veronica Harwood as the show's winner, he explained, "I love your confidence, but at times it does get overconfident. It kind of shows arrogance. I have been attracted to women like that my entire life, and those relationships didn't work because of that. I don't want that anymore. I feel like I came into this idea, this experience, this show because I needed that change in my life, and Veronica is that change. But even though my mind's telling me one thing, I got to go with my heart."
Considering this revelation from his dating show experience, it's noteworthy that Kelce is currently in a relationship with Taylor Swift, one of the most confident figures in the music industry. The irony raises questions about how Kelce's past preferences align with his present choices and whether his dating show insights will impact his dynamic with Swift.
The NFL star can't deal with high maintenance
Travis Kelce's candid interview on the "Let's Be Honest with Kristin Cavallari" podcast shed even more light on his dating preferences. The NFL star disclosed that he avoids dating women who are high-maintenance, expressing a strong aversion to arrogance or a sense of superiority. "I'm out the door. I've never been a part of that," he said, adding that he doesn't date women who aren't "grounded," adding, "If you're arrogant or you think you're snooty or higher or above people, that's the biggest turnoff for me."
While Taylor Swift isn't generally characterized as either arrogant or high-maintenance, her extensive time in the entertainment industry since her teenage years sets her apart from the average person. Kelce's commitment to down-to-earth qualities raises intriguing questions about how he will navigate a relationship with a globally recognized artist like Swift. After all, Taylor Swift isn't your usual girl-next-door — she's a Grammy award-winning artist with a whopping $1.1 billion net worth.
They met each other's families super fast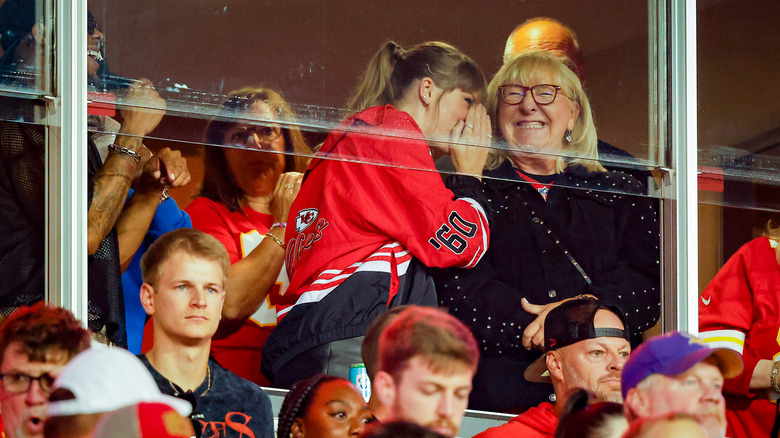 David Eulitt/Getty Images
Taylor Swift and Travis Kelce's fast integration into each other's families has become a point of interest. According to relationship expert Susan Trombetti, the speed at which the couple has embraced family-oriented activities raises eyebrows. "Getting close to friends and family SO fast. Yes, it can be a good thing, but it seems to be a lot [and] very fast," Trombetti says. "Cheering him on with teammates' wives and his mom, dinners with Brittany Mahomes, etc., all does feel fast." While there's no universal rule for when it's appropriate to meet a partner's parents, Trombetti suggests that the rapid progression seems notably fast.
In the world of celebrity relationships, the quick introduction to family dynamics might be viewed as a significant step. For Swift and Kelce, this early family involvement adds another layer to their relationship. The rumors of their relationship surfaced in September 2023, gaining momentum when Swift was photographed with Kelce's mom, Donna, at a Kansas City Chiefs game on September 24. Fast forward to November 11, when Kelce was observed attending Swift's Eras Tour show in Buenos Aires alongside her dad, Scott. The timeline, while not explicitly confirmed, offers glimpses into the couple's evolving connection and the apparent integration of their lives. However, fans and experts can't help but wonder whether the fast familial integration is a testament to the strength of their bond or a potential red flag in the timeline of their romance.
Travis Kelce was an admirer of Taylor Swift prior to dating her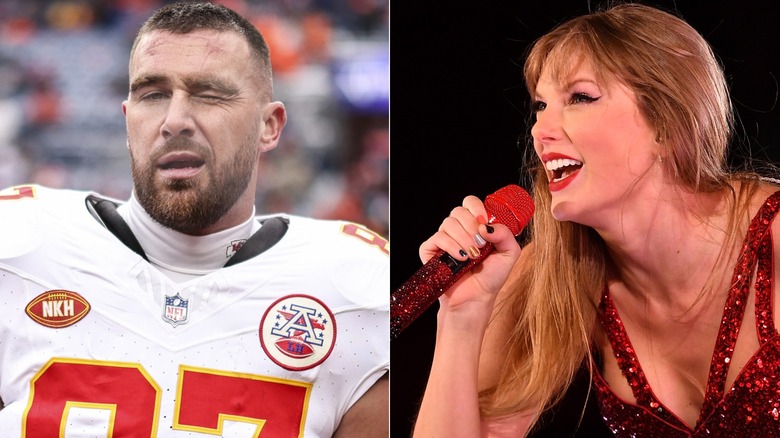 Michael Owens/Getty & Marcelo Endelli/tas23
Travis Kelce's pre-existing admiration for Taylor Swift, known thanks to his attendance at an Eras Tour show and his attempt to gift her a friendship bracelet, adds a unique layer to their budding relationship. "I was disappointed that she doesn't talk before or after her shows because she has to save her voice for the 44 songs that she sings," Kelce said during a July episode of the "New Heights" podcast, which he hosts with his brother Jason. "So I was a little butt-hurt I didn't get to hand her one of the bracelets I made for her."
While this admiration might be endearing, relationship expert Susan Trombetti notes that it could potentially be an important aspect to consider. "He was a big fan prior to talking about her in the press. Although cute and does not need to be a red flag, it could be a little bit of a red flag," Trombetti adds. "He could be more obsessed with the idea of the star than her as an actual person. He needs to see how that plays out when it's just the two of them, and all of that wears off." As Kelce transitions from being a fan to a partner, the nature of their relationship slowly unfolds, and only time will tell whether it surpasses the realm of celebrity admiration.
The singer might have attachment issues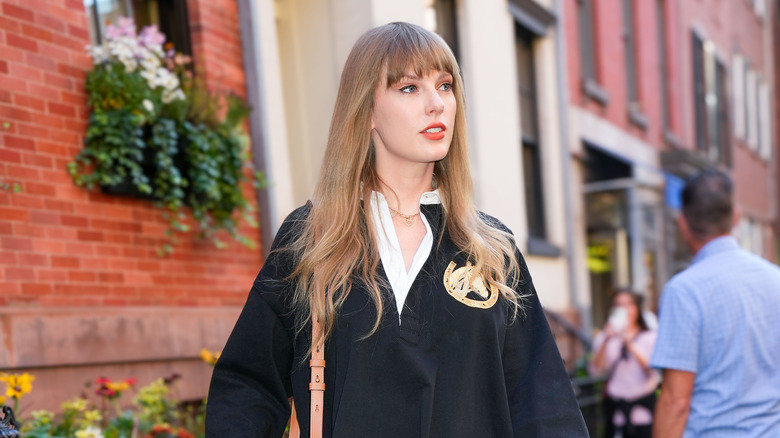 Mega/Getty Images
Attachment issues can also be a big red flag for any relationship, and according to experts, Taylor Swift has shown signs of it. "If you get attached easily and early, it could be a sign you have an anxious attachment style. People with anxious attachment styles cling to others because they are afraid of being abandoned," relationship expert Megan Weks told the Daily Mail. "The bullying Taylor experienced could have left a lasting stamp on her sense of self and personal value, leading her to grasp on tightly in early relationships. Even superstardom can't erase belief imprints in our brain from an early age."
Swift's history of swiftly integrating into her partner's family is highlighted as a recurring theme. Per Daily Mail, in 2010, during her relationship with actor Jake Gyllenhaal, she spent Thanksgiving with his family after just five weeks of dating. This trend resurfaced when Swift was observed attending one of Travis Kelce's games with his mom — and fans were quick to draw comparisons to her rapid integration into Tom Hiddleston's family in 2016, where she met his mother within two weeks of their public debut. The musician's quick inclusion of family into her relationships raises questions about how attachment dynamics might influence her and Kelce's future.
Travis Kelce doesn't have time for drama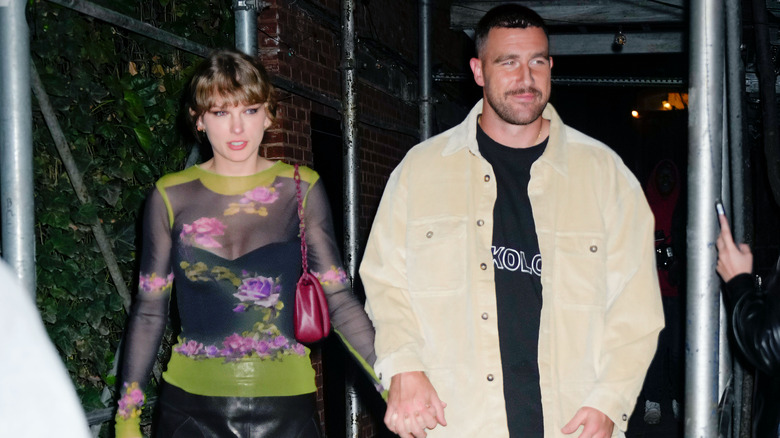 Gotham/Getty Images
Travis Kelce has been vocal about his disdain for unnecessary drama, and during an episode of his reality dating show "Catching Kelce," the athlete opened up about how he feels about conflicts. "I live competition every day but have zero tolerance for small, petty drama that can be avoided," Kelce admitted (via Vanity Fair).
This preference for a drama-free atmosphere raises questions about how he will handle the potential challenges associated with dating a star as big as Taylor Swift. Swift, a global icon, is no stranger to being in the spotlight, often entangled in public disputes with other famous stars. Notably, her feuds with big A-listers like Katy Perry, Kanye West, and Kim Kardashian have made numerous headlines over the years. Kelce's aversion to petty drama contrasts with Swift's history of navigating fame, and it prompts speculation about their compatibility in handling public scrutiny and controversies.
He seems to prefer taking things slowly
Kevin Mazur/Getty Images
While Taylor Swift has been known for jumping into relationships rather quickly, Travis Kelce has previously voiced his preference for taking things slowly. In an interview with Kristin Cavallari, he admitted that he is somewhat of a slow-burner and he likes to take his time. "I feel like you've really got to know somebody to take that step and really be committed and be in full throttle," he admitted on her podcast. "I can't just meet somebody and automatically think that forever is just a day away. I think that's too much, and I'm setting myself up for failure. I think it takes quite a bit of time for somebody to really get to know somebody and really get to find that affection and love."
His perspective reflects a cautious and measured approach to love, suggesting that he values the process of getting to know someone thoroughly before committing to a long-term relationship. However, it's safe to say that things have been evolving rather quickly between him and Taylor Swift, which makes us wonder whether his current relationship aligns with his belief that lasting affection requires a slow approach.
The paparazzi aren't making things easier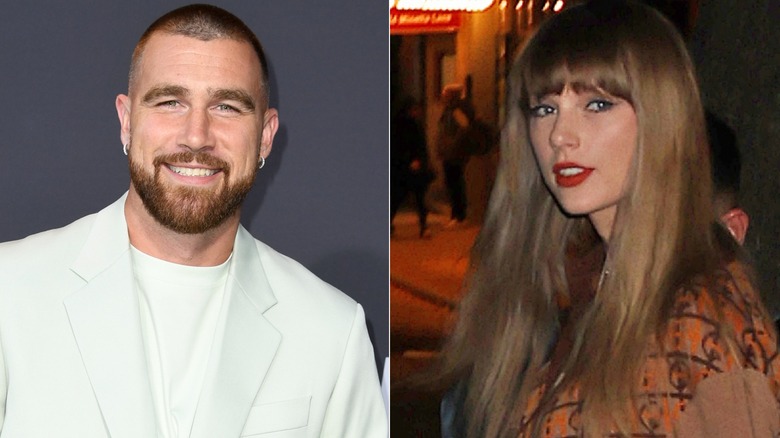 Mega/Getty & Jc Olivera/Getty Images
Navigating a relationship in the public eye is hard enough on its own, but the constant scrutiny from paparazzi adds an extra layer of pressure for both Taylor Swift and Travis Kelce. "The paparazzi that stakes the two of them out is a major problem," Trombetti tells us exclusively. "It's part of being in the spotlight, but it's more because they will report on everything and make it into something that it's not, which can cause distrust between the couples. They are waiting for anything that isn't to make it look like dirt."
The fact that the couple finds themselves under constant surveillance can certainly amplify the stress of maintaining a genuine connection amid the public gaze. As Swift and Kelce continue their relationship, the paparazzi's relentless pursuit of them creates an additional hurdle, demanding plenty of resilience and trust from both of them in order to withstand the challenges the public intrusion comes with.
Travis Kelce's ex has warned Taylor Swift
Dating in the public eye comes with its own set of problems for the rich and famous. And one of those is having your exes publicly comment on your current relationship. In an interview with the Daily Mail, Travis Kelce's ex, Maya Benberry, warned Taylor Swift about the NFL star. "Once a cheater, always a cheater," Benberry said. "Taylor seems like such a fun girl with a beautiful spirit, so I wish her the best of luck, but I wouldn't be a girls' girl if I didn't advise her to be smart! I'm sure by now she has mastered the ability to see who is really there for her — and who is just using her. I can only hope that she comes out the teacher in this situation and not the student."
Kelce's camp, however, denies the cheating allegations, dismissing Benberry's remarks as an attempt to gain attention. Sources close to the athlete spoke to TMZ, saying that Benberry's interview is "a poor excuse of someone trying to get her 15 min of fame." As Swift continues her relationship with Kelce, these warnings and publicized statements from the athlete's past relationships could place an additional layer of caution and stress on the couple.
The athlete hasn't been in a public relationship like this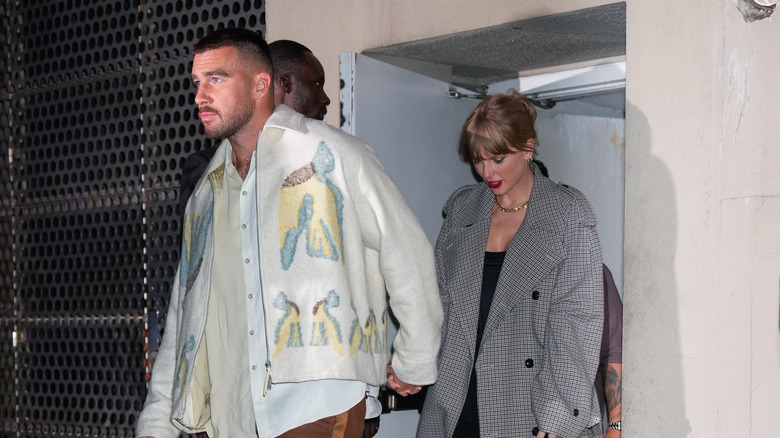 Gotham/Getty Images
Having a public relationship with a global megastar like Taylor Swift is uncharted territory for Travis Kelce, whose previous romantic endeavors did not involve someone of Swift's caliber of fame. In a candid interview with NBC Sports, Travis' brother, Jason Kelce, shed light on the family's experience, acknowledging the unique challenges the extreme public attention has given them. "It's certainly been weird, the level that it is now. On one hand, I'm happy for my brother that he seems to be in a relationship that he's excited about, that he is genuine about. But there's another end of it where it's like, 'Man, this is a lot,'" Jason Kece said, adding that Taylor Swift is "another level of stardom that typically football players don't deal with."
Kelce's family perspective provides a glimpse into the adjustments and considerations required when a relatively private athlete finds themselves thrust into the global spotlight through a high-profile relationship. The contrast in fame levels adds a layer of complexity that both Kelce and Swift have to continue navigating together.