Mid-Century Silhouettes Are Dominating Fall 2023 Dress Trends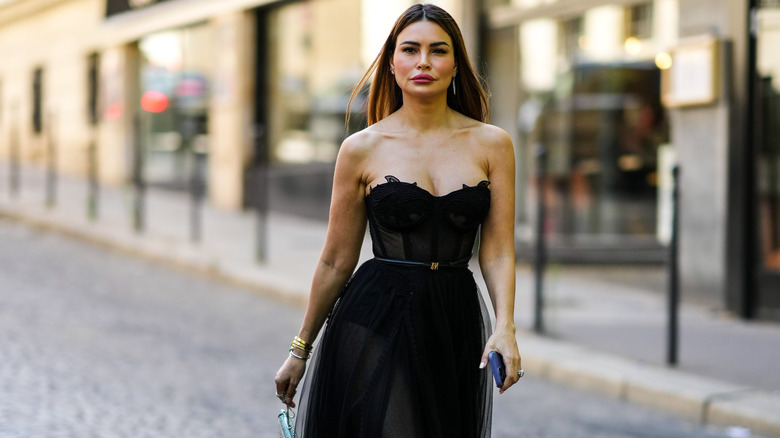 Edward Berthelot/Getty Images
It's almost a certainty that any given trend will cycle in and out of fashion. Whether it's the Y2K fashion coming back or styles from the early aughts, we've seen plenty of examples that showcase the life cycle of these fads and how they can often reenter our closets at a moment's notice. One of the latest crazes that has infiltrated our dresses for the fall season is derived from an era that hasn't seen much attention in 2023. The high-waisted full-skirt dress, a staple of mid-century fashion, is the latest style to welcome into your fall closet. These retro-inspired dresses showcase a high-waisted silhouette reminiscent of a classic '50s housewife with the full-circle bouncy skirt. Notably, this silhouette can help lengthen your legs and give you an hourglass shape.
While there's no need to return to real poodle skirts to rock this trend, you can incorporate a cinched, higher waistline in several ways. Whether you opt for a classic tulle or fit and flare, a high-waisted full-skirted dress is a fun style that'll give your closet a mid-century vintage touch.
Fit and flared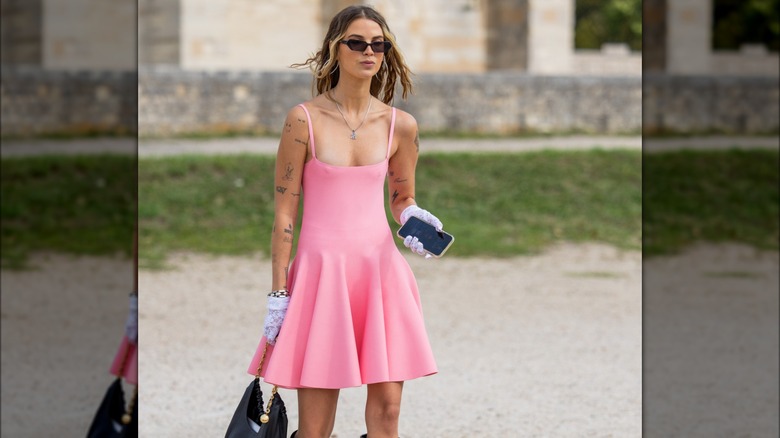 Christian Vierig/Getty Images
You can't go wrong with a fit-and-flare dress if you want to raise your waistline. These dresses are sleek and elegant options for the fall 2023 season since they don't have an apparent break in the waist. They simply start fitted and gradually expand outward, emulating the poodle skirt in a less obvious way that will blend together retro and modern.
Bridgerton chic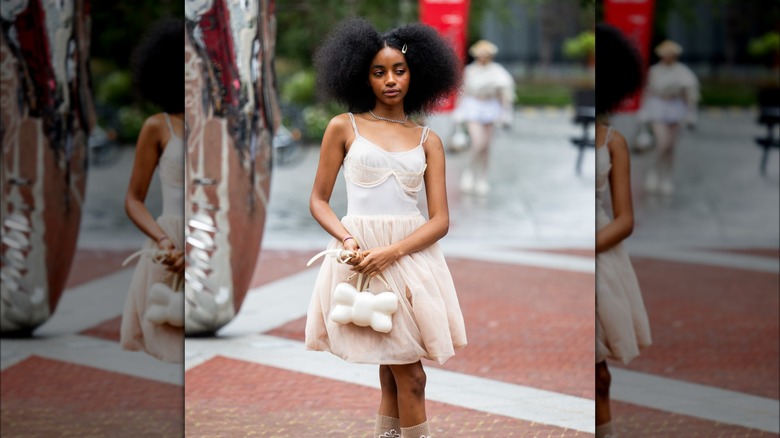 Christian Vierig/Getty Images
Undeniably, the show "Bridgerton" has brought many romantic details back into the fashion trends. If you love the royal look, a high waist and full skirt is the perfect way to jump on the royally fun regencycore fashion trend. Opt for a high-waisted dress that expands with a tulle or sheer fabric for a dramatic and whimsical silhouette that brings the Regency period into your vintage dressing, too. 
The belted option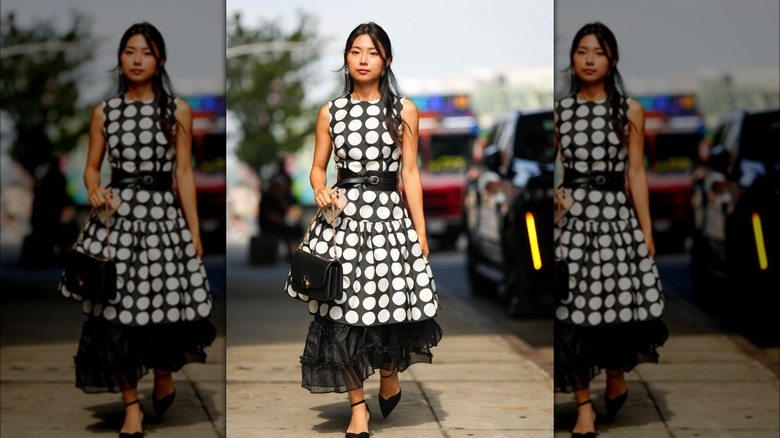 Edward Berthelot/Getty Images
For those who don't already have a high-waisted full-skirted dress, it's easy to rework an existing piece to get the same style. Instead of purchasing another dress, add a belt to a piece you own to create the same silhouette. For a modern feel, opt for a trendy oversized belt (that would usually be perfect for laid-back Y2K dressing), but place the belt higher than your natural waist to nail the style. 
Corseted waists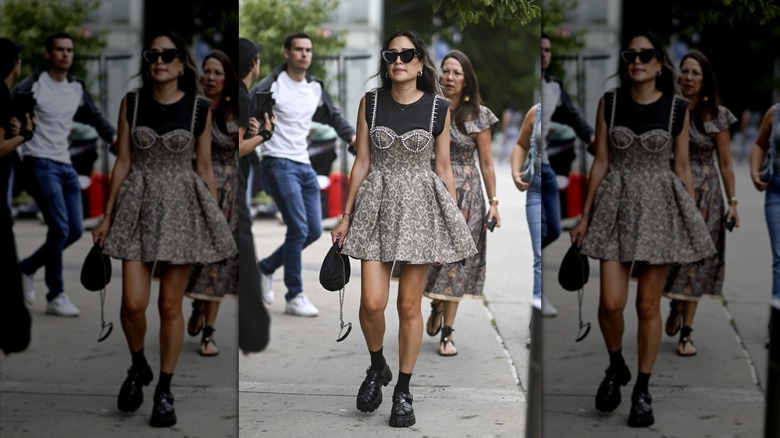 Daniel Zuchnik/Getty Images
To bring the ultimate statement to your fall wardrobe, take the mid-century silhouette up a notch with a regal corset. This will create your high-waisted full-skirted moment without the help of a belt. There are plenty of pieces available where the corset is part of the dress, but you could also fit a corset over your dress to cinch your waist and create the same look.
Modern cut-outs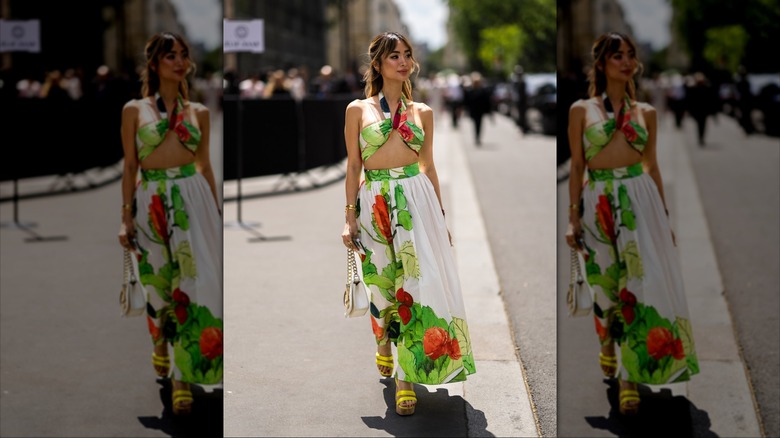 Edward Berthelot/Getty Images
To bring the mid-century silhouette into the 2020s, opt for a cutout dress that still maintains the same shape of the cinched waist and fuller circle on the bottom. With strategic cutouts and a contrasting lower half, these cutout dresses can create the same visual impact as a retro dress. 
Empire waist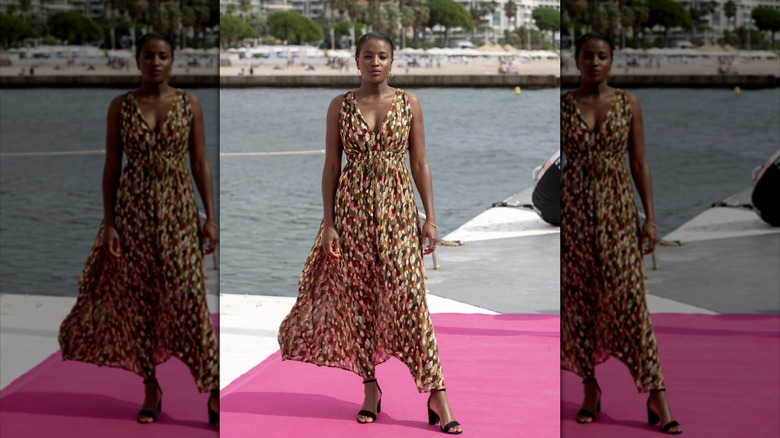 Arnold Jerocki/Getty Images
Not to be forgotten, the empire waist dress is a staple silhouette that is as timeless as it is elegant. While we typically see this style in wedding dresses, you can definitely use it in your everyday fall wardrobe. This style has a more defined waist that hits right under your bust and flares out dramatically, giving you a vintage design that will freshen your fashion rotation during the autumn months.