Your Guide To The Skincare Benefits Of Castor Oil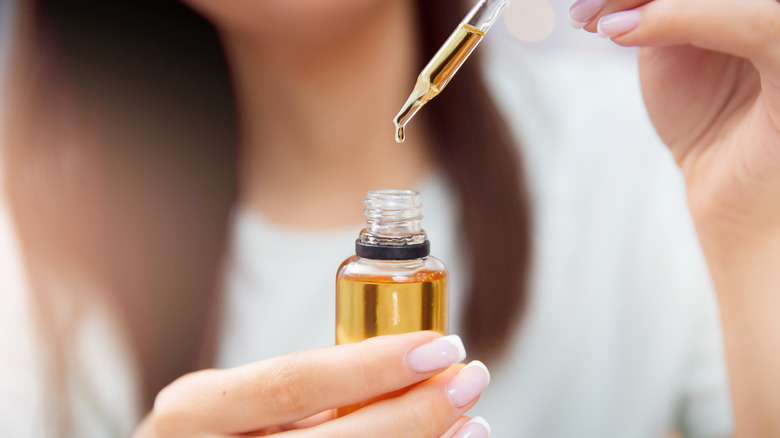 Parilov/Shutterstock
Castor oil has made a resurgence of sorts in recent years -– with more than 566 million (and counting) views for #castoroil on TikTok, it's obviously been capturing people's attention. So just what is castor oil, and why is it making such a dramatic comeback?
Advertisement
Well, castor oil has been around for centuries, and has been used for all sorts of ailments and health issues, including as a laxative, labor induction, wound healing agent, skin moisturizer, and even hair growth booster. Celebrities such as Lauren Hutton, Charlize Theron, and Helen Mirren have made headlines for celebrating the benefits of castor oil on hair, skin, and nails.
Hailed as an all-natural remedy and single-ingredient powerhouse, castor oil is used throughout the medical, pharmaceutical, and industrial arenas as an alternative to modern medicine, especially when a client prefers natural ingredients over man-made chemicals. With its burst in popularity, the proponents of castor oil have sometimes neglected to describe just how to use it or what the potential side effects could be. That's where our comprehensive guide comes in –- learn about the history of castor oil, what it's used for, and how to use it yourself — safely — in the comfort of your own home to actually achieve results.
Advertisement
What is castor oil?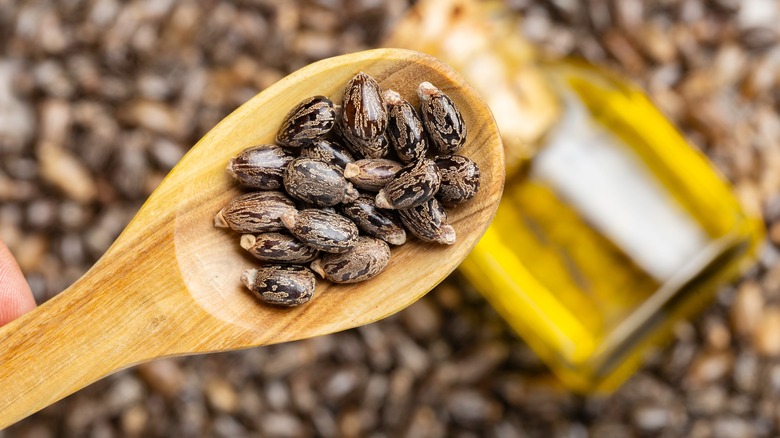 Alexander Ruiz Acevedo/Shutterstock
Oil from the seeds of the Ricinus communis plant, a usually toxic seed that contains ricin, produces castor oil. The process of extracting the oil removes the toxicity, because ricin isn't present in the oil that comes from the seeds. Thus, castor oil is safe for general application and uses, according to Healthline. 
Advertisement
In ancient Egypt, people used the oil for burning lamps as well as to induce labor and treat mild ailments such as eye irritations. Fast forward to the present, and castor oil is still being used in the medical field –- it's been approved by the Food and Drug Administration (FDA) as a laxative. It's also used for industrial purposes such as lubrication and biodiesel fuel.
Castor oil can be taken either internally, in liquid or pill form, or applied topically to the skin. Internal use of castor oil is usually for its laxative effects, while topical applications are for moisturizing the skin and healing wounds. Many cosmetic and facial care products contain castor oil, but it's not usually the star all by itself, which is a bummer because it can certainly hold its own against more expensive oils and creams.
Advertisement
Can anyone use castor oil on their skin?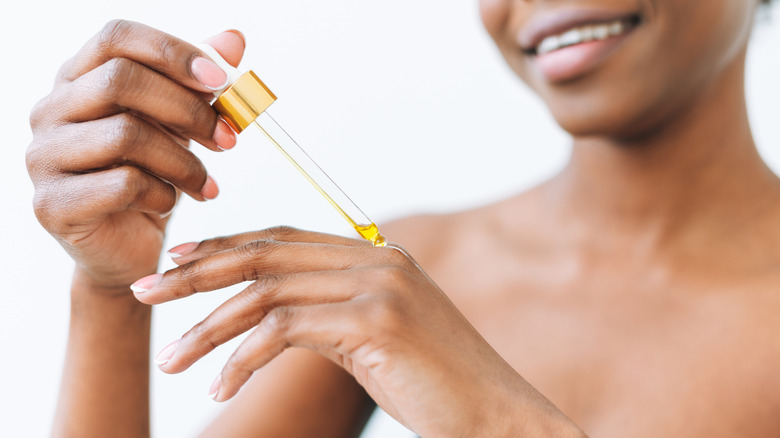 Galina Zhigalova/Getty Images
Like with most things, castor oil is good for you in small amounts and can become dangerous if overapplied or used in the wrong way. Don't let this scare you, though! Castor oil can be beneficial to almost anyone –- only the most sensitive skin may have any kind of reaction.
Advertisement
Some people might develop an allergic reaction if they apply it to their skin, per Medical News Today. This reaction will usually be in the form of a mild rash accompanied by itchiness on the exposed area. Livestrong also suggests not putting pure castor oil on your skin due to its potential to cause allergic reactions. Basically, this means that anyone can use castor oil –- just like anyone can eat peanut butter –- but that doesn't mean that it's the best thing for you to do. If you do a patch test and find that your skin doesn't react well to castor oil, it's best to stay away from it.
Check ingredient labels for castor oil, especially in moisturizers, creams, and lipsticks, since those products are the most common carriers of castor oil, according to Livestrong. Castor oil can also be written as Ricinus Communis (Castor) Seed Oil on an ingredient label. It's best to keep that in mind so that you recognize it.
Advertisement
Is it safe to use castor oil on your face?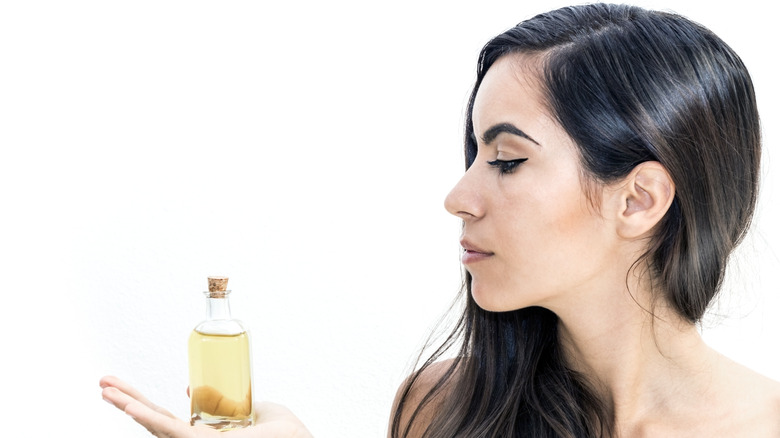 Juanamari Gonzalez/Shutterstock
Most people can use castor oil on their face just like they would on the rest of their bodies. Castor oil is pretty thick so Healthline recommends mixing it with a carrier oil before applying it to your face. Whichever way you apply it, it's probably better to be on the safe side and use castor oil as a moisturizing mask as opposed to a nightly cream. This means that you should wipe or wash it off after 5-10 minutes instead of leaving it on overnight or for a full day.
Advertisement
"Some people can report skin irritation due to the use of castor oil, especially if one suffers from an existing skin condition like dermatitis or sensitive skin," Dr. Sushant Shetty, head of medical operations, Kaya Skincare Limited, tells Healthshots. And the same fatty and humectant properties that can be a boost for some people could be problematic for those that have sensitive skin. Since castor oil is so thick, it could clog your pores and hold in sweat or dirt (as well as attract more of the same!), making it more of an issue than a problem-solver for those with sensitive skin.
Overall, castor oil is safe to use on your face as well as on the rest of your body. Just watch for any initial reactions and don't keep it on for a long period of time.
Advertisement
Castor oil can moisturize your skin and scalp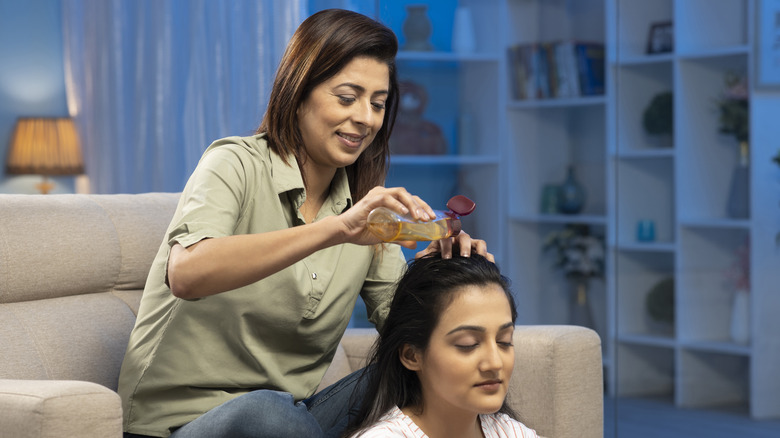 Deepak Sethi/Getty Images
One of the biggest uses for castor oil, at least in the pharmaceutical or beauty fields, is in the form of moisturizers. It also has antibacterial and antifungal properties which make it a good choice for keeping your scalp healthy with one simple, natural ingredient. Snehal Amin, M.D., a board-certified dermatologist in New York, tells Good Housekeeping, "Its antibacterial properties help to reduce fungal and harmful bacteria on the scalp."
Advertisement
"Castor oil is an emollient, so it can help hair feel less dry," says Good Housekeeping Institute Beauty Lab Reviews Analyst Chiara Butler. For your skin, castor oil acts as an occlusive moisturizer, which means that it keeps the skin supple by preventing moisture from escaping, writes Jilian Kubala, RD, on Health. Kubala also suggests mixing the castor oil with a carrier oil to thin it out.
You can add castor oil to your current skincare regiment by placing a few drops on your face at night, as Meital James describes she does in her blog Natural Alternative Therapies, or by mixing it in with your leave-in conditioner for boosting your hair's natural moisture.
Castor oil may reduce wrinkles and puffiness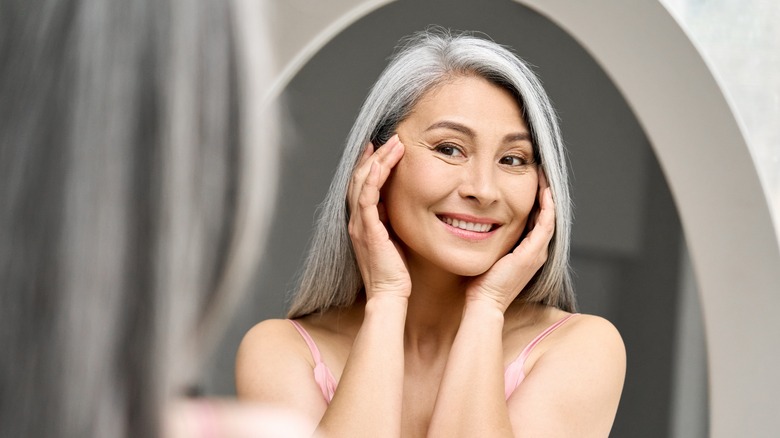 Ground Picture/Shutterstock
Science and fool-proof studies have not yet backed the claims that castor oil can reduce the look of wrinkles or puffiness on your face, but the fact that it has antioxidant and anti-inflammatory properties could mean that castor oil might slow down the signs of aging on your skin, according to Healthline.
Advertisement
Wrinkles can form due to thinner skin, decrease in collagen production, or slow skin cell production, per Cleveland Clinic. Since castor oil is an antioxidant, it can help boost the production of collagen, even as you age. The fatty acids in castor oil are so moisturizing that they can also help minimize the look of wrinkles by hydrating your skin and keeping it hydrated for a longer period of time. Castor oil has been reported to work best for smaller wrinkles such as smile lines. If you want to give castor oil a shot at smoothing out your wrinkles, apply it on the areas around your mouth or eyes (making sure to not get it in your eyes) and leave it on for 10-20 minutes before washing it off.
Advertisement
Castor oil has also been reported to help with under-eye puffiness, although no studies have proven this yet.
Castor oil can be used to treat acne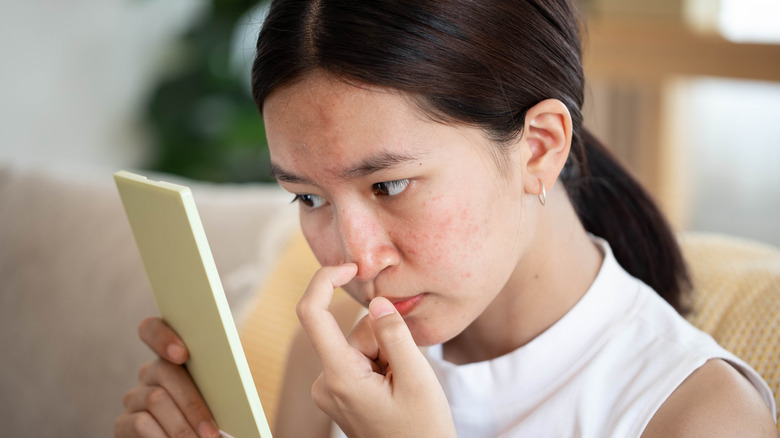 Arisara_tongdonnoi/Getty Images
There are different kinds of acne. Per the Mayo Clinic, acne can be triggered by hormonal changes, medications, diet, or stress. Clogged pores from excessive sebum, bacteria buildup, or dead skin cells also contribute to acne. Being antimicrobial, castor oil is a natural remedy for treating acne if it is caused from bacteria, according to the journal Lipids in Health and Disease.
Advertisement
Castor oil can also be used to treat the excessive sebum that causes acne, with the idea being that "like dissolves like." Another oil can wash away the extra sebum that your body is producing, according to Facing Acne. The same antioxidant properties that smooths wrinkles can also reduce inflammation on the skin. Per BeautyTalk, mild acne can be treated with simple castor oil. It may help improve your skin, since it contains vitamin E and fatty acids, per WebMD.
To treat acne, you can simply massage your face with castor oil or use it in combination with other ingredients such as baking soda, turmeric, zinc oxide, or other carrier oils such as almond oil, grapeseed oil, or jojoba oil.
It can soothe sunburn and help heal wounds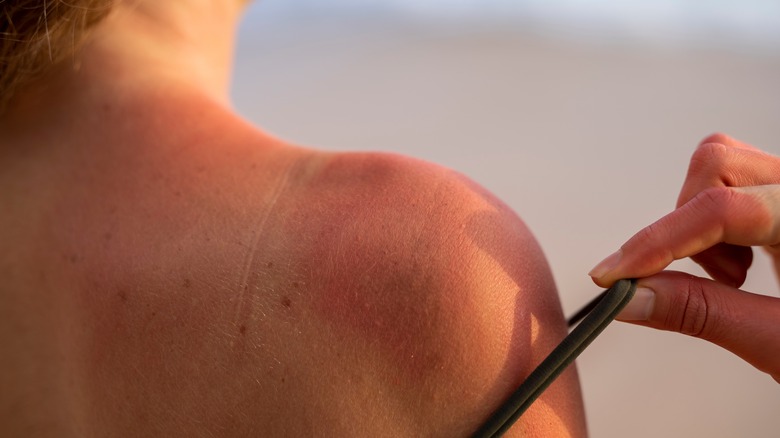 james benjamin/Shutterstock
For centuries, castor oil was used by folk healers to help speed the recovery of wounds and heal skin conditions. Because of its antibacterial properties, medical professionals are still using castor oil in wound dressings to speed the recovery of the skin. According to GoodRX Health, castor oil is even used in skin peels that treat skin discolorations.
Advertisement
In fact, other than for its FDA-approved laxative use, castor oil has been most studied for its wound healing abilities. The journal Toxins reports, "The Greek herbalist and physician Pedanius Dioscorides ... in 'De Materia Medica' wrote that castor seeds could be used as expectorant, diuretic, emetic, laxative, anti-inflammatory, to cure erysipelas, burns, varicose veins, etc." This shows just how much castor oil can do -– an all-purpose plant if you will. The moisturizing effects of castor oil make it an ideal product to apply to even sunburned skin. Being thick and sticky, it can easily create a barrier between the damaged skin and the rest of your environment, keeping it protected while your body heals.
Advertisement
Castor oil can improve scalp health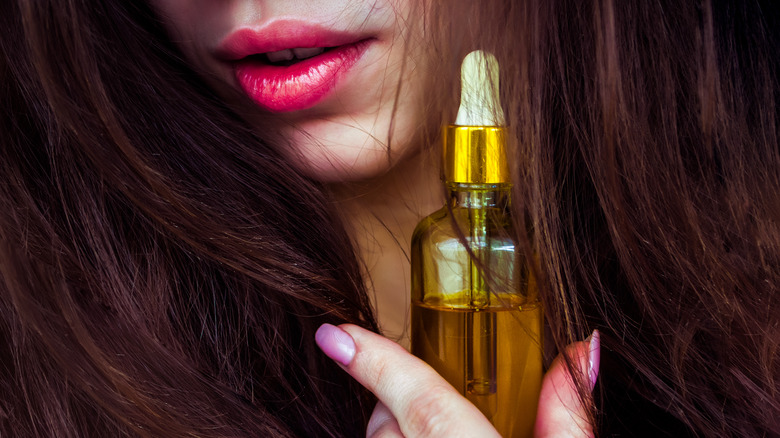 ECOSY/Shutterstock
For ages, castor oil has been used throughout the world for hair's benefit. "There is some proposed benefit of castor oil with improving penetration of topicals and even hair growth," says NYC-based dermatologist and hair loss specialist Dhaval G. Bhanusali, M.D. to Marie Claire. This means that castor oil has the potential to penetrate deeper into your scalp and provide a moisturizing effect. For those with dry, itchy scalps, castor oil might be just what you need.
Advertisement
There is some debate about the effectiveness of castor oil for hair growth. Dr. Bridgette Hill, a certified trichologist, colorist, and scalp therapist, told Elle, "No studies exist showing castor oil can increase hair growth >1cm/month, which is the FDA standard of hair growth. However, I have patients tell me differently all the time. Additionally, 90 percent of castor oil is made up of the fatty acid ricinoleic acid. [It] is known to stimulate the Prostaglandin E2 receptor, leading to blood vessel dilation." 
So while castor oil might not have tons of scientific data to back up its benefits for hair just yet, it has still proven itself to be quite useful for scalp health, and thus, the health of your hair.
Advertisement
Potential side effects of using castor oil on your skin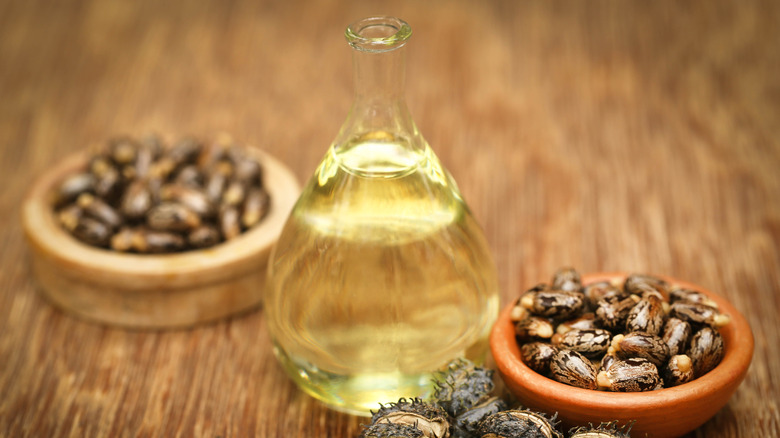 Bdspn/Getty Images
Although it's a natural oil, there are still some side effects you might experience when applying castor oil to your skin or hair. Because it's derived from a plant that contains toxic seeds, it's not surprising that some people might be more sensitive to the oil than others.
Advertisement
Medical News Today reports the most common side effects of castor oil include rashes, itchiness, or swelling. To minimize reactions, it's better to dilute it in a carrier oil. You should always do a patch test on a small area of your skin before applying castor oil and monitor that area for at least 24 hours to make sure that your body doesn't have any kind of reaction. You should especially not ingest castor oil if you're unsure about your reaction to it. If your skin exhibits a reaction to the castor oil, your entire body will most likely not take it well either.
How to use castor oil on your skin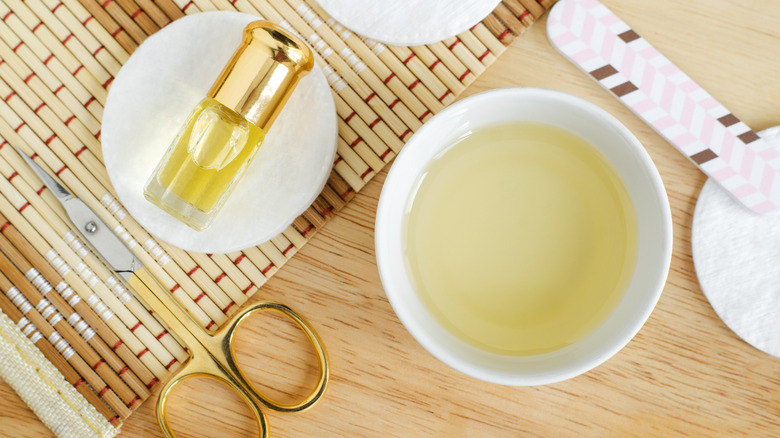 Kazmulka/Getty Images
You can use castor oil in several different ways to revitalize or improve your skin. These include: a facial cleanser or makeup remover; a nighttime facial serum (when mixed with carrier oils); a scrub, mixed with sugar; or a simple massage oil when mixed with the essential oils of your choice. You can create your own recipes or do a quick search on the internet for skin care recipes that contain castor oil.
Advertisement
Other uses for castor oil include a facial steam wash, with just a warm, wet facial cloth and castor oil, or as a facial mask that combines castor oil and honey. Both of these make use of only a small list of ingredients and rely on the powerful benefits of castor oil to give you the kind of results that you're looking for.
If you use castor oil as part of your bedtime skincare routine, it might be okay to leave it on all night, but if your skin is particularly sensitive or prone to acne, you should wipe off the castor oil (in whatever form you used it) within 10-20 minutes after you apply it instead of sleeping in it.