These Are The Best Ways To Feel Stylish In A Jumpsuit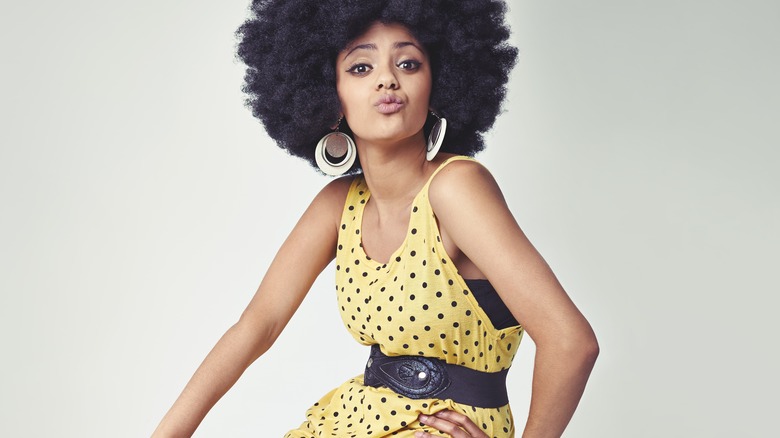 PeopleImages.com - Yuri A/Shutterstock
Considering that Crocs are blowing up in fashion right now, it's become very clear that 2022 is presenting some outlandish trends. In addition to the controversial Crocs resurgence, some other prominent 2022 fashion trends consist of shiny, glittery looks and beaded details, platform shoes, bold neon hues, sexy crop tops, as well as peek-a-boo style cut-outs, lots of texture, and super short skirts (via InStyle).
Another significant trend is jumpsuits, which are perfect for people who like a cohesive look but aren't really into dresses. Jumpsuits have become so popular that some people have even decided to choose a bridal jumpsuit for a modern look instead of a traditional gown for their wedding outfit. With a jumpsuit, you get the best of both worlds because you'll be wearing a one-piece, but you'll still get a pants-style effect instead of a dress. Over 12 million posts popped up when we searched #jumpsuit on Instagram, ranging from a sophisticated black and white look to a dauntless patchwork-inspired design. There are many ways to style a jumpsuit depending on your one-of-a-kind style, so we love wearing these fashionable garments.
How to rock a jumpsuit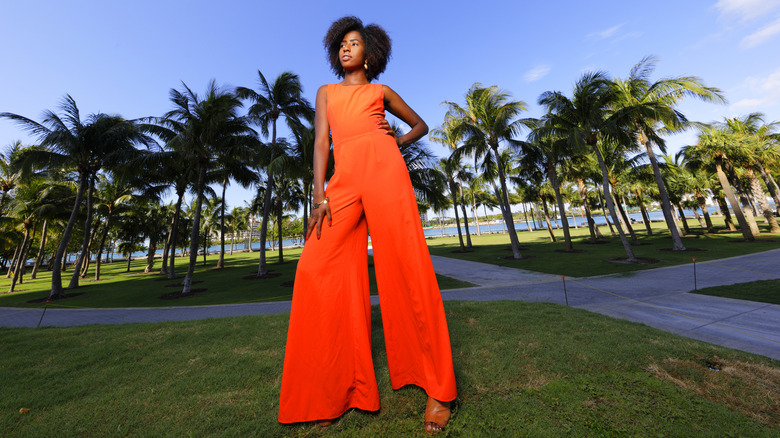 Felix Mizioznikov/Shutterstock
One convenient aspect of wearing jumpsuits is that they're appropriate for various events, occasions, and activities. For instance, low-key, loosely-fitted options are great for everyday responsibilities, while fancier jumpsuits with more fitted structures and sophisticated hues, textures, and patterns are better suited for occasions like work events or exciting occasions, per Top.Trends.Guides. You can experiment with jumpsuits whether it's hot or cold outside, as long as you pick ones that feature the best details for the weather, such as sleeveless options for hot summer days or heavier materials for colder months. Styling them with your favorite accessories allows both them and the jumpsuit to shine, too!
In addition to requiring such little styling due to their one-piece designs, jumpsuits can be super practical if they have large pockets (via Marie Claire); that helpful detail can help you hold onto your belongings while traveling or on nights out with friends. Or, if you're going for a sexy look for your next date night, a strapless jumpsuit will keep you feeling comfortable while showing some skin, while a leathery look will give off a commanding dominatrix vibe.
So, is your new jumpsuit going to be casual, fancy, practical, or seductive — or will you decide to buy one of each?