This Early Aughts Bag Trend Is Staging A Comeback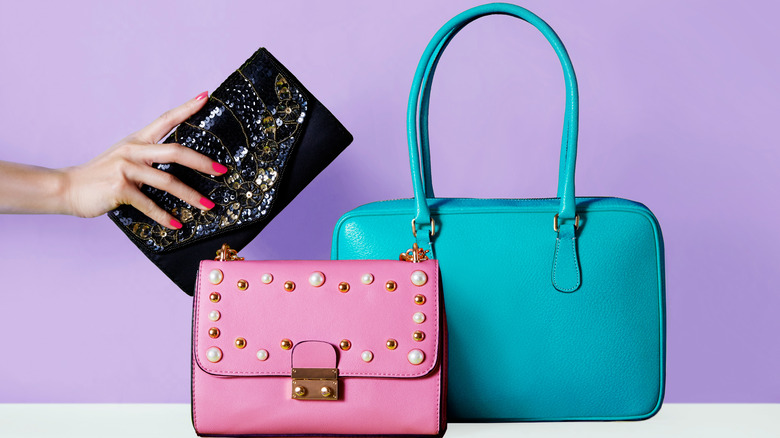 Moustache Girl/Shutterstock
Whether you loved them, hated them, or didn't really care about them, some of the most prominent fashion and beauty trends from the early 2000s are back. Between the early aughts blue eyeshadow trend and how Crocs are blowing up in fashion right now, that Y2K-inspired aesthetic almost seems to be even more popular in 2022 than it was during the official early 2000s. After all, bold eyeshadow and rubbery shoes aren't the only trends coming back from two decades ago. Some other significant trends returning from the early '00s include platform sandals, basic white tanks, shorter-than-usual cardigans, jeans with low waistlines, and denim skirts (via Byrdie).
If you're looking for even more proof that the early 2000s are having a massive comeback in the early 2020s, you can search #y2kaesthetic and #y2kfashion on Instagram — both hashtags have over a million posts with looks that scream early 2000s. Plus, one bag trend from that era is having an impressive resurgence.
Bowler bags are back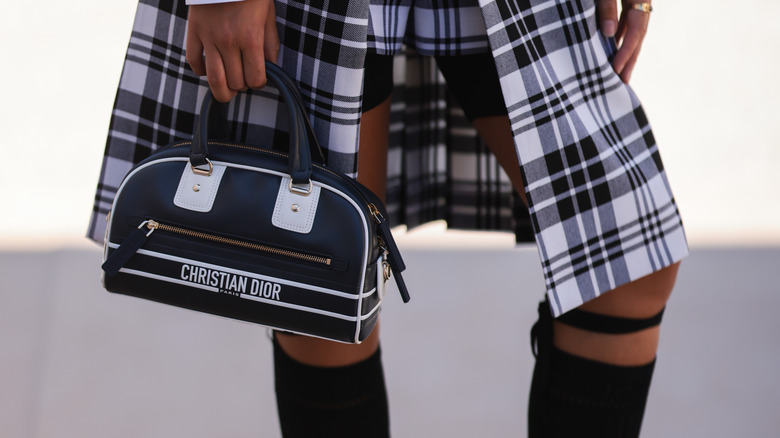 Jeremy Moeller/Getty Images
Do you remember those bowler bags with thick handles from the Y2K era? According to Who What Wear, bowler bags are back, and we don't think they'll be going away soon. Plus, these handbags are now becoming more versatile in a plethora of shapes, sizes, colors, and designs. Just don't get confused by the bag's name — you don't have to be an actual bowler to wear one!
Anyone who doesn't quite remember what these bags look like or is looking for some specific examples can search #bowlerbag on Instagram, where you'll find over 4,000 posts and counting. For instance, a Juicy Couture bowler bag really captures the classic early 2000s vibe. Furthermore, bowler bags can be great for carrying around spring and summer essentials, especially if the bag features a fun floral print. Bowler bags can even exude more of a goth vibe if they have a darker hue and mysterious design with a moon and bat. So, like any other handbag, bowler bags can fit a variety of styles and personalities.
Our favorite bowler bags
If you're feeling nostalgic enough to explore the bowler bag look, or you just want to give the trend a chance, there are many options to check out. For instance, the Sydney Bowler Bag is available at Urban Outfitters for just below $50. The faux leather bag comes in different color options and comes with a crossbody strap that you can take off. The Sydney Bowler Bag has a near-perfect rating of 4.9 out of five stars, and one happy reviewer wrote, "I just got the bag and it's honestly the best. It's so cute and actually pretty spacious, def recommend [it]!"
Meanwhile, anyone looking for a more minimalistic option should look into the ASOS Design Bowler Bag in white. Selling at ASOS for only $26, this chic faux leather bag will match any outfit in your closet. Or, if you're willing to invest in a pricier designer bag that you'll probably wear forever, you should consider the Prada Re-Edition 2005 Nylon Bag. Available at Prada for $2,150, this sophisticated bag flaunts the Prada logo and has handles made of leather.
So, are you ready to have fun with bowler bags?