5 Leggings Brands That Are Environmentally Friendly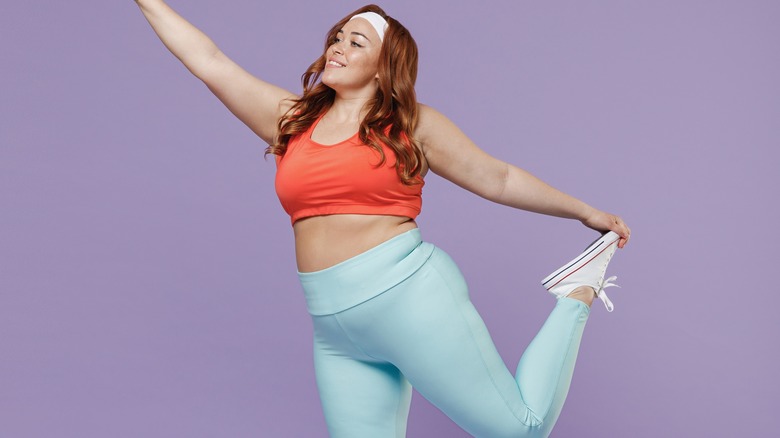 We may receive a commission on purchases made from links.
Whether working out or staying in, leggings have become a staple in our wardrobes. In the era of working from home, leggings give us the perfect medium between "real" clothes and PJs. People today want a pair of leggings that they can wear over and over again, with a great fabric, flattering fit, and high waistline (via Who What Wear).
While many of us love leggings, it's no secret that most leggings are of poor quality, made by underpaid workers, and are releasing microfibers into our water supply (via Global Citizen). It can, therefore, be a hassle searching the web for environmentally friendly brands that actually live up to their claims.
Luckily, there are some amazing activewear brands that have statistics to back up their words. Between paying workers living wages, committing to carbon neutrality, and using sustainable materials, these brands are truly doing the most! With environmentally friendly leggings, it is possible to do good, look good, and feel good all at the same time.
How we selected these brands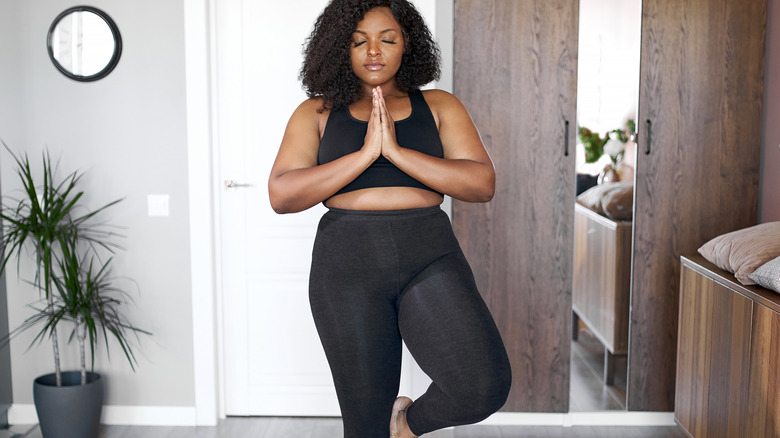 Roman Chazov/Shutterstock
It can be hard to narrow down truly sustainable legging brands, as there are many falsely advertised "environmentally friendly" brands out there. This practice is known as greenwashing. Greenwashing is the newest trend brands are using to scam well-meaning customers into thinking that they have bought a sustainable product. In order to help our readers avoid being scammed and find the best eco-friendly legging brands, we have created a round-up across a variety of categories.
Each individual has a unique opinion on what makes a great pair of leggings, which is why it is impossible to create a general, numbered list. Instead, we have taken the most common factors considered when purchasing a new pair of leggings and chose a brand for each category.
The Glam team is committed to bringing our readers accurate information, which is why we researched many brands' backgrounds, customer reviews, press releases, and product descriptions in order to find the best environmentally friendly leggings for every style. Whether you are looking for affordability, stretch, or the best of the best, when it comes to eco-friendly leggings, we have you covered.
Best overall leggings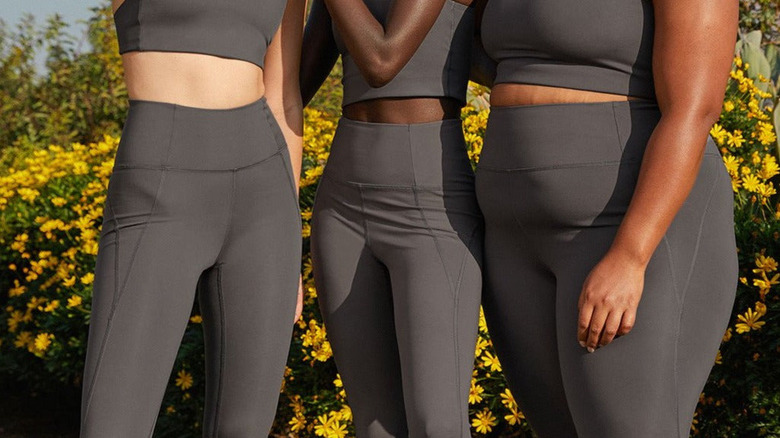 Girlfriend Collective
Girlfriend Collective is a cult-favorite, eco-friendly legging brand, and rightfully so! With sizes from XXS to 6X, over 25 colors, and a variety of styles, the brand offers leggings for everyone. All of its leggings are under $100, too. One of its most popular compression leggings has over 16,000 reviews and has maintained a five-star rating.
Sustainability is Girlfriend Collective's middle name. Its website includes an extremely transparent sustainability page detailing its certifications and production standards. The company has even started a program called ReGirlfriend, which allows customers to send in their used Girlfriend Collective pieces to be recycled in exchange for a gift card. This company is the gift that keeps on giving!
Purchase the Compressive High-Rise Legging at Girlfriend Collective for $78. 
Best bang for your buck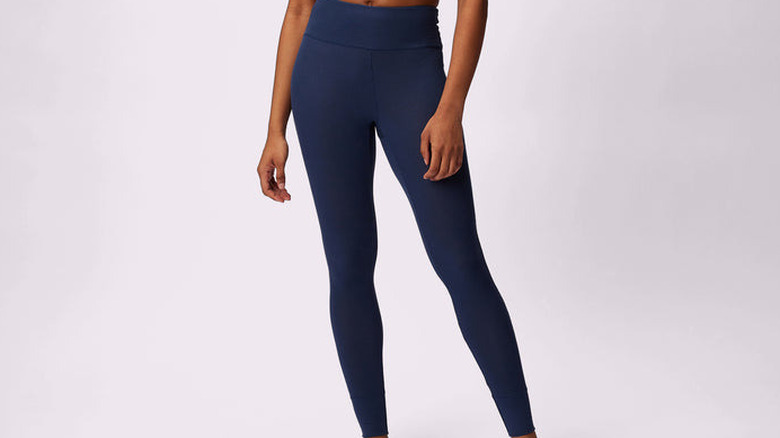 Parade
Despite a newer brand on the market, Parade is certainly making its mark. With Parade's leggings ranging from $32 to $44, its price point for eco-friendly leggings is great for buyers on a budget. 
Low prices don't correlate with low sustainability standards at Parade. Parade has combined forces with Eco-age to provide a product score on each of its items based on the item's circularity, impact on the climate, and impact on people (via Fashion United). Parade's All-Day Leggings has a whopping 4.8 stars and over 180 detailed reviews.
Purchase the All-Day Leggings at Parade for $44.
Most squat-proof leggings
Athleta is perhaps the most well-known brand on our round-up, as it has been around since 1998 and is owned by Gap. Still, very few know that Athleta is actually one of the most sustainable brands around, even earning the title of Certified-B Corporation back in 2018 (via B Corporation). Certified B Corporations are required to meet the highest social and environmental standards (via Inc.).
The brand's sustainability only adds to the fact that it has some of the most squat-proof leggings in the game, per USA Today. The Powervita fabric is known for being incredibly thick while still being lightweight and moisture-wicking. Athleta leggings are perfect for leg day!
Shop the Ultra High Rise Elation Tight on Athleta for $89.
Most fashion-forward leggings
If you love a bold print and unique waistband, Wolven will be your go-to for environmentally friendly leggings. Wolven offers leggings in over 10 patterns and nine colors, with the trendiest new features, such as a crossover waist. The brand has self-proclaimed that it "makes sustainability sexy," and it's doing a great job at it. The public seems to agree, as Wolven has over 2,000 five-star reviews on its website.
Wolven is transparent about its sustainable practices, detailing the entire process behind its leggings on its website. The brand is sustainable to its core, even keeping its packaging as minimal and eco-friendly as possible. The proof is in the pudding as Wolven became certified climate-neutral in 2019 (Via Climate Neutral).
Purchase the Juniper Crossover Pocket Legging on Wolven for $88.
The Amazon pick
While not always ideal, if you need a new sustainable pair of leggings in a flash, Amazon Prime is only a click away. Amazon offers the brand prAna, a sustainable brand made in a fair-trade factory (via prAna). Its leggings are offered with free two-day shipping and the option to try before you buy.
The brand has been around since 1992 and has a loyal fanbase. With an average 4.7 star rating on their most popular leggings, prAna is ready to be your next go-to store. Adding the brand to Amazon has created a way for prAna customers to get their favorite eco-friendly leggings fast and easily.
Purchase the Rockland Legging on Amazon for $49.33.