How Abercrombie Still Manages To Keep Its In-Store Traffic Strong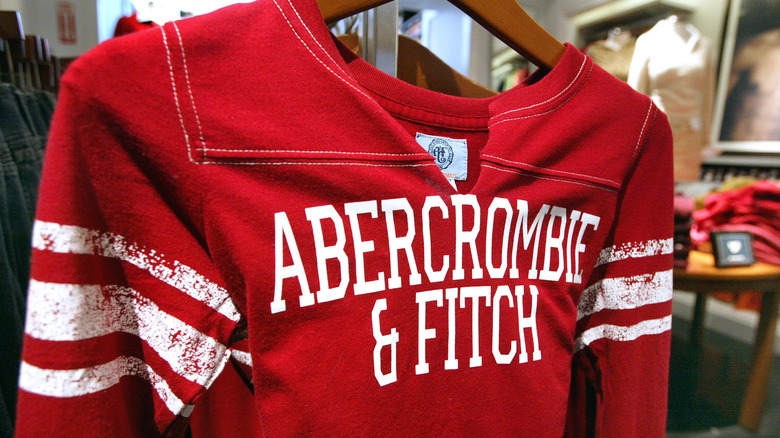 Tim Boyle/Getty Images
For years, media outlets have been predicting the demise of mall culture as online shopping comes to dominate the retail scene (via The Washington Post). Unfortunately for many mall locations, the timeline for these predictions was sped up by the COVID-19 pandemic's lockdown and social distancing measures. Stuck at home, consumers turned to online shopping in droves, leaving in-person locations to wither. Though restrictions have lifted and customers can now return to the status quo, many retail brands have struggled to recover foot traffic after the catastrophic interruption of COVID-19. For example, inflation is driving down Kohl's in-store foot traffic, and Forever 21 is having a hard time bouncing back in general.
Advertisement
"The level of [foot traffic] drop we saw in retail destinations across the U.S., we've never seen before," Springboard marketing and insights director Diane Wehrle said in a webinar regarding the steep plummet in 2020 (via Retail Leader). As she went on to point out, retail foot traffic reportedly dropped 88% at the beginning of the pandemic. Since then, the shopping landscape has seen general improvement, but different industries have recovered at different rates. While essential businesses such as grocery stores have seen the steadiest performance, niches like apparel and fitness have faced a rockier road and may never consistently return to pre-pandemic levels of in-store foot traffic (via Forbes).
Advertisement
Of course, there are exceptions to every rule, and some savvy brands are proving their longevity with traffic statistics that buck the current norm. And in the realm of fashion retail, one such outlier appears with preppy favorite Abercrombie & Fitch.
Steady foot traffic shows that Abercrombie is still a contender
Data from SafeGraph shows that, following the steep drop that affected all industries in April 2020, Abercrombie & Fitch is once again enjoying pre-pandemic levels of in-store traffic. Rather than seeing any year-over-year decline, foot traffic instead continues in its normal range, usually fluctuating between 3,000 and 6,000 visits on any given day. For instance, Abercrombie locations saw 4,162 visitors on April 15, 2019. Fast forward three years, and it pulled in an even better rate of 4,531 visitors on April 11, 2022.
Advertisement
Abercrombie & Fitch has also seen a strong recovery in its in-store performance around the holidays. Though 2020 experienced a bit of a lull, 2021 came back with a vengeance, peaking at 10,209 visitors on November 22. Compare this to the 2019 holiday season, which topped out at 9,428 on November 25. And foot traffic isn't the only metric that Abercrombie & Fitch has to brag about. Its 2021 first quarter results reveal an overall sales increase of 61% over 2020 and 6% over 2019. So, it seems that Abercrombie isn't just surviving; it's actually thriving in the wake of COVID-19. This begs the question: how?
Abercrombie isn't afraid to evolve with the times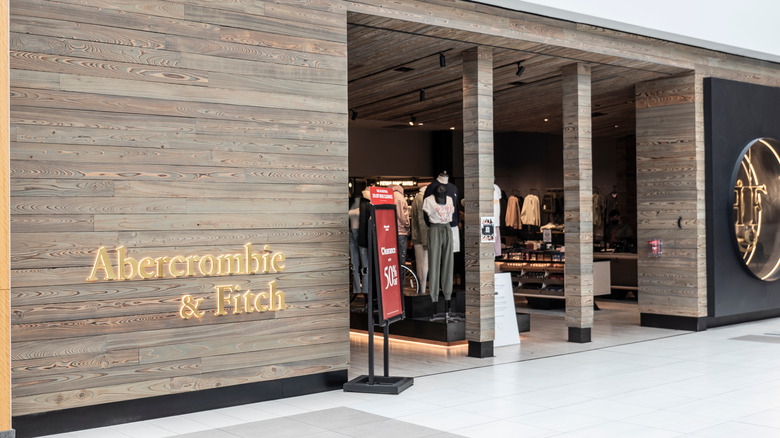 Jonathan Weiss/Shutterstock
Analyzing Abercrombie's foot traffic success, the answer seems to exist in two parts: strategy and creativity. Even before the pandemic struck, Abercrombie was already making plans to weather the shift away from mall culture. In early 2020, it began eschewing more locations in favor of better locations. "We're willing to walk away from any mall at this point," Abercrombie & Fitch chief financial officer Scott Lipesky reported at a conference that year (via PYMNTS). "For us, it's about getting the right store in the right location at the right size." By making this move, the brand could focus on high-earning locations and lower overhead by closing stores with low revenue. Abercrombie recognized that with the growing ease of online sales, the lack of a nearby store is no longer a barrier for most customers.
Advertisement
As for the creative aspect, Abercrombie isn't resting on its laurels when it comes to staying relevant. Instead, the brand has shown a willingness to reinvent and rebrand. As recently as August 2022, Abercrombie & Fitch announced plans to update the aesthetic of its stores with a vacation feel. "We translated our customer's mindset into a real-world immersive experience," Joanna Ewing, GVP and head of creative for Abercrombie brands, said in a press release on the matter (via GlobeNewswire). "Their love for our denim manifested in a dedicated denim studio. The fitting rooms have been optimized with customizable lighting and chic design elements. Their affinity for travel is captured in the store's hotel lobby-like vibe, complete with a check-in desk. The entire design of these new stores is the unique getaway mindset of our customers brought to life in a way that communicates elevated ease, which is exactly what Abercrombie represents."
Advertisement