Nearly 40% Of People Think This Is The Most-Loved Sweater Trend This Year - Glam Survey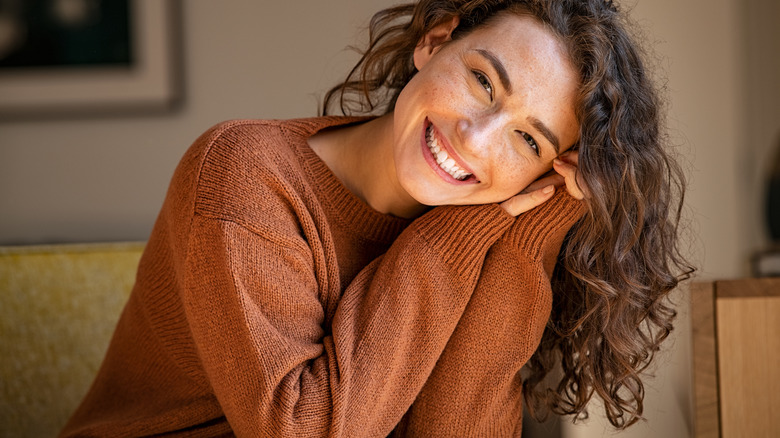 Ground Picture/Shutterstock
Time to rejoice as sweater season once again sweeps the nation. Collared and striped and textured, oh my. From oversized chunky cable knit sweaters to thin, fitted, understated cardigans, this cold weather favorite offers a huge variety of different takes. The right sweater can turn your outfit into something more glamorous, professional, casual, or edgy. It can also provide function, just like the very first sweaters to appear in human history did. According to Tailored Details, these hand-knitted garments were first crafted in the 15th century by the wives of fishermen to keep them warm at sea.
Today, sweaters are better known for fashion and novelty than as rugged work gear (via Fox Business). If you're wondering which of your sweaters to dig out of storage this year and which ones to leave for a future chilly season, we've got the answer for you. Here are the results of our survey asking 602 Glam readers which type of recently trending sweater they love the most. 
Oversized wins by a landslide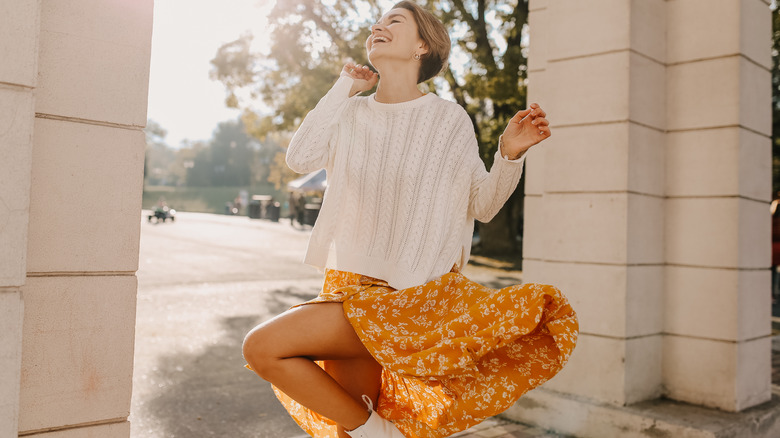 Maria Markevich/Shutterstock
Comfort reigns supreme when it comes to Glam readers. A whopping 38% of respondents reported they are loving the oversized sweater trend this year, with the next runner-up at merely 13.79%. And who can blame them? Nothing compares to the warm, comfy, secure feeling of wrapping up in what basically amounts to a cozy blanket with sleeves. According to Nordstrom, oversized is very much still in when it comes to sweater trends this winter, so jump on the bandwagon while you still can.
If you're not sure how to style an oversized sweater, go for the ultimate in comfort and throw one on with some cute matching fleece-lined leggings. You can even wear it alone as a dress or paired with a miniskirt and tights with combat boots. There is no wrong answer, as long as you feel good about yourself and have fun experimenting with everyone's favorite fall and winter wardrobe staple. 
Least popular choices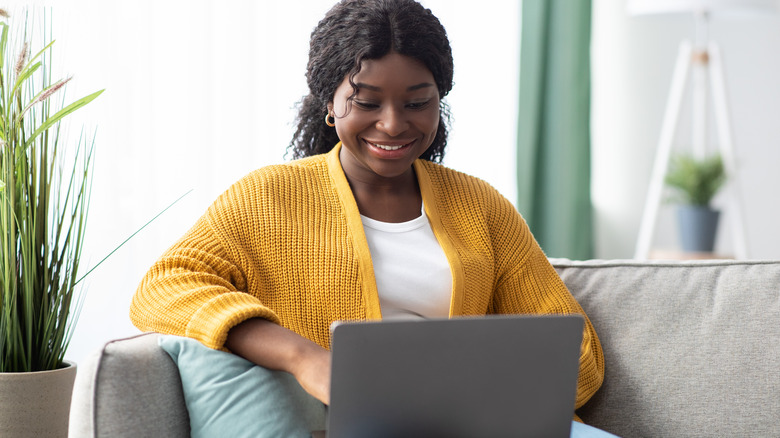 Prostock-studio/Shutterstock
If you're curious to know which sweater trends rated least popular with Glam readers, you may be surprised to find out that textured knits came in last with only 9.47% of votes. Similarly unpopular were fisherman and collared sweaters. Since many oversized sweaters from seasons past feature chunky, textured knots, this comes as a bit of a shock. Never fear, however. There are plenty of oversized sweaters available in more understated wool, cashmere, and synthetic materials. It all depends on what you're looking for in a sweater (via Lands' End).
The most important facet of any piece of clothing or accessory in your wardrobe is how you feel in it. Trends are fun to play with, but it's your individual style that will always suit you best, according to HuffPost. Let your personality shine through, and choose the sweater you love the most to keep you warm and joyful this winter.