How To Put A Dreamy, 2022 Twist On The Classic Cut Crease Trend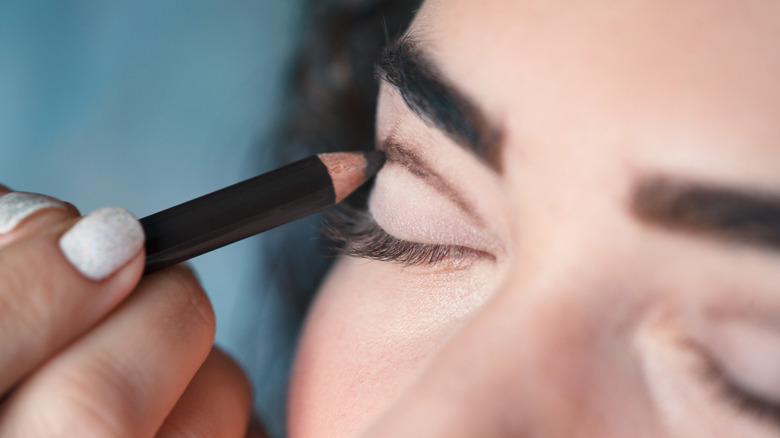 Vasyl Rohan/Shutterstock
The mid 2010's was all about bold makeup looks — thick brows, matte lip kits, and structured cut creases — but in the past few years, trending looks have become much more subdued. Instead of heavy contour and blinding highlight, we're seeing a new brand of soft and subtle glam take over. Ethereal glitter, diffused shadows, and cream blushes are the new staples, and, here at Glam, we couldn't be more obsessed.
If you're not quite ready to trade in your beloved cut crease, however, you're not alone. Different iterations of this style have been around since the graphic mod looks of the '60s for a reason. According to Maybelline, a cut crease can create an optical illusion between the lightness on your lid and the darkness in the crease that makes your eyes seem bigger, giving you a doe-eyed look that makes a major impact. Luckily, a creative makeup artist has found a way to update this trend and give it a refresh for 2022.
The glitter cut crease
This post on Instagram by Chinese makeup artist @jelly_beanxxdd has been taking the internet by storm, populating Pinterest boards and TikTok videos across the globe. In it, the creator models her take on the cut crease — a soft, glitter look paired with diffused brown liner and peachy blush. It's surprisingly wearable for such a skilled look, but the added pop of glitter brings a glamorous, glossed feel, perfect for your next party or event.
One of the major issues with traditional cut creases is that they're difficult to apply on pretty much anything but European features. If you don't have a lot of lid space or have hooded eyes, all of your hard work tends to disappear as soon as you fully open them. This look solves that issue, and can work on just about anyone. A subtle pop of shimmer right above the crease and in the inner corner is a great way to spice up your typical makeup look, and it can be catered to fit your specific eye shape and skin tone.
How to achieve it
Unlike the typical cut crease, this makeup look is actually fairly simple for beginners — all you need is a glitter liner or shimmery liquid eyeshadow. After applying the rest of your eye look, find where your eye naturally begins to crease towards your inner corner. Begin drawing your line slightly above it, continuing until you reach around where your pupil is. From there, slightly blend upwards to diffuse the product, or keep it sharp for a more precise look. Clean up underneath your line with a cotton swab or concealer, and there you have it — a glitter cut crease.
In her viral post, @jellybean_xxdd also brings some of the glitter to her inner corner and continues slightly into the lower lashline to add additional highlight, but you can cater the look to whatever you want. Try it out with colorful shimmer shades if you're feeling bold, or layer glitter accents over an existing smoky eye to up the glam factor. The beauty of this looks lies in its versatility, so experiment to your heart's content.