How To Put An Updated Spin On Gothic Makeup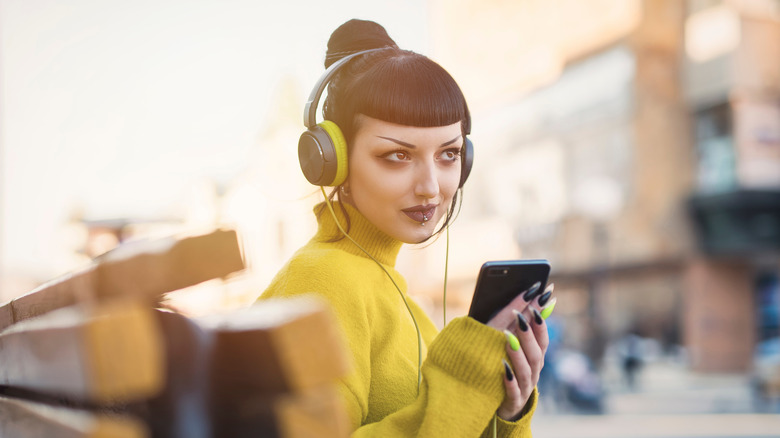 TeodorLazarev/Shutterstock
Whether you consider yourself to be an old-school fan of "The Craft," found yourself inspired by the undeniably striking looks brought to the screen by "Wednesday," or simply appreciate a dark and dramatic aesthetic that's a nod to fashion from edgy subcultures and bygone eras, you might find yourself drawn to a gothic style. Of course, that might mean different things to different people. Kuro, a musician and model who appeared in Liisa Ladouceur's "40 Years of Goth Style: Global Remake" video, explained to Auxiliary Magazine, "There's a category for anyone and I've continuously enjoyed watching the fashion evolve and new scenes develop with people finding ways to project their heart, soul, and personality into their appearances, mannerisms, and styles. Despite a sea of black. Everyone is unique and diverse but united under one shade."
Indeed, whether you're interested in a look that's classic and elegant or modern and moody, you can embrace traditional gothic touches while also fine-tuning specific details to suit your own tastes. There are also plenty of ways to achieve the look you have in mind. For instance, jewel-toned accessories and lace-covered layers can enhance a gothic outfit, while a sleek hairstyle and arguably over-the-top makeup might perfect the entire look. If the latter happens to pique your interest, then be sure to check out the following ideas on how to put an updated spin on gothic makeup.
Deep maroon eyelids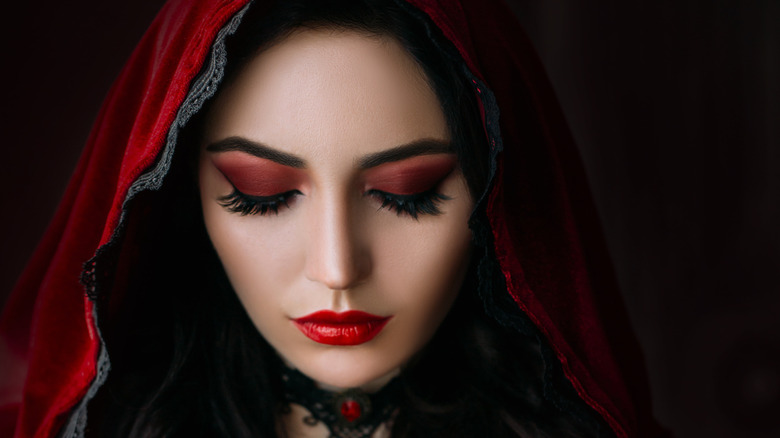 Ironika/Shutterstock
Although you might gravitate toward a ravishing blood-red color when it comes to your makeup, you might also want to consider trying out a modern yet timeless maroon. When used on the lids, it can bring out a range of eye colors, from emerald green to chocolate brown. It's also a color that works on pretty much all skin tones. To achieve a gothic look, opt for a deep shade of maroon that's highly pigmented. Beyond that, don't be afraid to fill your entire eyelid with the color before accenting the look with black liner and thick lashes.
Extreme graphic eyeliner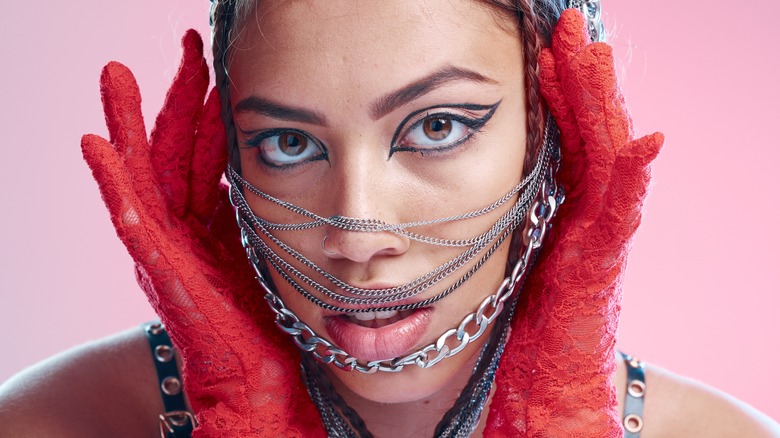 PeopleImages.com - Yuri A/Shutterstock
If you adore cat-eye liner but are looking for something a little — or a lot — more dynamic to suit your contemporary gothic style, then you should give graphic or double-winged eyeliner a go. To create the look, it starts with the typical cat-eye flick at the outer edge of each lid. From there, the liner is then taken back in big swoops above the first line to create a separated and elevated effect. To make the look even more extreme, draw the lines all the way to the inner corner, where you can create a dramatic point.
Dark green or blue lipstick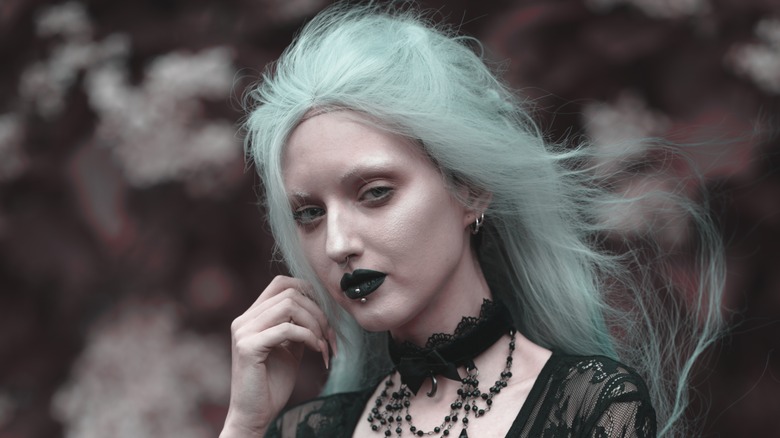 TeodorLazarev/Shutterstock
Anyone who wants to give shades of fire red, delicious wine-stain purple, and coal black lipstick a break may want to update their gothic look with something that has a haunted sea siren or dark mermaid vibe. Somewhat unusual but absolutely arresting, you can pair your dark lips with similar eye makeup or contrast it with almost bare eyes. While you can also experiment with various cooler shades to find the one that works with your skin tone, hair color, and outfit, perhaps start with a midnight blue, deep seaweed green, or a temptingly dark teal.
Smoky eyeshadow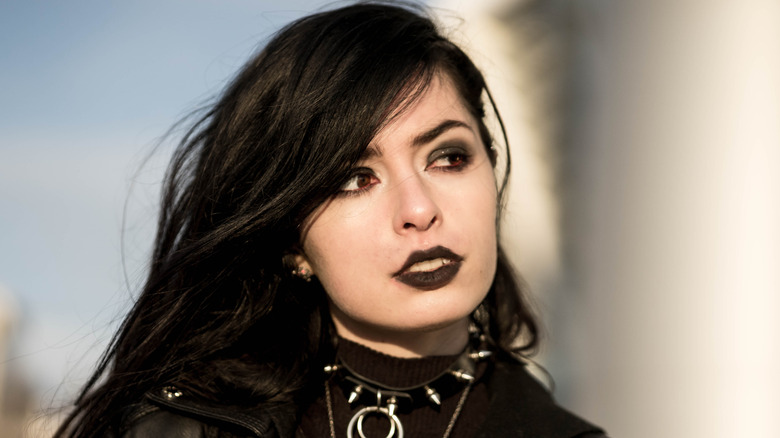 Anie Brooks/Shutterstock
Using eyeshadow to create a smoky eye can finish off a sophisticated look or create one that's edgy and hardcore. For a smoky effect that boasts a chic gothic twist, you may want to blend the color — we suggest a classic black or charcoal gray — both above and slightly below the eye while extending it to the sides as far as you dare to go. If you appreciate this look but want to take your smoky eye up a notch further, then you can add a touch of glitter on top to mimic a magical or spacey gleam.
Bold pops of color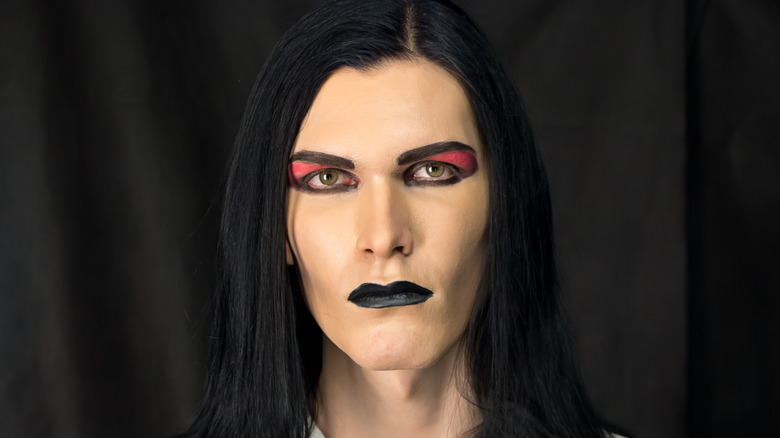 Chris_tefme/Getty Images
Your makeup bag may be filled with cosmetics that range from black to ashy gray and, maybe, navy blue and deep forest green. Although we would certainly admire your dedication to dark colors, you might also want to consider adding a few bright shades into the mix. By choosing particular colors, you can make your makeup pop even more than it might if you simply stick to black. Depending on your preference and outfit, you could go with a burnt orange or a golden yellow. You could also try neon violet or hot pink.
Razor-sharp brows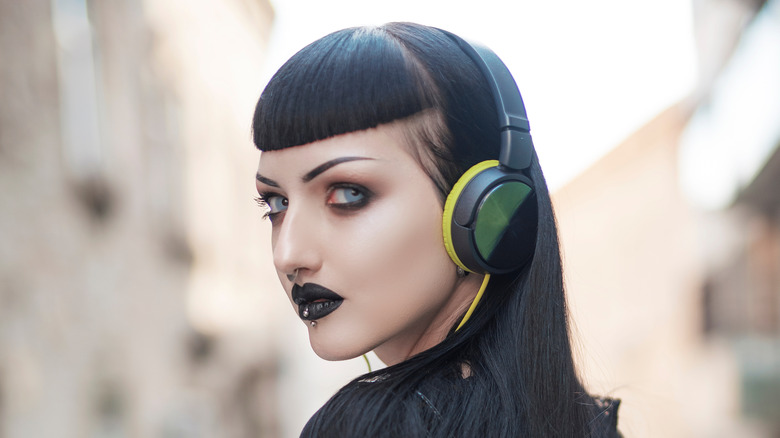 TeodorLazarev/Shutterstock
Add a distinctive edge to your look with razor-sharp brows. You may end up giving off a super-modern, almost futuristic aesthetic depending on how sleek you make them and how thin you choose to go with your brows. Either way, you'll want to aim for the crispest lines possible, as well as a clean cutoff on the inner side and a pointed flick on the outside. If you want to slay this look for an extended period but find it difficult to achieve brows that are symmetrical, then you can get them microbladed, which is a semi-permanent option.
Tinted under-eyes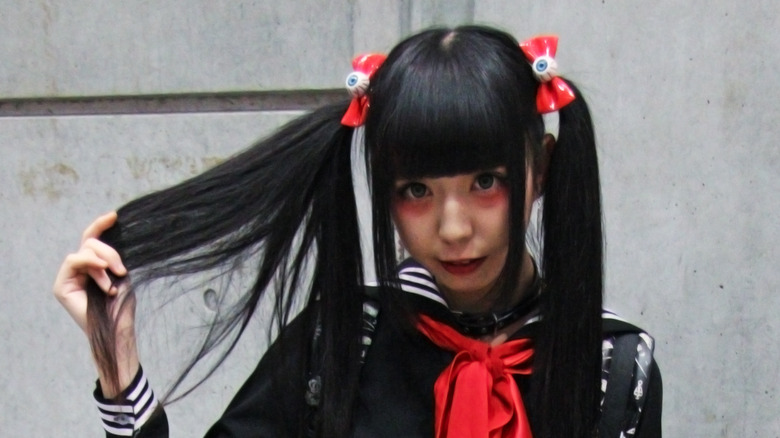 Onnie A Koski/Getty Images
Many people might do their best to prevent makeup from becoming smudged beneath their eyes. Of course, you're not like other people, are you? You may be the kind of person who wants to enhance their gothic look with tinted sections beneath your eyes. A look that can be used in different ways, your choice of color will end up creating various effects. For instance, black, grey, blue, and green will give you an intense and enigmatic vibe, while yellow, purple, pink, and red will lend to an almost charmingly chaotic look.
White lashes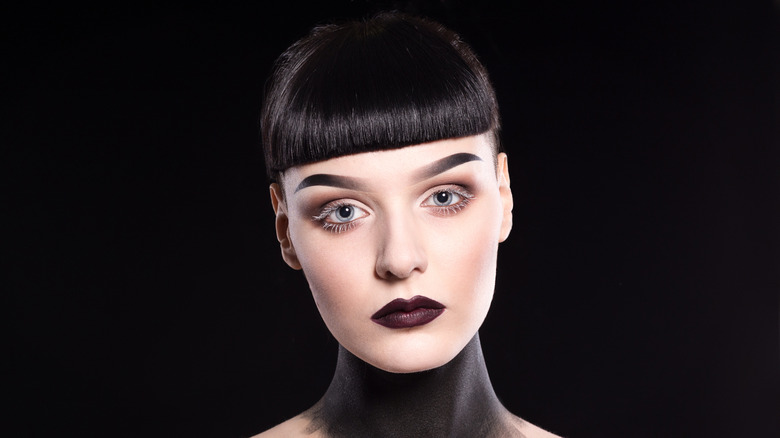 Selenittt/Getty Images
Put your raven black mascara away and instead opt for a dash of white. Making your lashes look like they've been dusted with snowflakes, this could be a fabulous gothic winter accent. On the other hand, you could also pair it with your normal dark aesthetic for a year-round style that's both whimsical and eerie. You can elevate the haunted look by coating both your upper and lower lashes with white mascara, as well as keeping various other aspects of your makeup — such as what you put on your brows, eyelids, and lips — on the darker side.