The Winter Accessory That Will Instantly Upgrade Your Looks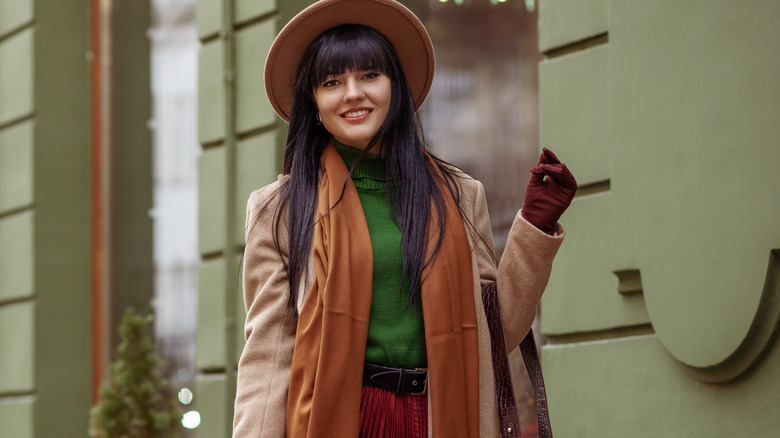 Victoria Chudinova/Shutterstock
Winter outfits are almost guaranteed to come with a few more accessories for some added warmth. Whether you're topping off your look with a hat or wrapping it up with a cozy scarf, accessorizing is practically a must. From our perspective at Glam, you might as well have fun with this necessity and use it as an opportunity to show off your style. This time, we're talking about one accessory that you'll certainly want to have on hand this winter — no pun intended.
Naturally, we're bringing up the subject of gloves. While you probably have a pair of knit gloves already, you might not have thought about adding a pair of leather gloves to your wardrobe. This piece is going to make the case as to why you should rethink that, as the right leather gloves can elevate your winter looks by giving them an edge or even a touch of vintage glam.
Leather gloves are great at any length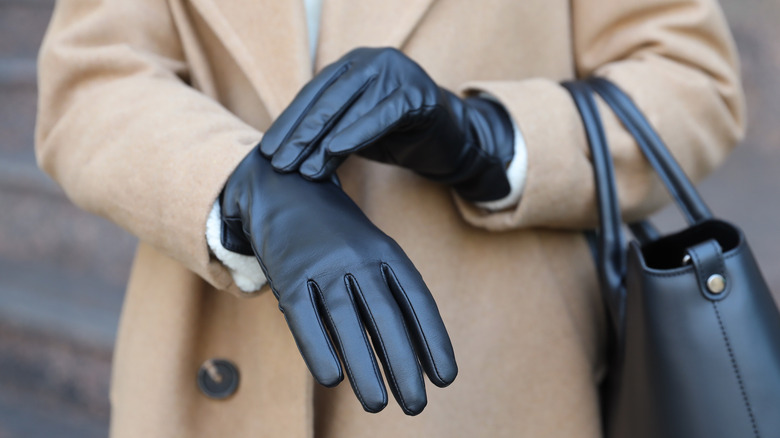 New Africa/Shutterstock
Any outfit to which you would add any other pair of gloves can be made more stylish with the addition of a pair of leather gloves. Unlike the opera glove trend, your leather gloves don't need to be quite as long, although you're free to combine the trends and go for a pair of leather opera gloves if you'd like.
Your leather gloves don't have to be made of leather
Although it might sound a little bit strange, your leather gloves don't have to be made of leather. That's right: for those who are opposed to wearing leather, there are vegan alternatives to this trend that are just as chic. (Eloquii sells faux leather opera gloves, for example.) According to Collective Fashion Justice, in addition to polyurethane, vegan alternatives to leather include materials made from plants such as apples, grapes, and mangoes. These prove that sexiness doesn't have to come at the cost of an animal's life, and they can be styled just as you would traditional leather.
Check out the trim and lining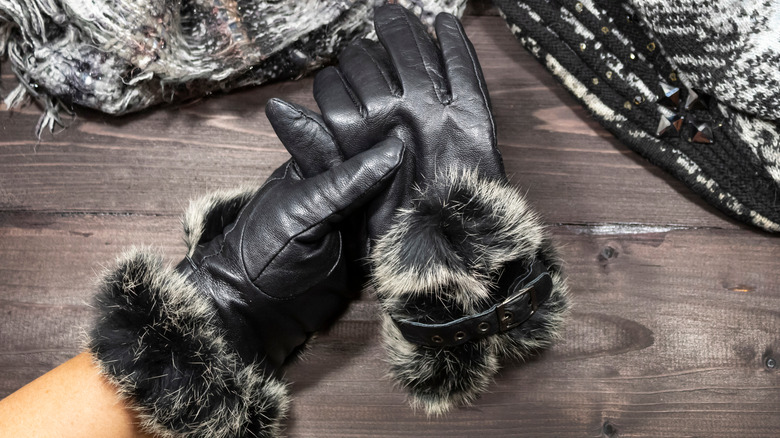 Olhandra/Shutterstock
Studded gloves add some edge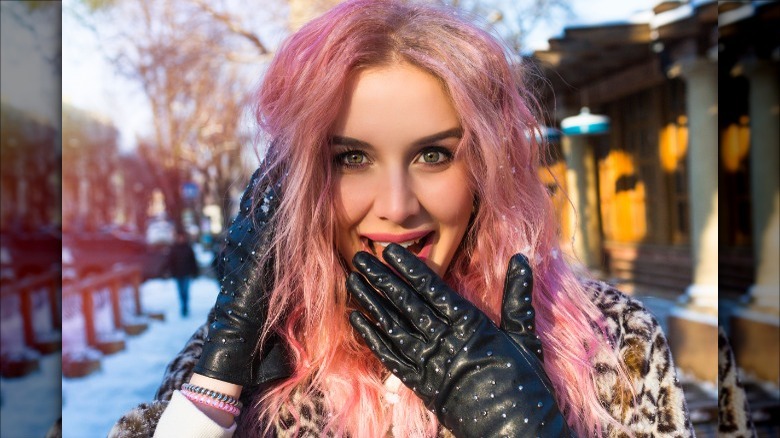 Ann Haritonenko/Shutterstock
If furry gloves aren't really your style, leather gloves still might be the perfect option for you. Some pairs of leather gloves come with detailing such as studs that give more of a rock-and-roll or motorcyclist vibe. The Studded Leather Gloves by Coach are more refined, whereas the Studet Black Leather Magnolia Studded Gloves will give you more of that edgy look. Fingerless motorcycle gloves might not be the best choice for all climates during winter, but they could work if your goal isn't to keep warm.
Add some color to your look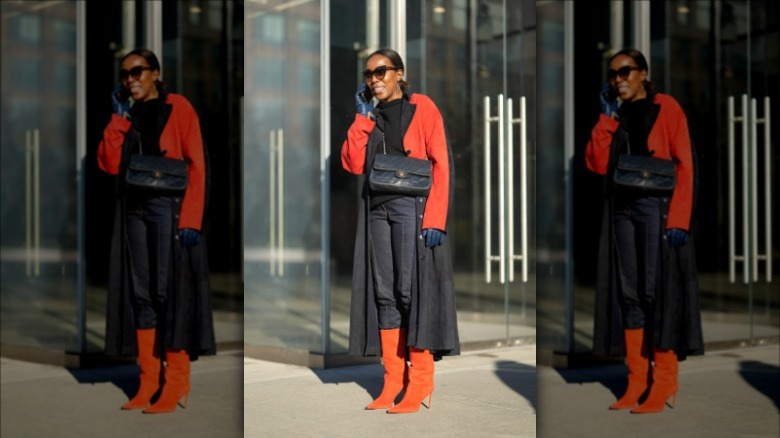 Edward Berthelot/Getty Images
Tired of all the neutrals? This trend is for you too. You can choose a pair of leather gloves in a bright color to give your outfit a pop. Gloves from past collections that fit the bill include a pair of yellow gloves by Hermès and a pair of green gloves by Miu Miu. There's also a more recent bright pink pair by Valentino Garavani, perfect for the arbiecore fashion trend.
Some leather gloves allow you to use touchscreens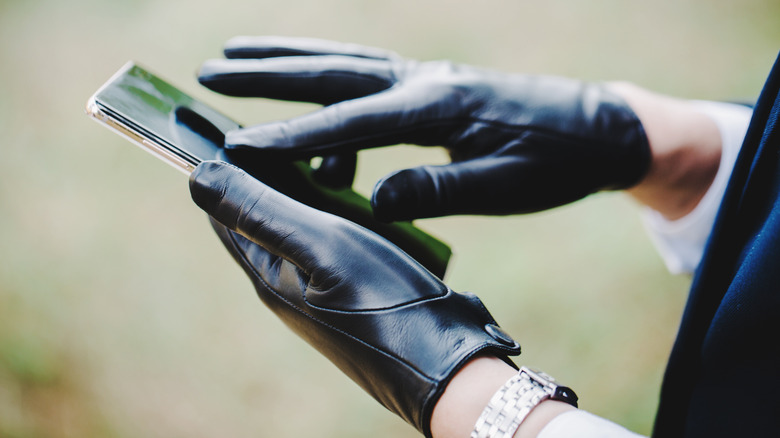 Malivan_Iuliia/Shutterstock
If your daily life requires you to use a touchscreen even when you're on the go, there are some leather gloves that have been made with that attribute in mind. Some terms used to describe these products include "touchscreen-compatible" and "tech," so be sure to keep a look out for those if this is something that is important to you. If possible, look up reviews before making a purchase to ensure that the product you want will work well for you. The Canada Goose Mixed Media Glove is one highly-rated option.