What To Wear For A Night At The Theater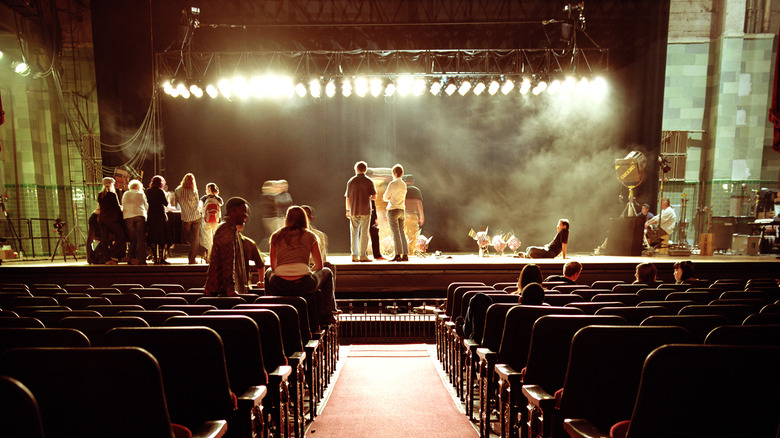 Siri Stafford/Getty Images
Unfortunately, buying tickets for a theater show doesn't give you access to their wardrobe department. Although the lights will dim before the performance starts, you'll still want to be looking your best as you enjoy a sophisticated night of entertainment.
So, what can you wear to give yourself a shot at "best in show?" New York Theatre Guide notes that there is no longer a dress code to get into most venues — whether you're dressing for the ballet, opera, or a play. Technically, you can't go wrong. In a sold-out crowd, you're likely to find someone who matches your level of effort, leaving no risk of standing out with a fashion faux pas.
Still, why skip out on an opportunity to put together a killer outfit? There are plenty of ways to be chic and still cozy when settling in for an hours-long performance. We've got all the fashion tips, items, and accessories to make your next theater trip Tony-worthy.
Longer, flowing dresses are comfy and stylish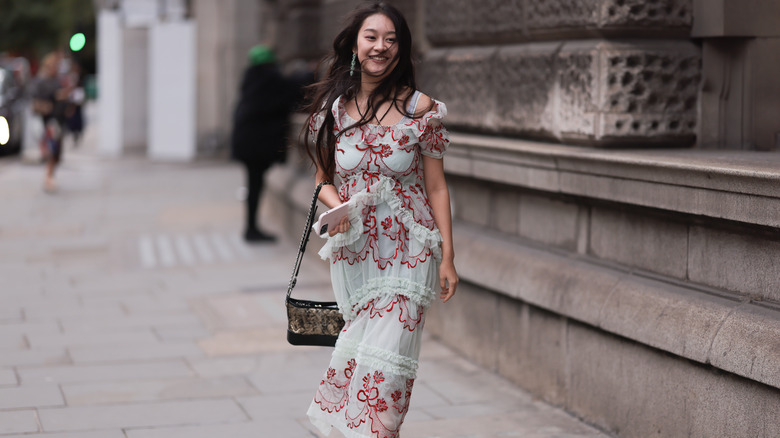 Jeremy Moeller/Getty Images
Skip the hassle of putting together a whole 'fit, and opt for a midi- or maxi-dress! With one piece, you'll have created a classy ensemble that's sure to stun. Avoid dresses that are too short (and could ride up while you give a standing ovation), and also skip the frills that could impede on your seat neighbors' space. With a simple and stylish cut, you can turn heads while you walk into the theatre ... and have a fabric lap blanket when you sit down! 
A blouse and jeans create a classy-casual look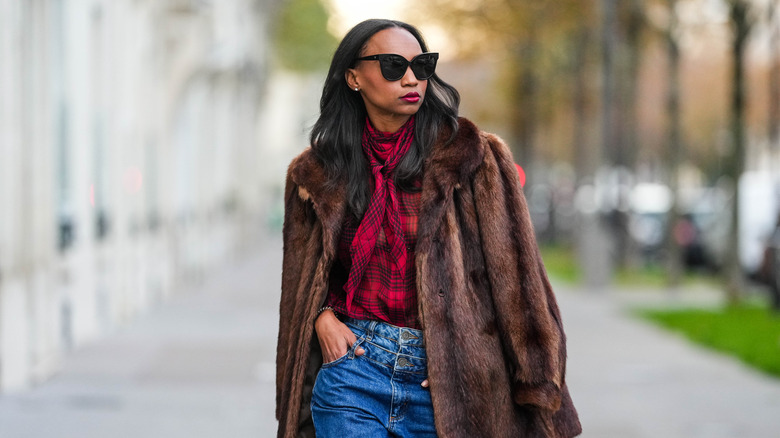 Edward Berthelot/Getty Images
If a dress isn't your style for this particular show, you can't go wrong with a classy blouse and your favorite jeans. When it comes to longer performances, the more worn-in your jeans are, the better. The last thing you want is uncomfortable jeans that dig into your stomach as you sit to watch a show. In this setting, unfortunately, unbuttoning the top for a little more breathing room isn't an option. Your old reliable trousers will serve you best! 
Keep it practical with comfortable flats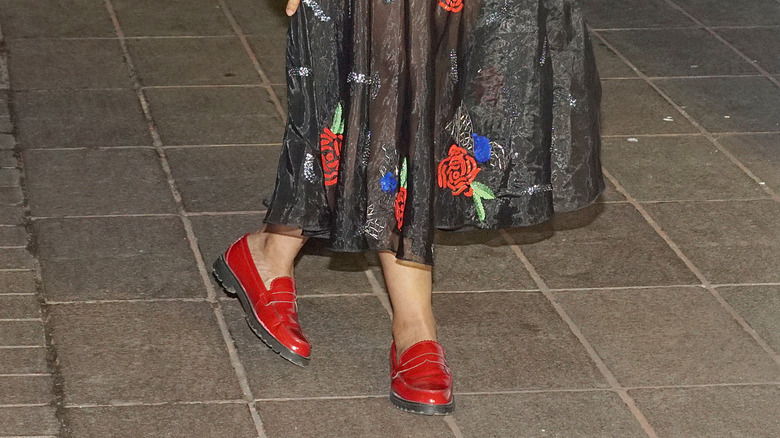 Prodip Guha/Getty Images
Though you'll be seated for the show, a theater-going experience can involve plenty of standing and walking. As you wait in line for the doors to open and climb the stairs to your seats, the last thing you want is pinched toes or blisters. While your favorite heels might perfectly complete your outfit, the beauty may not be worth the pain in this instance. Again, it's not great etiquette to kick off your shoes once in your theater seat. 
Top off your outfit with removable layers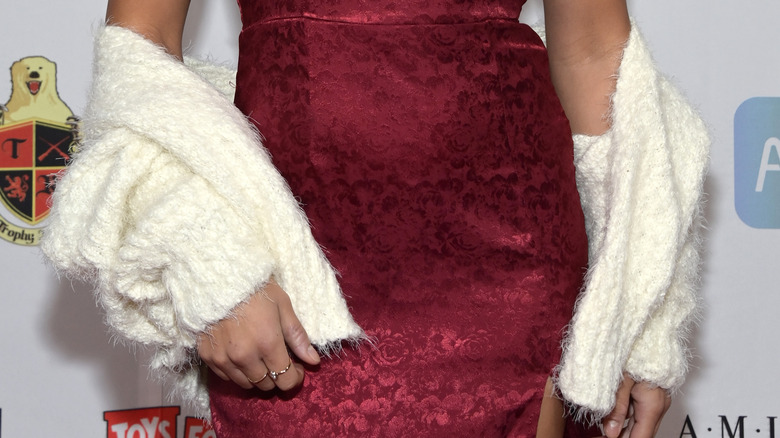 Araya Doheny/Getty Images
No matter the weather on your way to the show, the theater itself is a whole different atmosphere! It's hard to pretend how the temperature inside the building may feel, especially as the performance fills up. Your best bet is to throw some comfortable layers overtop your outfit, which can be easily removed or zipped up depending on your comfort level. Just avoid coats and jackets with materials that could create loud, rustling noises. 
Add jewelry, but be careful with bling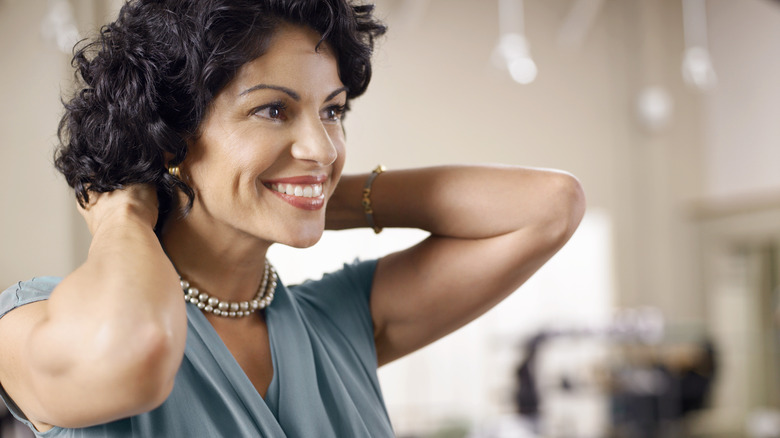 Siri Stafford/Getty Images
Once you have your base layers assembled, you're ready to accessorize. The theater is a perfect venue to show off your favorite jewelry — just be mindful of overly glamorous items that could create distracting glares. You may also want to consider swapping out exercise or smartwatches for a more classic timepiece. This will help to elevate your look and create one less electronic that you need to switch off as the show is beginning! 
Simple makeup looks are easy to maintain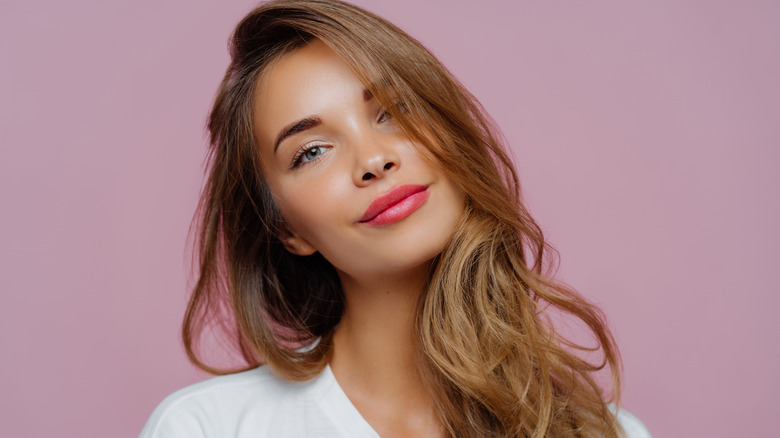 Viorel Kurnosov/Getty Images
Stage makeup is a big part of effective productions, but it isn't your responsibility as an audience member. As you plan your look for the big day, there's no harm in keeping things understated. There will be no fear of your makeup running if the show happens to be a tear-jerker, or ruining your lipstick if you indulge in a glass of wine. Although your show might have an intermission, bathroom lines tend to be long ... and you don't want to be fighting for space to correct your makeup in the mirror. 
Avoid complicated up-dos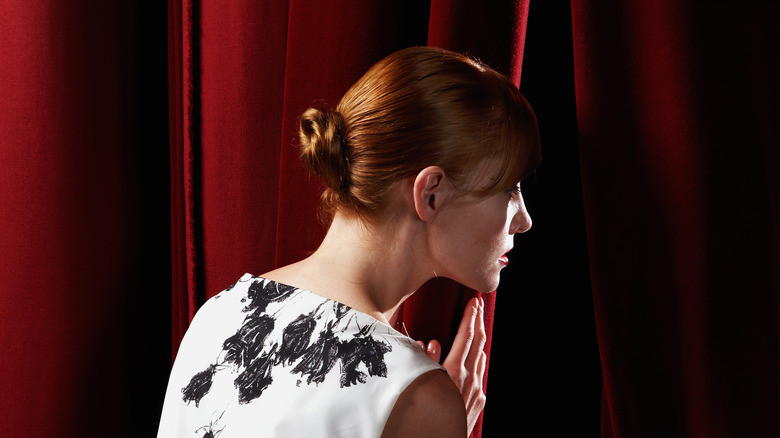 Leonard Mc Lane/Getty Images
We probably don't need to tell you not to wear a hat to the theater. However, it's also important to consider how your hairstyle might impede the vision of those behind you. High-piled buns can add significant height to your body, and create an obstruction for your neighbors. If you're hoping to get your hair out of your face, low buns or twists are the perfect solutions. You can even use this as an extra moment to accessorize, by throwing in a statement hair bow. 
Check bag policies and opt for a small clutch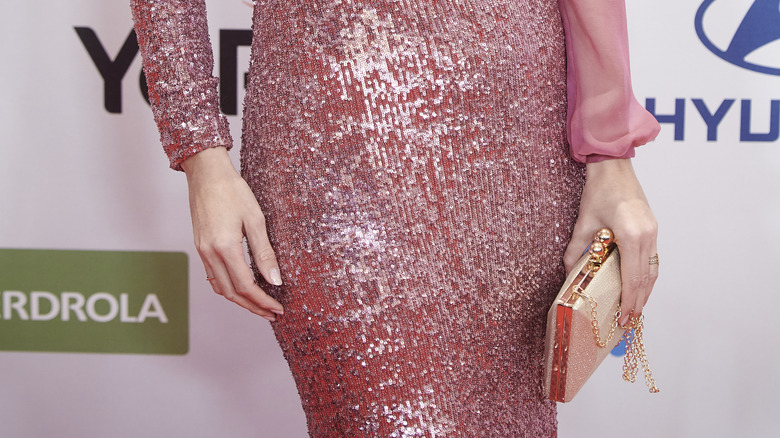 Borja B. Hojas/Getty Images
As you grab your purse and get ready to head out the door, there are a few important things to keep in mind. You'll want to check the bag allowances for your theater of choice, which will likely prompt you to bring only a small clutch. As long as you have your phone, wallet, and ticket, you should be good to go! Tuck your clutch into a spacious pocket, or attach a stylish chain to ensure that it doesn't get left behind.