What Happens To Your Body When You Stop Wearing Socks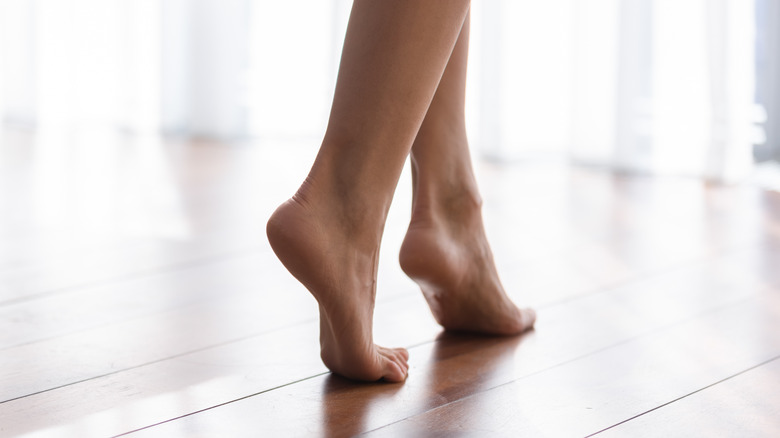 fizkes/Shutterstock
Socks may be treated as an afterthought — or as a symbol of lazy gift-giving — but they're a staple we all have stashed away in our drawers. Whether made of humble cotton or luxe cashmere, socks keep your tootsies warm and cozy, especially during cold-weather months. And with endless style options to choose from (striped and sporty, splashed with the latest print trends, or even adorned with embellishments), they're easy to fit into any aesthetic.
Still, these little foot covers are sometimes more of a style hindrance than a helper. Most of us have at least one pair of flats that awkwardly exposes even the shortest of ankle socks. And while celebs like Bella Hadid might make socks and sandals work (via Footwear News), not all of us are so lucky.
Even if you might not be open to a fully barefoot lifestyle (yep, it's a thing), you may consider kicking off your socks for good. Here's why that might not be such a good idea for your health.
What happens when you ditch the house socks?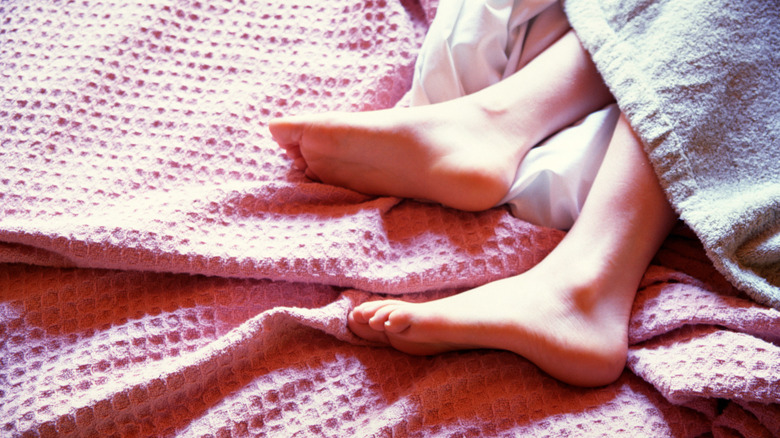 Jupiterimages/Getty Images
You already know the importance of quality sleep, and covering your feet may be the key to peaceful slumber. Sleeping with socks on can help warm up the feet, which actually keeps the rest of the body cool in bed, as Dr. Michelle Drerup explained to Cleveland Clinic. The temperature regulation that can occur from wearing socks can help you fall asleep — and stay asleep — more easily.
Dr. Drerup also says that wearing socks around the house can help control the temperature spikes that occur during menopausal hot flashes. And because covering the feet improves circulation in your lower extremities, wearing socks can stave off cold, numb toes associated with conditions like Raynaud's syndrome.
Another benefit of slipping on some fuzzy house socks: they can help keep your feet soft and moisturized. Going barefoot or wearing shoes without socks can lead to pesky and even painful calluses, according to Bay Podiatry Associates. If you've noticed hard, cracked, or peeling skin, apply a rich lotion before putting on a pair of comfy socks. Voilà! You'll have smoother feet in no time.
Why it's a bad idea to skip socks with shoes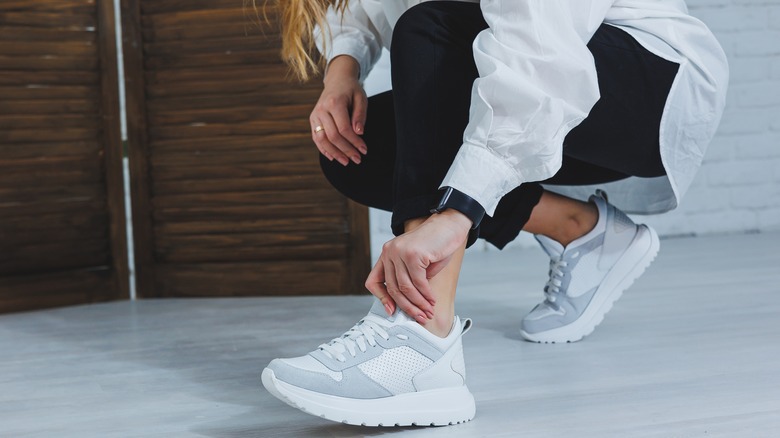 Dmitry Tkachuk/Shutterstock
Even if socks don't look so great under some of your favorite shoes, it's a bad idea to forgo them completely. According to sock brand Feetures, socks cushion the feet and reduce friction when you're out and about. Socks can also control swelling, particularly if you opt for compression styles.
It's especially important to wear socks with sneakers. Feet First Clinic explains that sneakers hug and protect the feet, which is crucial when hitting the pavement for a run. However, these shoes are also likely to trap moisture and bacteria, especially when worn without socks. The feet can release up to one cup of sweat every day. When this sweat builds up inside dark and damp shoes, foot infections, such as athlete's foot, are likely to thrive. Not wearing socks with shoes can also lead to itchiness, blisters, and smelly feet.
When in doubt, choose socks in natural, breathable fabrics. Barely-there socks are the easiest to hide but don't be afraid to experiment with visible styles in bright colors and fun prints. Alternatively, wear tights during the winter in place of socks, as long as you wash them regularly.