Why You Don't Want To Layer On Your Eyeshadow Too Thick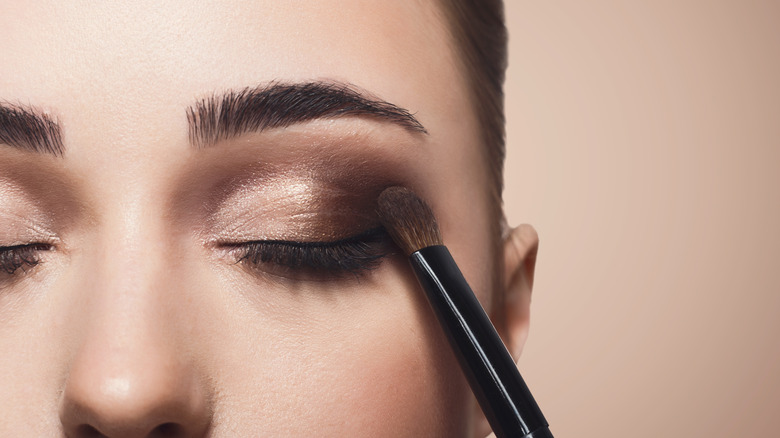 Prostock-studio/Shutterstock
Eyeliner and mascara can both be key aspects when it comes to your go-to eye makeup look, not to mention the perfect hint of eyeshadow. As for the latter, you very likely know that there are various stylish and flattering ways to put eyeshadow to good use. Just consider the fact that along with being able to use anything from glittery nude shades to vibrant nearly neon colors or even black eyeshadow, you can also opt for powder-based products, creamy options, and liquid versions. On top of that, there is a wide range of techniques that you can incorporate eyeshadow into a look — such as blended shades, subtly gradient layers, and a cut crease — that are ideal for work or play.
As for what eyeshadow can do for you if used properly, Glamsquad artistic director Kelli J. Bartlett told Today, "Eye shadow can do wonders for drawing attention to the eyes. Depending on color choice, intensity, and placement, it can provide shape and balance to the face and make your eye color pop."
On the other hand, if you don't use eyeshadow correctly, it can have a negative effect on the look that you're trying to create. For instance, if you happen to be layering on your eyeshadow too thickly, it may have a regrettable outcome that you will surely want to avoid.
Thick eyeshadow can ruin your look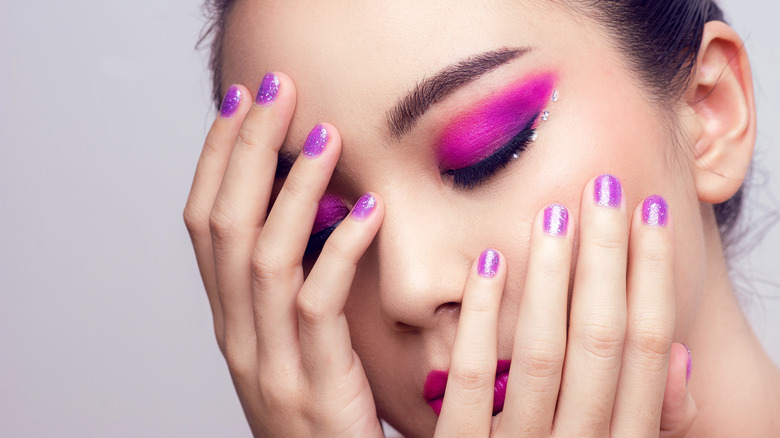 ME Image/Shutterstock
Just like every other part of your makeup routine, you likely want your eyeshadow to make you look your best while enhancing a certain style. That's why you might assume that you need to use deeply pigmented products as well as lots of layers and multiple colors in order to achieve the ideal effect. However, that's not necessarily true. "Even when I do a dark, dramatic smoky eye, I like to see the skin coming through because I think that's what keeps it modern," celebrity makeup artist Nick Barose explains to Marie Claire. Granted, that's not the only drawback of thick eyeshadow. Barose also points out, "When you use too much, it can take the life away from the eyes."
If this is a mistake that you've made in the past, then you might be interested to know that you're far from being alone. As makeup artist Keandra Snagg told InStyle, "Applying too much product is a repeated problem with everyone these days. Technique, the right brushes, and patience are key." In order to apply the right amount of product, it can also help to know exactly how to create a stunning look with just a little eyeshadow that will suit various occasions and different times of the day.
Create a light day-to-night eyeshadow look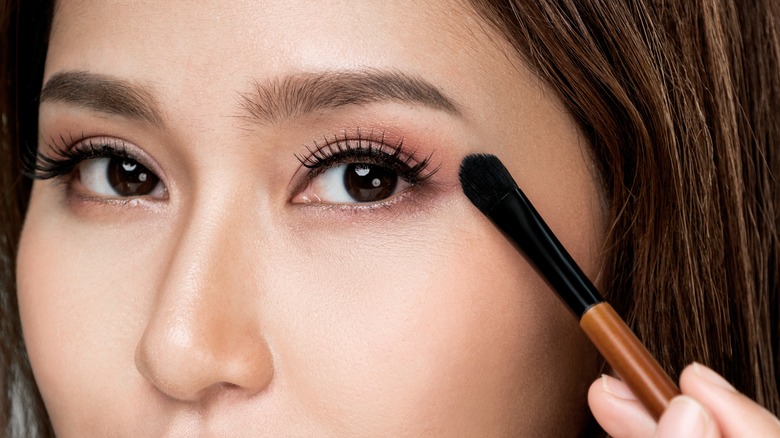 Beautrium/Shutterstock
While you might want to avoid using a thick layer of eyeshadow so that you don't end up making your eyes look dull, that doesn't mean that you can't capture a look that's both stunning and dynamic. The trick is to know what kind of eyeshadow to opt for and how to put it on in a way that will allow you to slay a modern minimalist look. Joey Maalouf, the co-founder of The Glam App, told Self, "Take a really fluffy eye shadow brush and a matte shadow a couple of shades darker than your natural skin. Then do a haze around your whole eye.
This is also a simple technique that you can wear in different ways to work with the time of day. Maalouf suggested, "When you take your look from day to night, you can add an eyeliner to it."
At the same time, stay away from using a thick line of eyeliner on your top eyelid if you happen to have eyes that aren't that big, according to Huda Beauty. If you overdo it on the liner, then you might end up making your eyes appear to be tinier than they are which isn't ideal. In fact, it might have the same kind of unflattering and unwanted effect that thick eyeshadow does so it's probably best to keep things light in both cases.