Here's How To Determine If Powder Foundation Is Best For You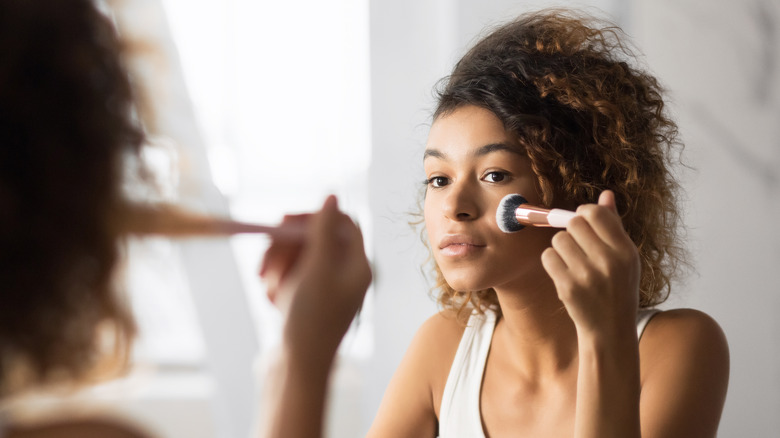 Prostock-studio/Getty Images
Foundation is one of the key makeup products for anyone to have on hand, but there's more to consider than just how to apply it. Determining the right foundation shade for your skin tone is undoubtedly important to keep your skin looking natural, but it's also important to choose a foundation with a formula that's right for your skin type. While not all brands make both varieties, foundation is most widely available in liquid and powder formulations. The question of which to buy isn't always a matter of what's on the shelves, though.
Depending on your skin and beauty needs, there are some instances in which you might be better off with a powder foundation than a liquid one. Before you go to the store or open up that other tab to purchase your next foundation, though, keep reading to learn how to determine whether powder foundation is right for you. 
When to choose powder foundation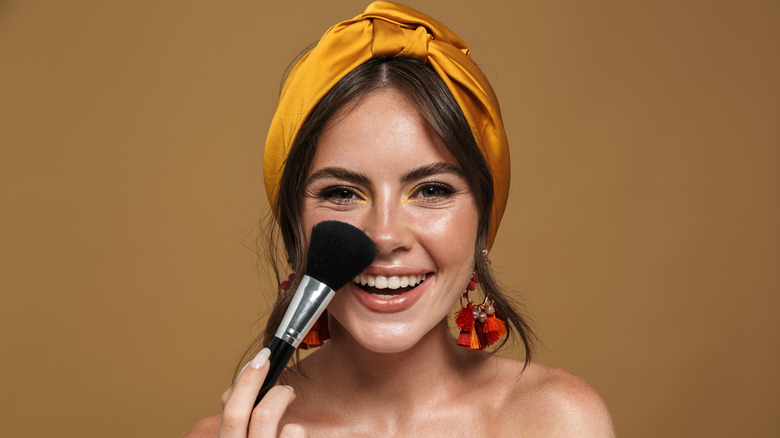 Dean Drobot/Shutterstock
From the standpoint of skin types, those with oily skin might be better off using a powder foundation (via Stylecraze). Makeup artist Magdalena Major confirmed this in an interview with Ipsy: "Not only do [powder foundaton products] have oil-absorbing properties, but they are also less likely to clog pores which is ideal for acne-prone skin types. Just make sure you're not too heavy-handed."
When it comes to applying your powder foundation, makeup artist Andrew Sotomayor told Today, "People with oily skin sometimes also break out more often and usually end up touching up their face more often, so you want to be sure that you're using clean tools to apply your makeup. That's why you want to have a couple different powder brushes so that you can rotate them through, the same way you rotate your socks."
Additionally, Makeup.com praises powder foundation for its ability to last longer than its liquid counterpart, which might make it the better choice for you if you prefer to (or have to) wear makeup for greater lengths of time.
When to stick to liquid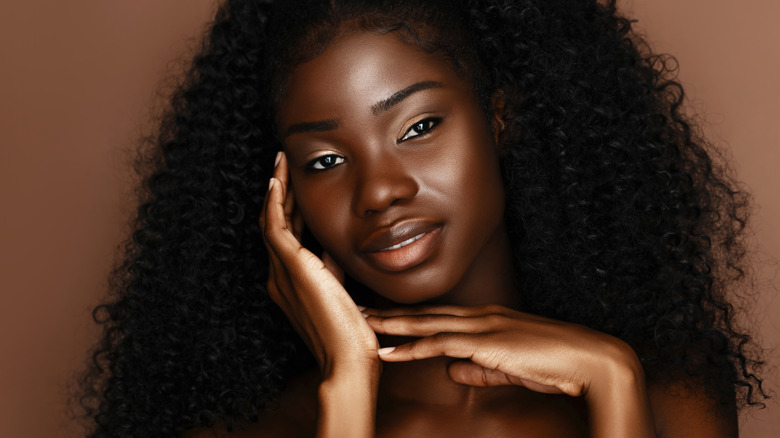 Beauty Agent Studio/Getty Images
Unfortunately, while it works well on oily skin, powder foundation might not be the best choice for you if your skin is on the drier side. In fact, using a powder foundation can make dry skin look even drier, which probably isn't the look you want when you're putting on makeup. "You want to reach for liquid formulas because they're hydrating, while powder ones can make any dry patches and imperfections more noticeable," Magdalena Major told Ipsy. Likewise, Maybelline India writes that using a powder foundation could make wrinkles more visible on mature skin, which might not be preferable.
Although it might not last as long as a powder foundation can, liquid foundation has another benefit: In general, it is able to provide your skin with more coverage than a powder. This might make it the better option for those looking for a more intense or glam makeup look, or for those with skin imperfections they want to hide.