The Sleek Curtain Cut Will Be Your Next Haircut Inspo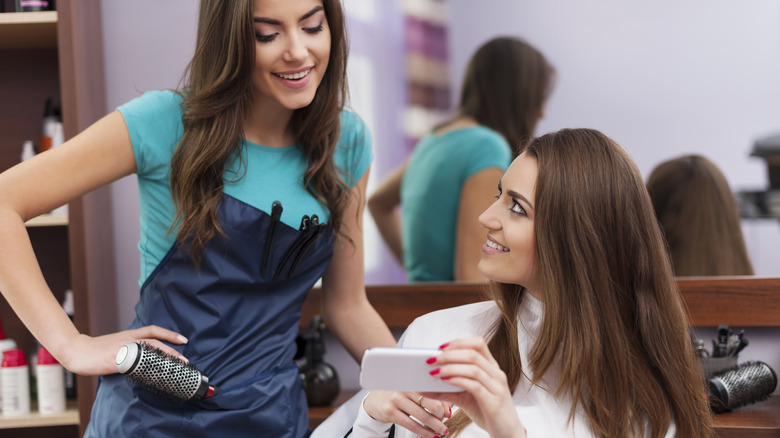 Gpointstudio/Getty Images
If you keep yourself in the know when it comes to trendy hairstyles, then you've likely heard of hair that boasts a curtain-like aesthetic. The popular version is surely curtain bangs. This a trend you may have spotted on both celebs and social media influencers alike, not to mention your fashionable friends. This fabulous fringe is a look that can work with pretty much any length of hair — yes, even short hair — and suit anything from loose boho braids to a fancy updo. Beyond that, they can either be soft and shaggy or sharp and sleek. Finally and most importantly, they need to be long enough to sweep down on either side of your face.
"Curtain bangs are the gateway to bangs, because they're super versatile. They're long enough to grow out or pin back if you want, but they can also be cut into a shorter look," Emily Heser, a stylist at New York City's Cutler Salon, told Glamour. Celebrity hairstylist Alex Brown added, "They don't take on the commitment of adding a full-throttle bang to your hair. They're less work and are so easy to grow out."
Those particular perks are just a part of the reasons why others have embraced both curtain bangs, as well as other variations on the style. For instance, you definitely need to check out the curtain cut, which could very well be your next haircut inspiration.
The curtain cut is both stylish and flattering
Opt for a haircut that's so slick that it's almost beyond sleek by getting a curtain cut. Imagine a style that's in the range of a bob or lob thanks to the fact that it's meant to reach around your shoulders. Simple and yet oh-so striking, Tom Smith, the creative director of evo hair, explained how the style sets itself apart, telling Byrdie, "New on the scene and one for those ready for a dramatic change is the curtain cut. What differentiates this style from a long bob is the symmetry and the ends tucking under in the front."
If you're now wondering if a curtain cut is the right choice for your next 'do, Smith noted that it's a style that suits plenty of people. He pointed out, "This chic and minimal cut is extremely flattering in the way it frames the face, particularly for those with a longer neck due to the crisp contrast of the horizontal line of the haircut and the long vertical necklines."
Smith also explained that you can alter the look depending on your preferences when it comes to the length of your hair. He was sure to add, "This cut can also be adjusted for those unwilling to lose their length by creating a longer bob — just keep those ends tucked forward." On top of that, you'll need a few tips when it comes to how to keep your hair super-sleek and straight.
How to perfect your sleek curtain cut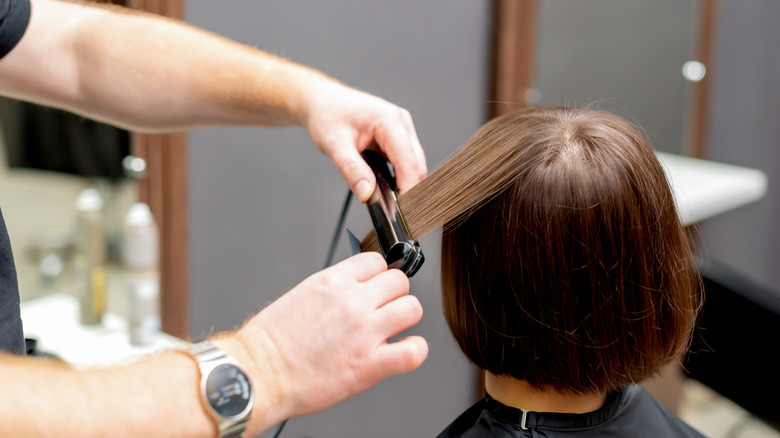 Michelle Aleksa/Shutterstock
While maintaining your curtain cut isn't difficult, you should know how to properly style it. In order to do so, you need to be aware of how to effectively — and safely — straighten your hair so that you can achieve an enviably sleek mane. You can start the process while showering by using a conditioner that promises to leave your hair smooth before you get out and blow dry your hair in a specific way. Stylist Sarah Potempa told Teen Vogue, "[I]t's important to keep the nozzle facing downwards the entire time, otherwise the hair will frizz."
You'll also want to make sure that your hair is completely dry before you potentially use a hot straightener so that you don't burn the strands. Opting to apply a product meant to protect your hair from heat can also help, as can using the ideal heat. T3 stylist Jeanna Pizzollo also explained to Teen Vogue, "Coarse hair does need a higher heat. But fine hair and especially damaged or color-treated hair should stay in the safe zone of 300 to 350 degrees."
Finally, focus on doing manageable sections of hair that aren't too thick for the heat to do its thing before you add a final product to leave your hair straight and shiny. When you've done this, your curtain cut will be as sleek as you desire.