We Have The Secret To Pulling Off Moody Gray Eyeshadow Looks
As we continue to see a growing re-emergence of '90s grunge styles — think platform boots, sheer dresses, and daisies — it's only natural that some of the more moody makeup trends would also make a comeback. A refreshing change of pace from some of the more glamorous, full-face beauty trends from recent years, these angstier looks tend to centralize around dark eyes, particularly moody gray eyeshadows. 
"Makeup often follows fashion, and I think the subdued grunge makeup look is doing just that — early 90's trends but with a modern feel," celebrity makeup artist Lisa Aharon told Byrdie. This vibe can feel intimidating if you typically go for lighter, cleaner, and more neutral beauty looks. But gray eyeshadow isn't just for extravagant nights out on the town. From casual to ethereal, we've got you covered when it comes to the secrets of owning the look.
In particular, it's all about creating depth and dimension, per L'Oréal Paris. Regardless of current beauty trends, smoky eye tutorials consistently rank among the most requested how-tos, according to makeup artists and influencers alike (via De'Lanci). And contrary to what you may have heard, you don't actually need to touch the black shadow to make this trend work either. Here's how to effortlessly pull off the moody gray eyeshadow look.
Prime your lids and apply a brown base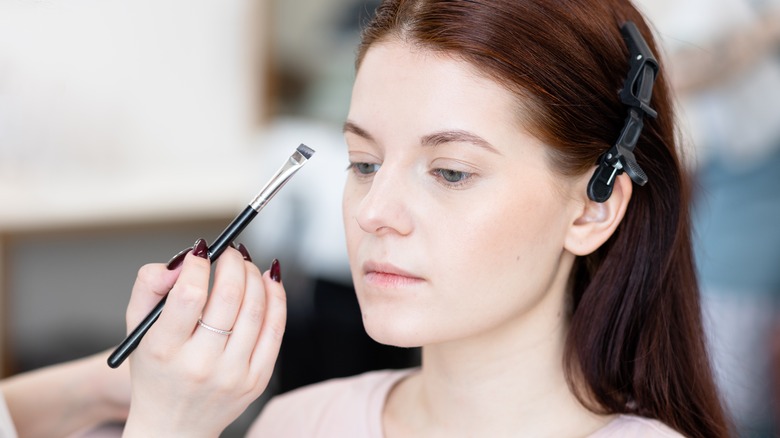 Vera Prokhorova/Shutterstock
A top-notch eyeshadow primer will really take this look from amateur to pro in an instant. It's easy to forget about the importance of a primer or to skip it altogether when focusing on the shine and precision of the look you're hoping to achieve, as Good Housekeeping points out. But just imagine the primer as you would a base layer for a painting on a canvas. It's going to hold the art in place beautifully, and without it, you'll have a whole lot of smearing.
It may seem counterintuitive, but once you've laid down a quality primer on your eyelids, it's time to pull out your favorite warm brown eyeshadow much like you would with a typical smoky eye look. Apply the pigment evenly across your entire lid with a smoothing shadow brush, as instructed by De'Lanci. Go slowly and keep your eye on the prize. Precision is key here, especially because you want to ensure this attention-grabbing look stays put all night long. 
Use both dark and light shades of gray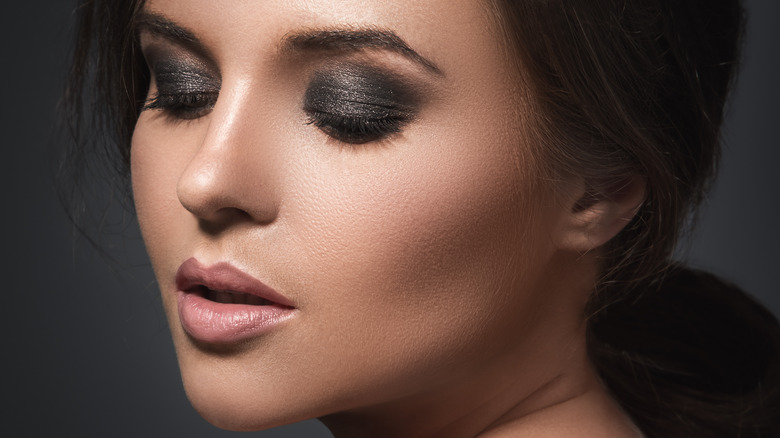 Privetik/Getty Images
Next is the moment you've been waiting for. To add depth and dimension, pull out your darker gray shadow and your best brush for blending. Apply the darker shade evenly to the crease of your lid, blending and deepening the area along the way (via De'Lanci). After that, grab your light gray shadow. Gently apply it to the middle and inner lid accordingly. Blending is the name of the game — make sure there aren't any fine lines or harsh corners.
You could also opt to add some of the dark gray shadow to your lower lash line for a more dramatic look, as L'Oréal Paris recommends. Finally, after you've finished applying your grays, add a couple of coats of volumizing mascara to your lashes. Considering how eye-catching this look is, it'd be wise to opt for a neutral lip. However, depending on the occasion, a deep red could also vibe well with it. Voilà, the perfect moody gray look is yours for the taking.