Tips That Will Make Painting Your Nails With Your Non-Dominant Hand A Breeze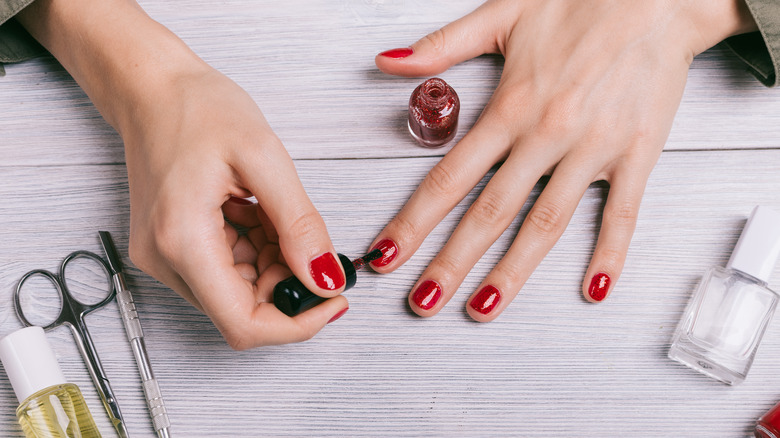 Iprogressman/Getty Images
We may receive a commission on purchases made from links.
Painting your nails is either your favorite or the least part of your self-care routine. While giving yourself a fresh manicure is enjoyable, it can become the most time-consuming and frustrating task when painting with your non-dominant hand. In addition, if you have a shaky non-dominant hand, you might struggle with getting nail polish on your cuticles and the sides of your nails. If you've decided to put a pause on getting your nails done, find that press-on nails fall quickly, and want to save some money by doing them, then it's going to take some time and practice to get them to look clean and perfect.
When we look at nail artists doing our nails, we think about how easy it looks and how we can do the same. However, when we pull out our polish and get to painting, we realize it's more complicated than it seems. From getting the right amount of polish on the nail to preventing overflow to painting clean lines, it's challenging giving your dominant hand an excellent manicure. If you're tired of redoing your nails on your dominant hand, we have a few tips that will make painting your nails with your non-dominant hand easy.
Have nail polish remover close by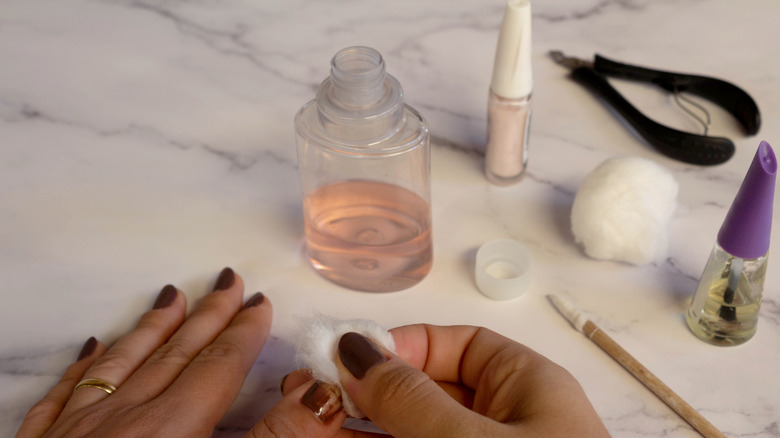 Lais Monteiro/Shutterstock
Having nail polish remover close by will help clean up any accidents you might have during your painting process. Pour some into a small container, such as a shot glass, and use a small angled brush to dip and clean up the excess polish on your cuticles. Using a brush is easier than using a q-tip since it's flatter, which gives you more control over where to swipe — rather than hoping it doesn't remove any polish from the nail. In addition, cleaning up the areas as you paint each nail will give them a sleek appearance.
If you decide to use a few containers that you will use with nail polish remover, don't reuse them for their original purpose because they'll be contaminated. For example, if you use a shot glass to hold the nail polish remover, don't use it for anything else. You don't want to get sick from digesting any nail lacquer remover left behind.
Keep a steady non-dominant hand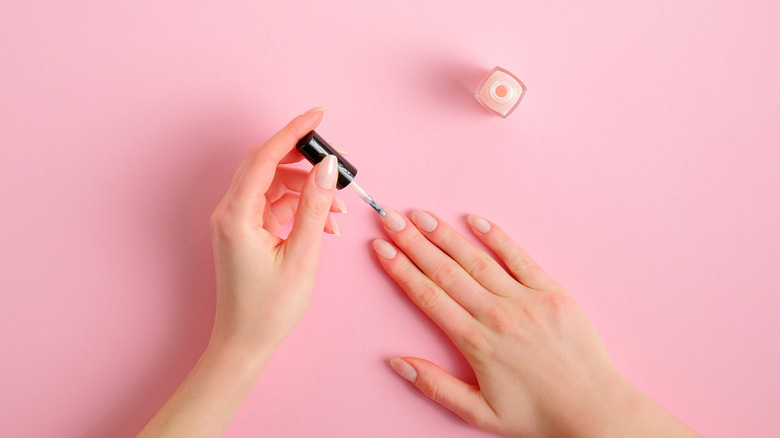 Photoguns/Getty Images
Keeping your non-dominant hand as steady as possible will make painting your dominant hand more efficient. If you naturally have a shaky hand, placing it on the surface where you paint your nails can keep it stable. You'll want your dominant hand flat where you're going to paint it and rest your elbow and forearm of your non-dominant hand next to your dominant hand to give you more support. By leaning most of your weight on your forearm, your non-dominant hand shouldn't shake too much. In addition, you'll be able to hold the nail polish at a better angle.
If you need more height for your dominant hand, you can place it on top of a book or use a small pedestal to lay one finger on top and paint one finger at a time. You'll be able to see the entire nail closer and know where you're brushing the polish.
Use less nail polish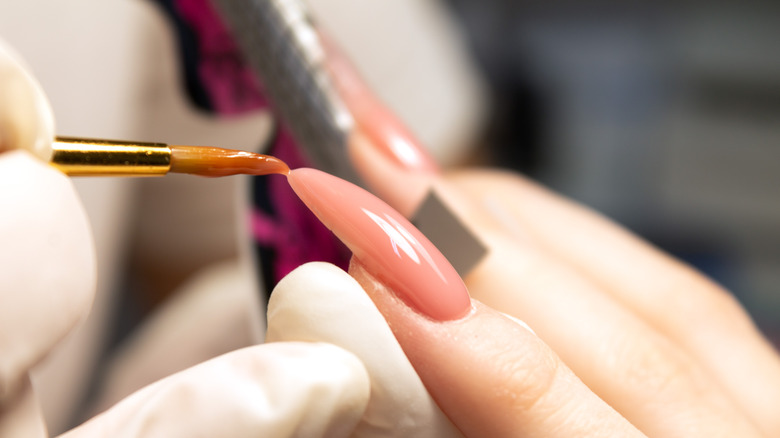 NataliyaR/Shutterstock
When painting your nails, especially with your non-dominant hand, remember to use as little polish as possible. Too much polish will overflow over your nails on your dominant hand, getting on your sidewalls and cuticles. Also, the excess polish will create a thick layer on top of your nail, which could take longer for your nails to dry. Gel polish won't cure properly, leaving your nail with a thick layer.
You'll have a harder time cleaning up the polish if you start with a large amount. Instead, clean one side of the brush against the tip of the bottle until it has no polish, then wipe a small amount on the opposite side for minimal application. This will allow you to evenly spread the polish over the nail and build as you go. It's like applying blush on your cheeks. Putting too much from the start can be difficult to remove. You want to start with a little bit and add more if needed.
Paint small sections of the nail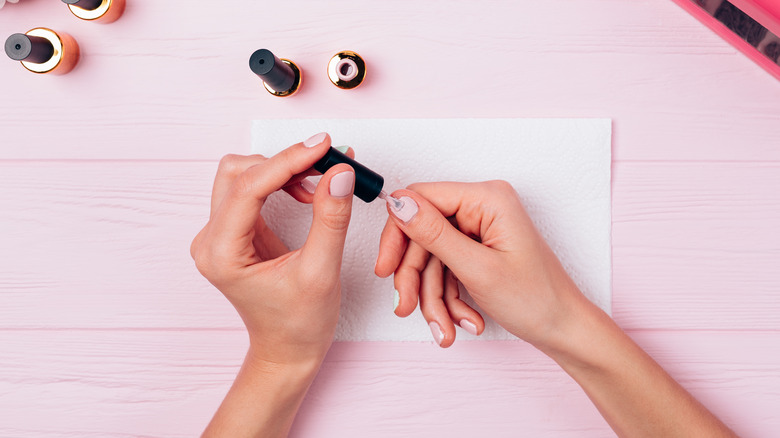 Iprogressman/Getty Images
Working the nail polish in sections is the key to perfectly painting your nails with your non-dominant hand. For example, instead of swiping the polish over the entire nail, start in the middle, then paint each side. Or, paint one side of the nail, the middle, and the other. Of course, you want to get as close to the cuticle as possible without getting paint on it, so if you leave a little space between the paint and the cuticle, that's okay. The more practice you get painting with your non-dominant hand, you'll have a way that works for you every time.
Once you have that first layer, you can add a second coat following the method you first started. You want your non-dominant hand to be slow and steady the entire time you apply the polish. If you're using gel polish, finish off with a top coat, but if you're using regular polish, then let your nails completely dry before applying a top coat.
Use liquid latex
Even if you've practiced using your non-dominant hand multiple times, you could always use extra help. Whether you've tried keeping your hand steady, using a higher surface, using less paint, or painting in sections, you're probably still having trouble. If everything fails, investing in liquid latex can be a game changer for painting your nails.
Liquid latex is a polish you apply around your nail, like sidewalls and cuticles. It acts as a nail barrier. When painting your nails, you can get nail polish on the liquid latex, and when you're done painting, you simply peel off the latex with some tweezers or your fingers. It leaves you with clean cuticles and sidewalls, perfect for painting with your non-dominant hand. Amazon has a few different options for you to choose from. The liquid latex comes in a nail polish bottle, so you'll be able to get many uses out of it.