Is There A Real Difference Between A Coat And A Jacket?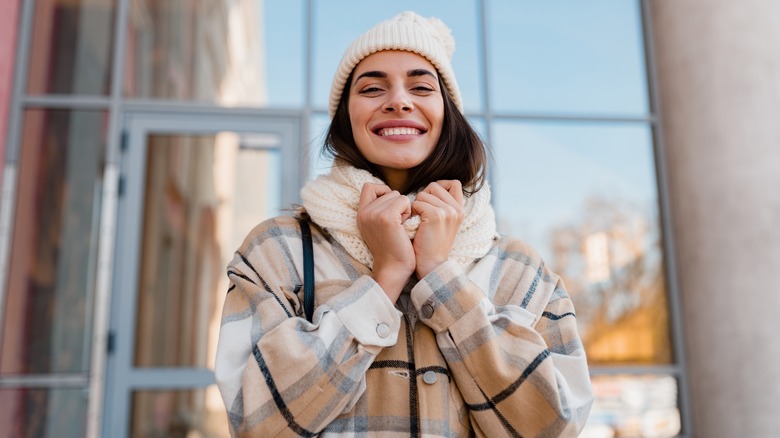 Maria Markevich/Shutterstock
Coats and jackets are an essential part of everyone's closet for protecting against chilly weather in the colder months, and, according to Statista, this combined industry brings in over $6 billion a year. While many people know the terminology for different styles of these pieces of clothing — a bomber jacket versus a peacoat, for example — the distinguishing factors between the broader categories of coats and jackets are much less commonly understood in the public vernacular. This is no surprise, as the combined "jackets and coats" sections often seen while online shopping don't do much to bring clarity to the situation.
Advertisement
Because of this, it's common to use the terms interchangeably to refer to anything with long sleeves that tops an outfit, but there is actually one major difference that separates them. By learning more, you can make your hunt for the perfect cozy winter closet staple a bit easier, and determine which situations each item is best suited for.
What is a jacket?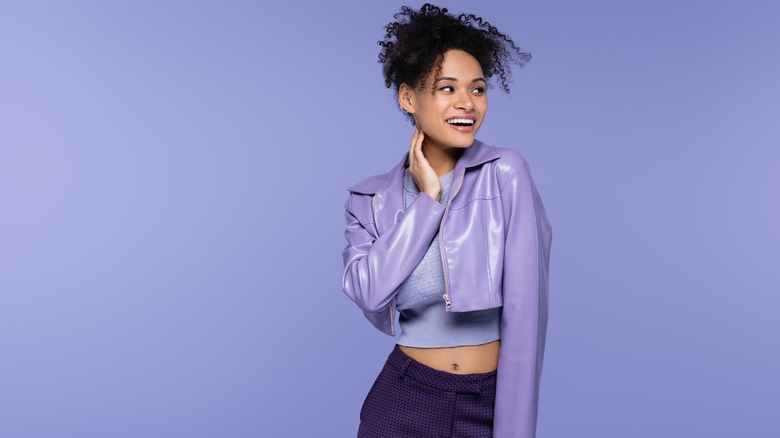 LightField Studios/Shutterstock
According to Mental Floss, a jacket is a more style-focused cousin of the coat. They're still designed to bring a little extra warmth, but they usually cut off at the waist or hip to only cover the top of the body.
Advertisement
From there, the exact specifications are limitless. Because jackets have a looser definition, you'll see everything from thin, cropped pieces that do little to protect against winter chill, all the way up to extra-warm, down-packed puffers.
As a general rule, jackets are great for a bit of protection during spring or fall, but they don't provide as much warmth for extra-cold days in the depths of winter. This all depends on your area's climate of course. If you're living in Los Angeles, you may only need a couple of trendy jackets to pull you through the slightly chillier temperatures from December to March.
Because of their status as more of an accessory than heavy-duty protection, jackets are also often cheaper than coats and seen as more casual pieces.
Advertisement
What is a coat?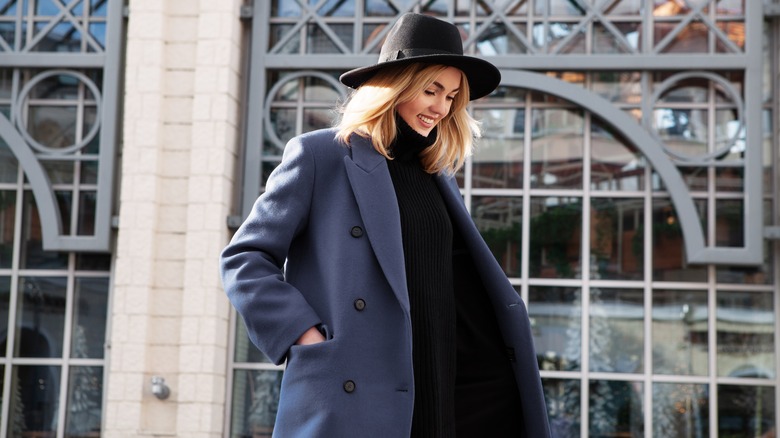 Anna Zhuk/Shutterstock
In contrast to jackets, coats are usually longer, warmer pieces that go down to the knee or ankle. They are often heavier and offer more protection against the elements, and may be made of heavily-insulating materials like wool, down, or even faux fur.
Advertisement
With that being said, however, thinner varieties do still exist, like simple trench coats designed for spring weather made of more breathable fabric. The main difference is in silhouette, so if you're looking for something longer, go for a coat over a jacket — just check the specifics to ensure it will keep you warm when temperatures dip.
Coats are usually more expensive and they are often perceived as formal, so they're fit for both the chilly trek to the office and a night at the opera. Sharp tailoring, quality materials, and simple colors and patterns are common, so many people invest in one or two of these pieces to layer over their outfits for several years.
What to look for in a good quality jacket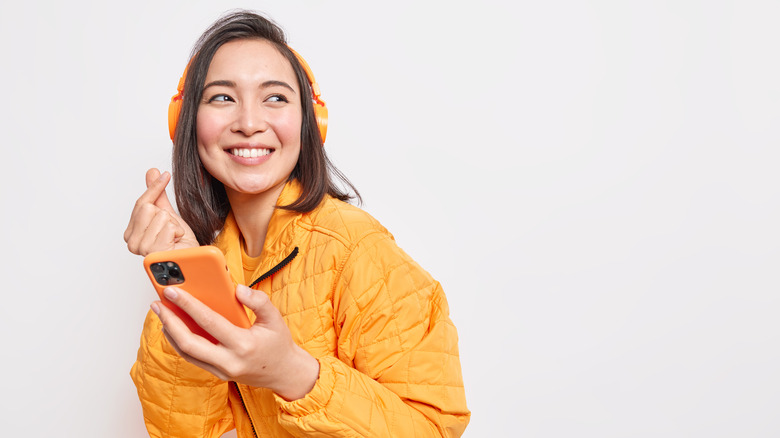 Cast Of Thousands/Shutterstock
When it comes to jackets, you have a lot of room to play. Their function is often more stylistic than anything else, so, if you're looking for a statement piece to bring some fun to an otherwise simple outfit, a jacket is a great option. Most people have a few different jackets in their wardrobe that can completely transform the base — think a cropped moto jacket for something more edgy, or a classic denim option to tone down the formality of a dress.
Advertisement
Even though they're more fashion-focused, it's still a good idea to look for high-quality pieces that you won't want to trade in for something new next year. Find a silhouette that you feel comfortable in, then run with it, trying out different colors, patterns, and materials if you want to spice it up.
Cropped jackets are great if you're looking to emphasize your waistline or frequently wear high-waisted pants and skirts, while something more structured, like a blazer, is a classic piece that can work for both a day in the office and a night out.
What to look for in a warm winter coat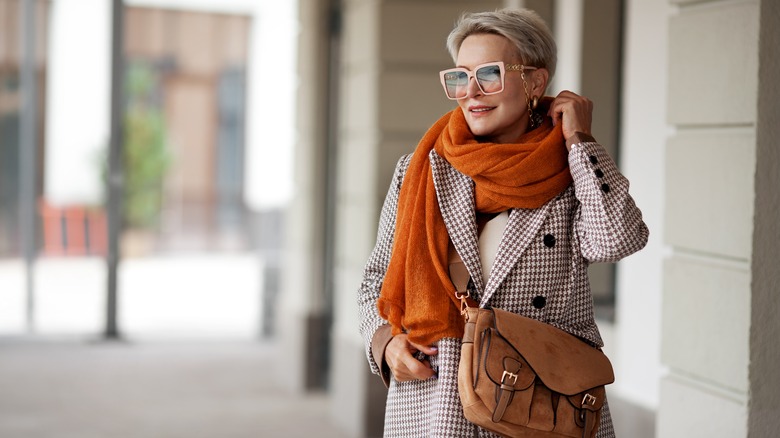 Anna Zhuk/Shutterstock
Coats are a bit more of an investment piece than jackets, so it's important to buy one that will keep you warm and hold up for years to come. Look for materials — both natural and synthetic — that are designed to trap heat, like wool, mohair, and nylon (via Kelly's Dry Cleaners). If you live in a snowy area, it's also a good idea to get something water-resistant. You don't want to be walking around with a soggy coat when temperatures are already brutal enough.
Advertisement
When it comes to the coat's look, it's best to stick with something that can act as a staple. Of course, that doesn't mean you have to go with plain black if that's not your style. If you're a fan of bold colors and patterns and frequently wear them in your regular wardrobe, look for something that fits in with the rest of your outfits. Just try to stay away from microtrends that are bound to fade in the next few months if you want something that can carry you from year to year.
How to style a jacket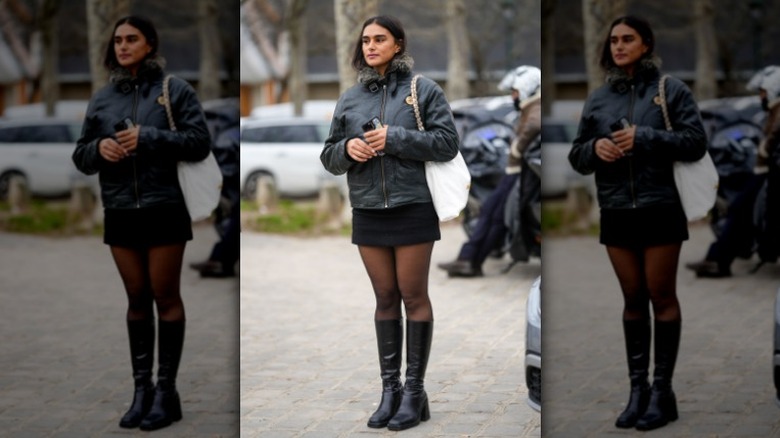 Edward Berthelot/Getty Images
Because there is such a large variety of jackets on the market, there are near endless options for styling. If you're trying to make your wardrobe more sustainable, however, a jacket is a great way to transform pieces you frequently wear in the summer into outfits for slightly cooler weather. Try pairing a miniskirt and simple top with tights, boots, and a cropped jacket on top for a staple outfit that keeps you warm without sacrificing style.
Advertisement
Jackets are also great to use year-round if you want to make an outfit more modest or you're looking to add some visual interest. Take a tight mini dress you typically only wear out for date night and add a chic blazer or denim jacket to tone it down a bit for a more casual daytime look, or pair something frilly and feminine with a more structured leather piece to bring some balance to your outfit.
How to style a coat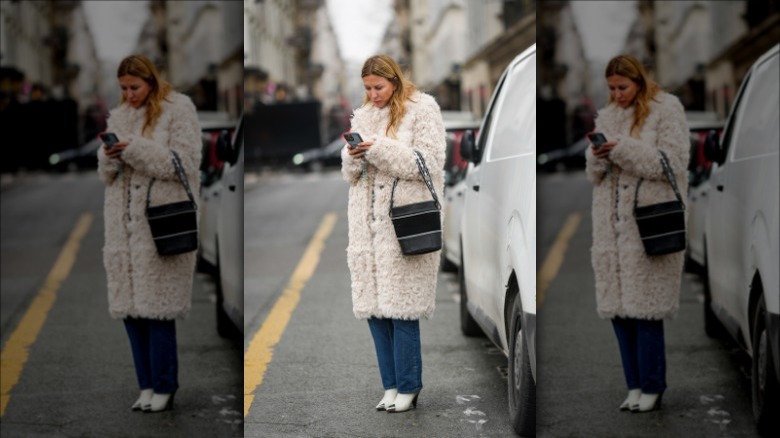 Edward Berthelot/Getty Images
If temperatures are cold enough for you to reach for a heavy-duty coat, your first priority should be protecting yourself against the weather, but that doesn't mean you can't have a little fun with your look, too. Because coats usually cover your shoulders all the way down to your knees or even your ankles, most of your base outfit will be hidden, so focus on the accessories and small parts that will remain visible.
Advertisement
Pair a coat with a bold pair of shoes to add a bit of visual interest, or keep your look all monochrome for an effortlessly cool look. If you're feeling a bit like a marshmallow, try out a belted coat in a thinner, but still warm, fabric to bring some definition back to your outfit. Chillier weather also provides you with a great opportunity to load up on accessories like colorful hats, scarves, and gloves, trademarks of the trending frazzled English woman aesthetic.