Don't Make These Fashion Mistakes When You Shoot Your Engagement Photos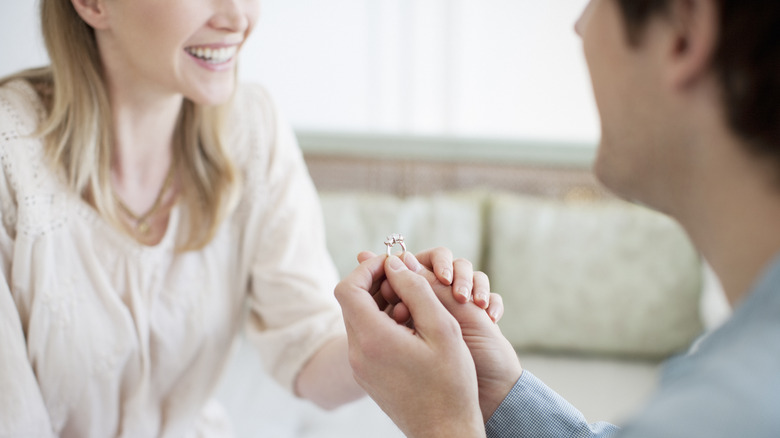 Robert Daly/Getty Images
A marriage proposal not only opens up an exciting chapter in your life but also gives you a new set of responsibilities. We're talking about cake tastings, venue hunting, and — most importantly — clothes shopping for engagement photos. These pictures will solidify one of the happiest moments of your life, so you've got to dress to impress. Especially since the average hourly rate for an engagement photographer is $200, per Fash.
Don't know where to start? We've got you covered. Below, we've revealed which fashion mistakes to avoid, and other stylish options to try out instead.
Athleisure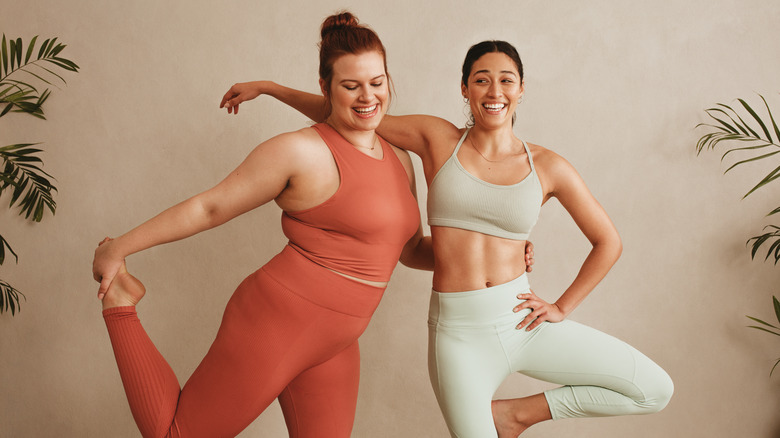 Jacob Lund/Shutterstock
Who doesn't love wearing leggings everywhere? They're cute, comfy, and look great with almost anything. But when it comes to your engagement photos, you've got to take it up a notch. Ditch the athleisure for something more elevated, such as a nice pair of wide-leg pants or leather joggers.
Matching outfits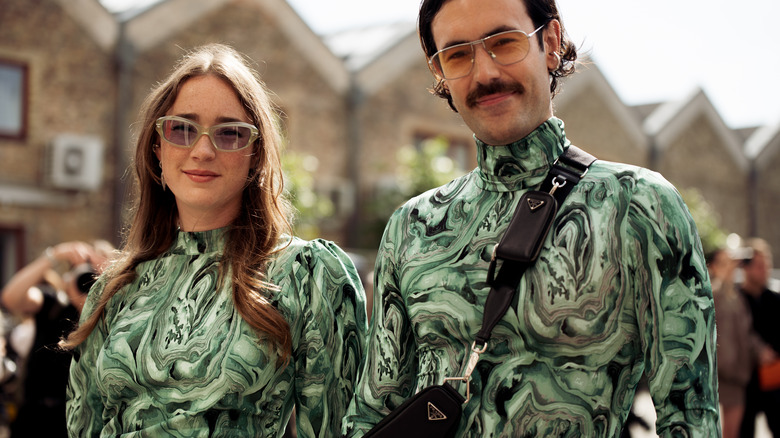 Raimonda Kulikauskiene/Getty Images
For the love of all that's good, please do not wear matching outfits. Not only are they tacky, but they don't age well. Instead, we advise wearing complementary colors. For example, if one person is dressed in navy, the other would look fabulous in something yellow. Or if you're a fan of neutral tones, shades of brown and lilac will create a harmonious look.
Several outfit changes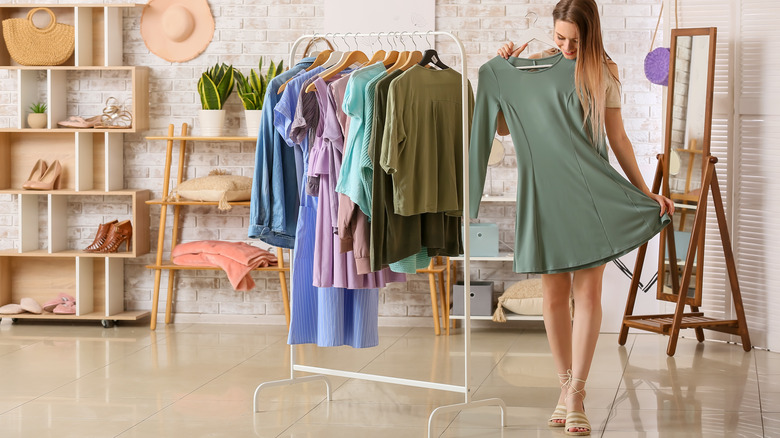 Pixel-Shot/Shutterstock
Taking engagement photos is definitely an exciting time, but you don't need a different outfit for each photo. Not only are you spending more time and money, but you're taking away from the sophisticated feeling that consistency creates. If you require a bit of uniqueness in each photo, we suggest using different backdrops, accessories, and poses instead.
Bold patterns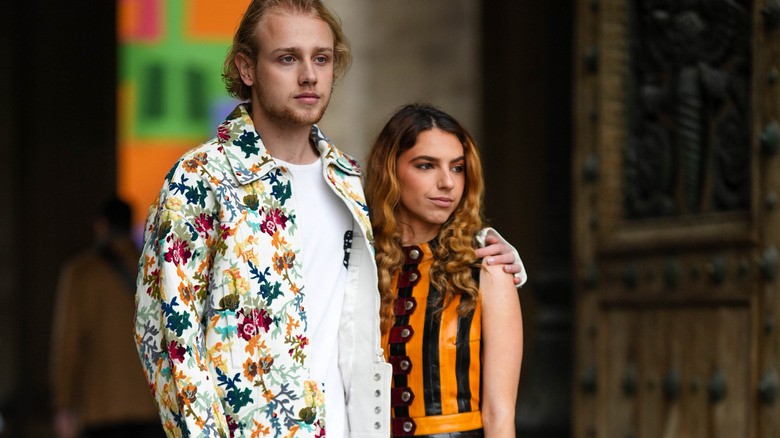 Edward Berthelot/Getty Images
We don't blame you for wanting to go all out, but bold patterns are not it. They're distracting, loud, and similar to matching outfits — they'll look outdated in just a few years. Instead, focus on solid colors and add patterns with subtle accessories, such as with a tie, scarf, socks, or tights.
Brand logos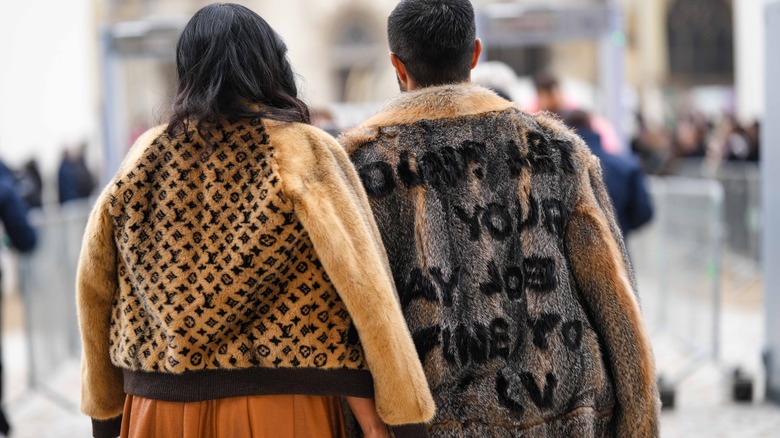 Edward Berthelot/Getty Images
Avoid looking like an advertisement photo by ditching your branded clothing. Yes, your brand of choice may be expensive and have the most desired items on the market right now, but what about in five years? Anything can happen. Dare we bring up the Balenciaga bondage scandal? Instead, focus on a specific style and color scheme, because this will give you more freedom to create the exact look you're envisioning.
Avoid neon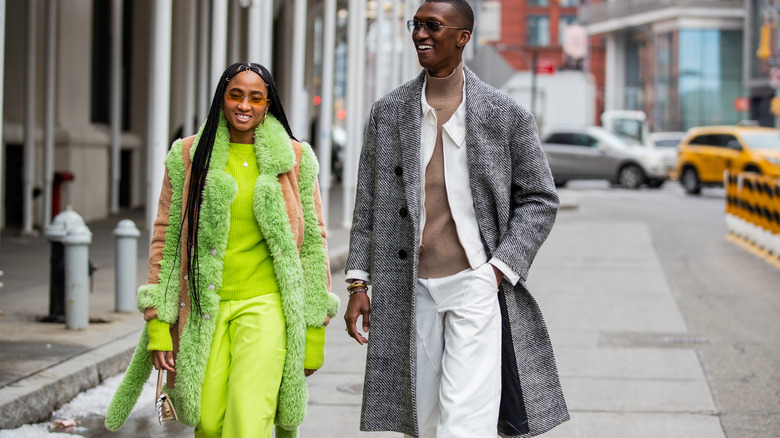 Christian Vierig/Getty Images
According to Profile Creative Agency, those participating in photoshoots should avoid wearing neon colors. These bright hues tend to shine back onto your face and create an unflattering photograph. For example, those wearing a neon green shirt may end up with a soft green glow on their face in all of their engagement photos. To avoid this, we advise staying away from neons and choosing something with a less intense pigment; either something deep and rich or a light pastel.
Wear something comfortable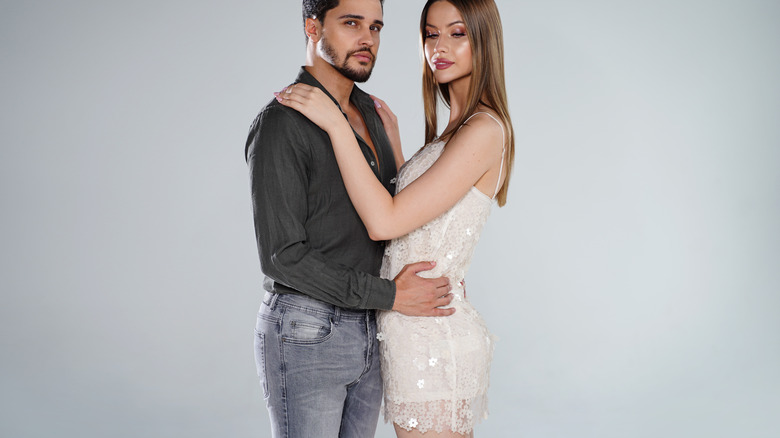 Neonshot/Getty Images
A mini dress may seem like a good idea, but do you really want to constantly tug it down during your photoshoot? Not only does your outfit need to look great, but it should also be comfortable and easy to move around in. Your photographer will most likely have you try out a variety of poses, and repeatedly having to adjust your outfit will only slow down the process. Instead of a mini dress, try finding something that fits below the knee.
Choose walkable shoes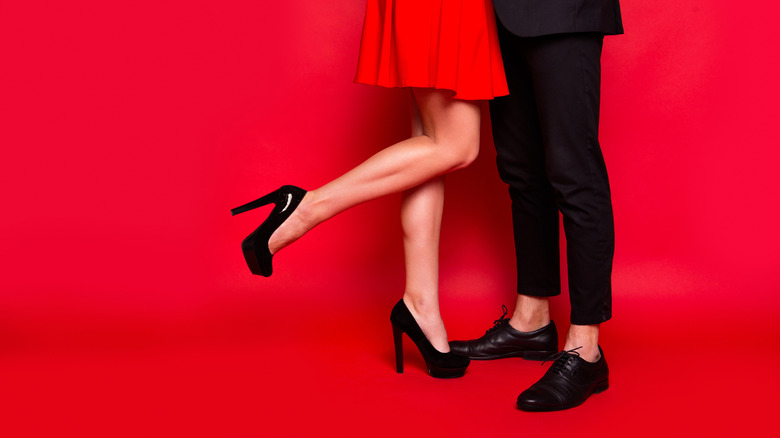 Roman Samborskyi/Shutterstock
The process of obtaining the perfect engagement photos requires a lot of walking — sometimes through gravel, grass, or dirt. So, it's best to avoid stiletto heels or tight dress shoes that'll have you limping by the end of your photoshoot. Instead, opt for something comfortable yet stylish, such as an adorable pair of flats, short chunky heels, or leather sneakers.
Don't be weird about it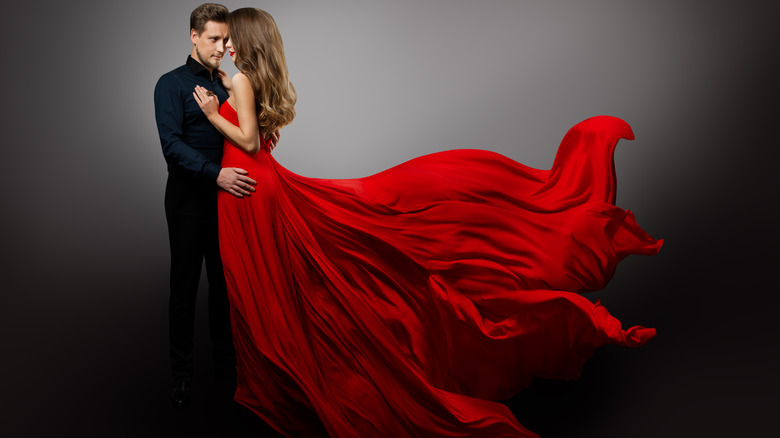 Inarik/Getty Images
It's easy to believe that you've got to wear the fanciest outfit you can find to create beautiful engagement photos. However, doing this can sometimes mask the true beauty of your relationship. Wearing a tuxedo and ballroom dress may look extravagant, but if you're a playful couple who likes to joke around, then tone it down a bit to match your true selves.