How To Break In Your New Shoes And Banish Painful Blisters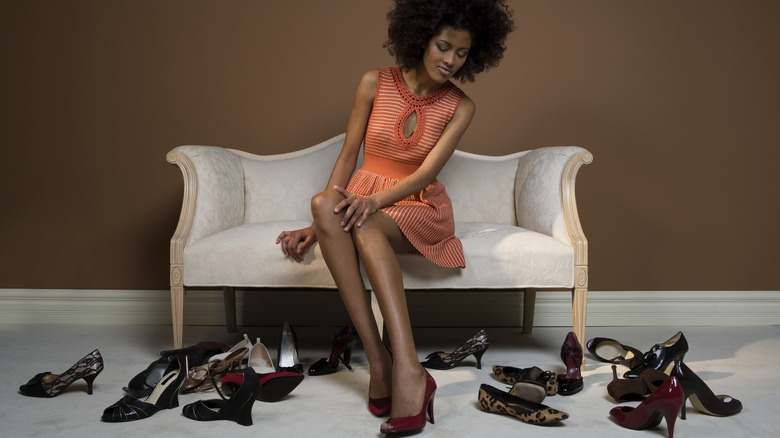 Leonard Mc Lane/Getty Images
We may receive a commission on purchases made from links.
Online shoe shopping is a lot of fun, whether you're treating yourself to a new pair just because or keeping up with shoe trends for a special occasion. There are endless options depending on which style you're going for, from classy to chic to casual. However, the mistake we make when buying new shoes is not breaking into them early enough. Most of us are guilty of wearing them for the first time on the day we've been waiting to wear a specific outfit we've had in mind. The daunting feeling of getting blisters on your feet prolongs you from wearing them ahead of time. But it's better to get the pain out of the way and feel comfortable the day you wear your new shoes for hours.
Blisters can be extremely painful and uncomfortable and take a few weeks to heal. If you've had bad luck with breaking in new shoes, it's time to try a few hacks. Here are few effective ways to break in your shoes and prevent blisters.
Apply heat to leather shoes
Have you heard of people putting their brand-new Dr. Martens in the oven to break them in? It's the weirdest thing to put in an oven, but it turns out that applying a little heat to leather shoes can expand them. You can try putting your new leather shoes in the oven if you want to expand them, but you could also try the sock and blowdryer method if putting your shoes in the oven seems a little daunting.
You want to wear thick socks with your shoes and blow dry the entire shoe on low to medium heat. Make sure to feel which points of the shoes are tighter than others or dig into your foot more. The back of the shoe will most likely dig into your heel, so you'll want to spend more time blow-drying that area. The heat from the blow dryer will help shape the shoe better to the socks you're wearing so that when you wear them without socks or thinner sockettes, they won't be as stiff as when you took them out of the box.
Use ice
Even though it's hard to believe, water can expand things just like heat can. When water freezes, it expands and becomes ice, so placing a bag of water in your shoes and putting them in the freezer can help them loosen up, making them easier to break in.
The process is simple: Fill two resealable ziplock bags halfway with water. You want to make sure the bags will fit inside the shoes you're trying to break in, even after the water has frozen. Once the bags are filled with water, seal them with little to no air. Then, place the bags in each shoe and grab larger resealable bags to put in, so they don't get damaged while inside the freezer. Next, leave the sealed shoes in the freezer for up to five hours. During that time, the water will freeze and expand the shoes. After the time is up, remove the shoes and allow the water to thaw. Then, try on the shoes to check if they've expanded; if not, you can repeat the process until you're satisfied.
Use a shoe shaper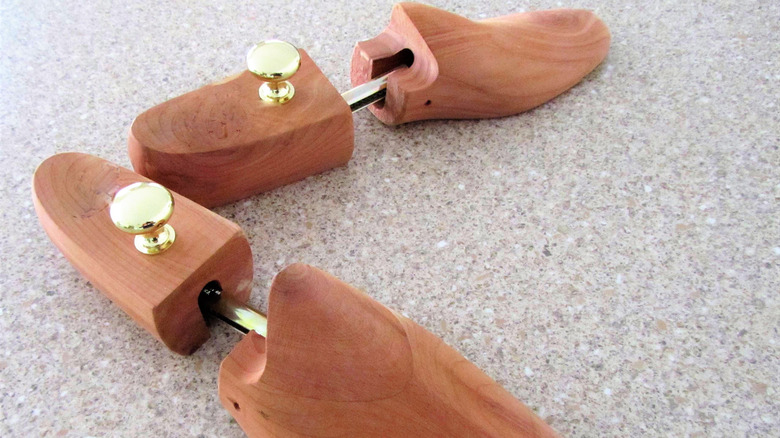 Dorothy Chiron/Shutterstock
The easiest way to break in your shoes without getting blisters is by buying an adjustable shoe shaper tool. They're available in different styles, like small bean bags or wooden blocks, usually in the general shape of a foot. However, instead of looking like an actual foot, they're oval-shaped with a spring attached to fit any sized shoe. You place the shaper inside your shoe and adjust it to stretch out the shoe in areas where you feel it's tighter. Shoe shapers stretch out the sides and heel of any pair you need to be comfortable. Not only do they stretch out any tight shoes, but they can also help preserve their shape if a pair fits you perfectly. It's a sad day when your favorite pair of shoes get worn out!
Every shoe shaper works the same even though they look different and vary in price. For example, as of February 2023, Amazon has a plastic shoe shaper for $9.99 that's a one-size fit for women's shoes. However, if you prefer something heavy-duty, The Container Store has wooden shoe shapers available in sizes small to large for $22.99 that help absorb odor and moisture.
Read the reviews before buying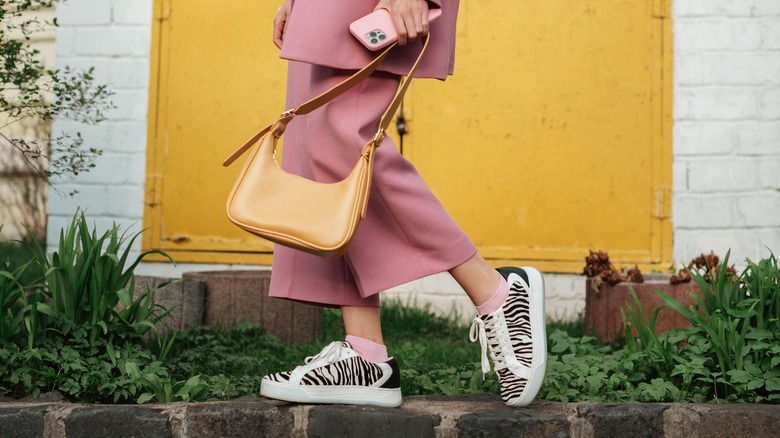 Victoria Chudinova/Shutterstock
If you've struggled with blisters one too many times, something to keep in mind for future shoe purchases is reading the reviews. Customers who have bought the same shoes you're looking at will give honest reviews on how the shoe looked when it got delivered and how it truly fits. So you won't have to hope that they'll fit perfectly right off the bat. Instead, you'll know whether to size up or down by what other people say about them.
However, not all shoes you purchase online will have reviews, especially if they're new additions, so you could always try them out, and if you don't love them as much as you had hoped, return them. You can also write a review yourself to help future buyers. Some stores will charge a shipping fee if you return them, but if you'd rather exchange them, they'll offer free exchanges.
Wear them as much as you can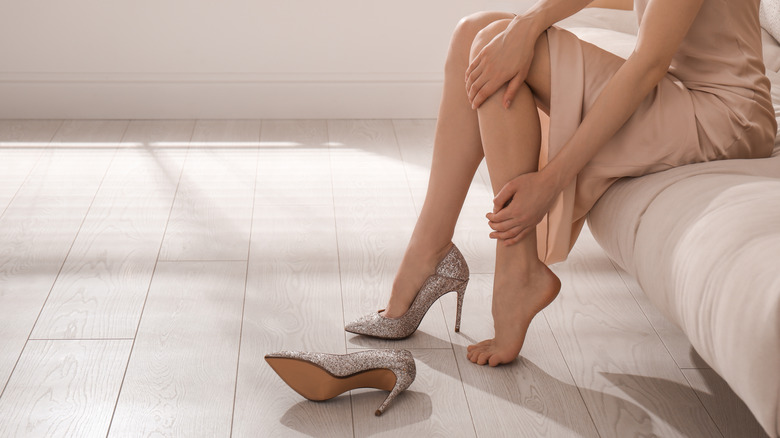 New Africa/Shutterstock
The obvious way to break in your new shoes is by wearing them. Most people tend to wear their shoes around the house so they don't risk getting dirty, and also because it's easy to slip them off if the pain becomes too much. Wearing them for a few hours every day (especially with thick socks) will break them in and prevent any aching when you're ready to wear them out for dinner or a night out with friends. If you work from home, your new shoes will give you an excuse to dress up if you usually work in your pajamas (although you could also wear them with your pajamas). Depending on the shoe style, you might feel a little silly, but no one will notice if you're alone at home.
As you wear them the first couple of times, they'll begin to change shape as they mold to your foot. It'll be uncomfortable initially, but you'll get used to it after a few hours. In addition, you'll notice if any particular areas are bothering your feet and will give you blisters, so you can adequately prepare for wearing them out. For example, some shoes tend to rub at your ankle or the curve below your toes, so it might be worth applying Band-Aids to those areas before going out. 
Be patient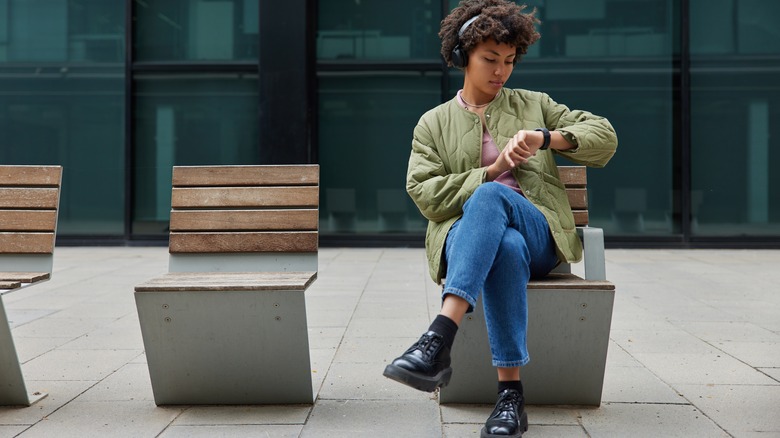 Cast Of Thousands/Shutterstock
Yes, it's frustrating having to hold off wearing your new shoes, especially when they're trending right now. But it's important to be patient, because the process of breaking in shoes takes time. The best way to break shoes in is using them for a couple of hours at first and increasing the time slowly as the days pass. You want to avoid wearing new shoes for more than an hour on the first day. If you have errands to run that will last a couple of hours, it's the perfect time to wear them, but if you're out all day or doing a lot of walking, you'll want to opt for another pair of shoes.
Once you break your new shoes in, you'll forget about all the pain and get excited about all the new outfits you can make up with them. Plus, you'll have an entire list of hacks ready to share with friends who might be in the same boat.