Styling Tips That Will Make Dressing A Long Torso Easy Peasy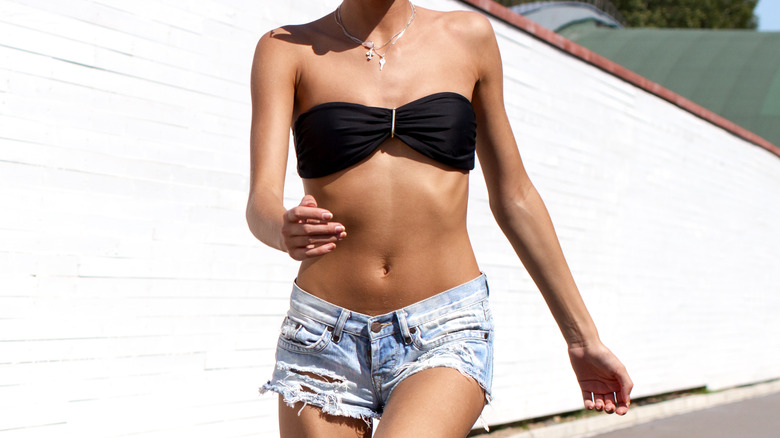 Andrei Park/Shutterstock
Do you want to know if you have a long torso? A TikToker with the username @kitaliss shared a video explaining how to determine whether your torso is short, proportionate, or long. According to the TikTok user, you should put one of your hands flat against your body under your breast area, with your other hand directly under that first hand, and look at where your belly button is compared to your bottom hand. Your torso is proportionate if the belly button is only slightly under the second hand. But if the belly button overlaps with your hand, your torso is short, and if there's a gap between your bottom hand and belly button, congrats, you have a long torso!
If you have a long torso, you should consider yourself lucky to have such a statuesque and unique feature, as a long torso can make women of all heights look taller. For instance, a TikTok user shared in a video that while people assume she's 5'9", she's only 5'5" but looks taller because of her long torso and arms. If you're one of the lucky people who have a long torso, we have some styling tips for you.
Rock a jumpsuit
Jumpsuits are famously flattering, as they can help create a more cohesive look rather than drawing attention to your torso. Since the jumpsuit hangs over your entire body, it can even out your proportions and give off a more balanced look instead of emphasizing the difference between a long torso and short or medium-length legs.
Avoid the low-rise look if you want to appear more proportionate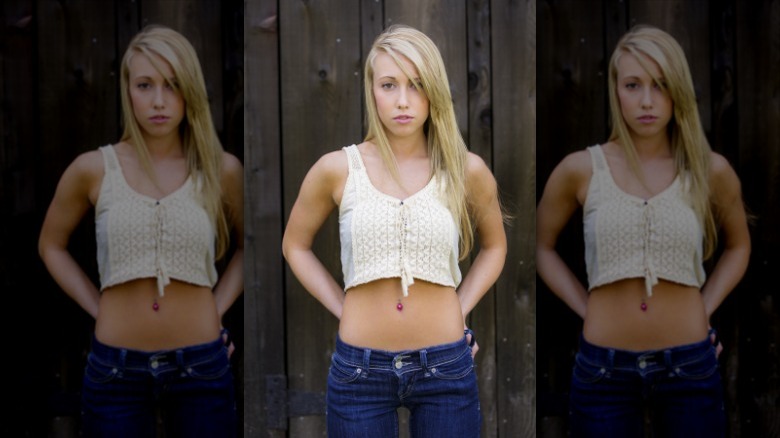 C Model/Shutterstock
Anyone who wants to lean into their long torso and play it up shouldn't be scared to try the low-rise pant trend, as these low-waisted jeans will make your torso appear even longer. But if you want to make your legs seem longer and take the attention away from your torso, jeans or skirts with higher waistlines will do the trick.
Wear a top with a fun color or pattern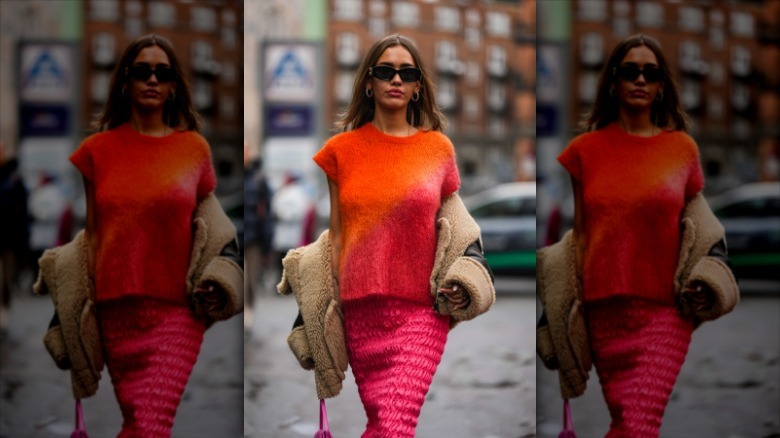 Edward Berthelot/Getty Images
Rather than trying to hide your long torso, try working with it by dressing it in a fun hue or pattern. Instead of thinking of the torso as a problem to hide, think of it as a canvas to decorate. Once you have that mindset, consider buying bright tops or shirts with bold patterns and showcasing those stylish pieces on your torso.
Add on a leather harness for a daring dimension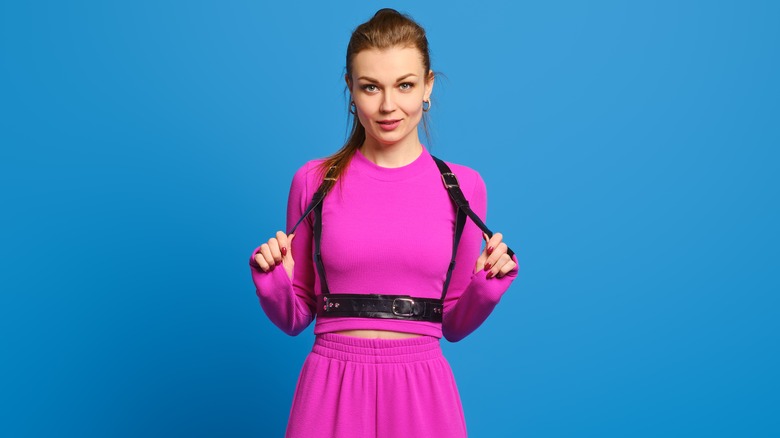 Aleksei Isachenko/Shutterstock
We already know that leather harnesses aren't for everyone, but these dauntless accessories are excellent for people who like edgy or provocative looks. Wearing a leather harness might overwhelm a shorter torso since it's so bold, but the harness will likely hang well on a longer torso while adding a head-turning touch to any ensemble, whether you're going for BDSM vibes or want to add some edge to a girly dress.
Explore body chains
With over 96,000 posts dedicated to #bodychains on Instagram, this divisive trend is back in 2023. People with long torsos have longer canvases for body chains to work with, so you should take advantage of that by experimenting with different body chain styles. Some ways you can wear them include using the body chains to dress up long-sleeve basic tops, flaunting the chains on top of tube tops for nights out, or as accessories with your favorite bikinis.
Get sexy with midriff flossing
The midriff flossing fashion trend is another look that might overwhelm shorter torsos but can add more structure and creativity to long torsos. This intriguing style typically provides a "floss"-like effect by having strings wrap around your stomach, adding an alluring touch to your ensemble. So, why not "floss" your long torso?
Wear whatever makes you happy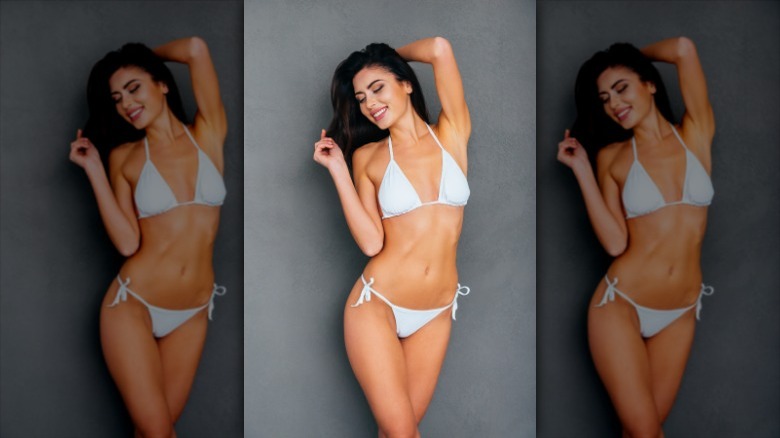 G-stockstudio/Getty Images
Most importantly, people with any torso length and every body type should wear what makes them feel most confident. So, if you enjoy drawing attention to your long torso, rock your most cropped top and lowest-waisted bottoms, but if you're more comfortable balancing it out with a jumpsuit and body chain, that's beautiful, too — wear whatever makes you feel best.