The Clever Tip That Uses Foundation To Downplay A Dramatic Cupid's Bow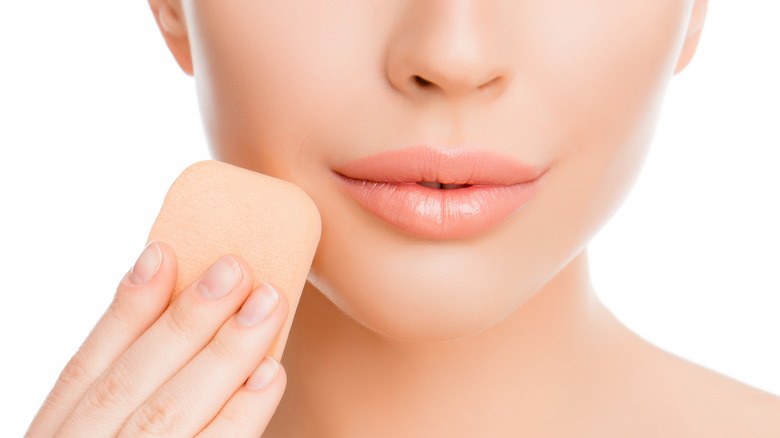 Roman Samborskyi/Shutterstock
If you aren't exactly loving the way your mouth looks right now, or merely want to try out something that freshens up your face, then you might want to change the shape of your lips. In order to do so, you don't have to opt for permanent surgery or a cosmetic procedure. Instead, you can simply use something that you may already have in your makeup kit at home. That happens to be a good foundation.
Advertisement
"Concealer or foundation is going to be your friend in defining some of those areas around the mouth," celebrity makeup artist A.J. Crimson explained to MindBodyGreen. 
Indeed, while you can use a bright highlighter to enhance parts of your mouth, like emphasizing your cupid's bow, you may also be interested in the fact that you can use concealer to downplay your cupid's bow. Of course, you need to know how to do this just right in order to achieve the kind of stunning effect that will surely make you smile.
Foundation will give you a fresh canvas for your lips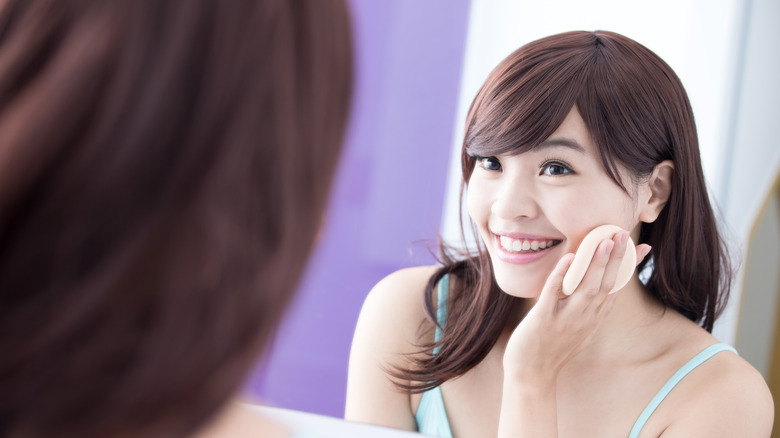 aslysun/Shutterstock
Toning down the potentially sharp shape of your cupid's bow can easily be done if you nab yourself a reliable foundation. This is key, as celebrity makeup artist Jaleesa Jaikaran, who has worked with stars like Bella Hadid, told Byrdie that foundation can blur the exact shape of your lips while a concealer would do the opposite. That's also why you'll want to opt for a foundation that offers you a fair bit (or full) of coverage. Now that you have the right product, you can take advantage of the proper technique.
Advertisement
"Make sure your lips are hydrated before going in with foundation to prevent creasing or accentuating dryness," Jaikaran explained. "Use a beauty sponge to melt the product into the skin, creating a new canvas with a seamless finish."
With the ideal blank slate to work with, you can then use a lip liner to create a more rounded upper lip that no longer has a deep cupid's bow. If you like what you see and want this look to stay around all day, then there is one more step that you should take that will securely lock your new lip shape in place.
Don't forget primer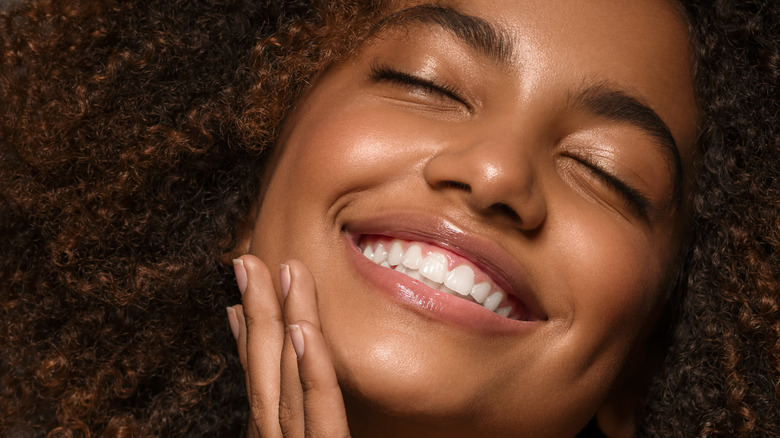 Irina Bg/Shutterstock
Foundation may be able to work wonders when it comes to downplaying your cupid's bow, however, it can also fade away, rub off, or become dull throughout the day. That's why you can give it a boost and some extra staying power with the help of a primer. Although it's a product that can work all over your face, it can be particularly useful when dealing with the area around your lips.
Advertisement
Makeup artist Nina Park, who has also worked with Bella Hadid as well as Zoë Kravitz, told Vogue, "I use an anti-shine primer for hotspots like the forehead, hairline, sides of [the] nose, and around the mouth, and then a sheer, illuminating one for the tops of the cheekbones."
Park also pointed out that she pops on her primer using just her fingertips. If you do the same, then you should end up with the perfect base. Just apply your foundation overtop, line your lips, and you'll have a mouth that boasts a subtle or non-existent cupid's bow.