Chandelier Earrings Are The Weighty '90s Trend Swinging Back Around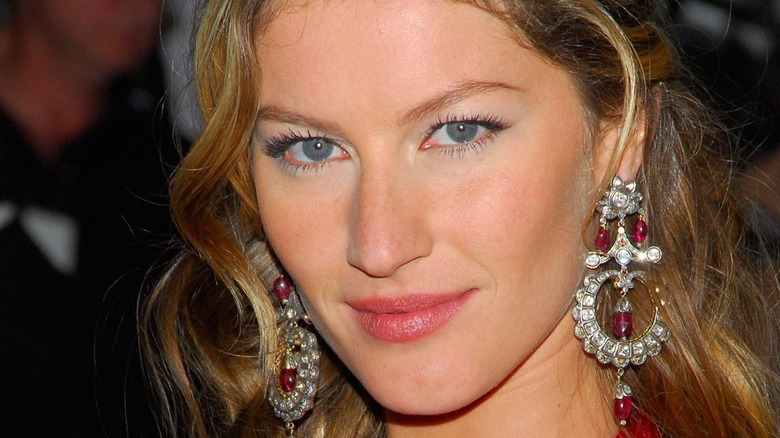 Everett Collection/Shutterstock
When it comes to fashion, history always repeats itself. Like clothing, jewelry trends are cyclical, which is why you'll constantly find yourself stumbling upon trending throwbacks that were once all the rage in a bygone era. For instance, 2021 saw a huge comeback of the '70s trends like oversized gold bangles, sculptural studs, and rainbow beads. In 2022, we saw many people sporting maximalist hoop earrings, gold disc earrings, and in-your-face pearls — the staple of the '80s cool kids. As far as 2023 goes, it looks like this year is bringing back the '90s — the decade of minimalist fashion.
We've spotted another jewelry trend from this post-Cold War era that's getting back into vogue — chandelier earrings. Receiving their name from a branched ornamental light fixture that hangs from the ceiling, chandelier earrings are long, drooping earrings added with resplendent suspended stones or feathers. These earrings originated in the Middle East, India, and Greece, and were only popularized in the West during the British colonialism era, per SuShilla. When King George gave a set of chandelier earrings to his daughter, Princess Elizabeth, as a wedding gift in 1947, they soared in popularity as a royalty-approved piece of jewelry. A pair of chandelier earrings is like a magnum opus for the ears. Swinging with your movements and adding luster to your skin, these earrings do wonders in elevating the simplest of outfits and have always been a red-carpet staple. Here's why 2023 is the time to rock sparkly chandelier earrings again.
The anatomy of chandelier earrings
Chandelier earrings often consist of a decorative object made from precious or semi-precious gemstones that catch the light and sparkle like a real chandelier would. Due to their dangling, eye-catching nature, chandelier earrings can add a shine to your face and make your neck appear taller. While many chandelier earrings are made of lab-created gems, plastic beads, sequins, or feathers, others could be made of fancy diamonds or other expensive gems.
For instance, Queen Elizabeth's splendid Cartier chandelier earrings bequeathed to her by Dame Margaret Greville as a wedding gift boast over a dozen diamonds and marquise-cut stones, according to "The Queen's Diamonds" by Sir Hugh Roberts. Now, your chandelier earrings don't have to cost a bomb to look great on you. For instance, Kate Middleton rocked a pair of $10 beaded chandelier earrings from the Pakistani brand Zeen when she and Prince William visited Pakistan on October 14, 2019, per Kate's Closet. And the Princess of Wales made them look quintuple their price.
Common types of chandelier earrings
Chandelier earrings are available in various shapes and forms. Some of the different kinds you often come across include clip-on, hoop, drop, dangle, leverback, and magnetic. Depending on your preferences, you can choose the type of earrings that feel most comfortable on your ears and best reflect your style.
As far as designs go, chandelier earrings boast countless looks. Some of the most common looks of chandelier earrings include geometric droplets, cascading rows of pending tassels or silver strands, architectural latticework, and colorful Mediterranean-inspired earrings. Boasting clean lines, geometric droplets are designed with equilibrium in mind and lend a modern twist to the traditional chandelier style. Self-expression-wise, nothing screams decadence like rows of sparkling gemstones and silver strands cascading from your ears down your shoulders. Grand and sophisticated, architectural earrings are reminiscent of the mystic grace of the Baroque elements in architecture and music. Meanwhile, a pair of Hellenic glowing drops with colored gemstones can make you look straight out of a Greek mythology movie.
Choosing chandelier earrings for your face shape
Dramatically long and fabulous earrings were iconic in the '90s. And with chandelier earrings: the longer — the bolder — the better. How long you like your chandelier earrings all comes down to a judgment call. If your earrings extend way down to your shoulders, they're called shoulder dusters.
Chandelier earrings can look wonderful on anyone, but women with round, square, or diamond-shaped faces benefit the most from wearing these pieces of jewelry. For instance, round face shapes can look more streamlined when styled with long chandelier earrings with thin, geometric motifs. Meanwhile, round and broad chandelier earrings help soften the jawline and cheekbones of those with round facial features. For a diamond-shaped face, teardrop or chandelier earrings help soften the narrowness of the sharp chin and lengthen and add volume to the face. Those with oblong face shapes also look great with short, broad, and colorful chandelier earrings, which lend more width to the face while shortening its length.
Styling chandelier earrings according to your hairstyle
Chandelier earrings work best with hairstyles that can put their dramatic shape and form on full display. Pulled-back hairstyles — like a sleek ponytail, a high updo, a side sweep, a bouffant back bun, or any type of neat braid, look great with you-can't-miss-it chandelier earrings. 
Short hair — like a pixie cut or a choppy bob — is also a great hairstyle for chandelier earrings. If you prefer wearing chandelier earrings with long hair, at least tuck your hair behind your ears to help your earrings stand out, or opt for supersized earrings with catchy colors so they stand out more easily from your loose tresses.  In case you're donning a pair of shoulder dusters, take a leaf out of Karlie Kloss's look at the 2017 DVF Awards in New York and wear a sleek bun to showcase your statement earrings.
How to style chandelier earrings with casual outfits
An accessory that screams luxe like chandelier earrings sounds like a mismatch for casual outfits like a basic white tee and jeans. However, you can still mix and match them for a uniquely contrasting look. Why not try yours out with a cute casual top and jeans or shorts? Pick a color or earrings that stands out against your outfit.
You can also go for an edgier, cool girl look with a pair of geometric chandelier earrings. Instead of a sweatshirt or white tee, throw on an animal-print shirt and dark denim jeans. Complete your look with biker-style booties and a leather jacket or boxy corduroy jacket. Chandelier earrings are also a great look in the bohemian style. To incorporate this free-spirited aesthetic into your look, you'll need a flowy maxi dress or flared pants, a loose blouse with ethnic prints, a slouchy cardigan, a headwrap, and a pair of earth-toned sandals.
How to style chandelier earrings with formal attire
If you're going to a place where the dress code is evening wear or formal wear, chandelier earrings are your best bet. Also, keep in mind that chandelier earrings are supposed to give you a goddess-like type of femininity, so they work best with ladylike formal wear that feels soft and flatters your body shape — like a red-carpet or wedding look. Think: a shoulder-baring dress with a fitted bodice, tight waist, and an ankle-long skirt. Chandelier earrings might not be a good pair with an outfit as structural and gentlemanly as suits. Suits are office wear, and it's not advisable to wear dangly earrings to work (depending on your job, of course).
When it comes to accessorizing, less is usually more. No matter the type of chandelier earrings you choose, do not pair them with chunky necklaces. When you put two statement pieces of jewelry together, they cancel each other out and put the balance off your look. Instead, opt for understated supporting jewelry like a slim bracelet and a subtle clutch. It's wise to stay away from heavy makeup if you're wearing chandelier earrings to an elegant event. Statement earrings look best when worn with light makeup. For instance, smokey eyes might make striking accessories look bad. Instead, a subtle eyeshadow shade paired with clean cat eyeliner and red lipstick is perfect for a classy look.