We Have The Secret For Pulling Off False Lashes When You Have Hooded Eyes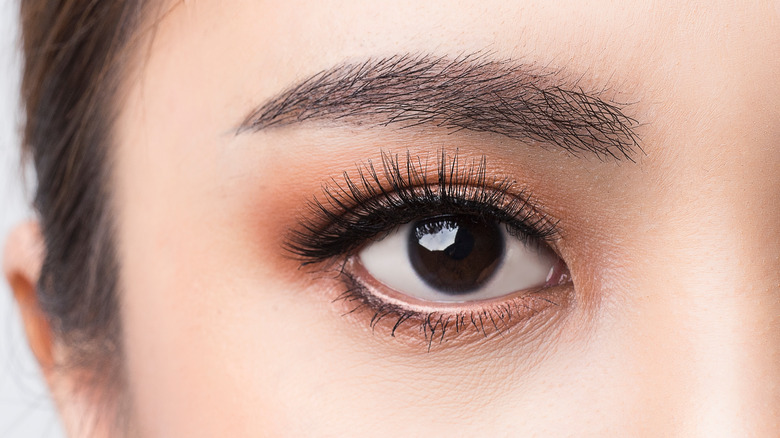 ME Image/Shutterstock
False lashes are a great way to make your eyes look bigger while taking your stylish look up a notch. Granted, there are seemingly endless options when it comes to the different kinds of lashes on the market, and if you want to take full advantage of them, you need to know how to choose the ones that suit you best. In order to do so, it's important to figure out what look you're going for and what will be flattering for the shape of your eyes. This can be particularly important for people with hooded eyes.
Celebrity makeup artist Daniel Bauer explained to Vogue India that false lashes could change the shape of your eyes entirely. "If you have hooded eyes, for example, using strip false lashes can make your eyes look smaller and enhance your hooded lids." Although there's certainly nothing wrong with bringing attention to your hooded eyes while embracing the fabulous facial feature, you may prefer to make your eyes look as big and bright as possible.
Of course, that will only happen if you choose the right kind of faux enhancements for your eyes. That means ones that are practical, comfortable, and complimentary. You'll find the answers you're looking for — as well as how to apply them in just the right way — if you keep these tips in mind for pulling off false lashes when you have hooded eyes.
Stay away from thick and heavy false lashes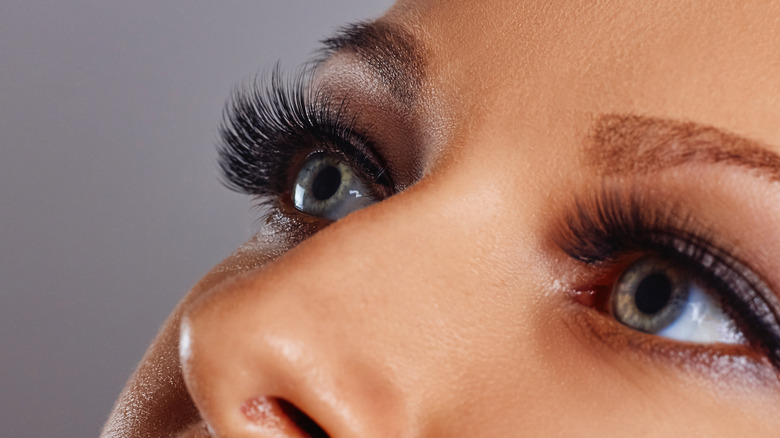 Olesia Bech/Shutterstock
If you've ever found yourself presented with a wide variety of fabulous false lashes, then you might have automatically (and understandably) been attracted to the ones that are big, fluffy, and undeniably stunning. However, just because they look enticing on the store's shelf or brand's website doesn't mean they'll look flattering on you. That's because certain styles and sizes suit different people, and if you don't select falsies that flatter your eye shape, you won't achieve the effect you want. In fact, makeup artist Joy Adenuga explained to Elle UK, "One of the most common mistakes is sizing."
That's why, if you have hooded eyes, you'll want to ensure that you choose false lashes that aren't too big, thick, or heavy. The additional weight can drag your eyelids down and make them look closed, which isn't ideal for hooded lids with a deep-set crease. The result will leave your eyes looking smaller than they are, which may not be a desired look. 
Instead, opt for false lashes that are lightweight. Of course, they can still be wonderfully fluffy; just be sure to find lashes that boast a wispy style and aren't double-weft and thick. Not only will they not pull on your eyelids, but you might also find that they're more comfortable.
Choose false lashes with a thin band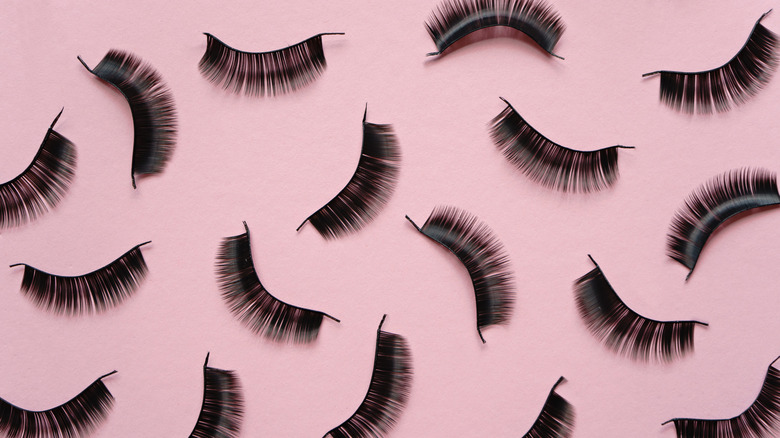 chris_tina/Shutterstock
In the same way that false lashes that are big and thick can weigh down your hooded eyes, falsies with a substantial band can pull your lids down. If you want to avoid that from happening, then you should reach for lashes with a thin band. Of course, that's not the only benefit when it comes to this option.
If you have hooded lids, you may also appreciate the comfort that false lashes with thin bands provide. They're less likely to irritate you, even if you don't wear falsies very often or prefer to keep them on for an extended period. On top of that, the thin band will allow you to hide the falsies within your lashline, giving you a more cozy fit and natural look.
Thicker bands also tend to be used to support heavier falsies. Since you want to avoid any products that will weigh down your hooded eyes, thick options may not be your go-to anyway. Remember: Light and thin is your key to a fabulous false lash.
Switch up the way you usually wear your falsies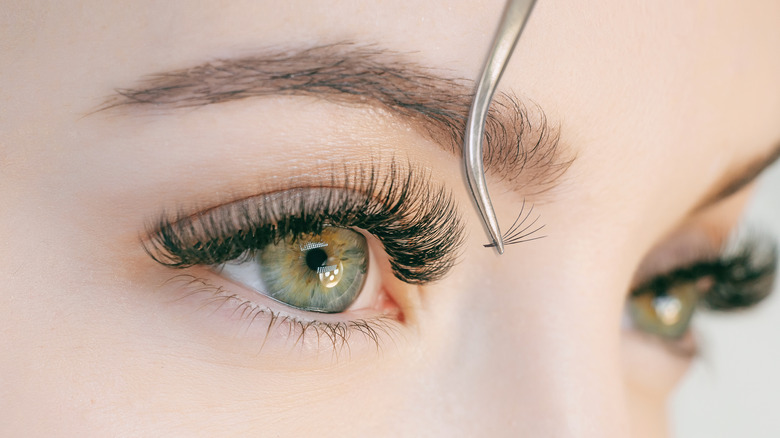 KDdesignphoto/Shutterstock
You might assume that placing the longest false lashes in your kit at the outer corners of your eyes is the best bet. However, if you have hooded eyes, then that's not quite the case. Instead, you'll want to add that length more in the middle. And it turns out this is a trick that's used by a particular celebrity fashion icon. Makeup artist Jillian Dempsey revealed to Allure, "One of my earliest jobs as a makeup artist was with Sarah Jessica Parker, and she let me in on a great secret. When she wears mascara, she applies it only to the middle of her upper and lower lashes. This makes her eyes look big and open."
You can use the same clever trick with false lashes, as lash expert Sarah Maxwell demonstrated while appearing on makeup artist Monika Blunder's YouTube channel. She pointed out, "A good place for you to have your longest length is at the arch of the brow. That's going to give the most height to the eye. If you're putting too much length [on the outer edge], you're going to get a droop." If you can't find a full set of falsies that have longer lashes in the middle, then you can use individual lashes or smaller clusters to create the length you want exactly where you want it.
Apply false lashes properly on your hooded eyes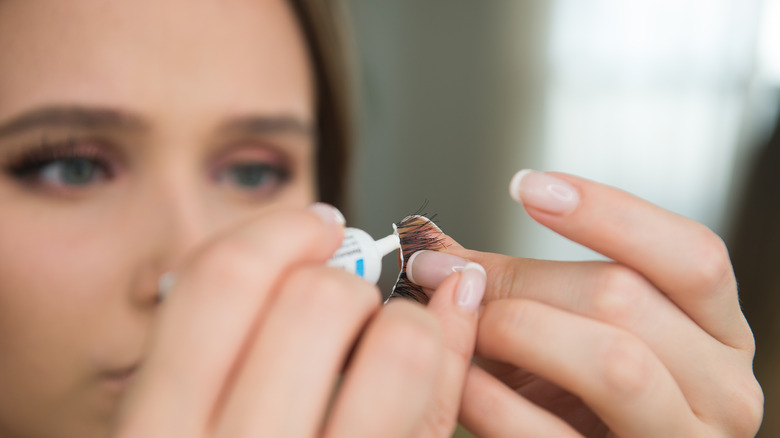 Nick Starichenko/Shutterstock
While choosing the right kind of false eyelashes is an essential initial step when nailing your final look, you also need to apply your falsies properly if you want them to be flattering. First, it's a good idea to read the instructions on the lashes and glue you're using in case of any unexpected tips. Next, you may need to trim the lashes to the right length to fit your eye shape, then apply glue to the band. 
Let the glue on the band get tacky before placing it on your eye so that you don't end up with messy, slippery glue on the hooded part of your lid. Now, cast your eyes down as you set the lashes in place and adjust them if needed. If you're using individual lashes, take celebrity makeup artist Suzy Gerstein's advice: "I tend to layer five or six along the lash line, working with short and medium lengths, depending on how deep set someone's eyes are and what looks most flattering" (via Elite Daily). 
If you want something resembling a cat eye effect, Gerstein said, "I love to angle them up ever so slightly at the outer corners to optically lift the lids of those with downward-sloping eye shapes." Continue to play around with the exact placement each time you apply your lashes, and you'll surely find something that works perfectly for you and your hooded eyes.