Ulta's 21 Days Of Beauty Is Here: Your Guide To The Sale (& What's Worth Grabbing)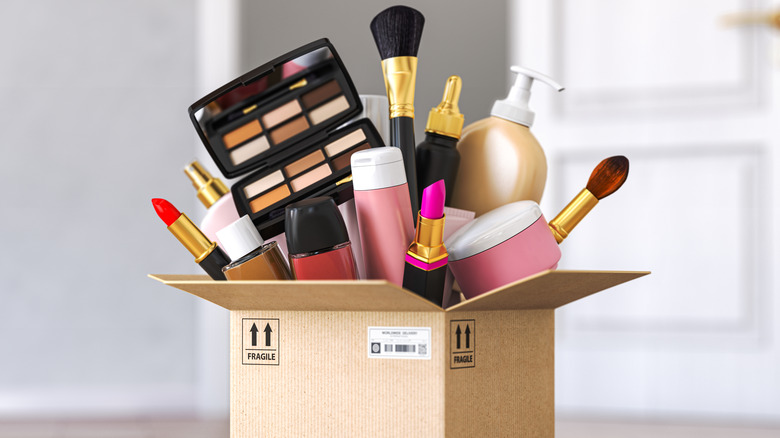 Bet_noire/Getty Images
We may receive a commission on purchases made from links.
It's almost spring, which can only mean one thing: it's time to refresh your beauty arsenal. Put away your winter slugging cream and get ready to stock up on your favorite serum, because Ulta's 21 Days of Beauty sale is back. From March 12 to April 1, you can shop dozens of half-priced Beauty Steals at Ulta, both in-store and online. The cosmetic retailer has expanded its offerings since last year's sale, and there's something for everyone to peruse, from K-beauty holy grails to Kate Somerville. There are even a few cult products joining the event as "first-time steals," meaning you can snag them at the lowest price ever offered by Ulta. Even if you're leaning towards decluttering your makeup bag, it's the best time to purchase staples with short lifespans, like mascara.
The only downside? Ulta's sales are notoriously popular in the beauty community, so you'll want to act fast in order to scoop up the best deals. Lucky for you, we've devised a simple guide to the must-have items available during the 21 Days of Beauty sale. Now, kindly put that old liquid liner to rest, and let's take a look.
How we chose the must-buy products of Ulta's 21 Days of Beauty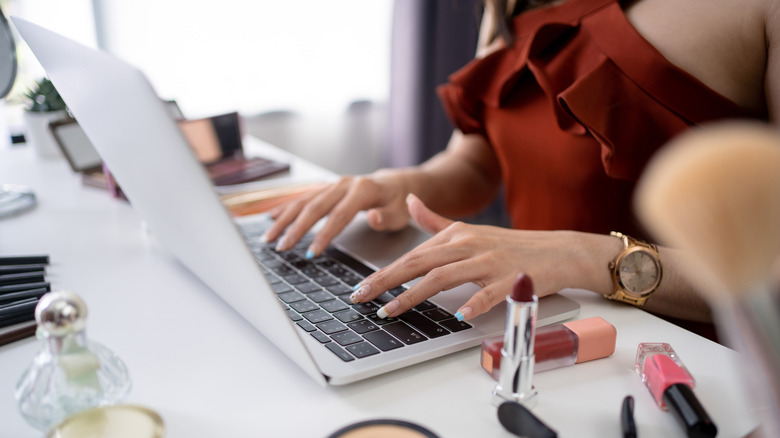 Phira Phonruewiangphing/Getty Images
With so many products available during Ulta's 21 Days of Beauty sale, it can be difficult to narrow down which ones are worth adding to your final cart. Even though these beauty steals are half-off, it's important to select products with glowing reputations. There's nothing worse than spending your hard-earned funds on makeup or skincare that doesn't work. That said, we're confident you'll love the items featured on our list.
All of the products included in our guide have been personally tested by Glam staff, so you don't have to stress over their efficacy. We've also included some of the gentlest skincare options available in the sale, meaning they're suitable for virtually any skin type or active ingredient users. With this curated assortment of makeup, skincare, and beauty tools, you're sure to find your next holy grails, all at a substantial discount.
Best ceramide serum
Serums are some of the most important products you can use to keep your complexion feeling soft and healthy. Elizabeth Arden's Advanced Ceramide Capsules are not only gorgeous to look at on your nightstand, but they're also incredible for your skin. Each pearly ampoule contains your nightly dose of ceramide, a type of fatty acid that occurs naturally near your skin's surface. According to Arden, the biodegradable capsules can improve your skin barrier and reduce the appearance of dullness, fine lines, and wrinkles.
Ceramides can be depleted through the use of stripping products, like chemical exfoliants, and they also decrease with age. "[Ceramide] can provide great benefit when used in a moisturizer, especially at nighttime, when it's most important for the skin to repair and maintain hydration," Dr. Alexis Stephens told Vogue. That said, the Advanced Ceramide Capsules are a great way to restore your skin's ceramide content before bed. According to reviewers, the capsules can't be beaten. "I've been using [Advanced Ceramide Capsules] for six years, and it's true that it takes ten years off your age! It leaves your skin smooth, radiant, and prevents wrinkles!" one customer wrote. Arden's capsules are available in 30, 60, and 90-count jars, and each variety will be 50% off during Ulta's 21 Days of Beauty sale.
Purchase Elizabeth Arden's 30-Count Advanced Ceramide Capsules from Ulta for $27 (originally $54) on March 14.
Best liquid eyeliner
While it's true that eye makeup trends can come and go, liquid eyeliner never seems to fall out of favor. If you're a liquid eyeliner fanatic, you know there's nothing worse than an eyeliner pen that drags across your lids like a lagging mouse cursor on MS Paint.
Fortunately, the days of lackluster liners are over: Stila's Stay All Day Waterproof Liquid Liner is a product that won't ever let you down. The Stay All Day's precision tip allows you to create the crispest cat eyes ever, and the formula is seriously opaque. Even better, this liner comes in seven stunning shades beyond classic black, from intense jade green to smoky quartz, a rich espresso brown. With Stay All Day, you can create dozens of gorgeous looks, and rest assured that your liner won't get lost under shadow or lose its edge.
The award-winning eyeliner currently holds a nearly 5-star rating, and beauty lovers are enamored with its design. "[Stay All Day] is hands down my go-to eyeliner. Application is easy, and it's easy to fix mistakes since it doesn't dry instantly. But when it does dry, it stays on for a good portion of the day," said one fan.
Purchase Stila's Stay All Day Waterproof Liquid Eye Liner from Ulta for $12 (originally $24) on March 15.
Best long-wear concealer
Whether you're looking to try a new concealer or you're already a fan, March 18 is the best time to buy Fenty Beauty by Rihanna's Pro Filt'r Instant Retouch Concealer at Ulta. The singer's beauty line is renowned for its vast range and ultra-silky formulas, and the cult-favorite Concealer doesn't disappoint on either front. Available in an incredible 50 shades with diverse undertones, Fenty's Concealer contains glycerin & flower nectar to hydrate the skin as it corrects and brightens.
The Instant Retouch Concealer is extremely lightweight and creaseproof, but it offers super-pigmented coverage that can last all day. Currently, it holds nearly 5,000 5-star ratings from smitten Ulta customers. Plus, it's suitable for a variety of skin types — even those that are blemish-prone. "I love how lightweight the [Instant Retouch Concealer] is! [It's] not cakey at all and has such good coverage! I struggle with acne, and it never fails to cover up without looking patchy or dry," a reviewer writes.
Purchase Fenty Beauty by Rihanna's Pro Filt'r Instant Retouch Concealer from Ulta for $15 (originally $30) on March 18.
Best lip mask
Your lips deserve the same care and attention you lavish on the rest of your skin. Why not treat them to one of the top-rated treatments on the market with Fresh's Sugar Recovery Lip Mask? This elegant overnight mask is full of nourishing ingredients, like black currant seed oil, shea butter, and hyaluronic acid. According to Fresh, the Recovery Lip Mask is clinically proven to plump and hydrate dry, chapped lips as you sleep. Furthermore, it lives up to its name with a delectably sweet flavor, thanks to the inclusion of real sugar and natural vanilla extract.
If you've tried other lip treatments in the past with no results, you might be pleasantly surprised by the Sugar Recovery Mask's plumping effects. "I've tried everything, including Laneige, Aquaphor, Burt's Bees, and Ilia — and [the Sugar Recovery Mask] is the only lip mask that helped. It worked within one night of using it," one reviewer wrote. Judging by the hundreds of five-star reviews for this sugary staple, it's certainly a lip mask worth splurging on, but you can get it half-off on March 19. Heads up, beauty lovers: this deal is app-only, meaning you'll need to purchase it through Ulta's app in lieu of visiting your local store.
Purchase Fresh's Sugar Recovery Lip Mask for $14 (originally $28) on March 19 on the Ulta Beauty app.
Best acne patches
Let's face it: acne sucks. It may not be scientifically proven, but the angriest zits always seem to flourish at the worst possible times. That said, you can stop them in their tracks with Cosrx's Master Patch Set — aka, one of the best (and gentlest) acne-fighting tools around. You won't have to worry about skin irritation with these K-beauty patches, as they're made from gentle, medical-grade hydrocolloid bandages. The soothing dots can absorb even the most stubborn whiteheads with ease, and they're inconspicuous enough to be worn outside the house.
Inside the Cosrx Master Patch Set, you'll find the brand's original Acne Master Patches and the Clear Fit Master Patch. While both can be worn discretely, the Clear Fit Patch is made to blend into your skin and features a matte finish for a natural look. What's more, the patches are thin enough that you can even apply makeup over them. "[Cosrx patches] eradicated spots that I didn't even realize were acne! Also, I am addicted to popping, and this product definitely stifles that urge. I 100% recommend these and will never not have them on hand," said one fan.
Purchase Cosrx's Master Patch Set from Ulta for $9.50 (originally $19) on March 20.
Best day cream
You've probably tried dozens of moisturizers in your quest to find the perfect product for your skin. But have you gone the holistic route? Unlike other face creams, BeautyStat Cosmetics' Universal Pro-Bio Moisture Boost Cream contains a powerful blend of ceramides, plant sterols, and bio-fermented Reishi mushrooms to soothe skin naturally. Fermented skincare can actually enhance your skin's uptake of supportive ingredients, meaning you'll get more bang for your buck. The skin-smoothing formula even features probiotics, which may help restore skin barrier function, according to research published in the medical journal Pharmaceutics.
The dermatologist-tested moisturizer is a hybrid gel-cream that delivers lasting hydration without ever feeling heavy or sticky. Pro-Bio Moisture Boost Cream is also suitable for all skin types, even sensitive ones. "I have dry skin, so I'm picky about my moisturizer, but this stuff is so nice! It has a really cool texture to it, and it glides on the skin so smoothly. After I finish applying, it doesn't feel heavy, but it's so hydrating," says one user.
Purchase BeautyStat Cosmetics' Universal Pro-Bio Moisture Boost Cream from Ulta for $25 (originally $50) on March 22.
Best lip gloss
Searching for the perfect lipgloss for spring and summer? We'd suggest Tarte's Maracuja Juicy Lip Plumping Gloss, a moisturizing gloss-balm infused with maracuja oil that's earned viral acclaim in the beauty community. Maracuja oil is derived from tropical passion fruit seeds, and it's beloved for its skin-soothing effects. This refreshing lippie contains over 10 luscious fruit extracts, like acai, blueberry, and peach, as well as super-nourishing hyaluronic acid. In a clinical study, 100% of Maracuja Plumping Gloss users saw plumper, more hydrated lips. Available in eight flattering shades, from sultry honeysuckle to sweet poppy, each gloss has a subtle coconut scent that's perfect for warm-weather adventures.
Fans of the clean girl makeup look will adore the slick shine and softening effects of the Maracuja Plumping Gloss. "These are so amazing, I bought every color [Maracuja Plumping Gloss] I could find. They're so glossy and beautiful but not sticky at all. The plump is perfect to smooth any lip lines," said one reviewer. Best of all, this lipgloss line is completely vegan and cruelty-free.
Purchase Tarte's Maracuja Juicy Lip Plumping Gloss from Ulta for $12 (originally $24) on March 26.
Best facial sunscreen
You might be tired of hearing it, but it's important that we remind you: sunscreen isn't optional in your skincare routine. Of course, some of us struggle to wear SPF every day; after all, sunscreen can be sticky, shiny, or worse, it can leave unsightly pilling under your makeup. That's simply not the case with Shiseido's Ultimate Sun Protector Lotion. The legendary Japanese cosmetics company struck gold with this SPF 50 sunscreen formula, evidenced by over 1,500 5-star reviews from Ulta users.
Unlike Western sunscreens, Shiseido's formula is weightless and smooth, drying to a clear finish under makeup. "Honestly, I haven't found a sunscreen that works better, especially since I have dark skin," wrote one reviewer. The Japanese sun lotion feels more like luxurious skincare, as opposed to the often-greasy SPF creams that many of us are used to. Shiseido's Sun Protector Lotion becomes even more effective against UV rays when it comes into contact with heat and water, but should always be reapplied every two hours. As always, be sure to double-cleanse your skin at night to remove products like sunscreen thoroughly and effectively.
Purchase Shiseido's Ultimate Sun Protector Lotion from Ulta for $25 (originally $50) on March 27.
Best vitamin C serum
Did you know that topical vitamin C can brighten hyperpigmentation marks and stimulate collagen production? If you're not already using this wonder ingredient, it's time to start. Enter Dear, Klairs' Freshly Juiced Vitamin C Drop, a cruelty-free K-beauty serum that's captured the hearts of skincare addicts across the globe.
Not all vitamin C serums are created equally, though, and in order for them to be effective, they must be fresh and unadulterated. That's why the Vitamin C Drop is considered one of the best. It contains 5% vitamin C in the form of ascorbic acid and yuzu extract, a Japanese fruit that's loaded with even more of the brightening nutrient. With nearly 500 5-star reviews from loyal fans, it's one of the most beneficial products you can include in your skincare regimen. "[Vitamin C Drop] is the best! It feels light, gives you a dewy glowing finish, and in less than two weeks, it cleared my dark spots and acne scars," one user wrote.
Purchase Dear, Klairs' Freshly Juiced Vitamin C Drop from Ulta for $11.50 (originally $23) on March 28.
Best mascara
By now, you're probably aware that your mascara should be replaced every three months for the health of your eyes and skin. The upside to mascara's short lifespan? There's always an amazing new mascara to try next, like Lancôme's Lash Idôle Lash-Lifting & Volumizing Mascara. The iconic cosmetic company made magic with Lash Idôle, a lightweight formula that separates and volumizes each lash for a doll-like effect.
Lancôme is known for its incredible range of mascaras, and Lash Idôle is another huge hit with fans of the brand. Released in January 2021, Lash Idôle's is super pigmented yet glides on unbelievably smoothly, thanks to its gel-like finish. The jet-black formula is both fragrance and oil-free, so you won't ever have to worry about irritated lashlines. Best of all, this mascara offers proven results: in a consumer test, 95% of women reported lash-lifting effects when using Lash Idôle. "[Lash Idôle] does exactly what it says: lengthens, separates, curls, and never smudges or flakes. It's easy to remove. Lancôme makes the best mascaras," said a fan. For even more dramatic lashes, try twirling your mascara wand when you apply it.
Purchase Lancome's Lash Idôle Lash Lifting Mascara from Ulta for $15 (originally $30) on April 1.